If you want to get the smoothest bald shave possible, then you'll need a pair of the best balding clippers with high-powered cutting blades and durable designs. These grooming tools have been used by professional barbers for years to help men easily get the shaved look.
The B&B team reviewed the balding clippers that men are using today and found which ones had the best cutting power for smooth results. We also review the features you should look for in the best balding clippers on the market.
Buyer's Guide to Best Balding Clippers
Balding clippers are sophisticated, electric haircutting tools, providing reliable power and sharp cuts for a close, smooth shave.
The way you shave your head is all about precision, getting so close with each pass that you finish shaving in record time. Maybe that's why GQ listed the 100 powerful bald men who do share this classic look (we were surprised Jeff Bezos is only #5!).
When done right, shaving your head is an amazingly profitable experience. The right tool just makes it glide closer. This is why we wanted to look at the best balding clippers on the market.
After testing a dozen of the best balding clippers, we began noticing which features really mattered and why some clippers simply work better than others for cutting hair, whether you like a super close shave or want to fade, buzz, or taper your hair.
Here's a quick look at the specifications for balding clippers we liked best:
Cutting Power
The best balding clippers come with a motor that delivers cutting power, which is measured in the amount of cuts per minute. There are also three different motor types, including electromagnetic, pivot, and rotary.
Each of these motors can deliver power, but rotary is the most common. However, electromagnetic motors have the most durability and power. These clippers typically last forever due to the motor having fewer parts to clean and maintain.
Build Quality
The design really matters for all hair trimmers and balding clippers, but it's especially important to have high-quality materials for the casing. For example, Wahl Balding Clippers uses stainless steel.
We also prefer electromagnetic motors to rotary motors for that ultimately smooth result. Therefore, we suggest clippers like the Andis T Outliner or Andis Fade Master.
Finally, the best balding clippers come with a full kit that includes several accessories, but the quality of the attachment combs must be checked. These should be durable, non-plastic guard combs that are easy to attach. We also want to use sizes closer to 000 thru 00000 for extra smooth, no stubble head shaves.
Close Cuts
The next feature we look for is a close cutting length. Balding clippers must be able to deliver a sharp close shave for guys who want a shiny bald head. Even if you like some stubble, you want to make sure that the blades are sharp.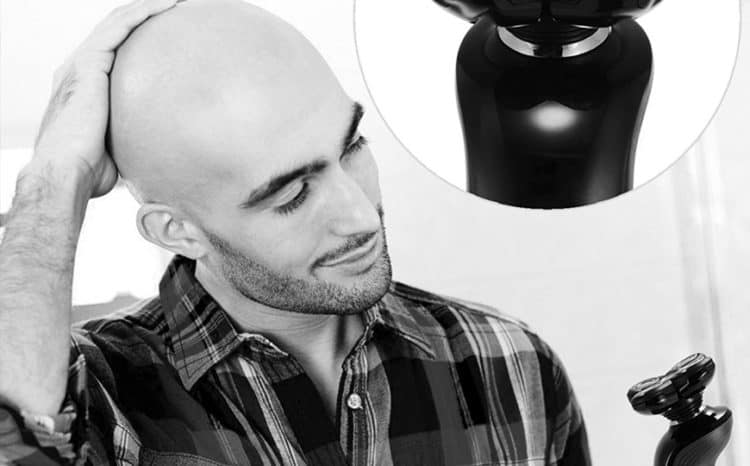 Cutting guides or blade guards can be beneficial if you plan on using your clippers for bald fades and longer stubble haircuts.
Blade Width and Blade Teeth
The best clippers for bald men will have wider blades, which are made for cutting large areas at a time so you don't have to go over your head so many times. However, one drawback to wider blades is that you may find it harder to maneuver around your neck and ears.
According to our tests, the blade width to choose for a balding clipper is around 1.5 inches wide.
The blade teeth are also special in a balding clipper. You generally want blades that are shallower and close together, rather than long and wide apart. This works better for super close shaves.
Corded vs Cordless Clippers
The most convenient option is to have both. While you may think it's easy to charge a pair of clippers, you won't realize it until it's too late that you have to plug in your clippers to charge before shaving. It's a hassle, which is why great brands make it easy to do both.
Corded clippers tend to feel more powerful, but lithium ion batteries in newer clippers charge faster and provide the same energy as a corded version.
Waterproof
If you shave in the shower, you probably don't use electric clippers. However, some models are water resistant or even waterproof. These are typically easier to clean because you don't have to worry about parts becoming corroded.
Warranty and Customer Support
The best balding clipper brands back up their products with a warranty. Some even provide a money-back guarantee to ensure that you're satisfied.
It's always important to check how the company's customer service works before purchasing a product. Most brands on our list below offer amazing customer support, but let us know your experience.
Best Balding Clippers (Reviews Updated 2021)
If you want the smoothest head possible, these are the best balding clippers available on the market. These selections below held up to our high standards: close smooth shaves, adjustable blades (down to size 00000), high-powered motors, and lots of accessories.
Final Thoughts: Which are the Best Balding Clippers?
Out of all the brands and models we tried, we really found these 6 to be the best balding clippers on the market because of their quality, build, cutting power, and multiple accessories. However, we recognize some best balding clippers may still not have what you need for the perfect bald shave, especially if over your budget.
If you're looking for a moderately priced professional bald clipper, we would go with the Wahl Professional Super Taper II Hair Clipper. However, if you have the budget for an excellent clipper, we think the Andis Fade Master is the real winner out of all the models we tested.