The best shaving kits for men make it easier to get a clean, smooth shave anytime with sharp razors and all the products you need for a barber-like shave. I've reviewed which shaving kits offer the best products for mens grooming.
A classic shaving kit includes a razor handle, typically a cartridge or double edge safety razor, along with replacement blades, shaving cream, stand, shaving brush, and a shaving bowl. Some kits only include 2 or 3 items, while ultimate shave kits typically include 4 or more.
In this review, I look at the top men's shaving kits based on products included, quality of the shave, and overall customer satisfaction. The buyer's guide below offers some unique insights into types of shaving kits (safety razor vs cartridge razor) and benefits of purchasing a shave kit verses sticking to your old razor.
Top Shaving Kits (TLDR)
These shaving kit picks proved to offer the most value and best products overall:
I chose shaving brands and kits that were highly rated and contained multiple top-notch products, then reviewed each based on their ability to provide a close, clean shave.
I also reviewed Harry's Razors and their shaving products, if you'd like to see what other shaving products are available.
Why are these The Best Mens Shaving Kits?
After testing the highest-rated shaving kits, the most important factors were having everything for a great, close shave at the best price.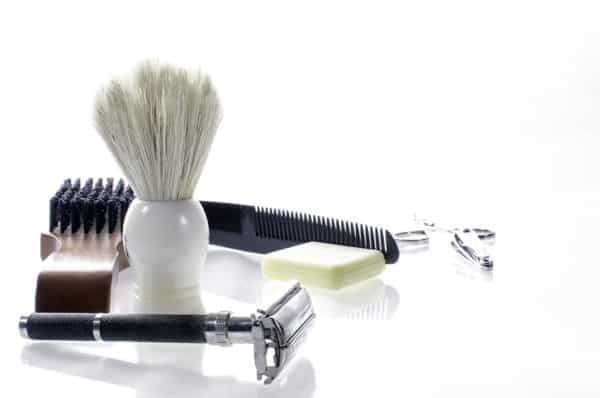 Here's why these shave kits stand out to be and why I think they contain the best products for the price, even if the premium kits cost a bit more.
More than 3 essential shave products.
Includes multiple replacement razors, razor handle, and shave cream (minimum).
Mostly affordable, except for luxury wet shaving kits.
Quality of the razors, creams, and shaving brushes.
Natural ingredients in shaving creams.
Smooth, clean shave.
Overall customer satisfaction.
Customer support options.
Shave Kit Buyer's Guide
When considering a shaving system (kit), the first consideration is for ultra-sharp razors made of high-quality steel and includes an ergonomic handle for comfort. Today's shave brands put a lot of effort in to ensuring the perfect shave.
If you want to get your money's worth, these are a few things to consider before buying the best shaving set for yourself or as a shaving gift set.
What Items Make Shaving Kits Worth It?
There are key components to every shaving kit that must be included:
Razors
Razor handle or safety razor
Shaving cream
Stand
In most shaving sets, a shaving brush and shaving bowl are also included. Some kits omit the shaving cream to only provide the essential "tools" like a shaving brush and bowl, while others also include aftershave as well.
Types of Shaving Kits
If you have experience with a cartridge razor like Gillette Fusion, then you probably won't want to switch out to a safety razor or straight razor. However, you may want to try something different.
Take a quick look at each type of shave kit to ensure you pick the right razor setup:
Cartridge Razor Shave Kits
You probably have used a cartridge razor before. It's the most popular type of razor and widely available in any pharmacy. A cartridge razor shave kit only differs from a safety razor or straight razor kit due to the handle and blade design.
These cartridge razors are easier to use and often cheaper than a safety razor kit, which is made from higher-quality materials. Since cartridge razors are easier to use, those who are just beginning to shave or who want a quick shave typically prefer this razor.
However, long-term costs can add up for cartridge razors since you have to purchase replacement blades every other week, especially if you shave every day. The initial cost is still much lower than other shave kits.
Safety Razor Shave Kits
For those men who are on more of a budget and want a very close shave, safety razors provide a better experience. These razors are for those who love the art of shaving and have a little more time in the day to spend on the smoothest shave.
Safety razor shave kits come with a razor handle, replacement blades, shaving cream, stand, shaving brush, and shaving bowl. These are all necessary to getting a high-quality shave with a safety razor, which is why it's so worth purchasing the set.
While there's a high learning curve, you'll use double edge razor blades to get the sharpest, cleanest shave. However, these blades are prohibited on planes, so you'll only use at home.
One added benefit of these razors is that the blades are much sharper and typically lubricated, preventing issues with skin irritation, ingrown hairs, and razor bumps. So men with sensitive skin often choose to go with a safety razor rather than a cartridge razor.
Shaving Kit Cost
When looking at kits, the most obvious consideration is the price. As a general rule, cartridge razor kits with 3 or 4 items are typically lower in cost than a safety razor set. This is due the steel handle and replacement blade costs being higher with a safety razor kit.
Unless you're looking at an ultimate shaving set with everything included, you'll spend between $30 and $50 on a cartridge shaving kit. Luxury razors and high-quality brands may charge over that, but safety razor shaving kits will likely cost the most at over $150 on average.
Final Thoughts: What's the Best Shaving Kit
One thing you have to keep in mind with razor sets and shave kits is that they're no more valuable than what you get out of them. I prefer the Viking Revolution shaving kit because it includes more pieces than any other kit for the price, and it's very well-made.
If you're constantly traveling and need an all-in-one shave kit, then you'll likely be happy with Miusco's safety razor kit, but if you're looking for something, that's high-quality and includes cartridge razors, I'd go with Harry's Travel Shaving Kit.