Known for its enhanced lather for wet shaving, the best shaving soap combines ingredients like glycerin, shea butter, and coconut oil to help your razor effortlessly glide over the contours of your face.
For years, men have used shaving soaps instead of creams because of its smooth texture, lubrication, and invigorating aroma. However, these soaps are best used for wet shaving, which means also getting used to a shaving brush. I share my experience with some of the best shave soaps, so you can pick the best one for your shaving routine.
Comparing the Top 7 Shave Soaps
---
Shaving Soap Buyer's Guide
Many barbers I've come to know use a high-quality shave soap instead of traditional shave products. That led me to research what's in shaving soap and why professionals prefer it to regular shaving foams or creams.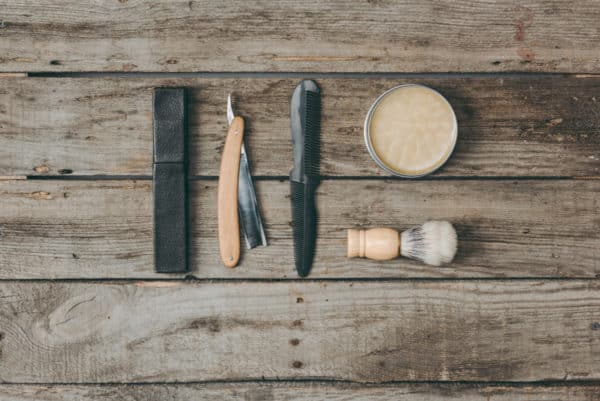 After using shave soap for a while, I realized that it's a far superior shaving experience. Here are some of the things I've found in the best shaving soaps.
What is Shaving Soap?
Shaving soaps are solid bars made from glycerin, coconut oil, shea butter, lanolin (sheep's wool), and cocoa butter. These differ from regular bath soaps and offer a rich lather for wet shaving that you whip up with a shaving brush.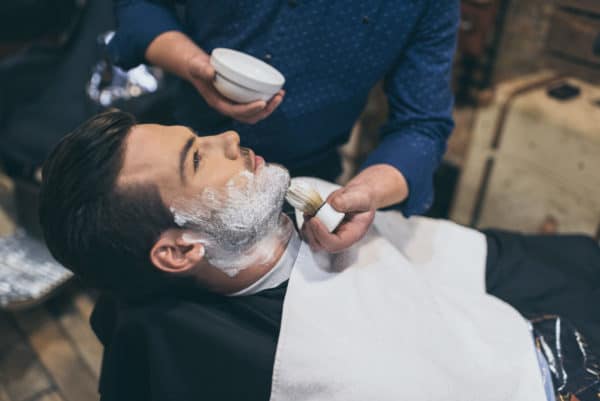 Due to their moisturizing ingredients, shaving soaps also work as gentle moisturizers, offering a rich, creamy lather that should cover your face with just a small amount of product.
For this reason, one bar of shaving soap holds a ton of value compared to shaving creams, foams and gels.
Shaving Soap Ingredients
Most shave soaps will have two or more of the following ingredients:
Coconut oil
Cocoa butter
Shea butter
Glycerin
Lanolin (sheep's wool)
Mango butter
Aloe vera
Besides these natural ingredients, also check for other not-so-nice ingredients. Some of these are synthetic fragrances and others include sulfates. I especially look for products that don't include sulfates, parabens, or propylene glycol.
Shaving Soap vs Shaving Cream
Shaving creams differ from shaving soap because they already contain a small amount of water, whereas shave soaps don't. Creams also vary because of consistency, lather time, packaging, ingredients, and alcohol-based formulas.
Many shaving creams feel the same as a shaving soap, which is why they're great for beginners who don't own a shaving brush and just want a fast lather. However, shaving soaps are superior to creams because you won't waste as much product, and you only need a tiny bit to get a rich, thick lather.
Shaving soaps offer richer ingredients, including essential oils like coconut oil and sandalwood. While both products contain glycerin for moisture, shaving soaps are more moisturizing than your average shaving cream due to shea butter.
What Razors work best with Shaving Soap?
For wet shaving, pro barbers use traditional shaving soaps. You may have seen the iconic brand Proraso Shaving Soap or Taylor of Old Bond. These offer a great lather with safety razors and straight razors.
If you're looking for a close shave with a shaving soap, then a safety razor is likely the best option. However, cartridge razors can also work with shaving soap, but the quality of the shave isn't as it would be with a double edge safety razor.
7 Best Shaving Soaps Reviewed
Without further ado, here are the top shave soaps that your barber would be proud of you for using. These soaps contain the high-quality, moisturizing ingredients and will leave your skin feeling smooth as ever.
1. Henry Cavendish Himalaya Shaving Soap
I wanted to start with one of the most phenomenal shaving soaps on the market. The Henry Cavendish Himalaya Shaving Soap with Shea Butter offers excellent lubrication, making it easy to get a rich, thick lather with your shaving brush.
The coverage is great, and the scent is absolutely invigorating. It's one of the most highly rated shave soaps, but it's a luxury American-made brand, which means this soap is definitely a "treat yourself" gift to your grooming routine. The soap weighs 3.8 oz and lasts for quite a long time, however.
American Made Shaving Soap easily creates rich lather: it lubricates razor for a slick, cushioned and comfortable shave. Lather is long lasting unlike many shaving cream, foams and gels which dry out.
Ladies Love the Addition of Shea Butter which leaves skin feeling smooth and nicely moisturized, not oily. Won't dry or irritate your skin like many shaving soaps, shaving creams and gels do.
Larger in size than average mug shave soaps: will last about 3 - 6 months. 20 seconds in a Microwave fits it to any size shaving mug! Minimal light scent (almost none) which is fresh without being artificial. Ladies seem to like it!
This shaving soap is a notch above other shaving products. With minimal all-natural ingredients, it has no artificial color or fragrance, and contains nothing you can't pronounce!
100% Satisfaction Money Back Guarantee. Click on the add to cart button, up and to the right on this page, NOW!
The Henry Cavendish Himalaya Shaving Soap works for both men and women. The ingredients include shea butter, coconut oil, and Himalayan sea salt, which leaves your skin feeling soft and moisturized. I highly recommend looking into this soap if you want a premium soap and smooth shaving experience.
Check Lowest Price
$14.74
---
2. Lather & Wood Shaving Soap In Sandalwood
Lather & Wood Shaving Soap is a premium tallow-based product that's prime quality. Hand-crafted with sandalwood, the scent is light but earthy. With shea butter, the soap creates a generous lather that makes it easy to glide over with your razor.
LARGE 4.7oz SHAVE SOAP. A premium tallow based shaving soap for literally pennies a day. Get MONTH-after-MONTH of daily wet shaving satisfaction. Perfect with your favorite shaving brush and safety razor, multi-blade, or straight razor for the more daring type.
HAND CRAFTED IN SMALL BATCHES To Insure Highest Quality Possible. As wet shaving enthusiasts we have used all the major and micro brand shaving soaps, and this soap is nothing short of perfection.
SOPHISTICATED SANDALWOOD SCENT - This Sandalwood Shaving Soap has a wonderful earthy natural sandalwood scent. Not too strong, but subtlety lingers long after your shave. Pairs Perfectly with Lather & Wood's Sandalwood Pre-Shave Oil and Sandalwood Aftershave Balm.
CUSHY TALLOW BASED SHAVING SOAP - Ingredients like Tallow and Shea Butter produces a ridiculous amount of dense slippery lather. Our lather does not dissipate even after an hour of sitting in your shaving bowl. Amazing Lather, Moisturizing, Slip, and Protection eliminate razor bumps and shaving irritation.
TOSS THAT DRUGSTORE SHAVING CREAM IN THE TRASH - Lather & Wood Shaving Co. produces only the finest quality shaving and mens grooming products. Our shaving soap will leaves your skin feeling cool, refreshed, and clean. You'll never touch the commercial stuff again!
While it's a premium shaving soap, the 4.6 ounces of product lasts a long time. Lather & Wood Sandalwood shave soap makes it easy to lather, moisturize, and shave for smooth results every time. You'll never get any razor burn or bumps with this shave soap either.
Check Lowest Price
$19.99
---
3. Men's Soap Company All-Natural Shaving Soap
Another Himalaya soap that produces incredible insults is the Men's Soap Company's All Natural Shaving Soap. This brand is fantastic for those who want organic ingredients with no harsh chemicals or toxins.
It's completely free of parabens, sulfates, and dyes, and it does a great job of moisturizing and lubricating your skin for a perfectly smooth shave.
Subtle Himalaya scent: many of our customers have described the scent as mild and delightful that is not overpowering. The scent has earthy smell while it is fresh and not flowery. Women tend to love how a man smells after using the Himalaya soap.
All natural and minimal ingredients: our shave soap is made of the best naturally derived vegan plant ingredients. We do not use toxins, parabens, sulphates, or dyes. These high quality ingredients will leave your face feeling buttery smooth.
Thick and creamy lather: you can whip a nice, thick creamy lather in 15 seconds that provides fantastic glide and protection. The rich lather and thick foam provides a coating that leads to a smooth shave. Your razor can be rinsed cleanly without having to brush out the blades between shaving strokes.
Moisturizing and does not dry out: our shaving soap includes shea butter and glycerin base that will leave your skin soft, moisturized, and silky smooth. You will not experience irritation, nicks or cuts, no rash, no bumps, no ingrown hairs, and no razor burns. The soap will not dry out and it is very gentle on the irritable areas of skin under the jawline and neck
Try it risk free: Men's Soap Company has an unconditional satisfaction guarantee. If you are not satisfied with the soap simply request a refund. We guarantee that your shave will be so comfortable each and every day. Do it. Buy it now. Your face will appreciate it.
The thick lather is creamy and instantly picks up with the shaving brush. You won't have to swirl more than a couple of times before it's ready to apply. This shaving soap is also pretty gentle, so you won't have to worry about irritation or deal with acne after shaving. With 4 ounces of product, this soap lasts for weeks and weeks, too.
Check Lowest Price
$14.25
---
4. Art Of Shaving TAOS Soap In Sandalwood
I really like this brand because they try to think of everything. The Art of Shaving TAOS Soap in Sandalwood comes with its own wood shaving bowl and offers organic ingredients that instantly soothe your skin. Unfortunately, this is a premium product that may be out of budget if you don't want the shaving bowl.
The lather is especially creamy once you whip it up, leading to excellent coverage that protects your skin from sharp razors and irritation.
This soap refill produces a rich lather to soften hair and cushion skin.
It helps prepare hair for shaving and gives a close shave.
Leaves your skin feeling smooth.
Even though Art of Shaving's shaving soap is a premium product, it's the most highly rated on this last, with a practically perfect score from customers. It's intoxicating to smell and provides a thick lather, but it's on par with Men's Soap Company and other lower-cost shaving soaps on this list.
Check Lowest Price
$65.00
---
5. Mitchell's Wool Fat Shaving Soap
Another premium shaving soap is the Mitchell's Wool Fat Shaving Soap. Made in Bradford, England, this luxury soap comes with its own ceramic shaving bowl, but it offers more product and a few different ingredients than Art of Shaving. With lanolin and organic ingredients, Mitchell's shaving soap is perfect for those with sensitive skin.
Made in Bradford, England
Contains lanolin and other organic ingredients
4.4 oz soap
Comes in a ceramic bowl with lid
The thick lather, perfectly carved ceramic bowl and refreshing scent make this one of my favorite shaving soaps. It's not as expensive as Art of Shaving, and it offers the same high-quality results that you want in a smooth shave.
Check Lowest Price
$47.50
---
6. Williams Mug Shaving Soap
The Williams Mug Shaving Soap offers a long-lasting, high-quality product for way less than the other guys. Made with sodium tallowate, it doesn't have the same lovely scent as sandalwood shave soaps, but it's a great daily moisturizing shave soap that has a thick lather.
Product Type:Health Personal Care
Item Package Dimension:3.8 " L X 4.1 " W X 1.9 " H
Item Package Weight:0.4 lbs
Country Of Origin: United States
For those who want something that's not too fancy and priced just right, Williams Mug Shaving Soap gets the job done. The lather isn't as easy to whip up as others on this list, but once you apply it to your face, the coverage is thick. You don't need a lot of product, which means you can use a bit more every day. The cost is also fairly low at under $10 per 5.25 ounces.
Check Lowest Price
Price not available
---
7. Van Der Hagen Luxury Scented Shaving Soap
It's easy to shave without nicking yourself with this next shaving soap. The Van Der Hagen Scented Shaving Soap comes in a 3-pack for a total of 3.5 oz. The cocoa butter in this shave soap makes the lather extremely smooth and thick, so you can easily spread over your face for that ultra-slick barrier between your razor and skin.
THE SCENTED LUXURY SHAVE SOAP - is your ticket to a relaxing shave, as the subtle, fresh scent floats over the peaks and valleys of your skin.
PRODUCED IN OUR UNIQUE KETTLE PROCESS - Scented Shave Soap is ideal for a satisfying and luxurious lather for your wet shave. Enriched with soothing and natural ingredients - this lightly scented shaving soap provides a layer of protection for your face.
FOR ALL SKIN TYPES - Whether you've got dry, sensitive or acne prone skin, this cocoa butter shave soap will give you a close, smooth and irritation-free shave and skin that smells great all day.
AFFORDABLE LUXURY - Save your precious dollars for other luxuries in life. We strive to provide the best price possible and bring you that smooth, luxurious shave experience without having to break the bank.
OUR GUARANTEE TO YOU - Give this Butter a try, and if it's not for you, let us know anytime within 3 months and we'll refund 100% of your purchase.
For a pretty low cost, you get 3 bars of shaving soap for long-lasting, rich, creamy lather. You'll need your own shaving bowl with this soap, but the coverage is amazing and adds just a subtle hint of mango butter and cocoa butter. However, we did find that this shave soap contains sodium laureth sulfate and propylene glycol, so the ingredients are not as organic as I'd like.
Check Lowest Price
$5.29
---
Final Thoughts
All shaving soaps pretty much do the same thing, but the difference is in the thickness of the lather and overall value. Shave soaps are meant to last a long time, which is why barbers prefer these products to traditional shave creams, gels, or foams.
One thing to keep in mind is that some products have organic products and oils that your skin may not like. If you're allergic to lanolin, then it may leave your skin irritated with red bumps. It's best to choose products that have organic ingredients that cater to sensitive skin to avoid those issues.
Out of all the shave soaps I tested, the best one for me in terms of quality and cost would have to be the Men's Soap Company Shave Soap or Henry Cavendish's shaving soap. Both have premium, natural ingredients and offer a smooth shave without an extremely high price tag.
Related Articles
abc