Do you have trouble growing a beard or maybe your beard is bare in certain spots? Well, you can give your beard thickness and extra shape using a beard filler pencil, even the Wall Street Journal says so.
Take care of your beard and look better with filler pencils. Super easy to apply plus get all our top reviewed products.
What are Beard Filler Pencils?
Beard filler pencils are made from wax and oils with pigments to match the color of your facial hair. When applied to your skin, beard corrector pencils or powders can fill in patches producing a thicker, fuller-looking beard.
Using a beard filler pencil or powders is a new trend that grew in popularity after barbers and makeup artists from Hollywood showed before and after results with some simple beard filler techniques.
Made from wax, filler pencils are perfect for coloring in your facial hair patches in matching colors.
You can also use it for shaping your mustache and beard as well, thanks to the wax ingredients.
Beeswax is one of the more common ingredients in high-quality beard pencil fillers.
The wax makes it easier for the color to stick to the hair and skin, resulting in a thicker-looking beard or even a darker-looking beard.
How to Use Beard Filler
You can use a beard filler pencil to "draw in your beard patches." It's not meant to draw an entire beard, however. It's best for filling in patches and bald spots where your facial hair won't seem to grow quickly.
Beard Patch Filler
To fill in your beard, you simply press the pencil lightly down on your hair and skin, guiding it to fill in beard patches and light spots. Be sure to color all the bare skin patches.
Beard Corrector Powder
Powders have some additional benefits over pencils, as it can thicken the look of thinning hair and bald spots. This volumizing effect of the powder happens by attaching to the hair follicles.
To apply, you simply dip the sponge in the powder and press against bald spots or thinning hair for a fuller look.
Before and After Results
Here's a look at what beard filler pencils can do.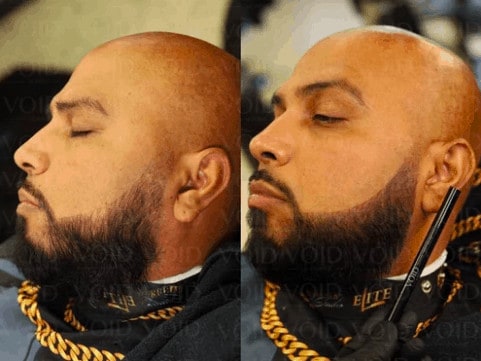 Types of Beard Fillers
While you may see a lot of beard pencils on the market, there are also pens, brushes, and powders. These are designed for a men's beard to cover bare spots and add natural color.
Beard Pen
These resemble a small pipe cleaner or mascara brush. Filled with different colored waxes in dark brown or black, you can brush in patches of your beard for a fuller look.
Beard Pencils
These are typically wax pencils made in different colors, including taupe, dark brown, light brown, and black. You can use these to draw in patches of skin.
Blending Brush Hybrids
Some pencils come with a two-sided design that allows you to color and blend in the wax.
Beard Filler Powders
As mentioned before, these are fiber powders that attach to your beard hair and fill in bald spots. It works both as a filler and facial hair volumizer.
Do Beard Fillers Work?
For coloring in your facial hair, YES beard fillers definitely work, and it's a quick fix. The truth is – beard pencils are a quick and easy temporary solution. While you can achieve a thicker, fuller beard in seconds using them, the wax will eventually wash away in one shower or a dip in the pool.
For thicker, fuller growth, you probably want to look into natural growth remedies, and if you still have trouble filling in patches, there are many guys who have success with minoxidil for beards.
There are plenty of options for beard growth vitamins or even biotin regimens. Some even suggest using a beard oil can help with hair growth. These methods can increase hair growth incrementally, but faster facial hair growth only seems possible with hair loss shampoos and creams.
7 Best Beard Fillers Reviewed
The beard filler trend has definitely picked up in the past few years. There are now many products on the market that barbers recommend for guys who want to fill in their beard quickly to get their best look possible.
Here are a few of the best beard filler pencils currently:
Should You Use a Beard Filler Pencil?
Why wait any longer to get a thick, full beard style? While there's not much you can do about losing hair on your head,  you don't have to wait to get a thick beard.
If your hair isn't growing in, why wait to get the look you've always wanted? With a beard filler, you can upgrade your beard in seconds, and no one will ever know the difference.