Salt and pepper beards are the mark of a distinguished gentleman. Gray and white, black and gray, or gray all over, this beard style is a remarkable trend men are showing off.
The salt and pepper beard style is dark hair infused with gray or white hair. This look creates a layered effect that's become the standard for distinguished gentleman everywhere. This trendy look can be seen on notable stars like Pierce Brosnan, Brad Pitt and George Clooney.
Men with salt and pepper beards either naturally develop these white and gray highlights as they age or use hair dye to create this monochrome beard. We'll show some current trending styles and what dyes to choose to get this look.
Trendy Salt & Pepper Beards
Older men have a distinguished silver and grey beard like Oscar Isaac or Joe Manganiello (below). These men's beard styles show off their aged beard growth, which typically have streaks of white and grey hair.
1. Natural Salt and Pepper Beard
With just good genetics and without the need for grey beard dye, you can achieve a classy look, like Joe's scruff beard below.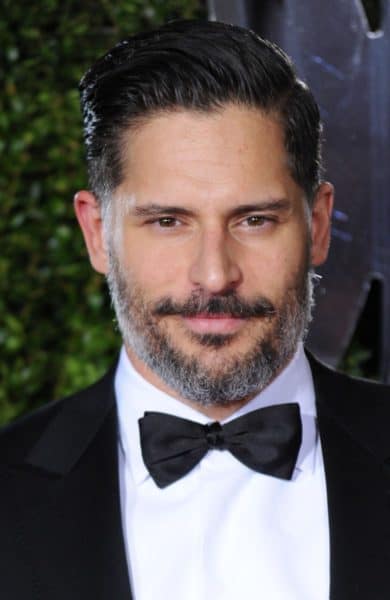 2. Gray Beard Style
To dye beard Salt and Pepper, start by coloring gray, white or silver into your beard. For the ultra-hip try matching your hair to create a dramatic look.
This short boxed beard is paired with a Caesar haircut dyed or bleached white. The haircut also sports a bald fade and a tight side part for additional style the the gray beard.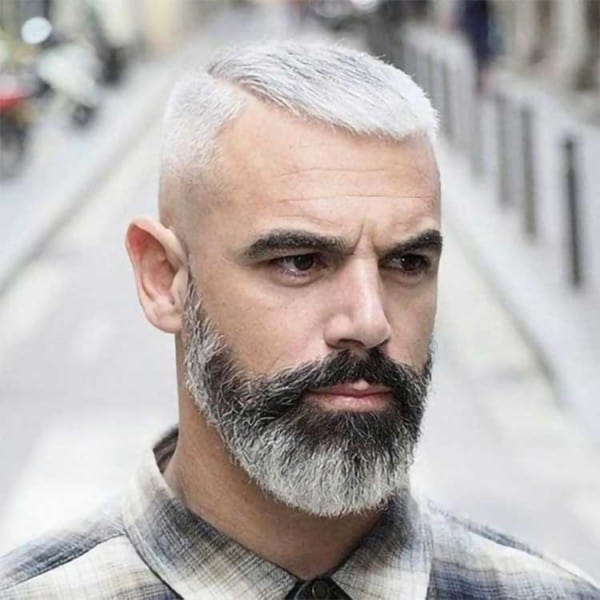 3. Salt and Pepper Goatee
The ultra cool Pierce Brosnan is rocking a Van Dyke beard with fully grayed chin hair. The two-tone look creates an interesting balance of color and gray.
4. Salt and Pepper Full Beard
With a full head of salt and pepper hair, Oscar matches the gray streaks in his beard to perfection. This look creates the perfect balance between the hairstyle and facial hair.
5. Long Salt and Pepper Beard
Whether you're growing out a yeard beard or to a long Garibaldi (below), you can push the limits of this look by "not" coloring it. That's right – don't dye it. By leaving the greyish streaks in, you'll create an unforgettable look.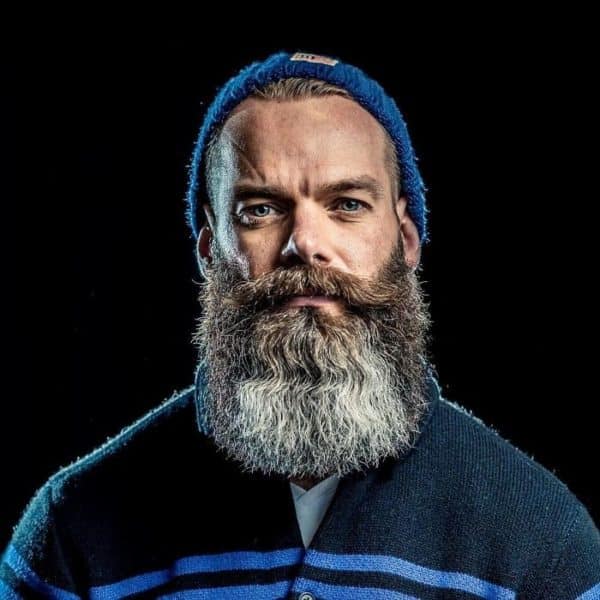 How to Get a Salt and Pepper Beard
I went over a similar process of dying your beard, if you want to get a breakdown of a full beard hair dyeing experience.
Choose the Right Hair Dye
There are various brands selling hair and beard dye that change your hair to all types of colors, but these products below have been highly reviewed for their natural color, easy application, and healthy-looking results.
Warning: Test beard dye on small patch beforehand. Salt and pepper bleaching may require multiple treatments, it's best to go to barber if uncomfortable dyeing your own hair.
Features of a good hair dye:
Semi-permanent hair dye lasts 6 weeks or 8 washes
Choose a silver beard dye for salt and pepper looks
If bleaching to brighten white beard hair, choose a safe platinum bleach or hair highlighting kit
Brush applicator
Look for great results based on customer reviews
Some products I recommend to create the perfect salt & pepper beard include:
Flash Sale
Flash Sale
Flash Sale
Prep Before Dying Your Beard Hair
To prepare for dyeing your beard, shower the night before and wash your beard with a gentle conditioning beard wash. You don't want any product or oily buildup as you'll likely not want to wash your beard for several days to lock in your hair color.
Just before setting up your hair dye for application, you should brush out your beard hair so that you can see separate strands. You don't want to miss dyeing any strands that are in your salt and pepper dyeing range.
After brushing out your beard hair, apply vaseline to your skin around the edges of your beard if you're applying dye to the outer areas or around your neck. This will prevent hair dye from getting on your skin.
Other Tips to Keep In Mind
Test a small patch of hair with any dye you choose to see the effects
Stay safe with ammonia or bleach highlighters to add white highlights – these can burn your skin and also change dark hair color to brassy or orange if not treated correctly
Get a hand towel to wrap under your beard and your neck once done applying dye
Purchase a high-quality beard shampoo and conditioner after you set the dye and need to rinse out.
Apply the Hair Dye to Your Beard
Some men want all over salt and pepper coloring and others want to highlight and pepper certain areas of their beard.
Based on the styles and colors above, you should have an idea of where you'd like to bleach or add the "salt" highlights, as well as where you'll lightly add dye for light gray hairs.
Warning: Dark-haired and black beards may need special dyes and multiple treatments to get the right monochrome look. Some beard hair may turn orange or brass if you don't use the right dyeing process.
Remember to follow the instructions and use the brush applicator to gently add in highlights and shadows.
Once you apply the hair dye, you'll need to wait about 1 to 1.5 hours for it to set. Some white hair dyes take longer to set.
Rinse Out and Condition After Hair Dye Sets
If your hair dye has set in, you should be able to pull back the foils and see the new color. Be careful to follow instructions and wait for the right amount of time.
It's typical to wait 20 minutes or more for hair dye to set.