Was that a gray hair in your beard? Possibly. We're not judging. That's why beard dye exists, and it's probably one of the greatest services barbers offer next to the faded beard. With the best beard products it's easy to dye your beard at home.
With new trends in beard coloring, beard grooming is taken to another level with at-home beard dye kits have changed the game.
We put together the ultimate list of the best beard dye for men with full reviews below. We ranked the best beard dye according to how well they colored beard hair and included safe ingredients for sensitive skins.
Top Picks
Beard dye by Just for Men is probably the most recognized name in beard coloring. Their kit contains everything you need to dye your beard. Comes with:
color developer
color base
mixing tray
applicator
The kit is really easy to use and I can cover my beard from start to finish in less than 10 minutes. Check out the video for a quick tutorial walk-through:
Grizzly Mountain is probably the most highly rated brand for beard dye on the market. With several different colors (we suggest trying dark brown for thick, full beards).
Grizzly Mountain also sets itself apart by using a non-toxic, all-natural formula. Their product uses an herbal powder that's hypoallergenic and safe to use for most skin types.
Some other reasons we like this dye:
It's a long-lasting permanent dye
Adapts to the texture of your beard so you don't get chunks of color here and there
Won't expire as long as it's stored properly
Beard dye kits include everything you need, including a great applicator brush
Uses all organic and natural ingredients
You do have to wait quite a bit to get this beard dye to set. Some had to wait as long as 40 to 60 minutes according to customer reviews, but the package states it starts to set in at 30 minutes. We think this time probably depends on your hair texture and the color that you choose, so be prepared to wait.
Ultimately, this beard dye results in a fantastically naturally colored beard that looks absolutely thick and luscious. We suggest trying a darker color if you want to thicken your beard, such as the natural or dark brown.
Since this product is used mostly for women's hair dyeing, we were surprised that this worked so well for beard dye. However, its natural, semi-permanent formulas in a variety of colors, maybe just what you need to fill in your beard or change up the color.
The best part is that this dye only takes 10 minutes to set, and the box includes 3 treatments so you can maintain your beard color as you need to. The semi-permanent beard dye lasts for roughly 2 weeks and then begins to fade.
Some reasons we like this beard dye include:
Non-abrasive formula
Does not use ammonia
Covers grey hairs completely
Lasts for 2 to 4 weeks
For an affordable and easy to apply beard dye, Clairol Natural Instincts really works. We highly recommend trying this one out if you have never dyed your beard before and want to test out a new look first.
The Henna Guys is a natural beard dye brand that rose to fame because of its completely organic, chemical-free ingredients.
There are also several shades to choose from, and the packaging includes everything you need to dye your beard, including in-depth instructions, hair color, and applicator brush.
We like this beard dye because:
Uses non-abrasive, semi-permanent solution
100% all natural, all organic ingredients
Natural colors only
No PPDs or metallic salts
This hair dye works extremely well if you have sensitive skin and worry about drying your hair out. The Henna Guys use a gentle formula that works well to cover up grays and thicken the appearance of your hair.
However, we urge you to try the darker formulas if you want a truly brown beard since it can be light on color. This isn't necessarily a bad thing, but you may have to apply more than once to get the desired shade.
Cover Your Gray by BETTY is another beard dye choice that's Paraben or Ammonia free. Their Professional Beard Coloring Kit is a powerful beard dye that allows you to color your mustache and beard evenly and naturally.
We like that it doesn't use the harsh ingredients and achieves the same results as a high-quality permanent hair color.
We like this beard dye because:
Cover grays on beard or mustache!
Easy to follow directions for safe, natural looking color with no mess or drip. The safe no-drip crème formula won't run into sensitive areas.
Safe and effective demi-permanent hair color. Strong enough for long and coarse beard and mustache hair.
Color kits are specially formulated with only natural ingredients ie elder flower, cherry bark, chamomile, comfrey, black walnut, rosemary and aloe – plus special conditioners not found in current hair color dyes.
Made to the highest quality standards & in in USA.
This facial hair dye really retains its dark color for longer than we thought it would. It lasted about 6 weeks before we needed to color again, so it's definitely one of the more valuable brands if you want long-lasting color that you don't have to frequently maintain.
No products found.
This is another fast-dyeing kit that only needs 10 minutes to set for a permanent beard color. While this brand is also for sensitive skin, we recommend trying it on a patch of hair or skin first to determine whether it will work for you. With one application, you can get a deep brown color using the cream.
It's important to note that this dye is not included in a kit, and you will have to purchase the cream and developer separately, which is a bit of a bummer for cost and efficiency.
We still like this dye because of its all-natural results and quick-setting formula. Here are a few other positives about this brand:
Long-lasting beard dye formula
Includes multiple applications
No irritation due to gentle formula
Natural, great-looking results
If you want a natural brown tint to your beard, this is one of the best beard creams to use. It sets in quickly, and it's gentle enough that you can use for all of your facial hair, including your sideburns, mustache, eyebrows, and beard. However, you won't need to re-apply that often as it lasts for 4 to 6 weeks.
No products found. No products found.
Zenia is a powder beard dye that uses all-natural ingredients with absolutely zero PPD or metallic salts. It's completely natural, organic, and vegan.
If you want to get a thicker, darker beard, this dye creates a black or dark brown hair color. We suggest trying this product out on a small patch of hair to see if you get the right shade.
Since this is a strong henna powder, it tends to fill in quite dark and starts working almost immediately. Here are some other benefits of this hair dye:
Very affordable, under $10
Semi-permanent wash-out blend
Very gentle on skin
Great for dark brown and black beards
There are a lot of henna dyes available, but not all of them stay on your hair for as long as Zenia. This product lasts between 3 and 4 weeks, so it's a good option for a cheap grey hair cover-up or all over beard dye if you want a darker beard.
While this isn't necessarily a beard dye, we threw this one in here because it's a popular choice for covering up grey and white hairs in men's beards. It works just like a beard dye, but it's possibly easier and faster since you don't have to mix up the color and processor.
Blackbeard works best for dark brown and charcoal beard colors. In fact, it looks and feels a bit like mascara, to be honest. However, it's a quick, affordable way to simply remove signs of aging fast.
Here are some the reasons we think this could work for your beard:
Easiest and fastest application for grey hair cover-up
Uses zero chemicals
No dye colors or processors to mix
Best for touch-ups and selective hair coloring
You will definitely like this touch-up kit if you simply want a darker beard that you can gradually dye using an applicator. It doesn't have any harsh chemicals, and with gentle application, this touch-up will never come in contact with your skin.
While we admit this is a woman's root concealer product, it works especially great for covering up grey hair and changing your beard color with a simple spray-on tint.
In addition, this formula is made in the USA and doesn't include harsh chemicals. It's also received over 4,900 ratings with a nearly perfect 5-star rating.
We like this beard dye formula because:
It's extremely easy to use
Applicator is designed for a no-mess spray
Lasts for a long time when stored properly
Delivers excellent color results for all hair shades
We recommend using this spray if you want something simple that gets the job done and doesn't use harsh chemicals. If you don't want to mix up products and brush on color, this spray may work better for your beard anyway.
Beard Coloring is Trending
Beard styles have exploded in the past few years. There are so many new looks and ways to cut your beard that expert barbershops have also been on trend for beard dying – just check out this video by @thebeaubarbershop.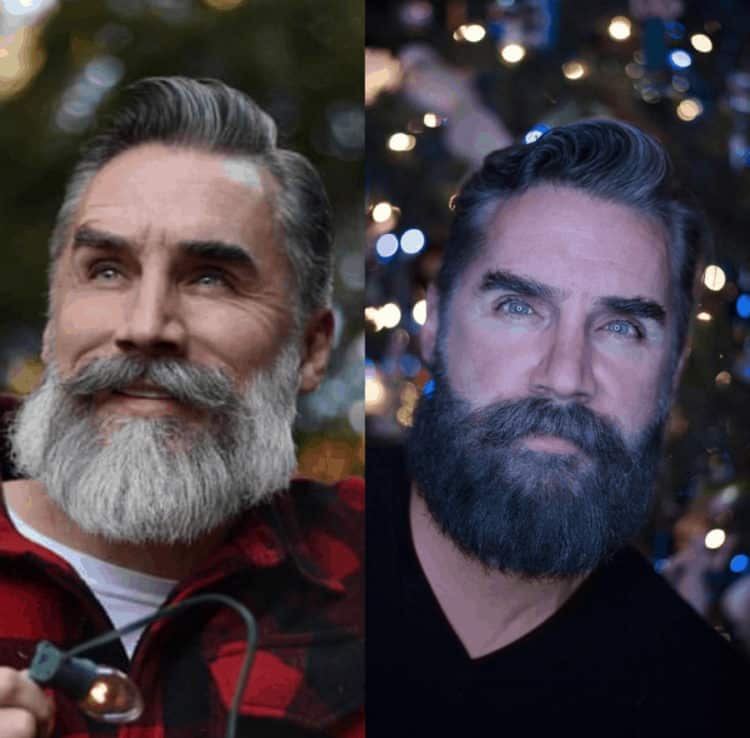 There are a few reasons why people love beard dye right now:
Makes beard color uniform.
Hides gray hairs.
Hides stray red hairs.
Hides stray brown hairs in a black beard.
Beard Dye for Thick Beards
Beard dye works for anyone, but it's especially beneficial if you have a patchy or thin beard. By painting your beard with the right color, you can thicken up your facial hair in just a few seconds.
Standard beard dye colors include brown, blonde, black, and red, but there are many tints and shades that you can choose. We go over those below.
For those with light beard hair – See our blonde beard guide.
How to Pick the Best Beard Color
Before dyeing your beard, you should test a small portion to ensure that it's the right color. Here is a helpful guide to picking the best color for your facial hair.
If choosing a permanent dye, then go slightly darker to get the color you want.
If using a semi-permanent dye, you should look for a slightly lighter color. This is because they don't use a developer and get darker the longer that they are left in your hair.
Colorists say it's often safer to choose a color that's slightly lighter than the color you want to end up with. You can always go a shade darker if you want to.
Buy two boxes if you want to mix color and ensure that the hair color is exactly what you like.
Beard Color
Beard dye kits may also be called beard paint or beard color. These temporary dye kits allow you to change the color of your beard by painting it through your facial hair with a small brush.
You can use this technique to color your mustache, sideburns, and beard hair.
Beard Tints and Highlights
In addition to overall beard color, you may want to try different tints or highlights. These enhance your beard color without completely changing the color of your facial hair.
If you want to add in blonde highlights to match your hair, this technique allows you to create a dimensional beard with just a quick application.
Gray Dye for Beards
Beard dye helps you cover up gray and white hairs in your beard. Only a small amount of dye is necessary to cover up these parts of your beard.
What is Beard Dye Made Of?
Some beard dye descriptions, and ingredients read like a science fiction novel. Ammonia is often included with light beard hair dye formulas because it opens up the follicle, allowing the dye color to penetrate. You should be careful using any beard dyes with ammonia in large doses because it can irritate your skin and eyes in large doses.
There are all kinds of natural and organic semi-permanent beard dyes that allow you to color your beard without using more toxic ingredients. There are also beard dye products for sensitive skin that use a hypoallergenic formula.
Permanent Beard Dye vs Non-Perm Beard Dye
Before buying any beard dye, you should check to see how long it will last. Some beard dye is permanent, while others are temporary. If you want the dye to last for several weeks, purchase a permanent dye. However, you should always start with a temporary, non-permanent beard dye to check the color.
While permanent dye doesn't require a lot of maintenance, it may not look right if you choose the wrong color for your first dying experience. In addition, natural beard dye is typically always non-permanent, which means it will last for about two weeks.
Non-Toxic vs Toxic Beard Dyes
Non-toxic beard dye
Non-toxic beard dye formulas use natural ingredients like indigo and henna. These will likely last for a couple of weeks before you have to re-apply. If you wash your beard a lot, then you may need to keep a box of henna or natural beard dye on-hand to color up your beard when it starts to fade.
Toxic beard dye
"Toxic" beard dyes typically have a lot more chemicals included in their formulas. This doesn't mean that they will necessarily hurt your skin, but prolonged use of certain beard dye can change the texture of your hair.
For example, Just For Men Mustache and Beard Hair Color offers a more permanent beard dye, but it has a long list of chemicals including coco-glucoside, aminomethyl propanol, carbomer, P-phenylenediamine, resorcinol, fragrances, among other beard dye ingredients.
If you have sensitive skin, this beard dye may be an irritant due to PPD or paraphenylenediamine. In fact, Just for Men has several lawsuits pending for skin burns from the chemicals in their coloring products.
We highly suggest checking out a chemical free product like Grizzly Mountain Beard Dye – Organic & Natural.
How Long Does Beard Dye Last For?
The main difference between permanent and temporary beard dye is the length of time that it lasts. Permanent hair dye may last 4 to 6 weeks, while temporary beard dye may only last a week to two weeks. If you're changing your facial hair to match your hair color, then you may want a more permanent beard dye.
However, natural beard dyes may be better overall for the health of your skin and hair. While this is a typically temporary color, it still lasts up to 14 days, depending on how often and vigorously you wash your beard.
Can I Use Hair Dye to Dye My Beard?
While some of the same chemicals are used in beard dye and hair dye, most facial hair dye is semi permanent. This means that the hair color will wash out faster.
With each shampoo, your beard color will fade a bit more, which is why you may need to practice rinsing out your beard instead of washing with any kind of soap.
Here are some things to consider:
Temporary hair dye may seem like a good dye, but it can be quite runny and leak into your clothes. In addition, the skin on your face is more sensitive.
Harsh hair dyes can irritate the skin under your beard, causing redness and flaking. Before using a beard dye, you can check a small drop on your arm or neck to see if it will be a skin irritant.
Overall, if you're looking to upgrade your beard style, then you want to use a high-quality beard dye and stay away from ones with harsh ingredients.
Best Beard Dye for Sensitive Skin?
All of our reviews above showcase the best beard dyes that don't use any irritants or PPDs. We strongly advise guys looking for beard dyes to not go with Just for Men or any products that contain a long line of petrol chemicals.
If it includes paraphenylenediamine of any kind, you should find another dye that uses safer ingredients.
Here's a quick list of products specially formulated for sensitive skin:
Blackbeard for Men – Instant Brush-On Beard and Mustache Color
The Henna Guys – Henna Beard Dye
ReflectoCil Cream Hair Dye
Godefroy Professional Beard Kit
What are the Risks of Beard Dyeing?
For those with sensitive skin, there are a few risks. For example, certain ingredients may cause an allergic reaction. Like ammonia may irritate the skin and cause red patches or dryness, leading to flakes. The best way to know is to test a small amount of beard dye on another area of your body, such as the skin on your forearm.
If you choose a color that is too light or dark, it may not match your hair color exactly. You can test out a small application on your longer beard hair that can easily be trimmed away to test the hair color.
We based our reviews on beard dyes that are safe and don't use paraphenylenediamine (PPD), which can be dangerous.
Should you use a Beard Dye?
This depends on your current hair color and overall personal style. Beard dye is safe to use for most skin and hair types. It works just like hair dye, so if you have gotten highlights or tried a whole new hair color, dyeing your beard works the same way.
You can easily style your beard hair in any color with a beard dye kit, but there is a right way and a wrong way. In this guide, we'll give you more information on how to use facial hair dye to get the look you want, as well as examples so you can decide if it's right for you.
Final Thoughts
With choosing a beard style, we know that color plays a minor role. In fact, you probably never thought you'd be dyeing your beard. However, when it comes to looking your best and personal grooming, you can never go wrong with self-exploration and trying something new.
Beard dye is especially popular for creating thicker, fuller beards, and you can dye your hair with any shade. If you don't want to jump in all the way with a full color, we suggest trying a cover-up solution such as a spray, highlight kit, or Blackbeard's beard touch-up.