Everyone has meltdowns, but have you ever had millions of people watch yours on television, then for over a decade after, continuously speculate on what happened to you?
Well, the Britney Spears bald incident from 2007 has continuously haunted the pop star ever since the infamous pictures of her half-shaved head went viral.
The Britney Spears Breaking Point documentary discusses what happened to the bald celebrity as verified by the tattoo artist who was with her on the same night. The reasons that Britney Spears shaved her head are beyond heartbreaking.
When Did Britney Spears Shave Her Head?
During a public meltdown, Britney shaved her head late at night on February 16, 2007, at a Tarzana hair salon on Ventura Boulevard.
The events leading up to the night Britney Spears, 39, took a pair of clippers to her gorgeous locks were somewhat of a mystery. While it was clear, the star was having issues at the time, no one expected to see the Grammy award winner shave her own head.
Those who were there said that it was all because of a dispute with Kevin Federline. Here's a breakdown of what happened that night:
Britney Shaving Head Shaving Timeline
Spears had been in rehab in Antigua prior to that day.
She visited the home of her ex-husband, Kevin Federline, expecting to see her sons, Sean and Jayden.
Federline refused Spears to see their children. Britney left the house and went to a nearby salon.
She asked for stylist Esther Tognozzi and wanted her head shaved, which Tognozzi at first tried to persuade the singer against.
Britney took the clippers when Tognozzi looked away and started shaving her own head in the salon chair, captured by the paparazzi.
After a few minutes, Britney had completely removed all the hair on her head.
While she had bodyguards and security, they did nothing to stop as many as 70 or more paparazzi from filming the event.
The pictures that followed were released to the public almost within the hour, thus starting rumors that Britney was having a mental breakdown in public. Her "handlers" rushed to get her under control, prompting more questions about her health and safety.
Tognozzi said of that night:
"She had two bodyguards supposedly keeping an eye out to make sure the paparazzi were not getting any pictures…"
Why Britney Shaved Her Head?
Following the hair salon, the second part of the night began, when she went to a tattoo parlour down the street from the salon and requested a woman's lips tattoo, followed by a cross.
Emily Wynne-Hughes was her tattoo artist and had never told anyone what happened that night, but she joined the documentary Britney Spears' breaking news explained:
"[I heard] an insane roaring sound outside. I wasn't sure what was happening, if there was a riot outside and then the flashes came…I noticed her hair was gone. I remember asking here, 'why do you shave your head?'"
Wynne-Hughes now said that Britney told her why she had shaved all of her off, paraphrasing the star as follows:
"It was, you know, 'I just don't want anybody, anybody touching my head. I don't want anyone touching my hair. I'm sick of people touching my hair.'"
Others Say Why Britney Went Bald
Speculations have followed the incident as the Toxic singer was admitted to a facility following the incident where she spent many weeks "recovering" before joining the public eye again.
The idea that she didn't want anyone touching her hair goes back to controlling her image. At the time, Spears was only 26 years old and had never been in control of how she looked, according to those closest to her. Every detail of her appearance had been under music executives' control since she was 16.
Why Didn't Bodyguards Stop Paparazzi for Spears?
Wynne-Hughes also corroborated what Tognozzi had witnessed of Spears' bodyguards, saying in the new documentary:
It just didn't seem like they cared very much. I've felt this insane sense of anxiety and energy that felt so negative… It just seemed like everybody was waiting for the crash to happen.
Pictures of Britney Spears Bald
It's strange that the bodyguards didn't block opening the blinds or help Britney Spears while she was in Los Angeles that night.
The photos from the event show Spears shaving her head and getting aggressive with paparazzi after she left the tattoo parlour: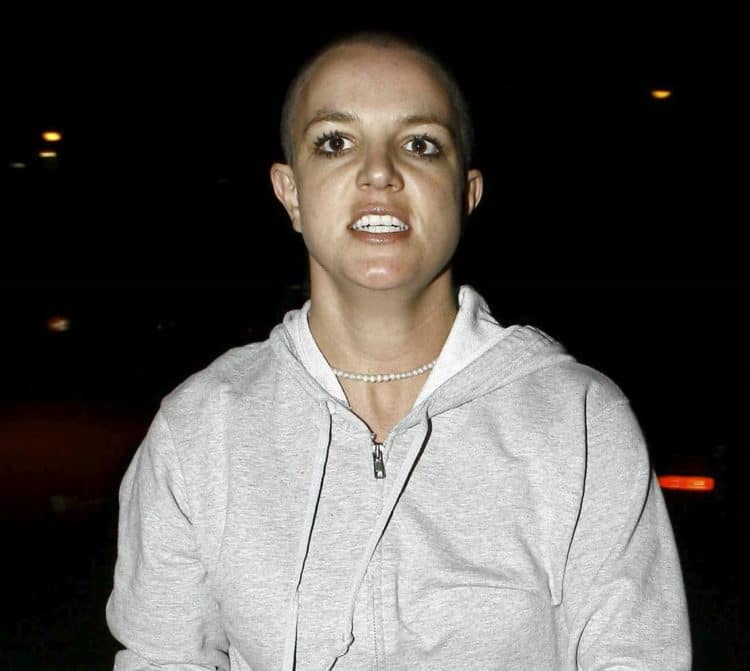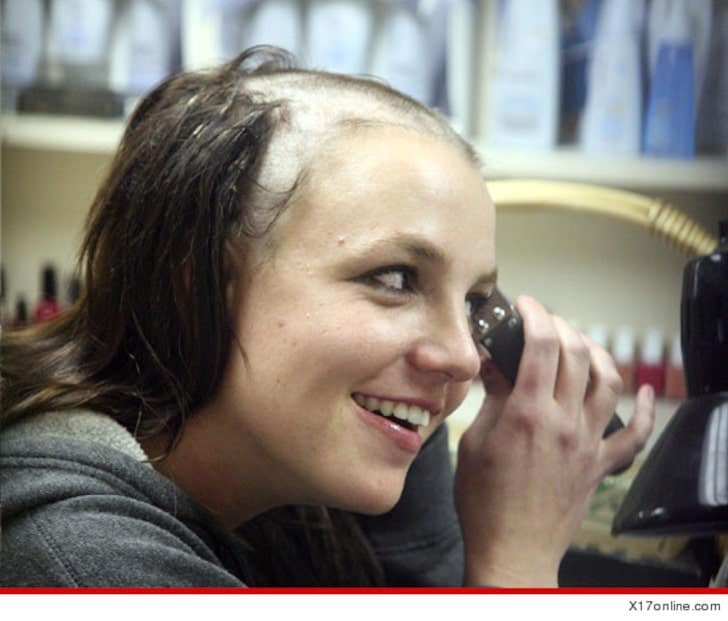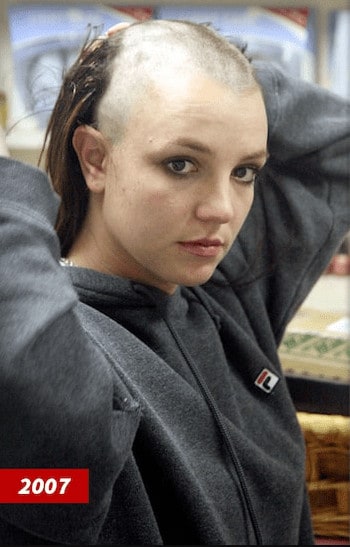 Is Britney Okay?
Spears had a rocky road after becoming a worldwide legendary pop singer before she was even 18. Thankfully she's no longer under the controversial conservatorship of her father at the age of 38, and now shares custody of her sons Sean and Jayden.