Want to grow a celebrity beard like Brad Pitt? As one of the most well-known actors in Hollywood, Brad has always had an exceptional beard and trendy hairstyles. While he's changed the style from goatee to Van Dyke beard to a full long beard, Brad always seems to surprise the red carpet with a new facial hair style.
Brad Pitt beard styles range from simple mustaches to full beards, often paired with sleek sunglasses and messy long locks.
If you've been following Brad Pitt's stardom, then you know he's had several bearded looks. We explore every style he's sported since the late 1980s.
Top Brad Pitt Beard Styles
It's hard to believe, but Brad Pitt has been reinventing his look for the past 40 years. He's living proof that personal style isn't defined by your age. 
From his long-haired, heartthrob looks in the late 1980s to the infamous style of Tyler Durden in Fight Club to his latest Hollywood cowboy style in Once Upon a Time in Hollywood, we can learn a lot from Pitt's chameleon facial hair styles. 
Early Career Styles
Did Brad Pitt even have facial hair when he was first starting out in Hollywood? While his first movie was in 1987, it was actually very rare for the fresh-faced Brad Pitt to sport any type of facial hair. 
Styling tips for this early Brad Pitt era:
Keep your mustache and chin stubble short
Style your hair long and tousled, using a pomade for shine
Grow a soul patch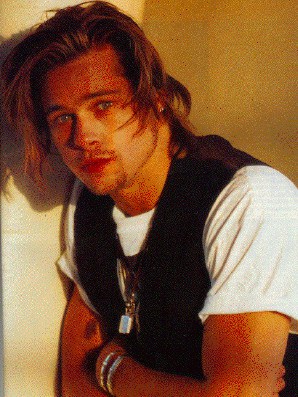 1990s Styles
Brad Pitt's career took off in the 1990s with A River Runs Through It and Interview with the Vampire. He would do Seven and Fight Club later, which would catapult him to legendary Hollywood status. 
Naturally, his look changed a lot during this time, and his facial hair took on a life of its own. 
Styling tips for 1990s Brad Pitt:
Grow out your stubble for a Van Dyke beard
Dye your hair bleach blonde but keep your facial hair dark 
Trim back hair along jaw and cheeks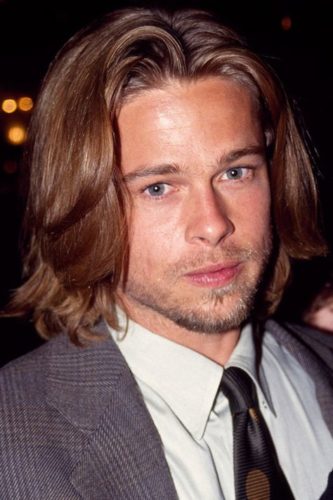 Early 2000s
From dating Jennifer Aniston to marrying Angelina Jolie, Pitt went through many changes in the 2000s. His movies were everywhere, starting with big blockbusters like Troy and Ocean's Eleven, then moving on to Mr. and Mrs. Smith and Inglourious Basterds.
Styling tips for Brad Pitt looks from the 2000s:
Keep your hair spikey and short, such as a longer crew cut
Grow your goatee longer
Grow out your sideburns
Let the salt and pepper show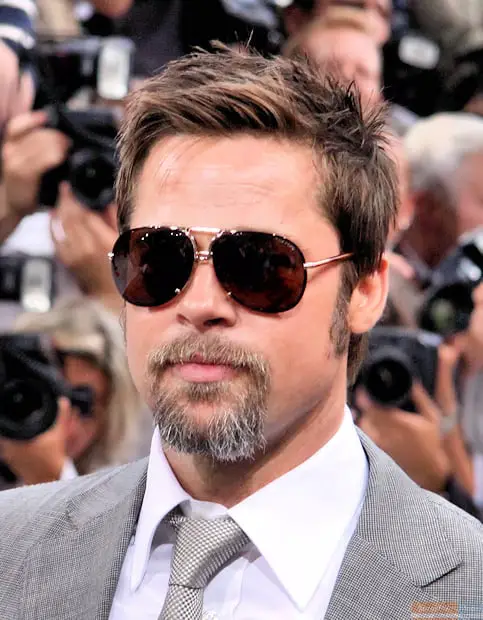 Late 2000s to Current
By 2015 and beyond, Pitt had moved past his blonde locks, but he still rocked the Van Dyke beard. His style is still iconic, and as with any true Hollywood legend, Pitt continued to surprise with different long beards and long goatee styles.
Styling tips to get Brad Pitt's current look: