For guys who are balding, finding a fresh men's hairstyle can really restore your confidence. For better or worse, hair loss is a journey. So it's important to know the benefits of certain haircuts and use them to your advantage.
The rule of thumb is that a shorter hairstyle for balding men is better at hiding thinning hair and considered more attractive. So, balding men will typically elect for a new style to complement their changing hairline and accentuate their strongest features.
With continued balding, it's time to start looking for a better haircut. Here are some of the best bald haircut looks, including those from male celebrities who pull it off perfectly. Keep reading.
1. Bald Haircut
Shaving your head completely bald is a great option with this full acceptance, clean-shaven bald head look. It's a bold statement and easily achieved with a top quality electric head shaver or any Skull Shaver product.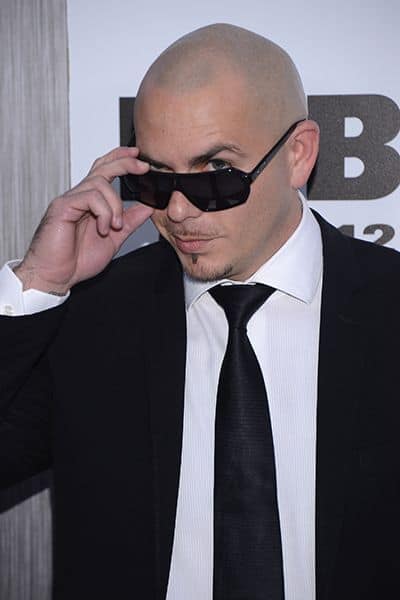 Men like Jason Statham, Dwayne Johnson, and Jeff Bezos have all shaved their heads and rock this look.
Just because you're losing more hair doesn't mean you have to go completely bald. The first step may be to try a shorter, cleaner buzz cut.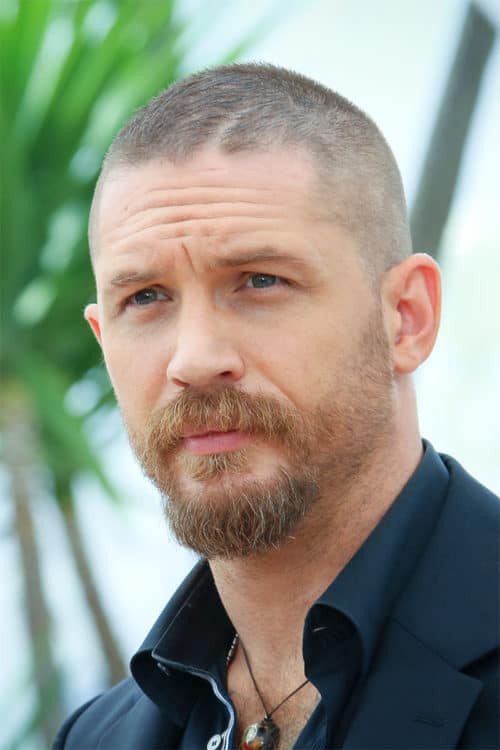 Many men have done this super stylish look and partnered it up with thick facial hair. Tom Hardy and Channing Tatum have both opted for the buzz cut.
This look minimizes receding hairstyles by balancing all hair to the same length and hiding missing patches by keeping it short.
3. High Fade Buzz Cut
This style focuses on a fade from the ears around to the back of the neck and up to the crown. Hair is thicker at the top and front of the head near the forehead. There's a bit more length to cover the crown in other looks if hair isn't as sparse.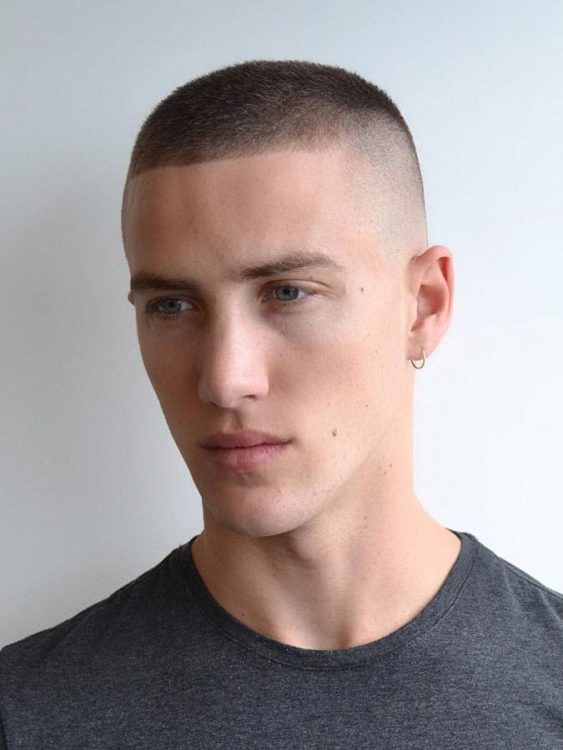 If you're losing your hairline but want to keep your locks longer on top, you can opt for the tapered, clean style crew cut. This draws attention away from your hairline and brings the eye to the center of your face.
This is another look for those who don't want to go totally bald just yet and like using clippers with a #2 or #3. It also complements your face if you also have a widow's peak.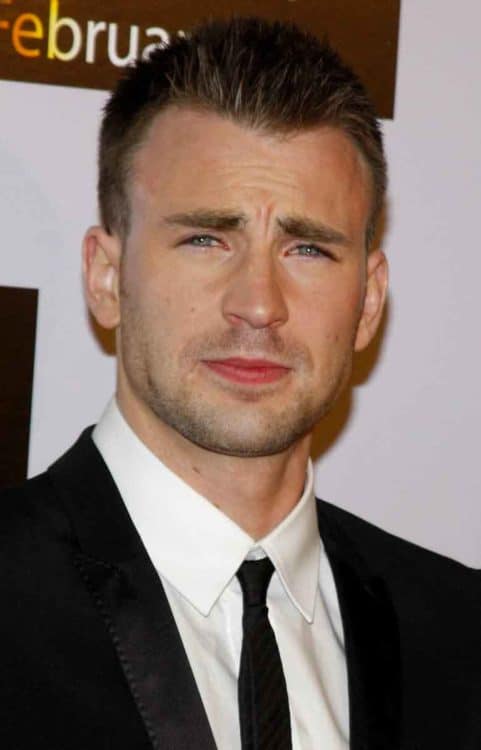 5. Crew Cut Taper
If a crew is an all-around shorter haircut, the mid taper takes it a step further with a clean look around the ears. The taper layers upwards, blending thicker hair, starting from temples and towards the top of the head.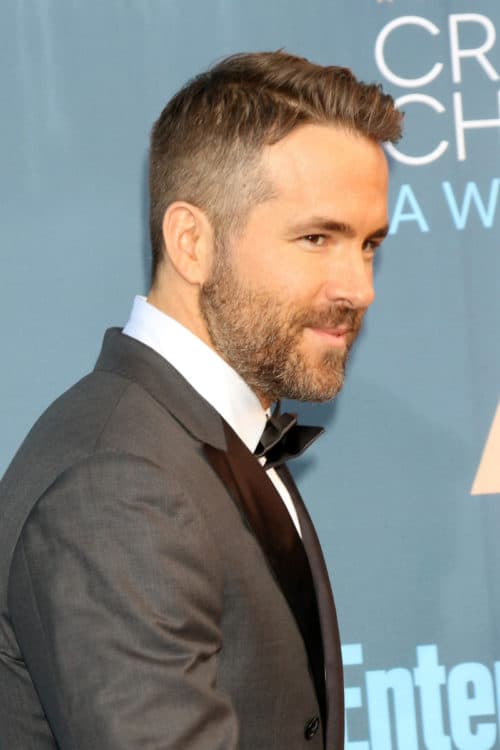 6. Bald on Top Hair on Sides
For men in need of a bald spot haircut fix, follow in the footsteps of Jason Statham with his bald on top hair on sides haircut and trademark stubble beard.
If you're tired of tracking your hair loss with each new bald patch, the best way to take back control over is by trying the balding hairstyle look.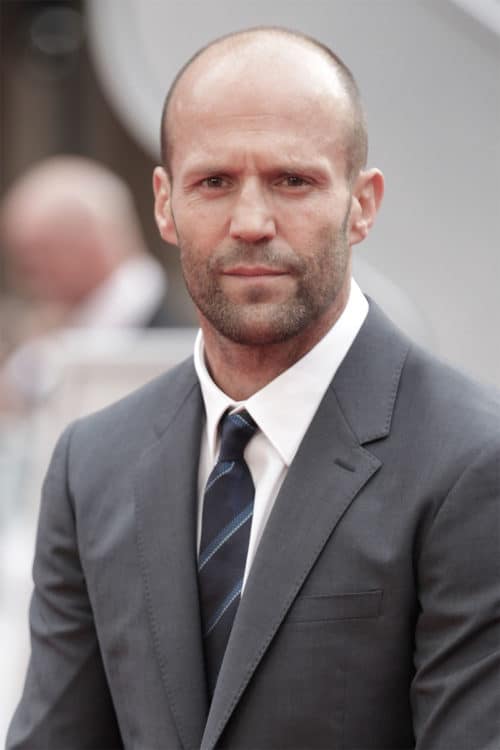 7. Short Spiky Haircuts
Men with longer locks on top but with a receding hairline can opt for short spiked hair to bring their long strands forward and cover up the receding corners.
Around the ears and towards the back of the neck, you can also get a low fade that tapers up to a #3 on the sides and longer hair on top.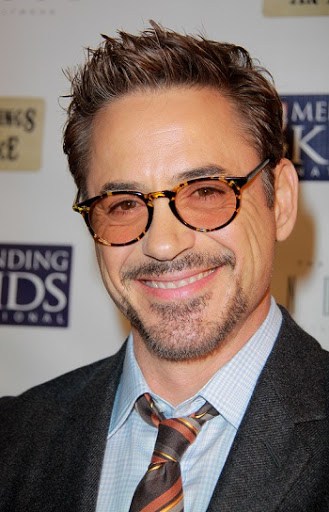 8. Caesar's Haircut
This look is defined by short, thick hair that's combed forward at the top of the head and upper sides. It may be tapered to a small fade around the ear.
A little gel may be used to keep the hair neat and tidy. This look also has tapered or faded sideburns that look best with a tight, well-maintained beard.
Because the caesar haircut pulls all the hair forward, it will cover bald spots on top and bald spots on the crown. Also, because it pulls across the forehead, it will also cover a receding hairline and balding temples.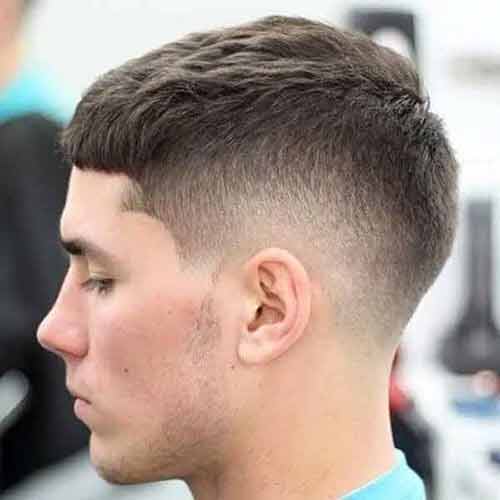 9. Comb Over Fade
The comb over hairstyle is an easy style to achieve if you want to hide a mature hairline, bald spot on top and receding corners.
This look combines a fade around the ears and back of the head, tapering up to thick hair on top that's combed to one side.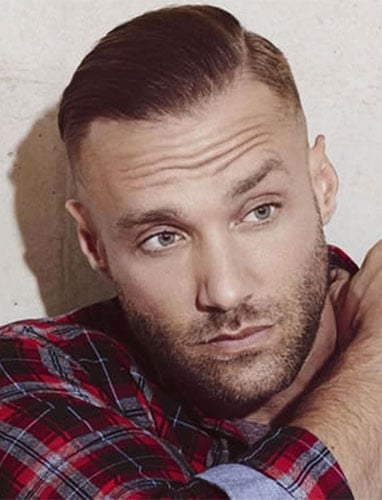 10. Slicked Back Undercut
If you want to show off a Widow's peak, which is actually popular for celebrities, then you can use mousse to thicken and slick your hair back on the top and sides.
The long slicked back hair covers thin spots, balding crown and temple corners.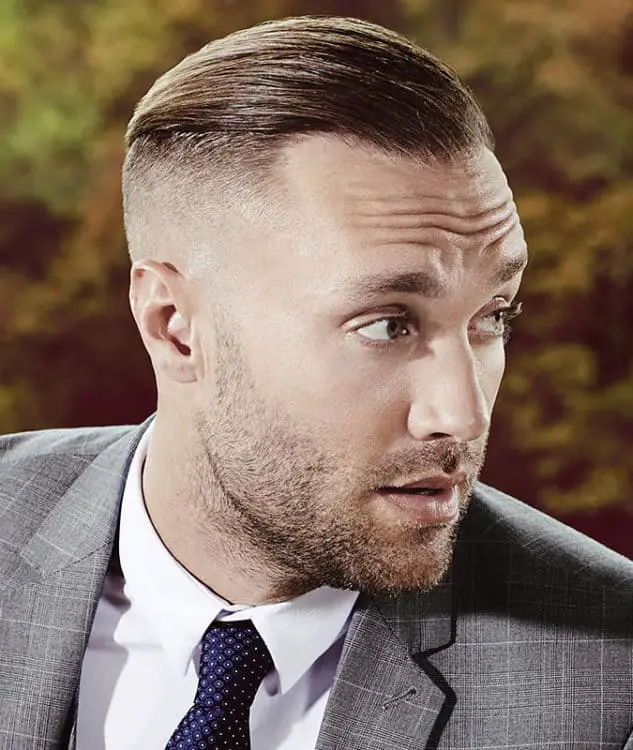 11. Ivy League Haircut
On screen, Daniel Craig wore the impeccable James Bond haircut. The style is better known as the Ivy League Haircut. This look has short hair on top with tapered sides and often with a slight part.
This look is always kept neat and perfectly styled at all times. The short style is a great match for thin hair.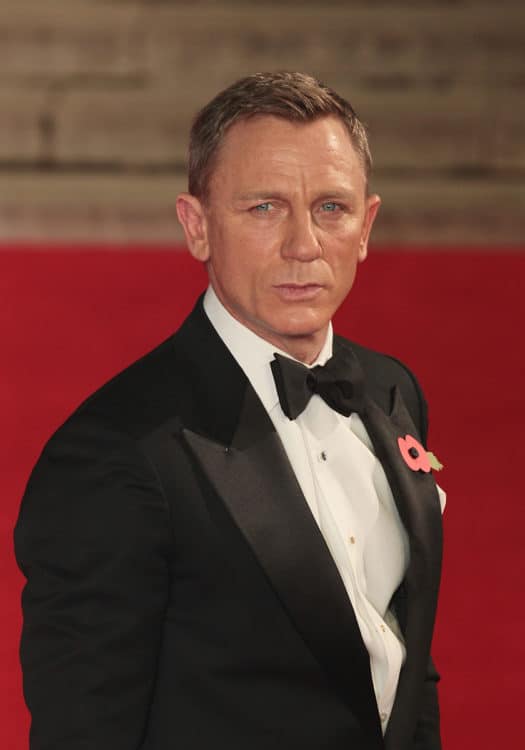 12. High and Tight
This is a combination of the buzz cut with a longer crew cut on top. The result is a regulation military-style look that can be slightly styled on top with a bit more length.
The short skin fade sides are typically tapered with a #2 guard that goes into a #3, but it leaves at least a little over an inch of hair length to comb over. This creates the high and tight look.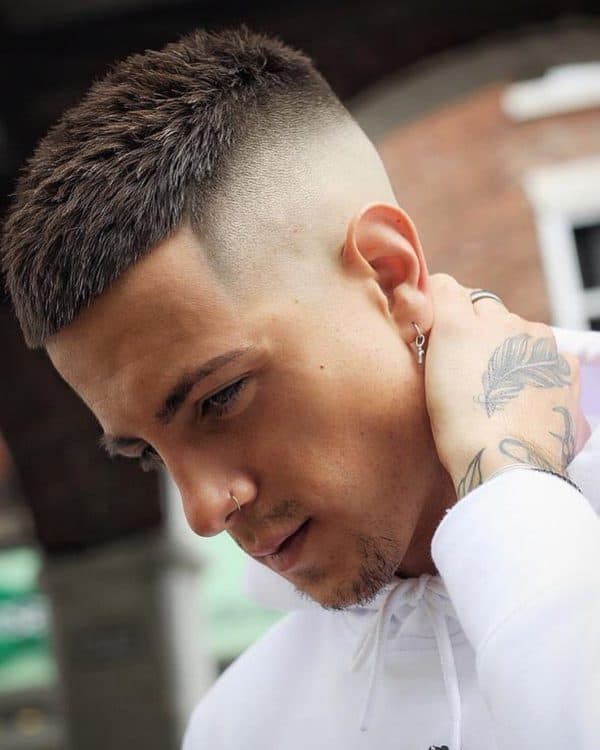 13. Short Hair Taper Fade
The taper fade is a clean-shaven look around the ears and up to the temples. It typically the taper and fade are combined for a unique look.
Hair on top is kept tousled and perfect in you're thinning on top.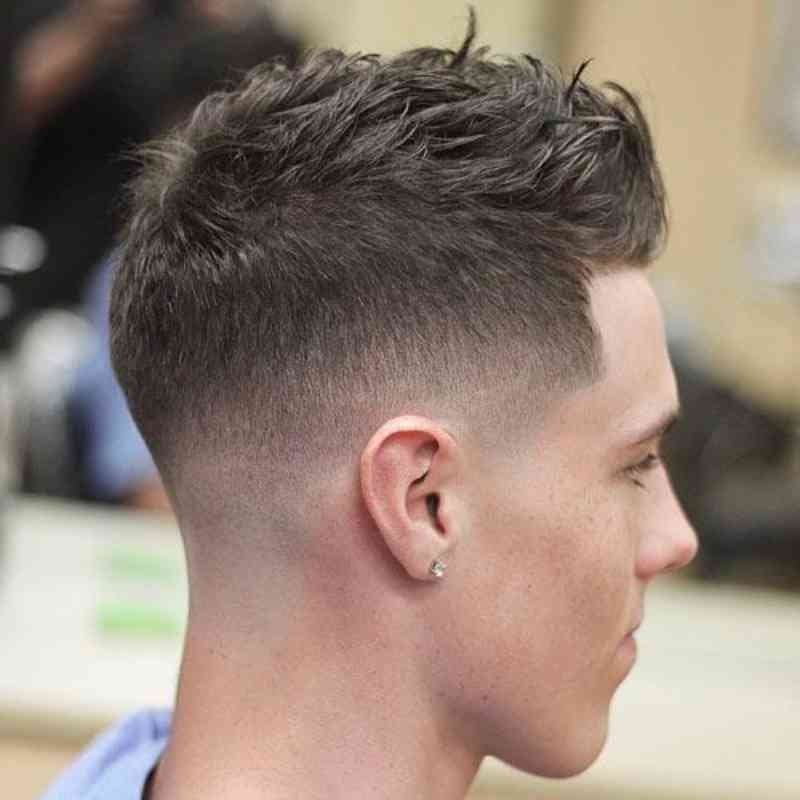 14. Fohawk Fade
The fohawk haircut AKA faux hawk hairstyle has faded edges on the sides and extra length at the top of the head to the center of the crown. This is a longer hair style that can take the emphasis off of a V hairline or Widow's peak.
The hair is kept neat on the sides but messy on top. Mousse and hairspray can help keep your fohawk fade stylish and thick.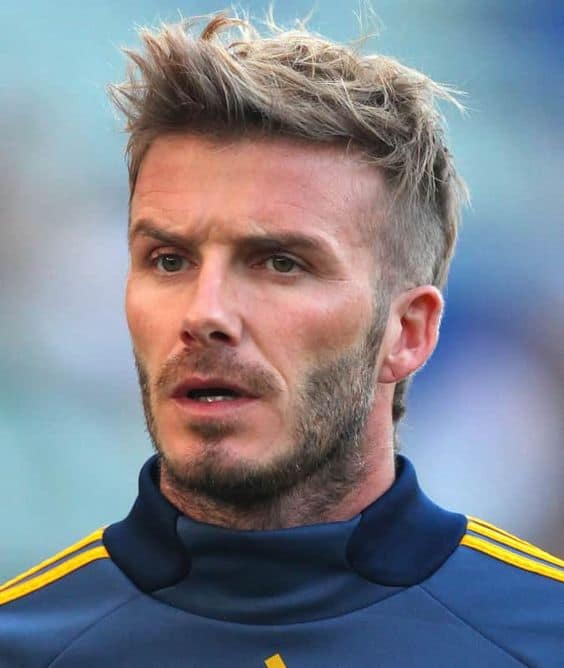 15. Butch Haircut
These looks follow the shape and contour of your head, but a barber typically cuts these so it fades slightly around the ear to make the butch haircut.
The rest of your head is cut to a third of an inch using a #2 or #3 all around with the clipper. It's a neat, no-fuss hairstyle.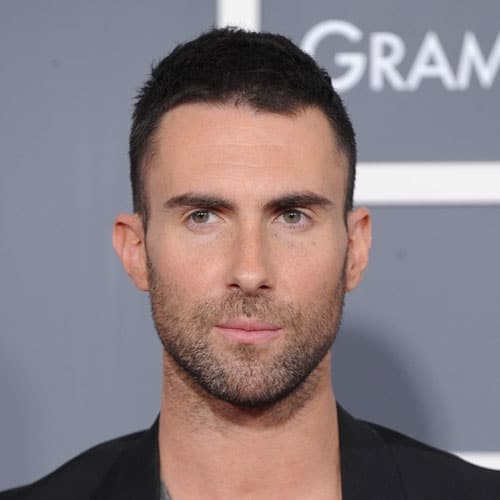 16. Pompadour Fade
This is a trending look because of the short length at the top with thick hair that tapers off to a clean or bald fade around the ear.
These looks typically have a small pompadour at the middle of the forehead that tapers off to the crown. You may also comb your hair forward or to the side to mask receding hairlines and bald patches.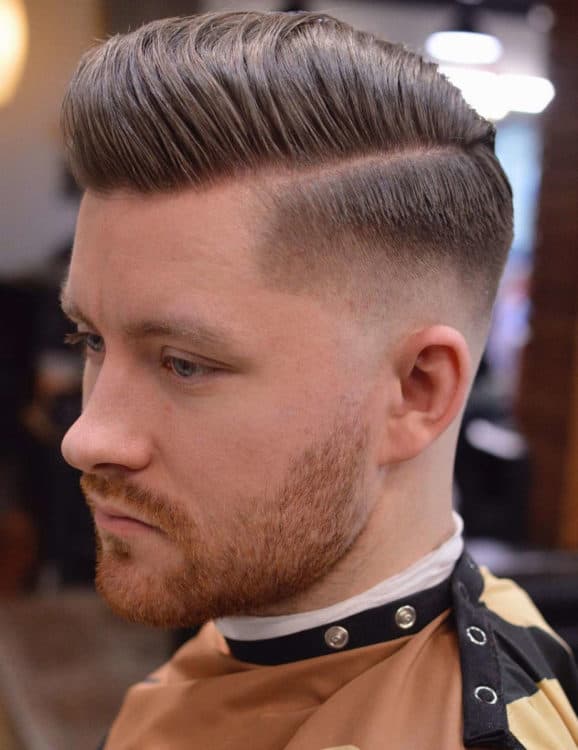 17. Short Waves Haircut
If you have curly, thick hair with a receding hairline, then you may simply want to go for an undercut or tapered fade on the sides.
This leaves your hair wavy and thick on top. You can style it using a thickening mousse to add volume and shine.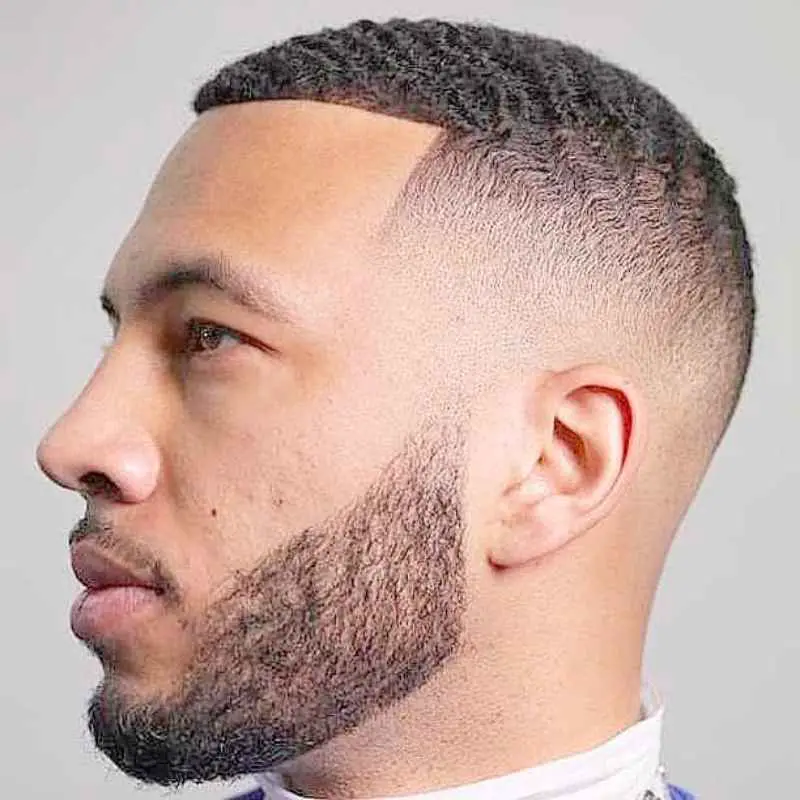 18. Slicked Back Hair
The Don Draper is a classic business professional haircut that's quite neat on the sides.
The top length of hair is kept short. Then the hair is slicked back with volume at the front using a bit of styling product.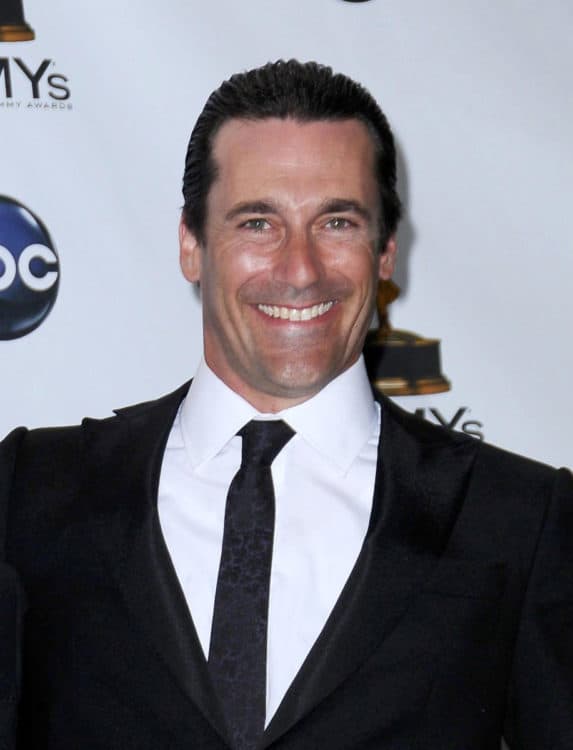 19. Side Part Haircut
Robert Downey Jr. again, this time with a side part style that helps conceal thinning parts well.
This short hair look has a little more length than a crew cut and less tidiness using hairspray or gel to hold the style.
This is one of the best haircuts for balding men because it parts at the corner of a receding hairline and hides the other corner with a bit of length for the comb over.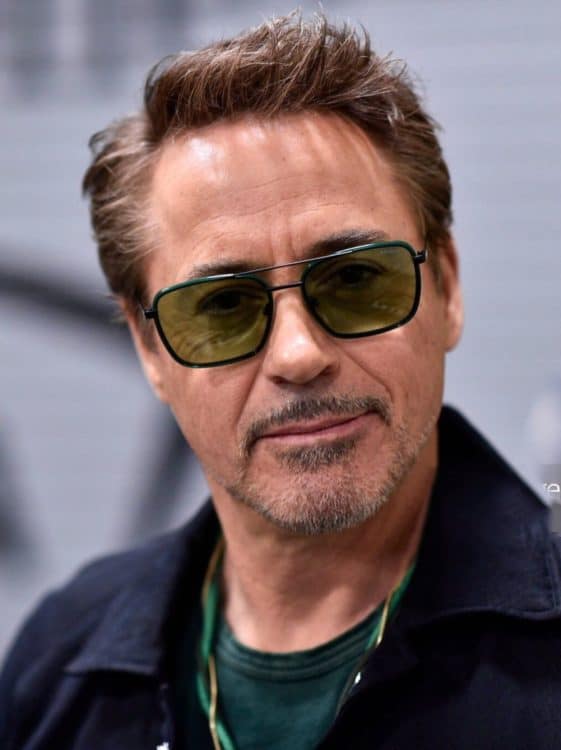 20. Brush Cut
Slightly shorter than the buzz, the brush cut is perfect for hiding your balding hair.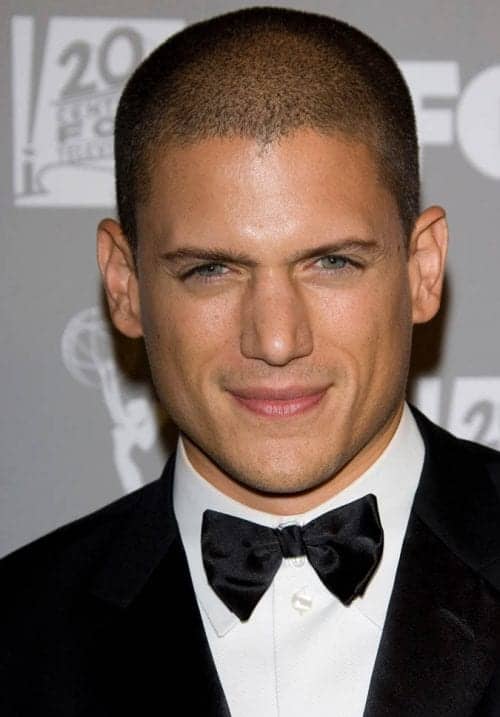 21. Quiff Haircut
The quiff haircut is a shorter style that's slightly tousled, with a quiff in the front. The short look combined with pushing the hair around helps hide your thinning spots.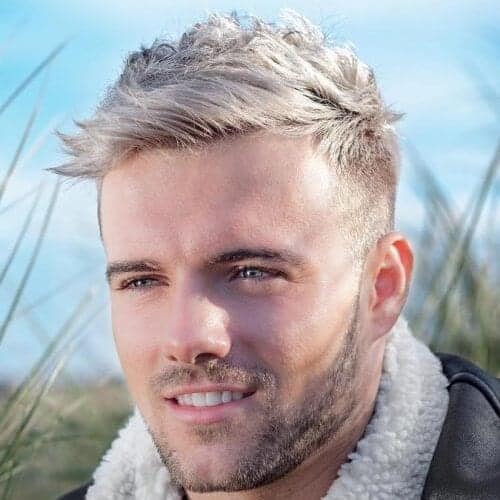 Styles to Avoid
When your hair is thinning, there are a few golden rules and styles to avoid:
Balding comb-over: you've all seen it and it's terrible.
Bald men with a ponytail: men trying way too hard to hold on.
Failed Caesar: When theirs just no hair left and you try to comb it forward.
Wrapping Up
These are a sample of hairstyles for men with male pattern baldness. Find other options to help your look: