As you get older, your hairline matures and for some men may form a "widow's peak". This occurs naturally and will create a very distinguished look. If this is you, then count yourself among countless celebrities who also rock this look.
The Widow's Peak describes a V-shape at the center of your forehead. The widow's peak forms in different lengths, and sometimes, you may have a rather distinctive hairline that becomes more obvious when you slick back your hair.
Hairstyles for widow's peak hairlines may exaggerate or hide it depending on your preference. This guide looks at all the best men's hairstyles trending right now. Keep reading to find your best style.
Best Widows Peak Hairstyles
You shouldn't try to alter a widow's peak by shaving the front, as it could become an unnaturally high hairline. Rather, there are a few ways you can grow and style your hair to make the most of your hairline.
1. The Side Part
If you have always worn your hair slicked back or parted in the middle, then it may not feel as natural to do a side-part style. However, this look is a stylish way to use longer hair.
You can get this look by aligning your part with the highest point in your hairline. This dapper look can be parted using products and a comb, or you can keep it a little casual and long.
2. Crew Cut
Longer hair can be difficult to hide your peak. Shorter styles like a crew cut definitely work to hide a prominent widow's peak.
Also known as the military cut, this cut is typically created with shorter sides and longer hair on top, while not so long that it can be combed over. The hair at the front may be styled up or styled slightly forward.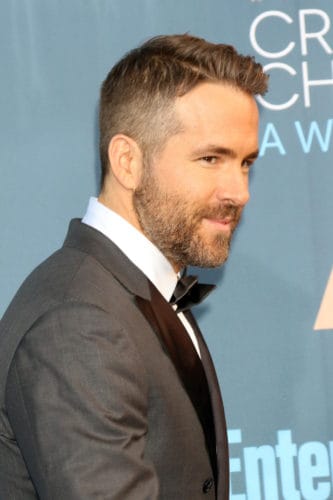 3. Widow's Peak Buzz Cut
For those who like shorter looks, the buzz cut is a sharp, clean-cut way to take attention away from your widow's peak hairline. This style is a classic look and puts more emphasis on your handsome facial features.
Balding deep widows' peak hairstyles sport a minimal look. Sometimes referred to as the "bald look", worn by action stars like Jason Statham, Vin Diesel, and The Rock.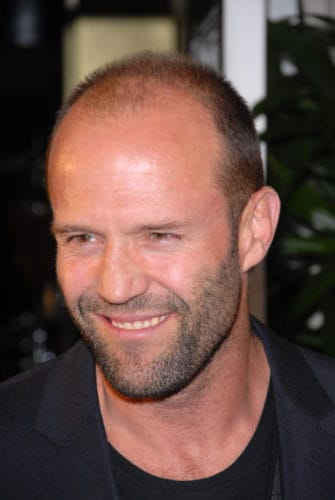 4. Slicked Back
Do you love the definition of your widow's peak and have longer hair? You can pull off a stylish look using mousse or gel to style your back.
This charming style embraces your natural male hairline. This is the perfect look to rock for special events where you need to "clean up nice," so partner it with a fashionable suit.
5. Short Spiked Hair
This texture really draws attention, especially if you have a shocking color such as white blonde, pitch black, or even violet. This is a classic rock look that accentuates the widow's peak and draws more attention by sheer edginess.
6. Widow's Peak Undercut
The undercut is a classic way to have long hair with a fade. This hairstyle gives your longer hair a thicker look that you can style.
The undercut makes the hair at the top also seem more voluminous. You can balance out the widow's peak with this stylish look. Modern barbers create this look by fading the sides and keeping the hair longer. You can wear it with a pompadour, quiff, or slicked back.
7. Tapered Sides
If you want a modern hairstyle, then ask your barber for a taper haircut or taper fade haircut with clippers and keep your hair on top longer. The hair is tapered along the sides to the back and looks fantastic when partnered up with a pronounced widow's peak.
8. Medium Length Curls
Do you have longer curls or waves? This is a great hair texture to have with a widow's peak.
You can style the longer strands to either side, or you can use mousse with a blow dryer to get a super stylish, voluminous look. The texture and thick hair make it easy to disguise your V hairline.
9. Pompadour
For the on-trend hairstyle, the pompadour is a perfect "go to" when you have a widow's peak. It moves the pompadour down on the forehead and brings it forward.
You can style it with a side part as it gives the look more definition. Hairspray and gel may enhance the shine and softness of your hair with this style.
10. Short, Combed Forward
This hair is one step above a buzz cut. It keeps your hair short, but you comb it forward and use a slight amount of gel to keep it in place. This is a tidy, clean look that's quite minimal.
11. Hard Side Part with Bald Fade
If you love the faded look, you can have your barber create a bald fade with a hard part to one side of the widow's peak. Men with this look tend to keep their hair longer to one side, combing it over.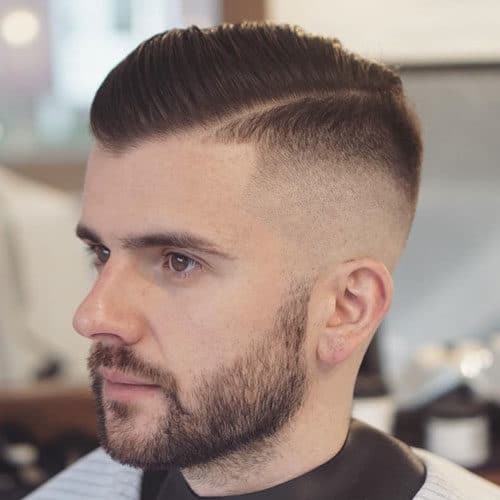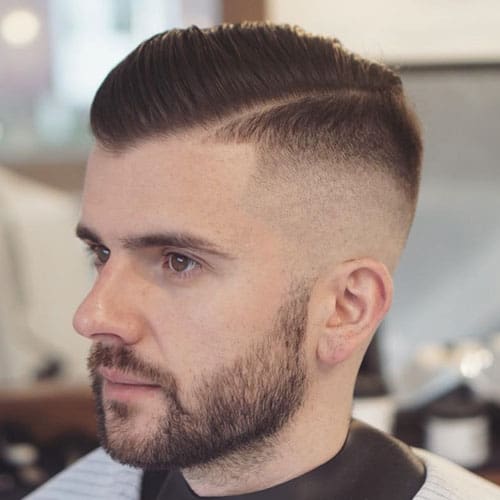 12. Curls and Fringe
Do you have a lot of thick curly hair with a widow's peak? This is an incredible look for a man who wants to rock a fade on the sides with longer hair on top. Curls are usually kept quite free, but you can use mousse or argan oil to give it more volume or shine.
13. Long Hair Widow's Peak
How do you style longer hair with a widow's peak? Many men simply embrace the look and pull their hair to one side, tucking it behind the ear. They may shave one side with a fade, but typically locks go longer than the ear or down to the shoulder.
14. Short Hair
If you have shorter hair, you can also style for a textured look. It's simple and clean looking. This style works if you embrace the widow's peak.
15. Middle Part with Widow's Peak
If you have longer middle to longer length hair, you can part the middle. However, if your V is too deep or you have excessive thinning, opt for a shorter style.
Widow's Peak: the Perfect Haircut for a Receding Hairline
With widows' peak styles for men, there may also be one side of the part that's not as defined as the other. It's best to work around a widow's peak and come with a hairstyle that covers the corners, but many men with this hairline love to show it off.
However, if you have a deeper V widow's peak, then your receding hairline will show more of your forehead. Here, you may be able to change the look of your widow's peak through hair transplant surgery. There are also topical creams and finasteride medication.
If you want to embrace your balding widow's peak, there are several hairstyles that work with it. For those who want to accentuate this hairline, there are a few parts and fades that make a widow's peak even more desirable on a man.
Why Do They Call It a Widow's Peak?
The term widow's peak is a slang term from 18th-century England. It was the tradition when a woman's husband died that she would wear a "Mary Stuart Cap" or "Widow's Cap" with a triangular point that fell in the middle of the forehead.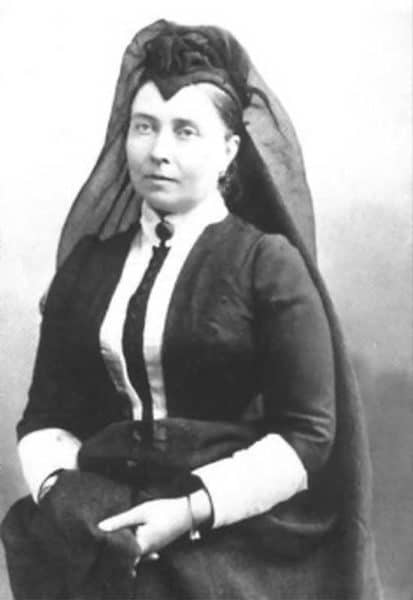 What Causes a Widow's Peak?
So what causes this type of hairline? Research shows it's in your genes.
If you don't want a widow's peak hairstyle, then you have to learn how to part your hair. In some cases, one side is more defined than the other. However, I say don't try to hide from rather embrace it.
Most people have people in their family with the same haircut. You probably know at least one or two others in your family who have the same hairline.
Genetic Conditions
In some cases genetic conditions can be associated with this hairline type, but they're all quite rare.
Aarskog syndrome
Aarskog syndrome: This is a rare disorder that typically only affects men. Other characteristics are displayed by a round face with a wide forehead. This condition appears when you have an FGD1 gene on an X chromosome.
Frontonasal dysplasia
Frontonasal dysplasia: This is another rare condition that develops into an abnormally sized head and face issues. These are caused by genetic mutations.
Donnai-Barrow syndrome
Donnai-Barrow syndrome: This is a mutation of the LRP2 gene. It also causes unusual features of the nose, ears and eyes.
Optiz/BBB syndrome
Optiz/BBB syndrome: In this condition, the MID1 gene, SPECC1L, and chromosome 22 have mutated, causing abnormalities in the center of the body.
Should I get a Widow's Peak Hairstyle?
You should! Many celebrity hairstyles feature widow's peak as a defining feature such as Jude Law, David Beckham, and Johnny Depp. Chris Hemsworth is known for his longer locks and fade styles that accentuate the widow's peak.
Whether you like to keep it short or want to go rugged, you can style your hair with on-trend pompadours, fades, and style products to show off your handsome hairstyle.