Fellow beardsman, do you wear a CPAP mask to treat your sleep apnea? For those with sleep apnea, having a beard can make sleeping with a mask even more difficult.
Good news – there are specialty CPAP beard masks for you. Take care of your beard and get better sleep with the right headgear. We'll show you the best CPAP mask for beards so you can sleep comfortably.
What is a CPAP Mask?
A continuous positive airway pressure (CPAP) mask helps treat obstructive sleep apnea that can cause you to stop breathing at night. Both a hose and mask are used to deliver steady, constant air pressure to the sleeping user.
There are a few problems with CPAP masks, such as those that don't fit and can't create a tight seal around the mouth and nose. The right size mask that fits someone else may not fit you, based on face shape and size of facial hair.
Can You Wear a CPAP Mask with a Beard?
Yes, there are a few types of masks that fit full, thick beards, but if you have a longer yeard beard, this could be a challenge. So, you may find it uncomfortable wearing a mask with a beard or any kind of constricting headgear.
However, the best CPAP masks for beards make it easy to sleep with this machine without ever having to trim your beard.
Nasal Pillow CPAP Masks
Fit under your nose, sending air to your nasal passages with a flexible open design that will work with any beard.
CPAP Nasal Mask
This mask works well for beards because it only covers the nose and leaves the mouth and jawline free. These are best if you need a high pressure setting and move around a lot while sleeping.
CPAP Full Face Masks
Form a good seal around your mouth to prevent air leaks typically using a chin strap. These work great for men with facial hair who also may be "mouth breathers."
What is a CPAP Mask for Beard?
CPAP masks for beards have a different fit than the typical small mask provided with sleep apnea machines. There are multiple options available to help those diagnosed with sleep apnea who also have a beard or mustache.
Does your facial hair fight with your mask? Without the right sleep apnea machine mask, you may find yourself uncomfortable and without a tight seal.
What CPAP Mask Fits a Beard?
There are a range of CPAP masks available. Some are full face masks that cover your mouth and nose with straps that go across your cheeks and forehead. However, these don't always help with comfort levels, as they can make you feel claustrophobic or don't allow you to sleep the way you like.
Here's the order of preference with CPAP masks for facial hair:
Nasal pillow masks (Recommended for facial hair by Mayo Clinic)
Nasal masks
Some full face masks with comfortable mask liners (see reviews below)
Masks also come in various sizes, but the best ones typically allow you to adjust to a larger or smaller size as needed. The best CPAP masks for beards don't obstruct your range of movement or cause you to feel claustrophobic.
Benefits of Nasal Pillow Masks
These masks are designed to fit around your mouth while not obstructing your movement. It doesn't go across your lips like other masks and allows you to grow the longest facial hair along the jaw and chin. It won't obstruct your beard growth at all.
However, some don't like the force of air going up the nostrils as much as a regular CPAP mask. It can be a little uncomfortable if you don't find the right products due to sore nostrils, but it won't hurt your nose bridge because it doesn't go across your face.
Benefits of Nasal Masks
The difference between nasal pillow masks and nasal masks is the design of the frame. Nasal pillow masks fit at the nostrils to supply air pressure, while nasal masks cover the nose. You won't get sore nostrils with these types of masks, and it's also not a full mask that covers your jaw, mouth, and nose.
These masks are best if you have claustrophobia with full face masks and want something that won't interfere with your sleeping position or field of vision.
Benefits of Full Face Masks
If you have tried the nasal mask before and don't like the sensation of air going up your nostrils, then the full face mask is another option. These masks fit under the chin and over the mouth, which makes them ideal if you are susceptible to mouth breathing.
However, some of these designs can rub against your beard, so you'll need to pick one that has a soft cushion. You also want to make sure that these masks don't impede your field of vision, as you want the most flexibility.
Other CPAP Masks: Hoseless, Strapless Micro-CPAP
A new company is currently trying to create the first completely hoseless, strapless Micro-CPAP design that will simply fit around your nostrils for the perfect fit and flexibility.
This revolutionary technology isn't available yet, but it was featured on CNBC and the company hopes to release something soon.
What is the Best CPAP Mask for Your Beard?
The best CPAP mask for a bearded man with sleep apnea is one that fits snugly enough to prevent leaks while also not irritating your skin by pressing your beard hair against your skin.
There are only a few products on the market considered being beard friendly masks that work with most CPAP machines and provide comfort for those with a beard. We've reviewed the top CPAP masks to see which ones ultimately fit beards best.
Best Full Face CPAP Masks
We think you'll love the Fisher and Paykel Vitera mask because of its super-sized RollFit XT cushion that works with big beards and fits the nose comfortably. The "VentiCool" technology lets the headgear be more adjustable and gives you some room to breathe, too.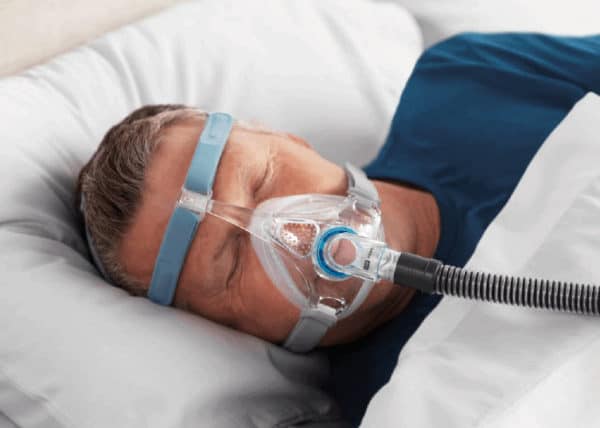 The best thing about the Vitera CPAP mask is that it's easy to slip on and off, and it's also simple to replace the cushion as well. You can lie down and feel completely comfortable, even if you're an activate sleeper.
Another feature of this mask is its visibility. You have a much larger range, and you can wear glasses and watch TV easily. The design also makes it easy to adjust for your face and head shape.
The Fisher and Paykel Vitera mask is compatible with all CPAP and BiPAP machines, but it likely wouldn't work with the ResMed AirMini Travel CPAP device. There's also a 30-day money-back guarantee if it doesn't work for you.
Verdict: There's a lot to love about this mask, but the adjustable fit and breathable design make the Fisher and Paykel Vitera a top-notch CPAP pick for anyone with a beard.
Philips is an innovative brand that always comes up with the best products to help people in their daily lives. That's the feeling you get from the Philips Respironics DreamWear Mask: it's an essential for your daily life if you have to use a CPAP machine and have facial hair.
It's compatible with ANY model of CPAP machine, and it even uses standard CPAP tubing.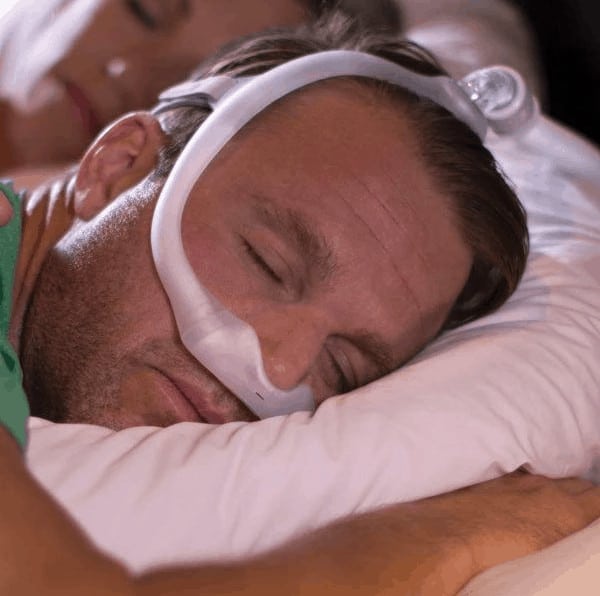 However, the best part about the DreamWear CPAP headgear is that its fully adjustable, works with a beard, and offers a clear field of vision. The frame is very flexible, giving you more leeway to move your head, and you can opt for a nasal mask or full mask version.
Made from lightweight silicone, the full mask also includes interchangeable mask cushions that make the fit completely comfortable.
Verdict: If you want the absolute best, we felt the Philips DreamWear CPAP full mask was the best option to go with. It's suitable for any face shape and works with active sleepers, but it's also just the choice of CPAP users in general. We read countless reviews praising its comfortable design.
In the old days, CPAP masks were not as comfortable due to a stiff design. Today's models are much more adjustable and flexible, and the ResMed AirFit N30i Mask is just about as flexible as you can get. The new AirFit N30 Nasal CPAP mask is a lightweight headgear mask that's entirely designed to help new patients easily transition into CPAP therapy.
Here's a look at the design that has no chin strap or mouth covering, making it a great option for beards: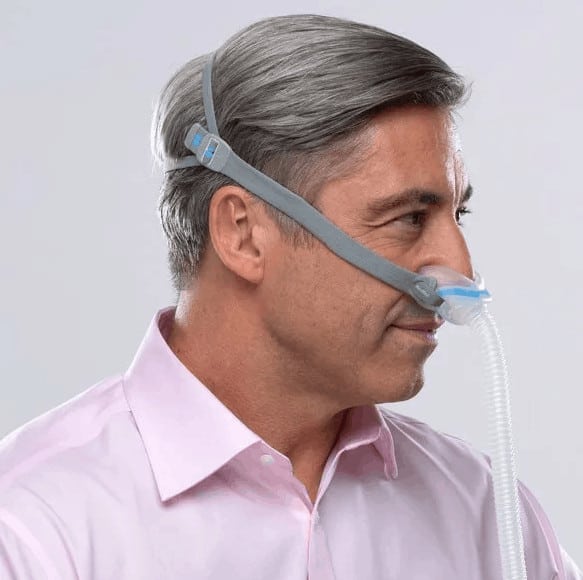 The design is a little different, but it's so subtle and gentle that it shapes to your nose for a barely there fit. This is also why it's a great option for beards due to the open bottom design. It's also curved, which addresses issues that CPAP patients often have with sore nostrils and nasal bridge bruises. The mask doesn't even touch the nasal bridge.
The ResMed AirFit N30 also gives you a clear view in all directions, so it's easy to pick up a book or watch your favorite show. It also comes with a 90-day warranty.
Verdict: This mask is particularly great for those who are new to CPAP therapy and want a more flexible model that doesn't hurt their nose. This mask is also better for side sleepers and anyone who finds other CPAP masks to be noisy or uncomfortable.
For those who want a CPAP mask that seals the nose and mouth separately, the ResMed Mirage Liberty is the right choice. It's also the best option for those with mouth breathing problems. With an open field of vision, flexible frame, and unobtrusive design, you'll like how this sits just barely on your face.
While this is a full face mask, the straps are adjustable and comfortable enough to wear with a beard. See how this user wears it with his full beard: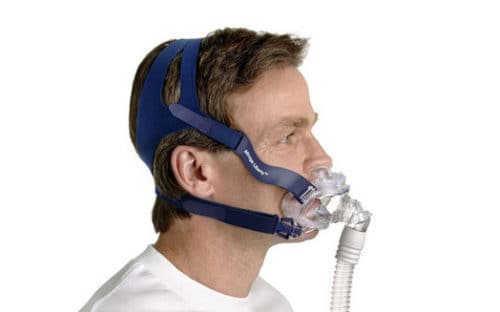 The crown-shaped design keeps the headgear securely in place, and it's easy to slip on and off or take apart for cleaning purposes. The latest design also has a dual-wall mouth cushion for more comfort.
With the hybrid version, there are built-in vents to make it quieter while also dispersing air very gently. The design is so comfortable that you can wear it whether you sleep on your back or side, and you can watch your favorite programs without having any vision obscured.
Verdict: With the Mirage Liberty full mask, less mask means you get more freedom to breathe, which is the whole point, anyway. This mask feels so light that it's one of the most comfortable full face masks to wear with a beard.
Another great option for men with beards who are on a budget is the ResMed AirFit P10 nasal pillow mask. This design consists of small inserts that go right into the nostrils. There's also two fits with the P10, which is the standard AirFit and the AirFit P10 for her.
Like other ResMed CPAP masks, this one works hard to reduce noise and aid in your comfort. It has "QuietAir" technology and features newly designed "flex-tubes," which are better for patients who want to have free movement without disturbing the seal.
It's easy to assemble because there are only 3 parts, and you can adjust it depending on your head shape and how you like to sleep. This mask also works with any CPAP, APAP, or BiPAP machine.
Verdict: If you want a very freeing mask that's under $100, this is the one to pick. You'll be able to fit it easily, no matter what your head shape, and it will fit even the biggest of beards.