Have you thought about changing your mustache style? The horseshoe mustache is one of the most recognizable moustache styles around. It's impossible not to notice Abraham Ford on The Walking Dead. He may even be the reason you started looking for the iconic horseshoe mustache style.
With its edgy shape and bushy look, not just any man can pull off the horseshoe style. Hulk Hogan and Michael Cudlitz both rock this iconic facial hair style.
What is a Horseshoe Mustache?
The horseshoe mustache (AKA biker mustache) is a full style mustache grown in the shape of a horseshoe. The mustache grows from the upper lip, around the corners of the mouth and down the jawline into vertically hanging extensions "the pipes", forming the unique inverted U-shape.
The horseshoe mustache has longer hair over the lip line and around the sides of the mouth, but chin hair is completely removed. Some styles may include a soul patch, but it's much less common.
See our Ultimate Guide to Growing a Legendary Mustache.
How to Grow a Horseshoe Mustache
The best way to grow a horseshoe mustache is to start with a long goatee or circle beard. It's important to grow your hair out specifically around your upper lip, mouth, and chin. So, even if you have a full beard, you can cut it all off except the 'stache.
When your mustache and side hair grow to the right length, shave off the chin hair to reveal a horseshoe. Unlike a full beard, you'll only have to do some quick touch-ups with a precision trimmer to maintain. 
Check out the Best Mustache Trimmers – NEW
Best Horseshoe Mustache Styles
Horseshoe mustache styles may include longer or shorter hair on either side of the lip, depending on what unique shape you choose.
Here are some ways to wear this legendary mustache.
1. 70's Horseshoe Mustache
The classic horseshoe is a throwback to the 1970s. Typically, the facial hair grows around the sides of the mouth "the pipes" and down to the jawline. The style sometimes referred to as the "Fireman's Style Horseshoe" is often thicker than a standard mustache.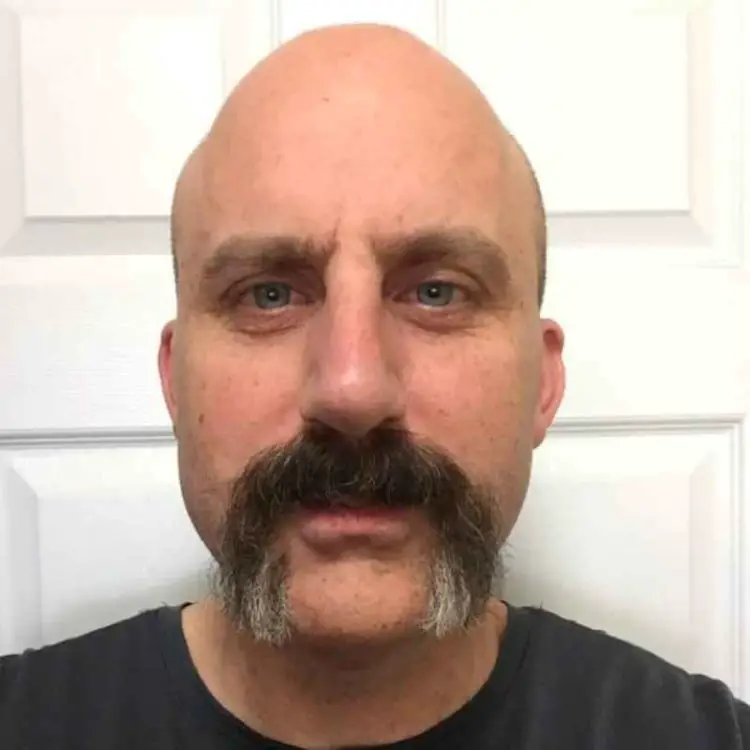 2. Short Horseshoe Mustache
Looking for a less controversial style? Try the short horseshoe mustache AKA "Half Horseshoe Mustache" for a clean, lower-profile look. Short, thin and neat.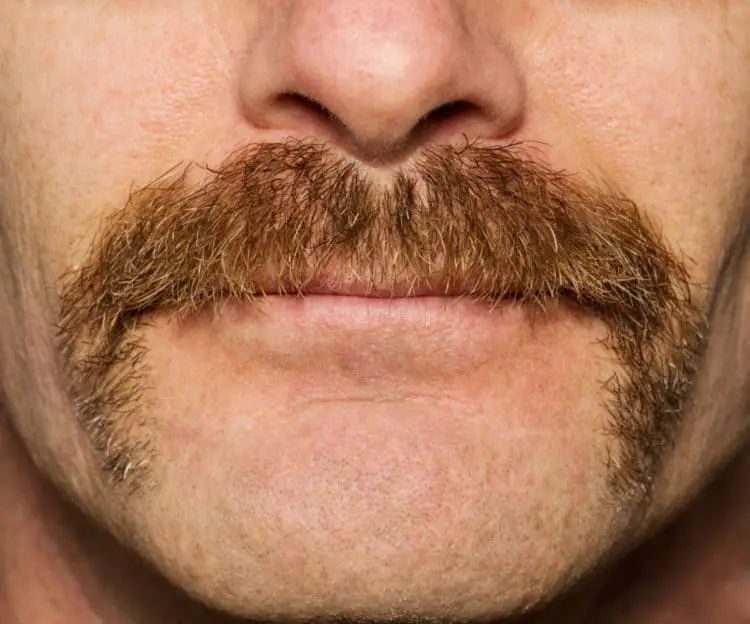 3. Long Horseshoe Mustache
Michael Cudlitz shows how it's done by growing a longer horseshoe. Typical styles keep the sides slightly shorter or level with your chin, rather than letting it grow longer than your jawline. The "Walking Dead Mustache" is just cool!
4. Biker Horseshoe Mustache
Paul Teutul Sr. from Orange County Choppers shows off his biker mustache. His longer horseshoe variation actually grows on to his neckline.
5. Hulk Hogan Horseshoe Mustache
How can we possibly talk about this mustache without talking about the Hulkster? The famed WWF wrestler Hulk Hogan made the horseshoe mustache famous… and cool! "Hey brother, I dig that mustache."
6. Cowboy Horseshoe Mustache
Paul Teutul Sr. from Orange County Choppers shows off his biker mustache. His longer horseshoe variation actually grows on to his neckline.
7. Celebrity Horseshoe Mustache
Celebrities like Pharrell Williams are no stranger to the horseshoe style stache.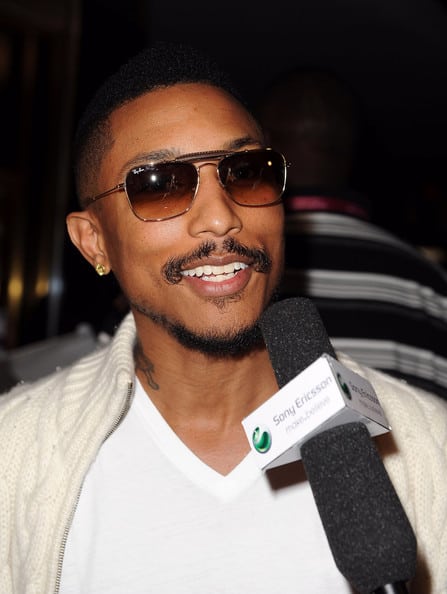 How to Style the Horseshoe Mustache
There are countless mustache styles to choose from, but the horseshoe actually requires less maintenance than you think.
Here are four simple tips to maintain your look:
Wash and Comb
The first step is to wash, dry, and comb out your mustache and beard hair. Apply shaving cream to areas where you'll be clean shaving, such as your cheeks, jawline, neck, and chin. 
Shave It
Horseshoe mustaches border the top lip and hang down the sides of your mouth, so you'll shave your cheeks, jawline, and chin. Be careful about symmetry and thickness when shaving around your horseshoe lines.
Trim it
For longer mustache lengths, use your trimmer with a guard, staring with a 4 mm to 6 mm. Trim up the sides and stray hairs with barber shears.
Style with Wax
Once finished trimming the basic shape, use mustache wax to shape and tame your mustache. 
#1: You'll need to maintain this look regularly using an electric trimmer, clean shaving your chin and clipping away lip hair. Trimming the typical horseshoe moustache doesn't require much more than an electric beard trimmer and mustache comb.
#2: Another simple way to shape this look is with a pair of mustache scissors and razor.
What Face Shape is Best for the Horseshoe Mustache?
While the horseshoe may seem like an outlandish facial hairstyle, it's more common than a Fu Manchu or even Salvador Dali mustache. 
There are face and head shapes that match better with the horseshoe, such as:
Oblong or rectangular head shapes
Square faces
Triangle faces
If you want to try this look, just remember that people can't help but look at the horseshoe 'stache. It's a style worn by tough men, revealing strong jawlines and high cheekbones when angled properly. However, it doesn't work on heart or diamond face shapes.