Shaving your head with a razor is an essential skill that takes time to master. Improving this skill becomes more effective when using a super sharp blade with a textured handle to get a smooth shave results.
The best razors for shaving your head include non-electric manual razors, such as cartridge and safety razors, as well as unique palm shavers that require no electricity to use. 
From top-of-the-line blades to special features, the B&B team tested multiple razors to see which one achieved the closest head shave. Here are the top picks with pros and cons. 
While there is some debate over electric shavers vs non-electric razors, the B&B team has shaved with both types and found that non-electric razors truly achieve the closest shave. They are also the best for quick wet shaving.
Best Head Razor Buyer's Guide
Manual head razors or non-electric razors are the simplest tool for shaving your head. You only need to add a double-edge blade to get started. Mostly it's the quality of the blades, durability, and construction that matter most. 
Safety Razors
In my experience, safety razors get the closest shave above all. This is due to their design, which allows you to buy your own double-edge blades.
Things to Know
Multiple designs: Two-piece, three-piece, adjustable, or butterfly 
Double-Edge Blades: All types typically use this blade unless brand-specific
Open vs Scalloped vs Slanted Head: These are different designs for the head of the razor. Open is considered being the most "intense" or aggressive shave. 
Handle and Grip: Safety razors come with longer, weighted handles and non-slip grips for a balanced shave. 
You only need to buy the razor and learn how to install blades within the trap doors to get a flawless head shave. 
Unlike cartridge or disposable razors, these extra-sharp blades provide the most precise shave, but they can also be prone to nicks and cuts if the blades are misaligned. 
Cartridge Razors
Less expensive initially than a safety razor, you'll get a high-quality shave with a cartridge razor. These typically come with easy-to-install, plugin cartridges that contain multiple blades and a lubricating strip, which is why they're extremely popular.
Things to Know
Multiple Blades:Cartridge razors have installable, plug-in blades that feature a 3- to 5-blade design. 
Plastic or Premium Handle:Cheaper drugstore brands have a textured handle that's slightly weighted, but not as sturdy as a safety razor. 
Lubricated Strip:This protects your head from a too-close, razor burn-inducing shave. 
Best for Sensitive Scalps:If you constantly get ingrown hairs on your scalp or razor burn after shaving, then try a cartridge razor for sensitive skin. 
When it comes to cartridge vs safety razors, it depends on the brand and design, as some are made for shaving body hair, not your head. Cartridge razors typically need a few more strokes to get a perfectly smooth scalp. 
However, for those with a sensitive scalp, products like the Gillette Mach 3 are perfect because they prevent razor burn on your scalp. 
Disposable Razors
Cheap and quick, disposable razors work for a head shave if you have nothing else or don't mind throwing away the razor after each use.
Simple Design: Disposable razors are typically made from plastic and have a single or double blade design. 
Lightweight: You can get a quick head shave with a disposable razor when you're in a pinch, but it won't be the most satisfying experience.
Most Affordable: These razors weren't built for multiple uses, but they are priced to be used and thrown away.  Disposable razors are typically only good for one or two uses before going dull. 
While you've probably had a moment on vacation and bought a disposable razor in desperation, these generally aren't the best to get a clean, close shave without razor burn and stubble. These razors are typically flimsier and made from plastic, but it's really the dull quality of the blade that leads to issues. 
Don't Forget Your Head Shave Routine
You'll want to apply shaving cream and an after shave head balm depending on whether you want a matte or shiny head. Check out our head shaving guide to see all of our suggestions for the ultimate clean head shave.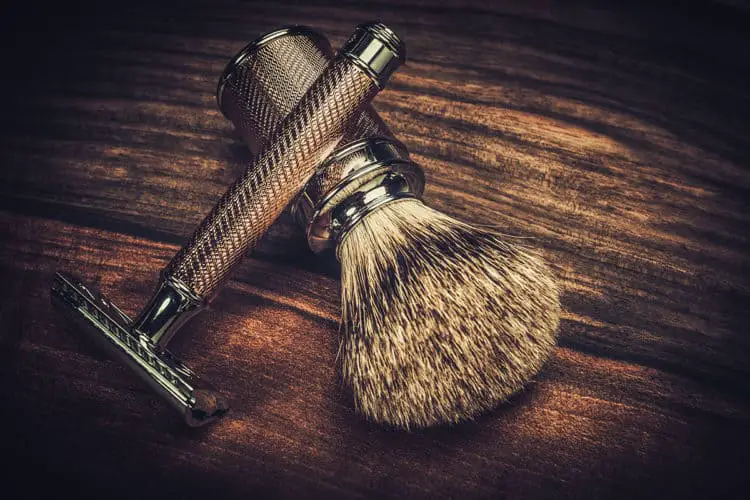 Top 5 Manual Head Razors
A few considerations: Our comparisons were done against what I consider an average or middle of the road electric shaver. So, safety razors and cartridge razors easily do a better job. For a long time, technology continues to advance and the Best Electric Head Shavers now come very close to a clean blade shave with quality shave cream.
We reviewed the following razors based on a close shave result, as well as skin irritation, ease-of-use, maintenance, blade quality, and design.
1. Vikings Blade Chieftain Safety Razor
The Vikings shave brand is well known for its high-quality razors. Super efficient, sharp, and adjustable, the Vikings Chieftain "Odin" razor is a premium shave product that instantly shaves away hair from your scalp—and you won't have to go over the same spot twice. 
This head razor has a dual head system with multiple micro-blade settings so you can change the intensity and closeness of the shave. The black and gold design also just makes it fun to use. You'll feel like Viking royalty shaving with this razor.
Vikings also built in a mechanism that prevents the blades from nicking you if they are misaligned. Thus, it's a highly efficient safety razor that you feel truly comfortable shaving your head with. It's also made with brass and feels a tad weighted, so the razor is easy to balance in your hand.
Pros
Super close shave
Weighted handle
Sharp blades
Multiple micro-settings to control your shave
Cons
Takes time to learn blade settings
Need to purchase blades separately
Verdict
Overall, we loved the feel and control of the Vikings Chieftain razor. It's disappointing that the initial purchase didn't include the double-edge blades required to start shaving, so take note that you'll need to purchase these before embarking on your head shave. Overall, you'll love the way that this razor glides over your scalp and prevents minor cuts with its unique TRAPS guard. 
Flash Sale
Vikings Chieftain Razor
FAT & SHORT handle: The most superior safety razor handle type for maximum control, grip and ease
SOLVING Your Problems: For a decade, this sustainable razor "the Chieftain" has been helping the everyday Amazon customer solve the nuisance of razor burn, boring shaving chores and SAVING significant money on expensive and wasteful disposable cartridges
SMOOTH and CLEAN: Specifically, this razor has been engineered and patented to significantly reduce razor burn and provide you a Smooth, Close, Clean shave. Suitable for ALL Genders
EASY & EFFORTLESS: Unlike mass-produced lookalikes, with a noticeably 20% HEAVIER head and weight distribution, this razor generates an ultra Smooth & Effortless glide on your skin
CONTENT: 1 Chieftain 'Odin' razor, a pack of Swedish 13C26 steel mild blades, 1 luxury case with mirror
---
2. Merkur Long-Handled Safety Razor
With its high-end German craftsmanship and weighted design, the Merkur is a first-class razor that's made for men's hands. It's comfortable to shave with and features a lightweight, longer handle. 
This safety razor also has a straight-cut, closed comb head that works with any standard double-edge blade. Thanks to its non-slip grip, you can quickly go over your head, stroke after stroke, to get an unbelievably close shave. 
The three-piece set also comes with an extra-long and short handle razor, all featuring a chrome finish. 
Pros
Easy to use
Comes with double-edged blades
Three-piece set with different handle sizes
Affordable
Cons
Customers reported issues with durability
Verdict
Overall, the first and second head shave with the Merkur was exceptional and easy. You can start shaving almost immediately after installing the double-edge blade. We liked that the set comes with different handle sizes, all of which are weighted and balance. It just feels great to shave with the Merkur.
Flash Sale
Merkur Long Handled Premium Safety Razor
EXCELLENT COMFORT AND CONTROL - Have a comfortable and safe grip with its long-handle, designed for man-sized hands.
DOUBLE EDGE SAFETY RAZOR - This feature of the razor is very convenient and gives a quick, decent shave.
HEAVYWEIGHT - Its weight of 4.2 ounces gives a solid feel in the hand and allows the razor to do most of the work.
CHROME FINISH - It has a chrome finish, making the razor look sleek and simple.
HIGH-QUALITY RAZOR - Merkur Futur provides men with quality grooming with this top-quality razor that gives a nice, clean shave.
---
3. HeadBlade ATX All Terrain Head Shaver
We know the HeadBlade ATX doesn't exactly look like it's user friendly. The design is horizontal and rectangle, which throws you off at first – slightly resembling a race car.
However, you'll get over that feeling fast after experiencing just one shave with this fascinating device. This razor mimics the way an all-terrain vehicle moves, hence the name. 
With its curved body and pivotal heads on the front and back, it can easily get a close shave for those who want to clean shave your head bald. It's not the best for facial hair though. 
Multiple blades on this head razor form to your skull as you glide over it, and the grip makes it easy to hold in your palm. You can go from your forehead to the back of your head and neck easily with this shaver. It comes with four blades, and it has an innovative, flexible design. You'll love the wheels on this device, which makes it pretty fun to use.
Everything comes with this razor, too. Inside of your kit, you'll get replacement blades, 5-oz container of brand shaving lotion, and much more.
Pros
Easy-to-use
Fun design
Four blades
Affordable and least expensive of all reviewed
Blades a replaceable
Cons
Not always as close of a shave
Intimidating
Takes time getting used to blade feel
Takes time getting used to the rolling wheels
Verdict
For those who want a little fun in their routine, this is the head shaver for you. It's a great design that works well, and it keeps your head cut pretty close to the scalp. However, you may feel weird rolling this shaver over your face since its main purpose is for guys who want to get a close bald shave.
Headblade ATX Shaver
RIGID FUNCTIONALITY - Designed with a rigid body to give a straight, effective shave
REVOLUTIONARY DESIGN - Just like its newer version, HeadBlade MOTO Razor, this razor also utilizes new multi-blade technology with flow through design.
EASILY ACCESSIBLE - Eliminates the learning curve for anyone who previously used a conventional razor
FINGER RING - Provides an easy and sturdy hold to make shaving a breeze
BLADE COMPATIBILITY - Includes one HB4 Blade, compatible with HB4 and HB6 refill packs
---
4. Gillette Mach 3 for Sensitive Skin
Gillette produces good ol' standby razors that are inexpensive and provide a decent head shave. While it's not as close the first time as the Merkur or Vikings safety razors, Gillette Mach 3 is a multiple blade cartridge razor that was made for sensitive skin. 
If you constantly have issues with ingrown hairs or razor burn, then the Gillette Mach 3 may be the best razor of all. It's also less than $15 and comes with disposable razors. The Mach 3 family also includes disposable razors like the Mach 3 Turbo and Gillette Fusion, which has five blades.
Out of all the Gillette Mach 3 models, the Mach 3 Sensitive is the best version because of its ability to quickly shave away hair with a comfort strip that soothes the scalp. We also appreciate the quality of the handle and blades, despite the low price.
Pros
3-blade design 
Comfort strip for sensitive skin
Diamond-like coating (DLC) for sharp blades
Outperforms the Gillette Fusion 5
Cons
Need to replace blades every few shaves due to dullness
Replacement blades can get pricey
Verdict
When it comes to razors, you can't go wrong with the Gillette Mach 3. With its pre-lubricated strip, the Mach 3 is quite affordable and delivers a pretty close shave, though you won't get any versatility like the Vikings blade. For the price and inclusion of the disposable blades, it's worth the small cost.
Gillette Mach 3 Sensitive Razor
Closer shave, less irritation, even for sensitive skin (vs. Sensor2 disposable)
Clinically proven suitable for sensitive skin
Better, even on the 10th shave (overall preference vs. Sensor2 disposable)
Dura Comfort blades for long-lasting comfort
Extra-lubricating gel strip glides to help fight irritation (vs MACH3)
---
5. Parker 96R Platinum Safety Razor
Finally, we looked at another classic safety razor that still beats all the newer models on the market. The Parker 96R razor is a butterfly double edge safety razor that delivers a super-close shave every time. 
With its simple black, textured handle, Parker's razor was possibly the first to feature a longer handle that provided an extra inch for those hard-to-reach areas in the back. 
We also love that the double-edge blades are included with this package, making it a super affordable razor with a stylish vintage look that you'll love to have around in the bathroom.
Pros
Weighted black handle with texture grip
Durable design
Includes double edge razor blades
Barber's favorite
Cons
Be careful with butterfly doors with first use due to the learning curve
Head shaves require multiple passes
Verdict
It's easy to get a close head shave with the Parker 96R blade, and it's not hard to see why barbers always use this razor. With its weighted design and long handle, you can easily cover your entire head in minutes for a silky, smooth scalp.
Parker 96R Butterfly Safety Razor
ELIMINATE RAZOR BURN and INGROWN HAIRS – Parker Safety Razors are designed to eliminate shaving bumps, irritation and ingrown hairs. Parker Razors are world famous for delivering a Barber Shop Shave experience in your own home.
HANDMADE with GENUINE BRASS - Every Parker Safety Razor is handmade with a Genuine Brass frame and then Electroplated for a superior finish which is both beautiful and durable
WORLD FAMOUS QUALITY ENGINEERING – Parker Safety Razor has been manufacturing quality Shaving Products for over 45 years. Our Butterfly mechanism makes blade replacement simple and easy. This particular razor also has a heavily knurled handle to ensure a "sure grip" even with wet and soapy hands in the shower
HEAVYWEIGHT DESIGN – The Heavyweight design of our all metal safety razor makes shaving easier. There is less pulling, tugging and blade drag as the weight of the razor does this work. Less expensive and lighter weight razors simply don't shave like a Parker Heavyweight
5 PARKER PREMIUM PLATINUM RAZOR BLADES INCLUDED - A world class razor shaves better with a world class razor blade. Parker's blades are manufactured with stainless steel from Sandvik of Sweden and coated with a proprietary platinum and polymer blend for long lasting and smooth shaves. All razor blades are not the same. See the Parker difference!
---