Get a stylish, modern look with an Afro Fade haircut. Create a unique, clean finish with a tapered fade and textured top. A sharp contrast between the fade and your afro will give you a polished, confidence-boosting look.
Afro Fade is an inventive and chic type of fade haircut characterized by gradual hair tapering. It is a popular style among African Americans, offering them a way to spice up their looks. With a skillful barber and the right technique, this look can be achieved with any hair and any design on top.
Ready to stand out with an Afro Fade? Get the perfect combination of a clean finish and modern style with this contemporary haircut. Create the look you want with the help of a professional barber, and be ready to turn heads with a sleek, stylish fade.
Afro with Fade Haircut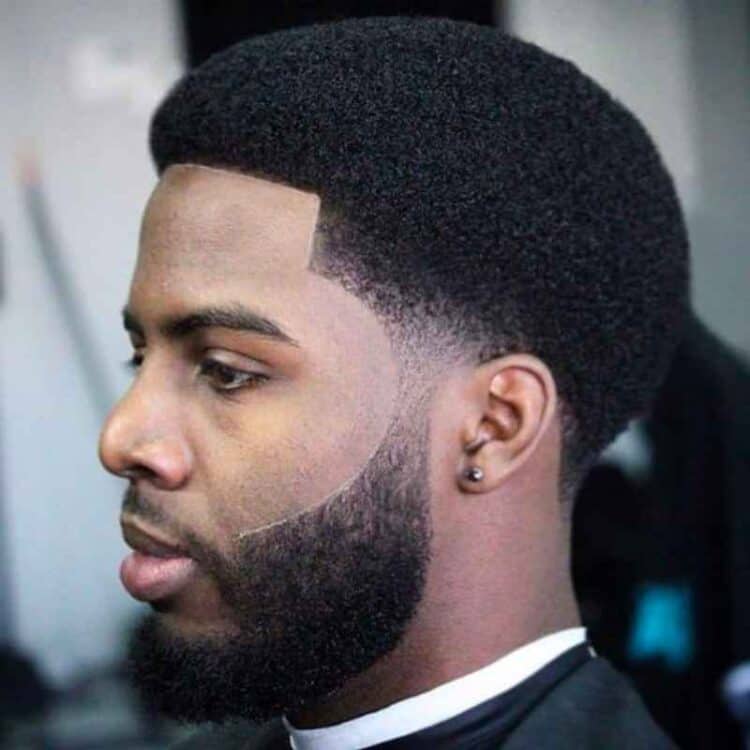 The Afro Fade haircut is an intricate yet stylish hairdo that creates a balanced contrast between the hair's length and its fade, giving it a chic clean look with endless possibilities on how to style it.
This daring look offers much more than just a transition between lengths, as it also allows for a variety of styles and designs on top, making it the perfect way to show off your unique style. Styling tips include brushing out the afro for an effortless look, adding a temple fade to add a fun element, and using a curvy line at the temple for a softer look.
Low Afro Fade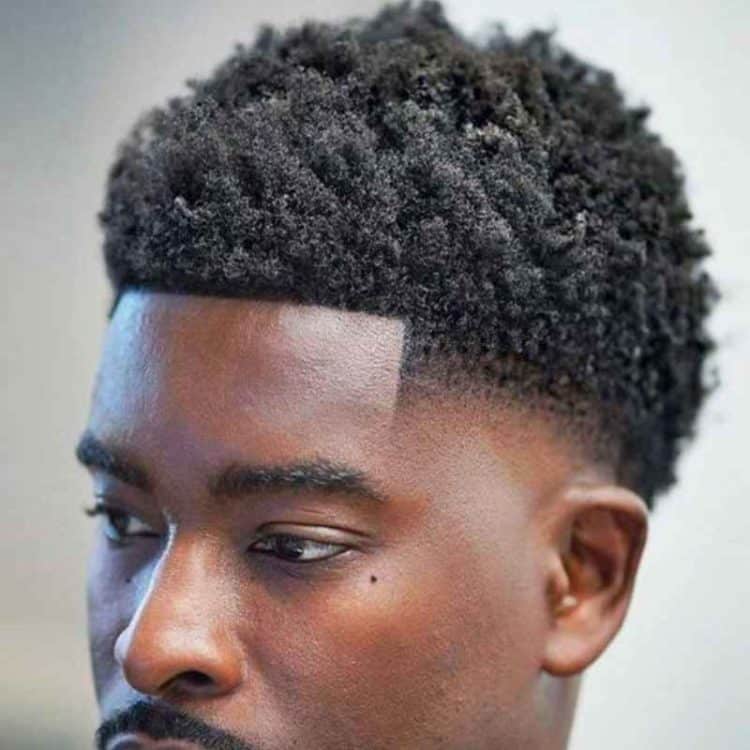 The Low Afro Fade haircut is an edgy yet stylish amalgamation of afro, low fade, and tapered cuts, contrasting the lengths, making your top appear longer while providing a versatile look that works for any occasion.
With the right blend of edges and angular shapes, this haircut will turn heads and is easy to style. Start with a medium-length afro and add a high side fade to get the look. Then, go for a sharp edge along the facial hair and the sides for a neat and modern finish.
Short Afro Fade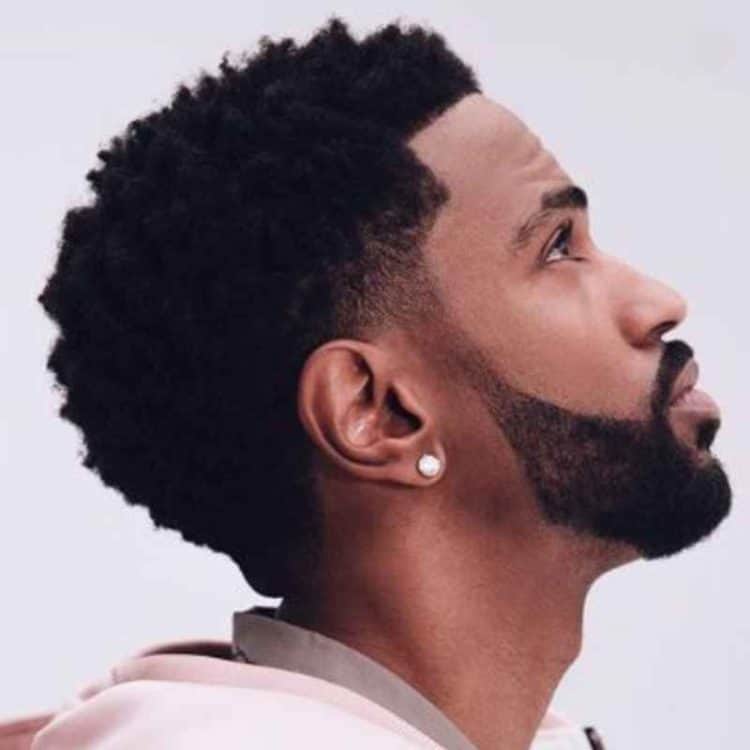 The Short Hair with Afro Fade haircut is a contemporary style that combines the classic short hair afro with a tapered fade; the perfect balance of short and fade creates a stylish and low-maintenance look.
This look offers the wearer an easy way to spice up their look while giving them the confidence and versatility to rock any occasion! Styling tips include opting for a zero fade on the sides and back, a medium length on top to create the perfect contrast between the fade and your afro, and adding a curvy line at the temple for a more playful look.
Afro Fade with Curls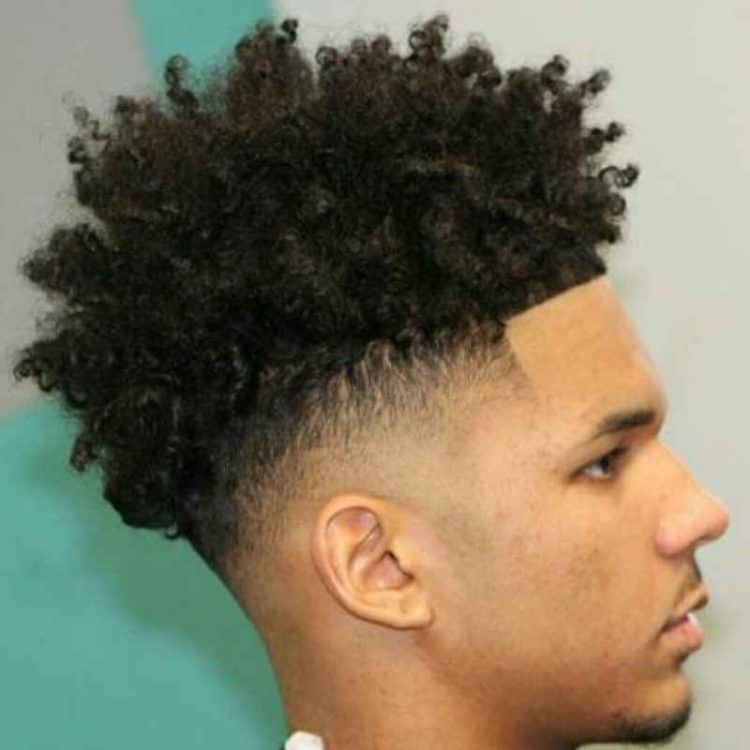 The Curly Afro Fade is a timeless haircut showcasing natural curls while combining a modern fade to the sides and back, adding a style to any look. The fade offers great versatility to create different styles, allowing you to mix things up and make your look unique.
This hairstyle is perfect for those with naturally curly hair, as it helps to enhance the natural texture and offers a modern look. To achieve optimal results, it's important to use the right products to provide added moisture and shine and regular trims to keep the hair strands healthy.
Wavy Afro Fade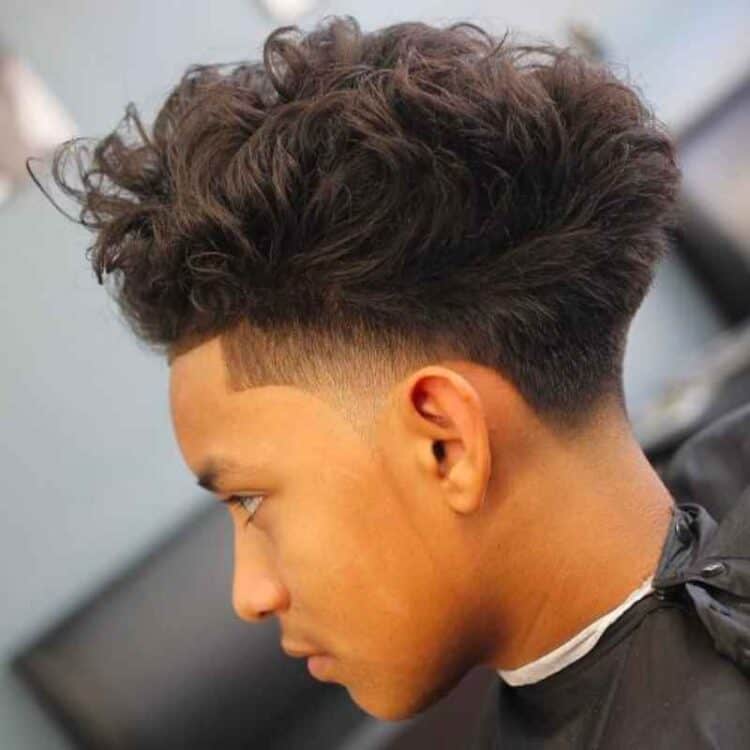 With more relaxed curls, the wavy afro fade is the perfect look. It's a textured haircut that screams confidence and style with its unique blend of wavy fade and afro-inspired elements! The wavy fade works well for both high and low fades or even with a design.
This haircut is perfect for men who want to show off their natural wavy texture while keeping things neat and polished, thanks to its precise fade and modern styling techniques.
Plus, the wavy afro fade looks great on all face shapes and hair types, making it a versatile and trendy option for any guy looking to elevate his look.
Mini Afro Fade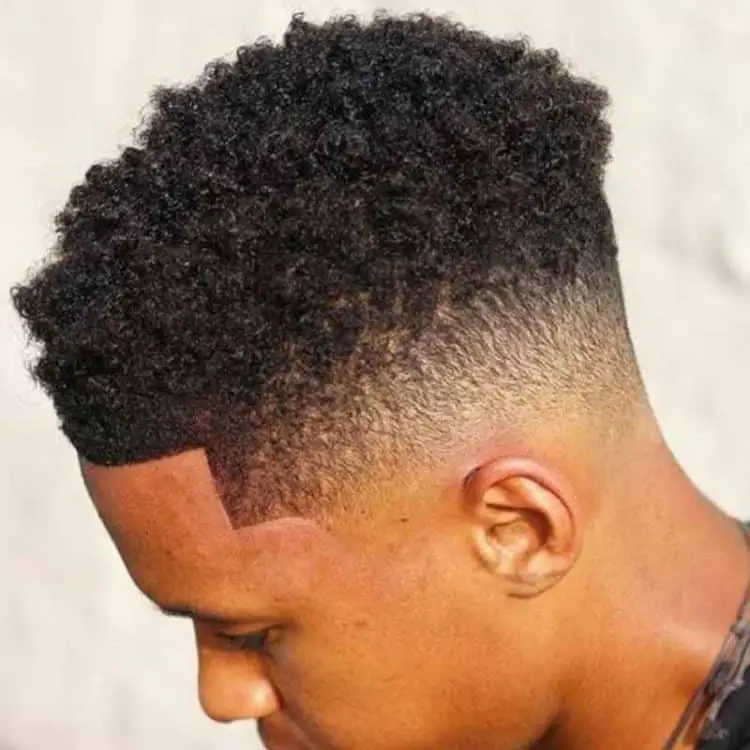 The Mini Afro Fade is a chic, modern haircut that effortlessly combines classic afro elements and a fade to create a unique, eye-catching look. It's perfect for those who want to make a statement and add some spunk to their style without the need for excessive styling.
With a tapered fade on the sides and back and a relatively short but still textured top, this look can be tailored to your own look and lifestyle. For an added edge, you can opt for a mini afro or add a curved line along the temple.
Blowout Afro Fade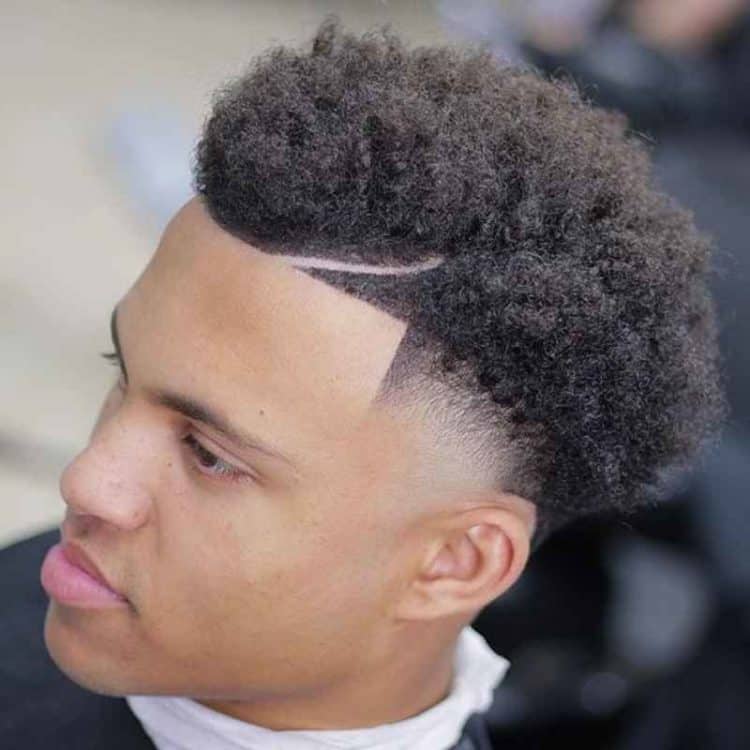 The Blowout Afro Fade haircut is a captivatingly stylish look, combining a sharp tapering fade with a bold and voluminous afro on top – perfect for making a statement. With the Blowout Afro Fade, you get the best of both worlds as you show off your natural volume and texture while obtaining a neat and polished look.
To style this look, you can go for a high top fade to emphasize the contrast between the two different lengths, and for a more dramatic finish, you can shave a curvy line at your temple. See more blowout fades.
High Top Afro Fade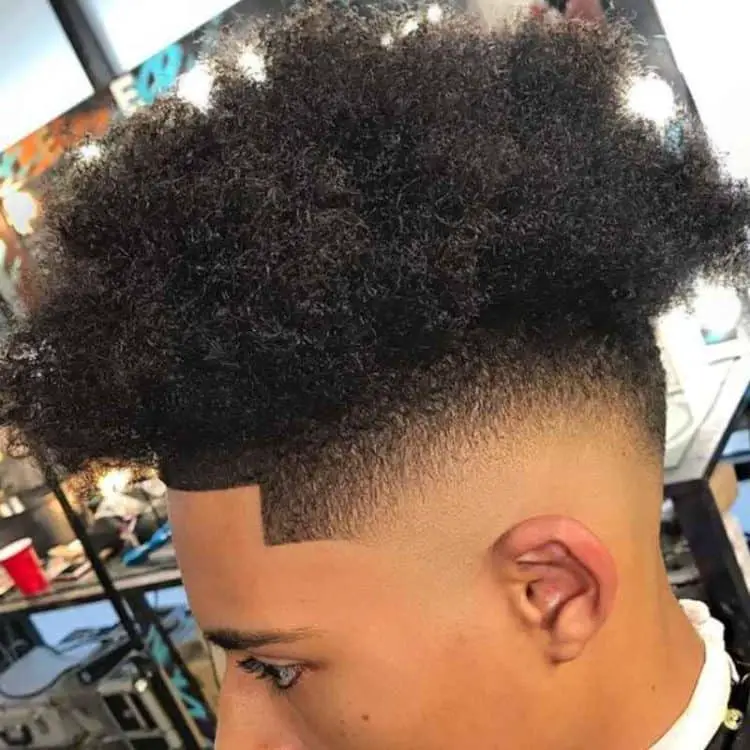 The High Top Afro Fade is crazy stylish! The trendy haircut combines the contrast of long, curly top hair and a high skin fade that seamlessly blends into the hairline around the ears and nape. Not only does it add a burst of volume, but it also provides a sleek, hip look.
To maintain the style, it is important to condition the hair regularly, use an afro pick, and trim any long or wild strands. The style is perfect for those wanting to make a bold statement!
Afro Taper Fade Cut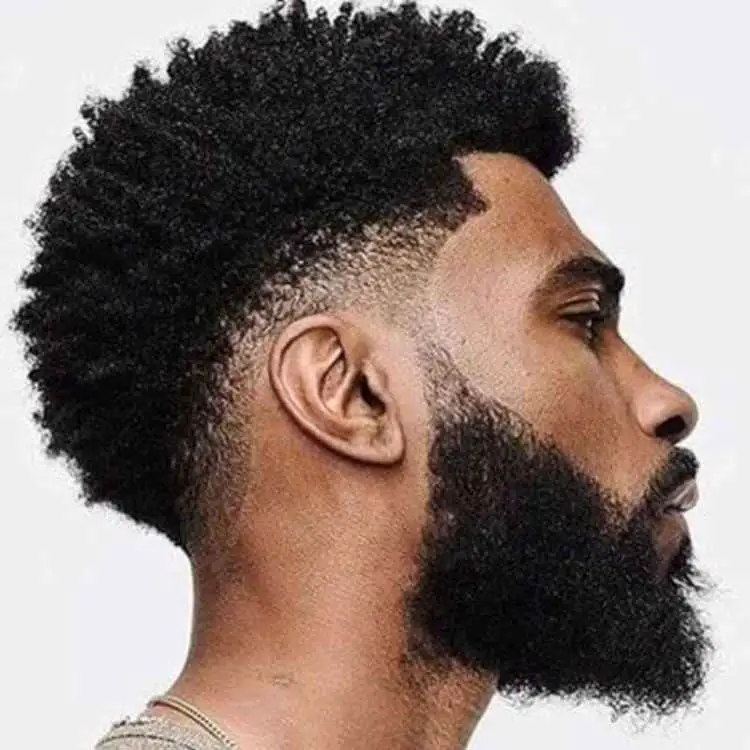 The Afro Taper Fade haircut is a stylish and sophisticated look that features short taper faded sides and back with a longer, textured top for an eye-catching contrast.
By combining a taper fade with an Afro hairstyle, men can achieve a stylish and professional look that suits any occasion.
This look is best achieved with the help of a barber and requires regular brushing to keep the hair from getting too shaggy. For a sharp finish, opt for a high or low taper that graduates into a textured top, and clean up the hairline with an edge up.
Afro Temp Fade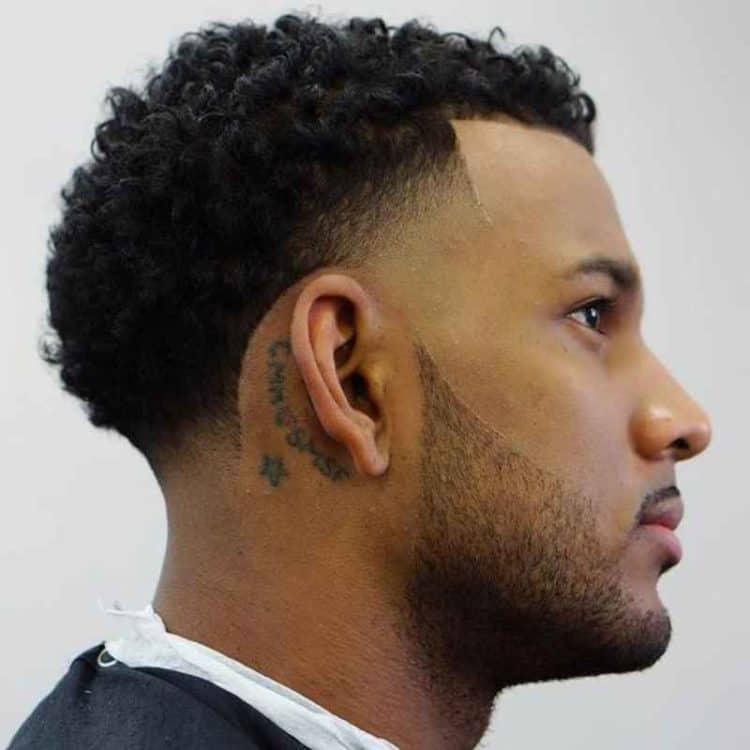 The Afro Temp Fade is a stylish contemporary look with a medium-length afro on top, short sides, and a sharp, curved fade line at the temples. This versatile look can be customized to suit any style preference, providing endless styling possibilities.
Its low-maintenance nature is an added benefit, making it an ideal option for those who want to appear well-groomed without expending too much effort. To create the perfect Afro Temp Fade, ensure the fade line is sharp and clean and the top is kept neat and tidy.
Drop Fade Afro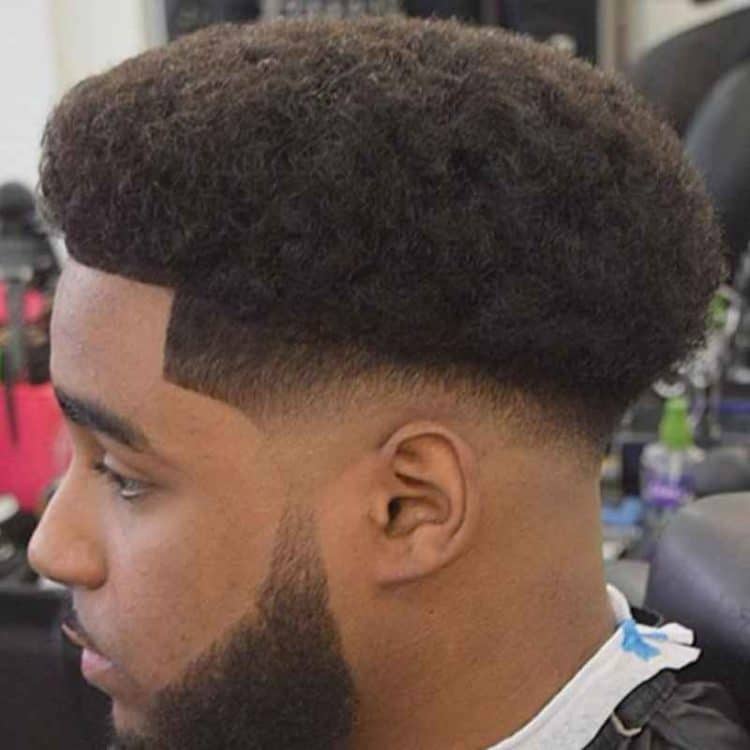 The Drop Fade Afro haircut is the perfect blend of artistry and edginess, gradually tapering the sides and back while allowing the top to remain longer and textured for a fresh and dynamic look. Not only does this cut add a stylish contrast for a striking appearance, but it also features a clean, low-maintenance design that is easy to manage.
To get the best results, specify the fade length and how tight you want it to be. Have your barber blend the drop fade into the top for a balanced finish, and consider adding a part or a hair design for a personal touch.
Nappy Afro Hair Fade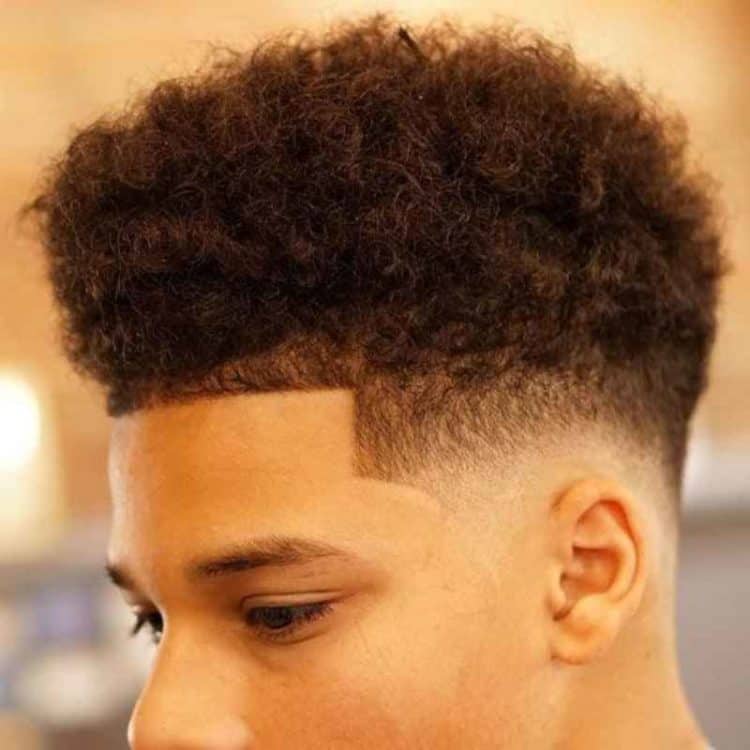 The creative Nappy Afro Fade is a head-turning hairstyle with a perfect balance of a high-contrast fade and amplified afro texture, providing a versatile and stylish look that is perfect for any occasion!
This style brings out the natural texture of African American hair and offers a range of benefits, including an enhanced hairline, superior definition, and a modern edge.
To style this look, growing some inches before creating the fade is usually best, and then using a moisturizing or texturizing cream to twist the hair after each wash. With the right styling techniques, this cut can help you stand out from the crowd!
Bald Fade Afro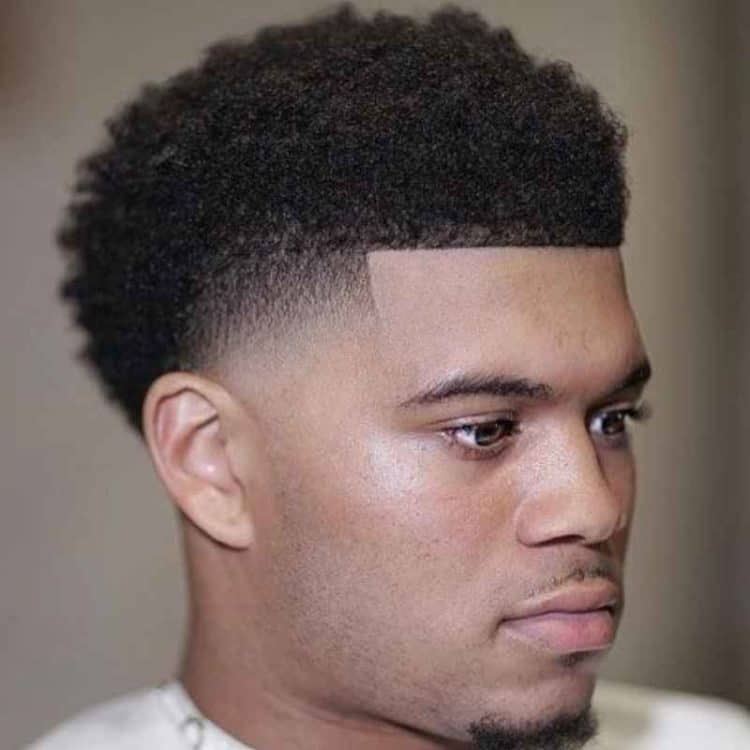 The Bald Fade Afro is a complex and distinctive haircut that involves gradually balding hair on the sides and back while leaving a textured top for a bold and creative look. This style is great for those looking to spice up their look, as it offers plenty of versatility and the perfect balance between the faded sides and the textured top.
To achieve the perfect finish, try a short, bald fade at the sides and back, and style the top with a neat but still textured look. For an added element of fun, ask your barber to shave a curvy line at your temples or brush out your style with a medium-length afro for a more effortless look.
Afro Mohawk Fade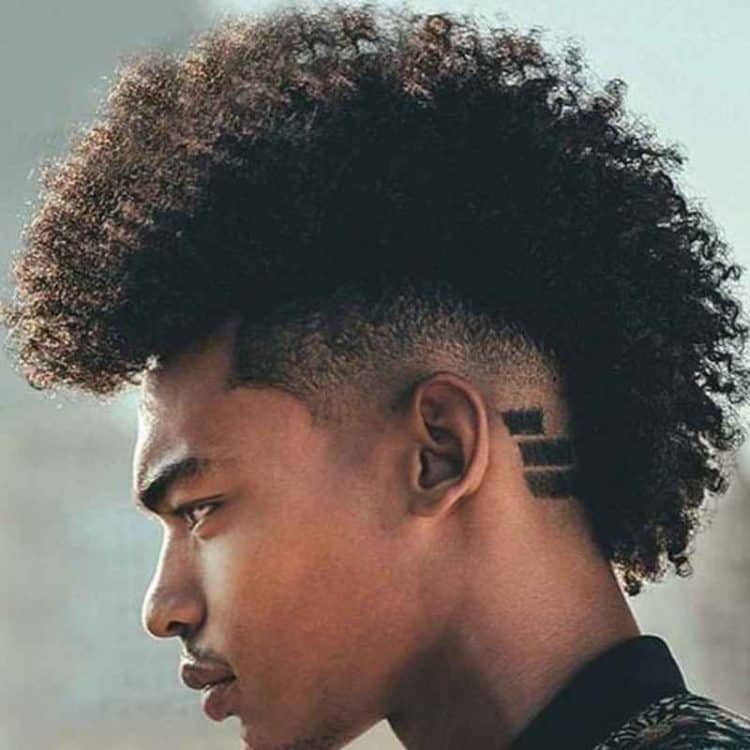 The Afro Mohawk Fade is a creative and eye-catching haircut, transitioning from longer locks on top to a tapered, faded look at the sides and back.
This mohawk fade style is perfect for those looking to add an edgy flair to the traditional afro look and offers minimal product usage without sacrificing style.
To create the perfect balance, make sure to take the fade up to the desired level and keep the top relatively short and well-groomed. Finally, add fun by asking your stylist to shave a curvy line at the temple.
Mid Fade Afro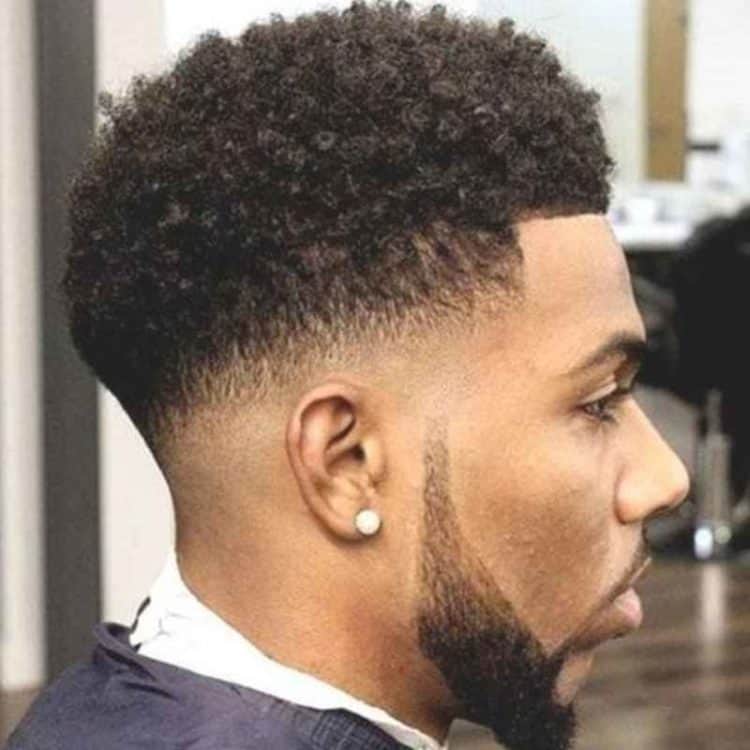 The Mid Fade Afro hairstyle is a bold, edgy look that blends tapered sides with a voluminous top for a unique, eye-catching style.
Benefits of this hairstyle include a low-maintenance routine that saves time in the morning while still providing a distinct and trendy look that can be easily customized to suit individual preferences.
The mid fade also helps to elongate the face, creating a more balanced and flattering appearance.
Low Temp Fade Afro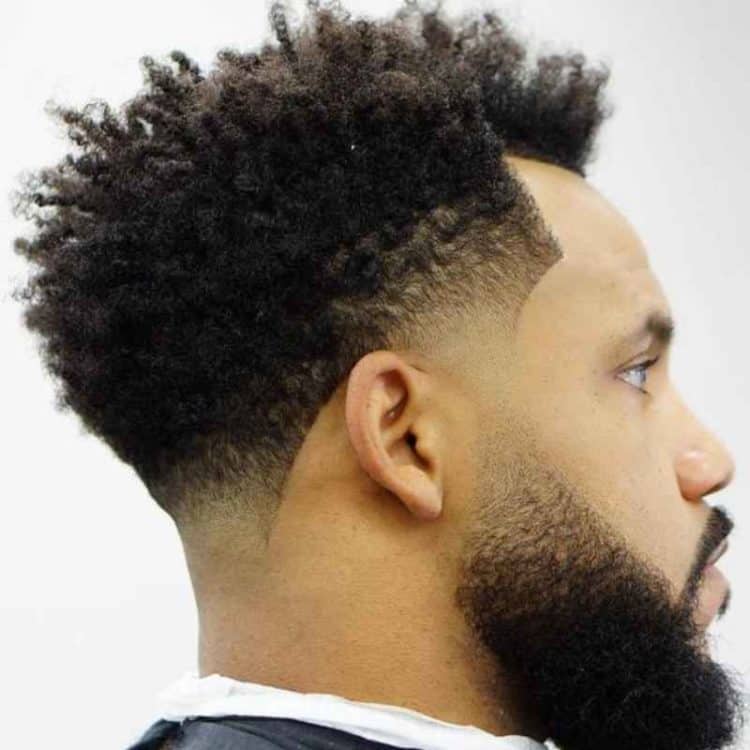 The Low Temp Fade Afro is a stylish and trendy haircut characterized by a gradual decrease in hair length from the top of the head to the sides and back, allowing for maximum volume and texture with minimal maintenance.
With this haircut, you can enjoy a handsome look that emphasizes your facial features, adding a touch of sophistication and mystery.
To style, use pomades and waxes that won't weigh down your hair, and use a blow dryer to help create texture and movement. For added shape and definition, use a comb to create a sharp line-up or use a clipper to create a more blended look.
High Fade Afro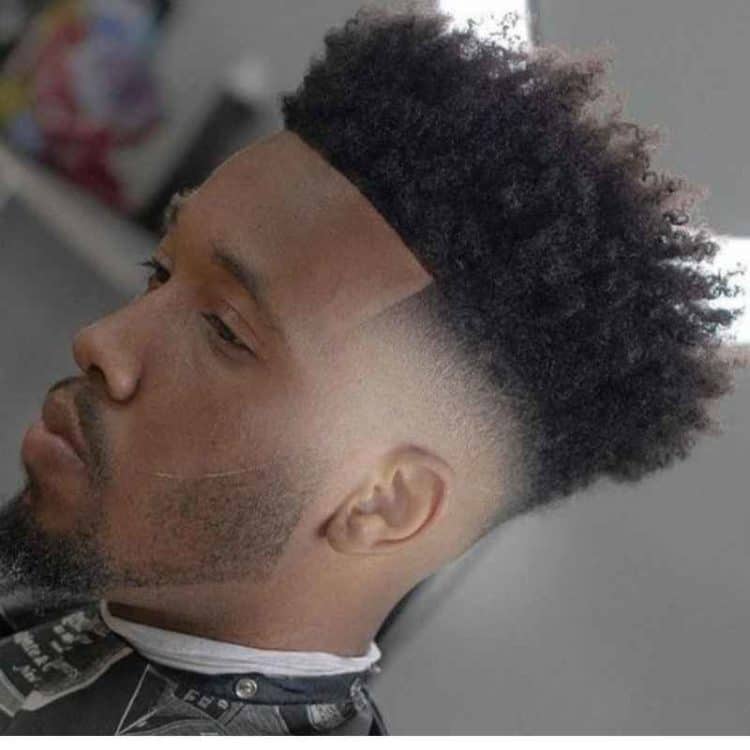 The High Fade Afro haircut is a sharp, edgy style contrasting a clean, tight fade at the sides and a bold, textured top. This hairstyle allows African Americans to show off their natural volume and texture while maintaining a neat look. The high fade creates a symmetrical bowl-cut-like shape, and styling it is made easy with an afro pick.
Regular conditioning is a must to keep the hair healthy, and trimmers or scissors can be used to keep wild hairs at bay and maintain the hairline along the forehead. With this style, a balance between the fade and the top should be maintained for a sleek finish.
Burst Fade Afro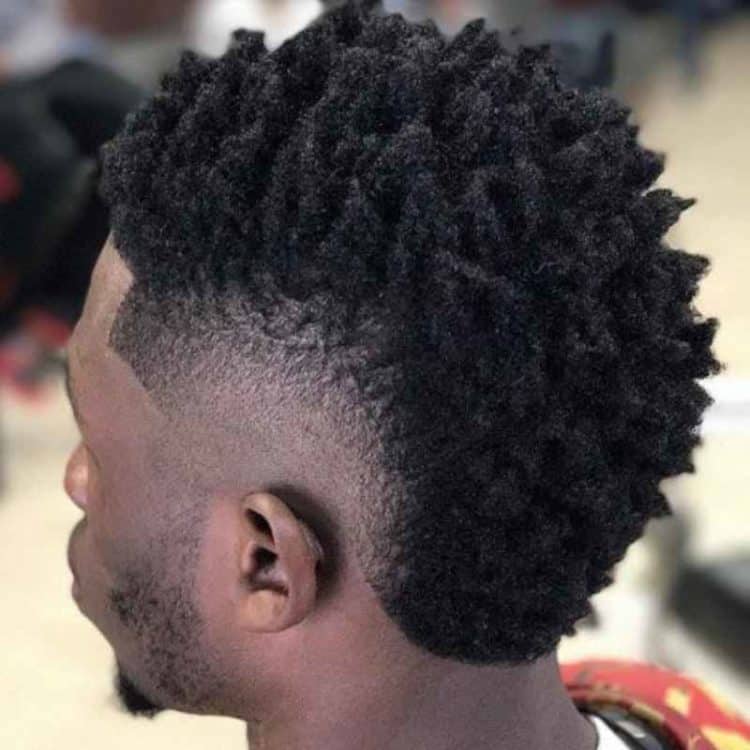 The Burst Fade Afro haircut is a stylish and modern look that offers naturals the balance between a smooth fade and a textured afro, making it the perfect choice for those looking sharp and standing out.
It's a great cut for showing off natural hair texture and adding some sizzle with the burst fade.
To achieve the best results, your barber should create a curvy line at the temple, shave the sides and back as tight as you like, and add texture to the top for an effortless yet stylish look.
Afro Shadow Fade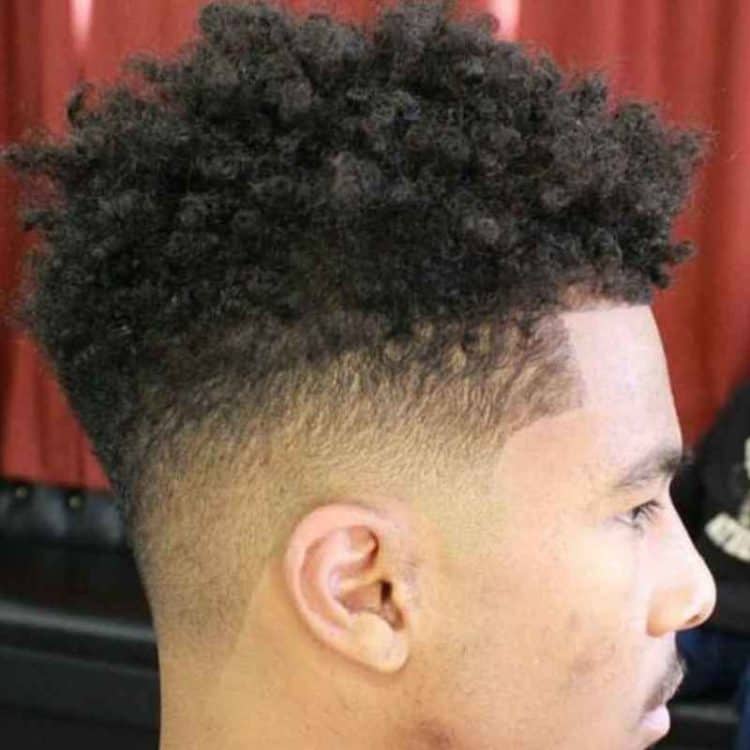 The Afro Shadow Fade haircut is a creative combination of the classic afro and a cool shadow fade that can be tailored to suit any look and lifestyle for maximum versatility; it offers a clean look, emphasizing the difference between the two lengths, and can be brushed out for an effortless yet stylish style!
Styling tips should include growing out the hair before tackling the afro fade, taking the fade as tight or loose as desired, and balancing what's going on at the sides and up top for a perfect finish.
Skin Fade Afro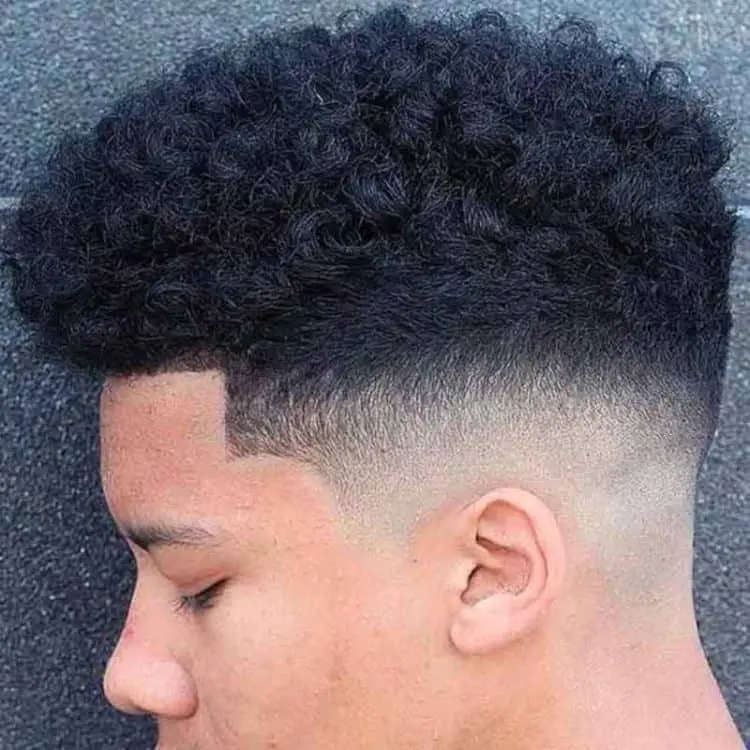 The Skin Fade Afro haircut is a stylish and edgy look, combining a textured, voluminous Afro with a gradual and clean-cut fade around the sides and back, creating contrast and depth. Its benefits include a beautifully sculpted shape and the versatility to be customized differently each time.
For the perfect cut, grow your hair longer on top, pick the fade pattern and length you prefer, and use salt spray and a diffuser to add texture and volume.
Afro Dreads Fade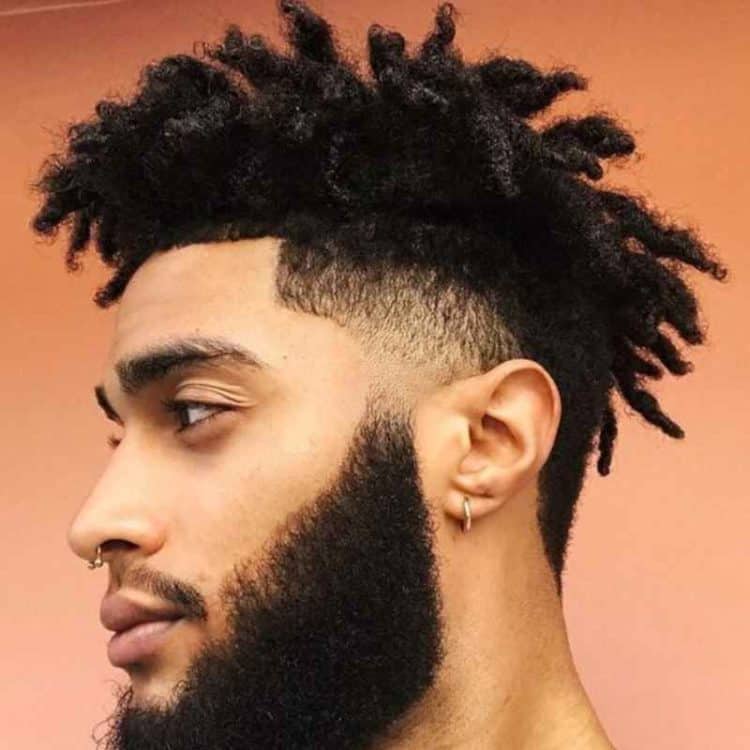 The Afro Dreadlock Fade is an inventive and chic haircut that involves gradually tapering the afro while leaving a creatively designed dread fade at the top.
This unique look provides a clean and fresh feel with style and can be further enhanced with styling tips like brushing out the afro or adding ombre bleached ends. With short or long hair options, the Afro Dreads Fade is a perfect way to spice up any look!
Afro Fade Designs
The Afro Fade haircut exudes confidence and style, with its sharp lines and tapered sides that provide a perfect contrast against the textured Afro top. It's a stylish look for African American men, offering both a modern and classic look that's easy to maintain.
To add further dimension and depth, you can ask your barber for a low, medium, or high taper fade, or a unique line-up or edge-up, giving you the perfect balance between the fade and the Afro top. With proper care, the Afro Fade style will hold up and remain fashionable for a long time.
Afro Fade With Beard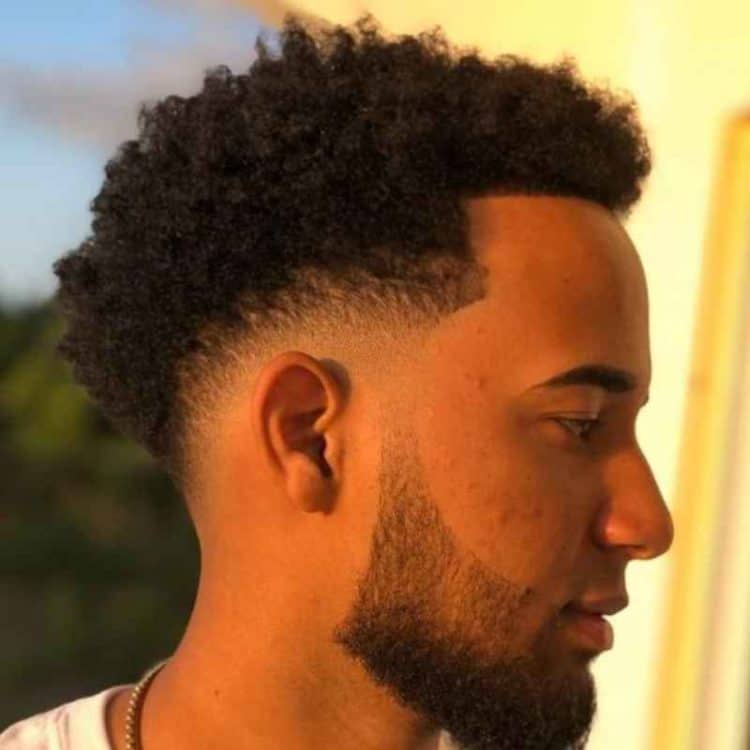 The Afro Fade haircut with Beard style features a clean, professional look with a sharp line up, fading from thick waves at the top to a crisp taper at the sides and back, with a thin yet well-kept beard that enhances the masculine bone structure.
This style offers the perfect balance of neatness and texture and can be easily maintained with regular brushing and trimming.
Short Afro Fade With Edge Up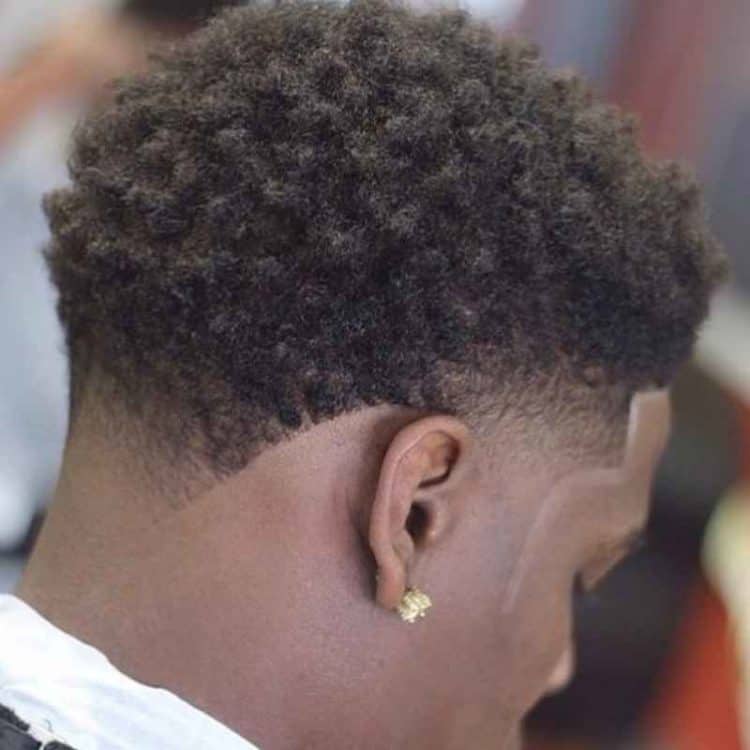 The Short Afro Fade With Edge Up is a captivating combination of the classic afro and a crisp fade, creating an eye-catching silhouette with an edgy, modern finish. The style is an ideal option for African Americans who want a look that is suitable for any occasion – tailored to their look and lifestyle – with minimal styling required.
It's a sharp and sophisticated style that works best with a medium-length afro and sharp edges at the sides and facial hair, combined with a zero fade to accentuate the contrast between the sides and top. To make it even more unique, try adding a curvy line at your temple for a funky twist.
Afro Fade Twist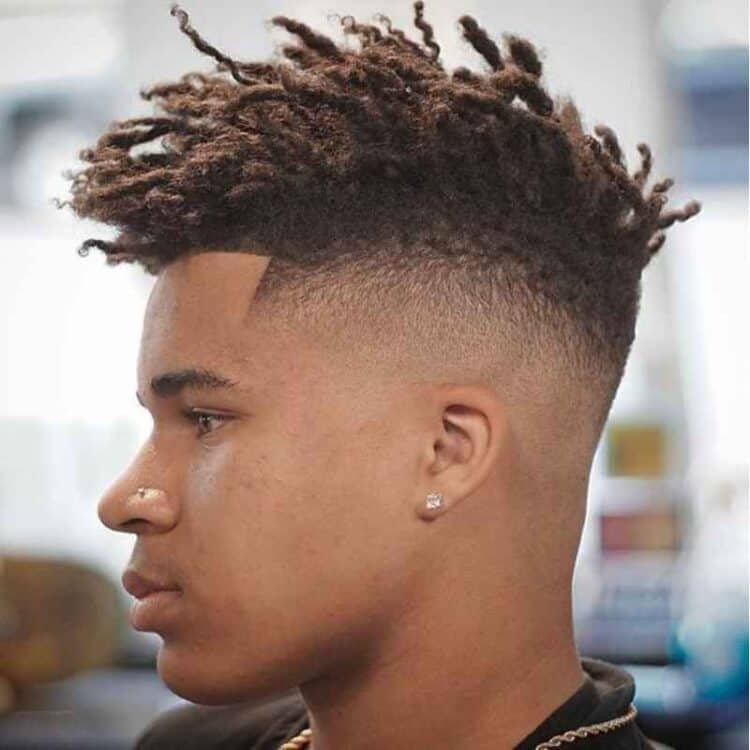 Introducing the Afro Fade Twist – a dynamic and intricate hairstyle that showcases textured twists and a sleek fade for the ultimate modern and edgy look.
So whether you have a Finger twist, Two-strand twist, Flat twist, Three strand twist, a twist out, or short twists with design, adding a fade will really complete the look.
Benefits include adding depth and dimension to your hair, complementing your facial features, and elevating your overall style with a unique and attention-grabbing twist on the classic fade.
How to Style and Shape an Afro Fade
To get the perfect afro fade, it is important to understand the basics of hairstyle grooming.
Start by washing and conditioning your hair to remove any product buildup.
Use a comb to create a defined part on your head.
Use clippers to create a fade that gradually gets shorter towards the neckline.
Use scissors to chop or trim any longer hair on top to your desired length.
To shape the afro, use a pick to gently lift and separate the curls with a sponge brush.
Apply a curl defining cream or gel to maintain the shape of the curls.
Use a hair dryer to dry and set the style.
Finish by applying a hair oil or serum to add shine and moisture to your hair.
Over to You
To sum up, Afro fade haircuts offer men of all hair textures and ages a fashionable and adaptable hairstyle option. Whether you prefer a subtle or dramatic fade, this look will make a statement and enhance your style.
Visit our experienced barbers today to achieve your desired Afro fade haircut and elevate your appearance. Take the first step in transforming your look today
FAQ
What is an Afro fade?
An afro fade is a popular hairstyle among African Americans, characterized by gradual tapering of the hair and a balance between the fade and the top. It involves cutting the sides and back of the hair shorter than the top, with the top usually kept on the neater side. The hairstyle requires skill and effort, but the results are worth it, and the style is versatile and modern.
What is the difference: taper vs fade Afro?
The main difference between a taper and a fade Afro is in the length of the hair. A taper features short hair at the bottom that gradually increases in length, blending into the top. On the other hand, a fade Afro features a bald fade at the sides and back, with a gradual decrease in length from the top of the head down to the neckline. Additionally, a taper usually leaves more hair at the sides and back, while a fade results in a closer, more uniform look.
How to ask for an Afro Fade?
When asking for an Afro Fade, you'll need to decide on the kind of cut you prefer on the sides and customize the taper accordingly. You can opt for a high, medium, or low fade, as well as a drop, temp, box, bald fade, or edge up. Additionally, you can also customize it with a part or hair design. To finish, use an afro pick to maintain the style and use trimmers or scissors to keep long, wild hairs at bay and maintain the hairline.