If you're a fan of Marvel comics or movies, then you know Iron Man. He's the legendary Tony Stark, and he has an iconic celebrity beard style many men want to recreate.
The Tony Stark beard (AKA "Iron Man beard") is a facial hair style made famous by Robert Downey Jr. The Stark Goatee is a custom blend of a small chevron mustache disconnected from a unique style anchor beard. This RDJ beard adds more definition, creating a wider, slightly longer appearance of his chin.
The Iron Man beard is similar to the classic Van Dyke beard with a modern twist and is easy to recreate. See all the Robert Downey Jr. beard styles below or create your own. Learn how below.
Tony Stark Beard Styles
The Tony Stark beard style is defined by the iconic anchor beard with a thin mustache tapering downward and slightly disconnected from the goatee. The overall length is fairly short but longer than light stubble.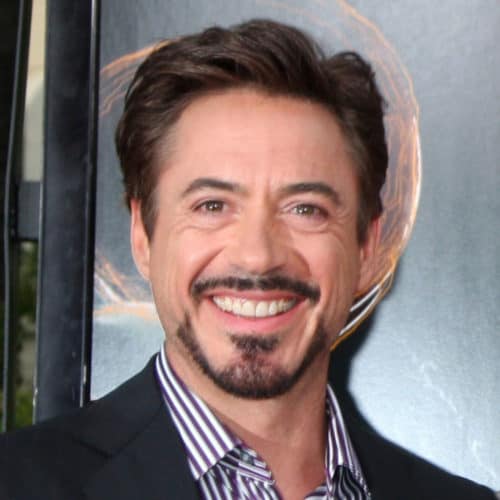 How to make your Beard like Tony Stark
Robert Downey Jr. plays the fast-talking tech genius who also sports a fantastic and unique beard. The famous beard is well known among Marvel fans because it's styled specifically to accentuate Robert Downey's jaw and chin shape.
This guide shows you how to emulate the Tony Stark facial hair style. We'll also give you the rundown on tools and styling products that can help you create the Tony Stark goatee in less time.
See our Style Guide for Robert Downey Jr. Hairstyles
1. Grow out your Beard Hair
The first step is to grow out your beard and mustache. For now, you don't want to worry about trimming or shaving away any length. This style looks best when hair is thick and has some length.
By growing out a fuller beard at first, you can trim back hair to accentuate your face shape while still achieving the same Robert Downey Jr beard.
Besides growing a full beard to start, you also should get these tools:
Razor or electric clippers
Barber scissors
Beard comb
Beard filler pencil (optional if beard doesn't come in thick at first)
The Details
Not only is Robert's beard stylish, but you can tell that it has also been groomed to perfectly match the features of his face. The rounded goatee mustache and beard look works perfectly because it doesn't go too thin around the mouth or chin. Instead, it adds definition and length to his jawline.
Before shaping and shaving your goatee's shape, take a shower and lather up your chin so that the hair softens. As you shave, you'll want to shave toward your hair's growth to avoid razor bumps. You can use a moisturizing cream and beard oil to make your facial hair softer as well.
2. Comb Your Beard Daily
You want to grow your facial hair so it's thick around your upper lip, bottom lip, and chin. This unique beard grows the thickest around Robert Downey Jr's chin and upper lip. Hair will start to grow thicker in the direction that you comb your beard every day.
3. Shape the Iron Man Goatee
After you've grown your beard out to a good thickness, you can use an electric beard trimmer to shape it to a shorter length around your chin and mouth. The setting of your guard will depend on your hair type, but you likely want to start with a #2 or #3.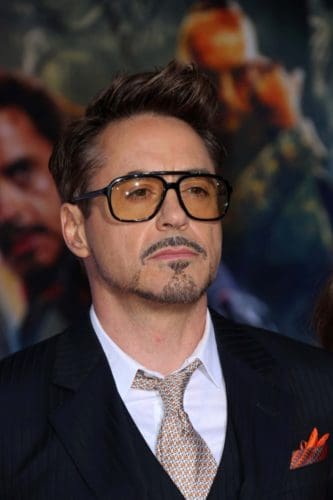 Shaping the Iron Man goatee is the most difficult part, so keep a photo of Tony handy to get the pointed ends and defined lines around the chin right.
4. Trim with Scissors
As your beard grows longer, you can trim it down and taper it towards your chin with barber scissors. The strength of this beard is that it accentuates his chin to be wider and longer.
Pay close attention to the hollows of your cheeks and jawline as you replicate this look. You want to trim up the neck and shave off hair towards the upper jaw and sideburns.
5. Shave the Hourglass Carefully
Tony's signature look is the hourglass symbol that starts at the middle of his bottom lip, then narrows down in the middle before spreading back out to the goatee.
More than a typical soul patch, this hourglass shape draws all the focus, so you'll want to make sure it's even and well proportioned.
Use a beard shaper tool or have a barber create this look if you aren't a master beardsman yet.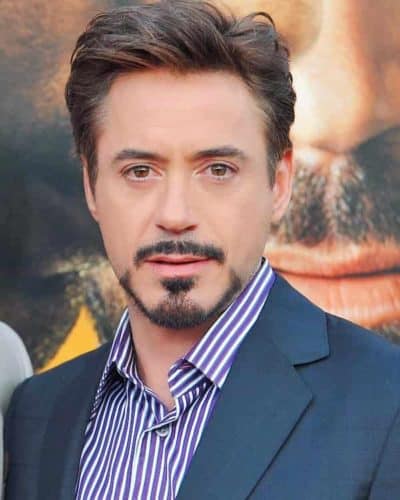 6. Keep the Mustache Slightly Separated
There's a slight space between where the mustache would connect with the beard right at the corners of Tony Stark's lips. This makes the bottom hair along the chin look more like a crown, since it doesn't connect. The mustache style is thicker in the center of the upper lip and tapers off towards the corners of the mouth.
7. Use a Darker Shade Beard Filler
If you have darker hair, that's patchy and not coming in thick, then I'd suggest filling in and defining your goatee with a beard filler pencil. Stylists and makeup artists for male celebrities do this all the time for special events to achieve the perfectly defined, thick beard style.
8. Shaping the Mustache Ends
Tony's mustache follows the curve of his mouth. It's pointed at the ends on both sides and looks quite thick along the upper lip. The hair is allowed to grow up to his nose, but then trimmed with beard scissors to perfection.
9. Keep it Neat
You may need to clip and cut stray hairs in between shaves. This beard style can quickly and easily go awry, if not well-maintained – especially when the disconnected areas grow in. The shapes are very pointed and neatly trimmed – again using barber's scissors.
Wrapping Up: Should You Copy the Tony Stark's Beard?
Who wouldn't want to get a cool superhero beard? Tony Stark has everything all planned out in his world of Avengers and futuristic tech, but his beard truly shows off his outrageous personality.
This iconic look was part of the reason that RDJ looked so cool in every Iron Man, Avengers, Spiderman and Captain America movie he was in.
By creating a more trim, boxier goatee, it widens out his chin and makes it more defined while making his mouth look wider. However, it's the hourglass and tapered ends of the mustache that really characterize this stylish beard.