So you've decided to grow out your hair and need to know how to trim a mustache. Over the past few years, mustache styles have developed into insane trends with longer, handlebar mustaches even making a comeback.
Trimming your mustache doesn't take much effort. But if you stop maintaining its growth or don't pay attention to the length, it could get to an unruly level or cheese factor that you just don't want to deal with. Here's five tips to trim your mustache like a professional barber.
1. Grow it out, Select a Style
Before you start to do any trimming, your mustache has to be grown out and ready for a cut. Otherwise, you could trim it too close and wind up with a very thin style.
Everyone's mustache growth time is different. Most experts say that it depends on your family's genetics, diet, skin health, and age. The good news is mustaches are relatively faster to grow than a full beard style.
So, depending on your family genetics, it could take 2-4 weeks to grow hair out to a nice cutting length. However, if you already have some length, waiting just an extra week, should be enough to get you trimming.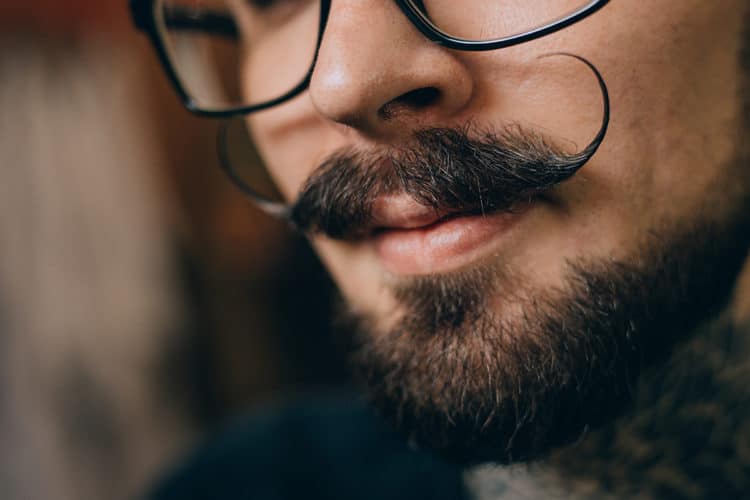 Choose a Style
Choosing the right mustache is no easy task. There are so many styles to choose from, including outlandish (don't get us started on the monkey tail beard trend).
When thinking about your mustache style and how it will look, start by determining the desired length and shape. Some mustaches are cut just above the lip, others like the Walrus mustache are slightly longer.
For beard wearers, it's equally important to ensure your mustache pairs well with your beard style. Check out a few styles guides to get some inspiration: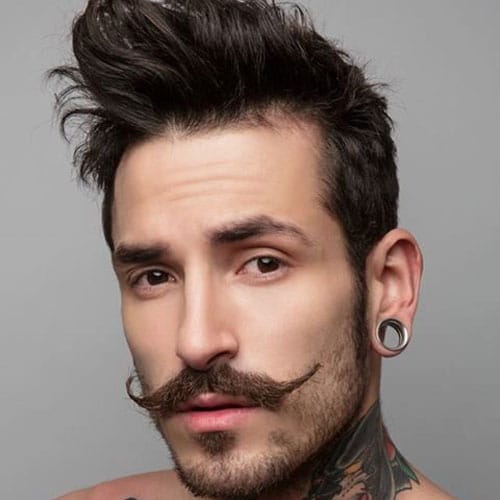 2. Wash, Comb and Prep
Wash and Dry Mustache
This step is really straightforward. Start with a freshly washed mustache. After drying your mustache hair, just comb out your upper lip hair with a fine-tooth mustache comb.
It's never a good idea to trim facial hair when wet, as you won't see the real length until dry.
Comb Mustache
The smaller combs are better here because they're intended for facial hair and don't snag hair. However, some beard combs work, too. Combing also helps direct hair into the general shape you're after and helps locate longer strays.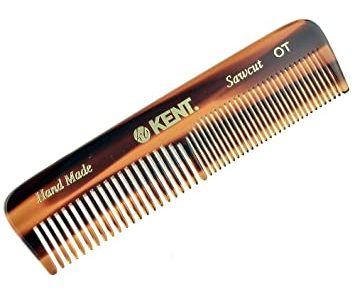 Prepare for Trimming
With your mustache hair grown out cleaned and combed, it's time to prep and ready yourself for trimming. Here's the recommended set of grooming tools:
Mustache trimmer or beard trimmer
Mustache comb
Beard balm or beard oil (to soften any coarse hair)
Scissors vs an electric trimmer
Know the length and shape of the mustache you want before you trim any hair.
Using scissors vs an electric trimmer is a matter of preference. Personally, I like using both to get the exact look I want.
Mustache scissors are typically very sharp and made for barbers, so these are preferable for trimming the bottom and edges precisely. If you like to go slow as you determine the right length, these may be better for a careful pruning.
However, many men don't feel comfortable cutting their own hair with scissors. I like the extra control with scissors and use them when starting to shape my mustache and finishing up along the lines. Use what feels natural to you.
3. Trim the Bottom
Once you've combed out your mustache hair and determined the right length, it's time for the first cut. You'll begin at the bottom side of the mustache, just along with your lip line.
Start off by pressing gently at the top of your lip with your scissors and pulling away as you trim. Go slowly to ensure even lines, working from the outside towards the center and only do one side at a time so it's symmetrical and even.
Check out the Best Mustache Trimmers – NEW
5. Trim the Top
After getting the bottom length right, you'll create a smooth, clean the top edge for your mustache. Use your trimmer or pair of scissors to create the top line. Here I prefer the electric trimmer, so take your time and see what works.
So, I'll use my comb again, then start the top trim by pressing at the top of the mustache, then pull away, working from below the nose outward. It's import to keep referring to the style you're trying to emulate so you get the angle right. Here are some tips:
Angle and sculpt
Lightly trim the small area below your nose so there's a clear separation between your nose and mustache hair.
Use your nose hair trimmer attachment to clean up stray nose hairs.
For fuller mustaches, trim the top to a 45-degree angle towards your lips.
Shape your mustache depending on the style you chose.
6. Reduce Thickness
If you've got one of those extremely bushy mustaches, you try might reduce some excess weight and volume using the trimmer's comb attachments.
Remove excess Volume
Start with a longer comb at first, trim in direction of hair growth or downwards from the top of your mustache. Comb attachments range in sizes for length setting, so start with a #3 or #4 for a longer trim if you haven't groomed your 'stache in a while, then trim down the length from there.
If you feel comfortable shaving without a guard, that works too. Typically, I like starting slow with a higher number guard then stepping down in length so I don't cut too much.
A high-quality trimmer with stainless steel blades will be able to trim mustache hair or beard hair easily.
7. Finalize Style
This is where having a nice pair of mustache scissors is helpful. I prefer scissors made from Japanese Stainless Steel for cutting the hair precisely and easily through any coarse strands.
So, at this stage, you'll simply trim away any stray hairs sticking out of your mustache. You can also angle the corners of your mustache so it has the right shape as your target style.
Final Grooming Tips
Apply a few drops of beard oil and comb through your newly trimmed mustache.
For styles needing extra hold, apply a good mustache wax to form your mustache shape or curls.
As your hair grows out again, take your time and trim in small stages to perfect the length and shape.
Take it Further with Celebrity Mustache Style Inspiration
Want to see how the men of Hollywood style their mustaches? When learning how to trim a mustache, it's awesome to have inspiration.
We've put together a quick look at some of the most popular looks.