Do you like the smooth, clean look of a hairless back? Men all over the world are waging war against unsightly back hair, leading to a manscaping revolution and a boom in back shavers for men.
A back shaver is a long-handled razor, allowing users to shave their own back hair. Back hair shavers come in various designs, like curved, adjustable and foldable handles to shave hard-to-reach areas. Shavers also come in disposable razor blade and electric versions.
There are a variety of back shaver models, and each with unique benefits, whether you're looking for more maneuverability or a low-cost option. We've reviewed the best men's back shavers that produce the smoothest results. Top shavers below.
Removing Back Hair
If you have grizzly back hair, it may be genetic. So, before attempting to remove your own back hair with a regular facial hair razor – stop!
Removing back hair typically requires assistance from a second person. The back is hard to reach and has unique contours. So shaving on your own presents challenges and risks.
With help, you can use a good body trimmer to help tame your back hair. But there's a better way with a men's back shaver.
---
We reviewed 7 of the top back shavers and rated them based on the results. We prioritized smooth, hairless results, followed by design, wet vs dry back shavers, battery life, and ease of use. Here's a quick look at our picks, see full in-depth review below.
Back Shaver Buyer's Guide
From electric, cordless back shavers to handheld wet/dry manual razors with long handles, there are vast differences in these body grooming tools. However, the main things to consider include type, length of handle, and price.
Check out other Hair Removal Tools & Products for Men.
Here are some the features to look for when shopping for back hair removal tools.
There are two main types of back shavers: electric or manual. If an electric back shaver is what you're looking for, you also want to consider battery-operated or corded versions. Some of the more expensive back shavers will offer 2-in-1 corded and cordless versions.
Electric Back Shaver
Electric back shavers tend to have a power cord that can be difficult to use while shaving your back, since you have to hold the shaver up over your shoulder. This is why it's best to look for a cordless version.
Battery-operated or chargeable back shavers offer the most versatility and convenience. These don't have cords so they're easier to maneuver around your back. However, you should look at battery charging time and battery life before purchasing.
Manual Back Shaver
If you don't want to fuss with a cord or charging, then manual is the other option. These are long-handle, cartridge razors with longer blades. These can go with you anywhere, but you'll need to replace the blades often to get the closest shave.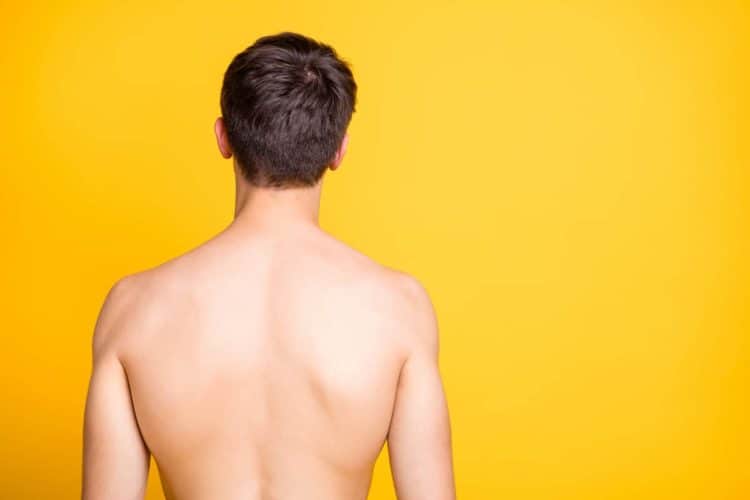 Blades
Most back shavers include the blades that you'll need to get started. Depending on the model, you'll likely receive a cartridge razor for manual or a double-edge razor. These blades should be made from stainless steel for the closest, smoothest shave.
Length of Handle
The main difference between a regular shaver and a back shaver is the handle. You ideally want to have a handle that's longer than 15 inches. Most handles are over 20 inches in length.
There are also retractable and extendable handles that can help if you have a longer torso. However, you should make sure that these lock into place, as you don't want it to slip while you're shaving. For this reason, it should also have a textured grip on the handle.
Flexibility and Ease of Use
When shopping for a back shaver, check out the comments and reviews. While most of these products claim to have versatile heads, some cheaper models have stiffer heads that don't move with your contours as you shave.
Ideally, your back shaver's head pivots as you move, avoiding nicks and cuts as you move across your shoulder blades, mid-back, sides, and torso.
When using these on sensitive skin, it's important to always use shaving cream to avoid skin irritation, razor burn, and ingrown hairs. These back hair razors typically work with hard to reach areas, but if a blade cartridge is old and the razor blades are dull, these shavers won't help much for a smooth back, even if it has a fancy patented design.
Warranty
We hope that your back shaver lasts forever, but in the event that it doesn't, you should look at products that have a warranty to cover broken or malfunctioning shavers.
Other brands have a money-back guarantee if it doesn't work. These options are great if you're purchasing online and want to ensure the product quality level is high.
Other Back Shaver Brands
We no longer feature these back shaving brands either because of poor quality or poor reviews.
Liberex
Easace
Fuze Brands
Sigma Grooming
Bro Shaver