To revive your scalp and slow hair shedding, you'll need a product that really works to treat the root cause of hair loss and dry skin. Briogeo Scalp Revival products consistently receive the best reviews for its ability to treat your hair and scalp.
Briogeo Scalp Revival is a line of shampoo, conditioner, and hair therapy products proven to treat hair loss and dry skin. From charcoal and coconut oil exfoliating shampoos to hair therapy massagers and other products for dry, damaged hair. Customers have found the formulas help hair loss problems.
Our own experience with hair loss and scalp products led us to write about the benefits of Briogeo. In this guide, we'll share the highest-rated products and treatment kits from the Briogeo brand plus customers reviews sharing their experiences. Discover more below.
Can Briogeo Scalp Revival Shampoo Help Your Scalp?
Scalp Revival shampoo is the flagship product we recommend to help your dry, irritated and flaking scalp. However, Briogeo has several product lines that boast their own unique qualities and benefits for optimal scalp health.
More specifically, the Scalp Revival product line is their lineup of shampoos, conditioners, and other treatments for dry, flakey scalp. These revival formulas are clinically proven to treat many scalp issues. Ingredients include charcoal, biotin, tea tree oil, and witch hazel.
Briogeo Quick Facts
These products are best for individuals who are shedding a lot of hair due to dry skin and flakes. If you're constantly itching your head and finding flakes, Briogeo may be the best treatment for it.
If you have dry, damaged hair with no flakes, you may want to look into Briogeo's Don't Despair, Repair products. These are formulated to condition and moisturize brittle hair so it's thick and lustrous, and it works amazingly well.
Briogeo has actually ordered clinical studies of their Scalp Revival products to prove that they work for patients with dry, itchy scalp and flakes. We'll share the results in the reviews below this section.
On another note, Briogeo products are vegan, cruelty-free, approved for color-treated hair, and backed by a 30-day money-back guarantee. The products are significantly more expensive than drug store shampoos, but it's hard to put on price on things that really work and solve hair care issues.
Briogeo Scalp Kit + Reviews
Whether you want to fix your dry scalp and heal your follicles or get thicker, voluminous hair, Briogeo offers two product lineups to get the ultimate head of hair. We go over some of our favorites and highly rated kits from this brand below.
Briogeo Scalp Therapy Essentials Kit
Who It's For: Anyone with an irritated, dry scalp and flakes that won't go away.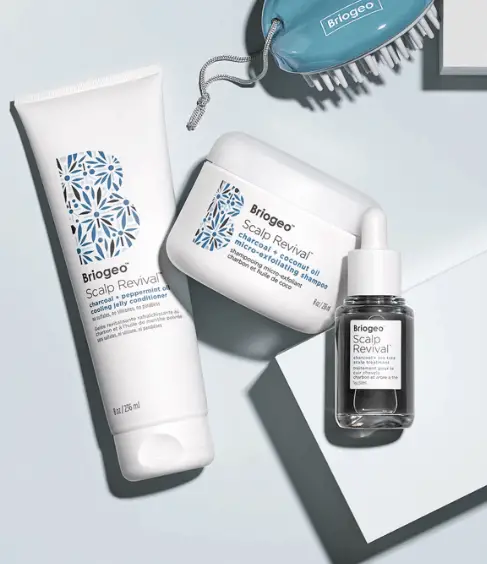 This kit includes everything you need to get started if you are experiencing a dry scalp and want to get rid of it as fast as possible.
The Scalp Therapy Essentials contains 4 important products for your scalp:
8 ounce Scalp Revival Charcoal + Coconut Oil Micro-Exfoliating Shampoo,
8 ounce Scalp Revival Charcoal + Peppermint Oil Cooling Jelly Conditioner,
1 ounce Charcoal and Tea Tree Scalp Treatment, and
1 Scalp Revival Stimulating Therapy Massager Brush.
All of these products are formulated to treat dry, flakey skin as quickly as possible. Many customers have shared their experiences with this kit, stating that not only does it work, but these products achieved results after one use, in some cases.
We want to go over all the products individually to share what each does for your scalp, but this kit is the best way to kick off a new routine and revitalize your scalp. If you have experienced hair loss, thinning, and shedding due to dry, itchy scalp, then these treatments may truly be the answer.
Some reviews show just how potent this treatment kit can be for dry skin and dandruff:
Best Briogeo Scalp Products + Reviews
The Scalp Revival shampoo is the main product we recommend if you want to get rid of flakes, but if you continue to have issues or need more moisturization, the products that follow the shampoo can be added to compliment your routine.
Who It's For: Dry, itchy scalp sufferers and oily scalps
A clinical study on this Briogeo Charcoal + Coconut Oil Shampoo revealed that 100% of participants saw reduced flakiness or eliminated completely within just one week of use.
The combination of charcoal and coconut oil draws out impurities from the root, cleansing your scalp of all product and oil buildup. Dead skin cells are removed to start fresh, and a number of cooling oils blend together to heal and soothe irritation and follicular inflammation.
Finally, coconut oil provides a much-needed moisturization layer to fight off dry skin and flakes.
So does the Scalp Revival Shampoo Work?
Here are some things to consider from studies done by Briogeo to prove the science behind their products, as well as reviews with photos from Amazon customers:


See these customer reviews about how Scalp Revival products diminish dry skin and flakes.
Where to Buy
The Briogeo Charcoal + Tea Tree scalp Treatment comes highly recommended for those who want a pre-shampoo hair treatment to really cleanse the scalp. It's not a shampoo and won't clean your hair, but it will remove dead skin cells and product buildup from around your follicles.
This formula includes Binchotan charcoal and tea tree oil, which has been soothing inflammation and irritation from itching, dry skin.
However, some customers report that it's overkill to use this scalp treatment unless you have a more severe case due to increased oil production. You may want to get a sample of this product from Briogeo before buying a full bottle to see how well it will work with your scalp.
Where to Buy
We really love this conditioner because of the way our scalp feels and how our hair smells after the shower.
If you want to get the two best products from the Scalp Revival brand, we recommend the main Scalp Revival Charcoal Shampoo and the Cooling Jelly Conditioner. It is made to soak the scalp and heal inflamed follicles, and it feels amazing.
No products found.
More Briogeo Products to Try for Persistent Issues
Where to Buy
In between hair washes, if your hair does tend to get really oily and greasy, you can use the Briogeo + Biotin Dry Shampoo.
Not all shampoo products are created equal. Biotin for hair loss offers significant benefits for those with thinning or balding hair lines. This stuff really feeds your scalp nutrients and keeps your hair moisturized without adding any unhealthy buildup in between treatments.
Where to Buy
Are you experiencing thinning, brittle, dry hair? This may be the treatment to try alongside the charcoal shampoo.
The Don't Despair, Repair hair mask is a bestseller because it's clinically proven and customer-verified to work. It combines rosehip oil, almond oil, algae extract and B vitamins to fully restore hair from the root to tip.
Where to Buy
---
How Often Should You Use Briogeo Scalp Revival?
Everyone has their own routine, but we recommend not using this product more than 1 to 2 times per week. It's best to start off with a once a week treatment and monitor your scalp in between uses to see if the treatment works. If you notice flakes are diminished after the first use, then follow up with a second round of treatment 3 days following your first use.
You should see flakes greatly diminished or completely eliminated after the second use. After that, you can determine how often to use it based on your scalp condition. If you notice flakes returning, you may want to use the Scalp Revival cooling jelly treatment in addition to the shampoo.
Is Charcoal Good for Dry Scalp?
Briogeo charcoal shampoo and conditioning treatments have actually studied their formula to ensure that it works.
These products include Binchotan charcoal, which has been shown to remove dry skin and flakes, leaving behind a completely clean scalp.
This is beneficial for those who use a lot of products in their hair and want to ensure that they are working from a clean surface every day after washing their hair.
Is Briogeo Scalp Revival Safe for Color Treated Hair?
Yes, the company has made sure that every product is safe for color-treated hair, keratin treatments, and other chemical treatments. If the color fades or hair condition worsens, there is also a 30-day money-back guarantee.
How Do You Use Briogeo Scalp Revival Treatment?
Depending on whether you get the kit or other treatments, you should always start with the Briogeo Scalp Revival Charcoal + Coconut Oil Shampoo. This is their best-selling dandruff-curing product, and it will cleanse your scalp in preparation for a conditioner.
However, their Charcoal and Biotin or the Scalp Revival Charcoal and Tea Tree Oil Scalp Treatment may work for those with bald dandruff.
To start off with your routine, you only need a small amount of shampoo. Then it's massaged into the scalp, gently pulling through to the ends. You can rinse out and follow with the cooling jelly conditioner or the Don't Despair, Repair conditioner mask.
Will Briogeo Scalp Revival Shampoo Work For You?
There's a 90% chance or greater that this shampoo will reduce or eliminate flakes completely.
Most treatments work overnight after just one use, but results are different depending on your scalp and current condition. In our review, the first treatment really worked and reduced flakes significantly.
The second and third uses resulted in a healthy scalp that's healed and moisturized while the hair is glossy and thick.