Black men have naturally tight, curly hair that develops nearly flat to their jaw and, according to this study, may grow slower due to its texture. So precise beard care is essential.
Beard care for black men starts with understanding how the hair grows and choosing the appropriate styling products, which usually help with softening and taming coarse hair. 
There can be an issue of having dry skin under the beard or in trying to grow a much larger, longer beard. However, the right beard care products can change that.
Black Men Beard Care Guide
1. Be Patient In Growing Your Beard Out
The first part is a waiting period of at least 6 weeks while your hair grows in. You want a naturally thick beard. The average beard growth rate is about ½ inch every month, but your beard may grow slower.
Your natural beard oils coat strands closer to the hair follicle, so applying beard oil for black men can help when growing your beard longer.
If you've waited a while for your beard to grow and still see patches or not enough growth, you may need to try some beard growth products to resolve issues with beard itch or even slow follicular growth.
While your beard is growing out, you can still shape and style your beard so that it grows in the direction you want. A good beard brush is also helpful when growing your beard.
2. Choose The Right Shampoo
My barber has told me so many times that guys simply don't know that regular body wash or hair shampoo dries out your face and beard hair.
It's simply not good to wash your beards with these products because they don't mesh with the oil within the dermis under your beard, and it's even more important if you're going to soften black hair texture to get more length and shape from your beard.
For example, James Harden's beard or QuestLove's beard obviously has been treated with beard softener products to get softness and length out of the tight curly texture.
Recommended Beard Washes for Black Men
3. Treat Your Facial Hair with Beard Oil or Balms
Another thing that black men can do to get more volume and shape out of their beards is to use the right beard styling products.
Beard oil can help black men's beards by naturally softening and allowing your hair to straighten a bit with a beard brush or comb.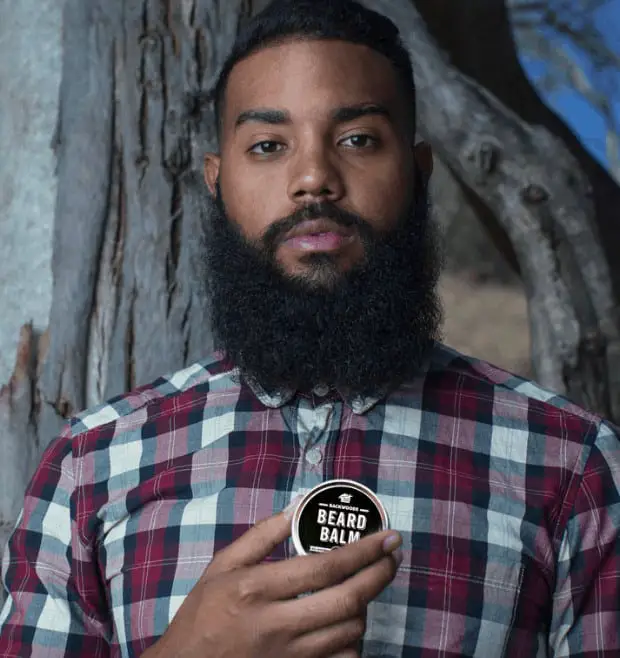 Beard balms are another natural product that can lock in moisture and help your hair thrive all day.
Recommended Black Men Beard Styling Products
4. Master Your Beard Care Routine
You definitely want to get a great beard brush or comb to pluck out and brush your beard hair. This creates fuller beards if you want more density and thickness.
Here's a quick beard care routine recommended for black men:
Wash under and through your beard with a hydrating beard wash.
Trim up with your razor, cleaning up your cheek lines and avoiding a neckbeard.
Use a decent shaving balm or cream for black men to avoid dry and brittle hair
Apply beard oil or beard balm, then brush through for healthy hair
Don't worry about coarse hairs or wiry hairs sticking out after brushing – you can trim up with scissors or your razor.
Further shape your beard using a beard balm with shea butter and a medium hold.
Avoid harsh chemicals like sulfates and parabens in your styling and shampoo products
5. Watch Your Diet and Water Intake
Still not seeing a thick, full beard? You may need to look at your diet.
This study has shown that diets rich in Omega-3 fatty acids can boost hair growth.
Here is a full list of food for hair growth, as well as vitamins for beard growth, if your diet is an issue.
Barbers suggest that water intake can help with skin and beard hair problems. It's important to drink a lot of water for healthy skin and hair, as it replenishes your nutrients and optimizes your blood circulation.
Final Thoughts
Beard care for black men involves choosing the products that are just right for the type and growth of your hair, including the skin underneath. It's important to select the ones that will not lead to irritation and will provide a sufficient amount of moisture and nourishment.
Most of all, it requires a lot of patience with the process, consistent practice with the best routine, and discipline in other aspects, like following a healthy diet.
Growing, caring for, and maintaining a full-bodied beard in black men might be a bit more challenging, but the results will definitely be worth it.