When you start to notice your hair is thinning, you may feel helpless. What stops hair loss and promotes new hair growth? We've found several hair regrowth products that work. One of them is the Nioxin System.
We performed a Nioxin review for 30 days to observe the difference in hair density and length. Here are the results.
What is Nioxin?
Nioxin is a hair care brand with several hair treatment systems for men and women. The original Nioxin brand launched its hair care system in the 1980s, and it's still a popular treatment today for those with thinning hair.
For years, Nioxin has sold itself as a product to assist with hair thinning and hair loss, though not directly saying it will regrow your hair. Instead, the brand treats issues with dry scalps and damaged, brittle hair.
We reviewed Nioxin System 2 for Progressed Thinning Hair. Our Nioxin System review covers results, ingredients, side effects, and whether it really works for hair loss.
How the Nioxin System Works
From level 1 thinning to level 6, Nioxin offers customers a customizable hair cleansing system based on whether your hair is fine to noticeably thinning or chemically treated. Here's a breakdown:
System 1 Natural hair with light thinning.
System 2 Natural hair with progressed thinning.
System 3 For color-treated hair with light thinning.
System 4 For color-treated hair with progressed thinning.
System 5 For chemically-treated (relaxers/perms) with light thinning.
System 6 For chemically treated hair with noticeable patches and thinning.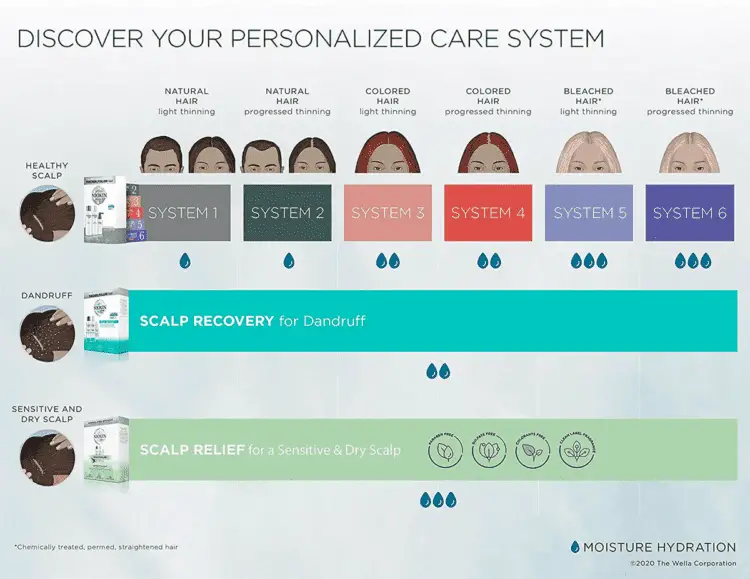 Nioxin System Review
Nioxin has several different shampoos and conditioners for thinning hair. These go from level 1 for average thinning hair to level 6 for noticeably thinning and selecting based on your color treatment. We suggest starting with level 1 as it may bring back your thickness and shine quickly.
After applying the System 1 shampoo with the scalp and hair treatment, we saw a noticeable difference in the condition of our hair. It was softer, smoother within a few uses and thicker looking hair after 1-month.
The shampoo really does clean your hair and removes environmental residues, oil, and product buildup. If you regularly color or chemically treat your hair, this system should help your hair recover fast.
Nioxin System Results
We liked all the innovative ingredients in the lightweight conditioners, but we were surprised to see sodium laureth sulfate in the shampoo. Sometimes these products can contain harmful ethylene oxide, but that's not the case with every product. Nioxin hasn't been found to be toxic or contain these toxic ingredients.
With several ingredients for hair growth and a system that changes the formula to match your hair type, we found that the results matched the guarantee, particularly with Nioxin scalp treatments.
It does work to improve hair thickness, and after a few uses, you should feel the volume of your hair return. However, we do recommend that you take the conditioner, apply from scalp and allow it to sit for at least 15 to 20 minutes.
Improved Hair and Scalp Health
In our test, we used the Nioxin System 2 Cleanser Shampoo, System 2 Conditioner, and Leave-in scalp treatment. These are included with the Nioxin System 2 Hair Kit, which offers a decent value. 
Nioxin asserts that their shampoos reduce the production of Dihydrotestosterone (DHT), which is directly linked to male pattern hair loss. Once DHT attaches, the hair follicle slowly dies, producing wispier hair over time before dying.
The Nioxin System 2 shampoo and conditioner do leave your scalp and hair feeling extremely clean and moisturized. After one use, it should alleviate any itching and irritation. Dandruff goes away as well.
All in all, Nioxin's System 2 kit really does work if you want to improve the health of your scalp and hair. While the brand doesn't outwardly claim to regrow hair, they do claim to treat the underlying causes of hair loss, such as dry skin and itchy scalp.
If you struggle with stubborn dandruff and overproduction of sebum oil on your scalp, while also seeing your hair thin, these products offer a great alternative to other hair restoration methods and Rogaine products. 
Side Effects
Before we go any further, there are a few side effects to consider with Nioxin, as noted by some users. These aren't so common as we thought after checking reviews, so if you are considering this system, we suggest you read the Nioxin Reviews.
In our own test, the switch felt great. There was some slight itchiness that goes away after the first couple of weeks. If it continues to irritate your scalp, you should switch as that is one of the common side effects, particularly if you are sensitive to sulfates.
Other reported side effects include:
Redness
Irritation
Itchiness
Tenderness
Dry skin
Brittle hair
We didn't experience these other side effects, and you should always check with your doctor if you may be allergic to the ingredients in Nioxin. It's always a good idea to do this anyway, especially if you're trying to treat alopecia.
How to Use
The Nioxin system shampoos and conditioners work well together, improving chances of faster hair growth and density. There's a simple process to using these products, and it's not that much different from the way you regularly shampoo and condition your hair.
Wet your hair thoroughly before applying cleanser
Lather up with the cleanser and then wait 1 minute
Rinse out thoroughly
Apply the Scalp Therapy Revitalizing conditioner on the scalp and gently massage through ends of your hair
Rinse out and apply a leave-in Nioxin product for additional fullness
Innovative Nioxin System Ingredients
Their Nioxin system includes tested and proven technologies to help with hair loss, including:
BioAmp: These are glycol-proteins that aid in hair thickening and strengthening from inside the follicle. Cystine acids work to seal the hair shaft and repair fine, damaged, hair.
SmoothPlex: This formula is derived from silk amino acids and a special ingredient called kukui nut oil. These ingredients add moisture and shine, beneficial for medium to coarse hair. 
Transactive Delivery System: Time-released ingredients with vitamins, botanicals, and nutrients that aid in moisture and strengthening your hair follicles throughout the day.
Scalp Access: Also called a micronutrient system, this element delivers nutrients directly to your scalp and root of your hair. 
Glyco-Color Shield: This is dual-protection technology that protects your hair from damage and irritation, specially formulated for those who have damaged hair from color treatments, perms, and relaxers. (Still preserves hair color and highlights, just nourishes your hair so it stays healthy and strong.)
Ingredients for Hair Growth
While there are silk amino acids and other special ingredients listed above, the formulas also include some vitamins, minerals, and herbal ingredients to improve your hair's moisture, blood circulation to follicles, and reduction of sebum.
It's important to note that these ingredients change depending on the system you pick. Here are some ingredients in system level 1's shampoo and conditioner as part of the Nioxin Shampoo System Level 1 3-in-1 Kit.
Stinging nettle
Sodium citrate
Peppermint
Wild mind
Biotin
Grapefruit
Mentha Areensis leaf oil
Benefits
There are a variety of advantages to using Nioxin shampoo. The first thing you'll notice is the pleasant scent and cool feeling on your scalp. The peppermint oil extracts work their magic on your scalp and hair follicles.
Since you can use the cleanser as a daily shampoo, the ingredients are made to remove buildup of oil and products in your hair, cleansing your scalp so you can start the day fresh.
Finally, your hair will start to become thicker and fuller after a few uses. You should notice if the product is working within 14 days. However, it's important to use the shampoo and conditioner massaging gently into your scalp.
Should I Use Nioxin?
The Nioxin System shampoos and conditioners are meant for those who have trouble growing thick and lustrous hair. While it may not treat bald spots, it can help with early hair thinning and restore volume to your hair.
However, we do want to caution that hair loss shampoos contain many ingredients, some of which are chemicals.
These formulas are designed to treat scalp problems that reduce the strength of your hair follicle, which is why you should use them if you have issues with dry scalp or brittle hair from multiple treatments.
Where can i buy nioxin hair products?
Nioxin is readily available on Amazon, Walmart, Target and CVS.
Systems
The Nioxin hair products include innovative ingredients to treat various degrees of hair thinning, even if color treated. Also, many men have seen hair growth after using Nioxin's System of shampoos, conditioners, and scalp treatments.
Shampoo
Out of all the levels, the Nioxin Cleanser Shampoo System 2 is the most popular, and it comes with different options as well as a conditioner set. This first shampoo is a scalp cleanser, which can also help with dry skin and dandruff.
Check out all Nioxin Shampoos on Amazon. Approx. $28 for 16.9oz (500ml) and $45 for 33.8oz (1L).
Conditioner
The conditioner offers moisture balance while the scalp therapy conditioner is a leave-in hair product that restores hair resilience to fungal problems like dandruff.
Check out all Nioxin Conditioners on Amazon. Approx. $33 for 16.9oz (500ml) and $51 for 33.8oz (1L).
Nioxin FAQS
Does Nioxin really work?
The Nioxin System primarily focuses on improving hair and scalp health so hair can grow thicker and stronger. However, Nioxin doesn't claim their system, shampoos, conditioners or scalp treatments will regrow hair. However, many reviewers have cited thicker hair in as little as 30 days of use.
How long does it take for Nioxin to work?
Nioxin results will vary for each individual, but if used as directed, it can provide results in 4-6 weeks from first use. In order to achieve best results, Nioxin suggests using their 3-part system daily. For those that don't wash their hair every day, results will come slower.
How much does Nioxin cost?
Typically, Nioxin Hair Care System Kits cost $45 USD (full size kit) and $29 (trial size kit). Nioxin Shampoos range $28-$33 USD for a 16.9 fl oz (500ml) bottle. Nioxin Conditioners cost $24 USD for a 10.1 fl oz (300ml) bottle. Prices vary depending on where you buy, but moreover because of hair's color treatment (if any) and product size.