Have you ever wondered if glasses can change your face shape? Your beard style can help you change your look, too. Beard glasses combine both for a personal style that's based on facial psychology. For example, rounder faces don't work with aviators because they can fit too tightly or may not look right with a longer beard.
Your face shape and hair style factor in why certain glasses look best on you. The same symmetrical rules apply to facial hair and beards. We share some equations that lead to the best choices for eyeglass frames and sunglass styles.
Which Glasses Suit Beards?
It's best to know what your face shape is before you purchase any type of eyewear. There are six main face shapes that most people have, followed by some gray area with in between shapes. Some people have square faces that are rounder on top.
Learning about the psychology of glasses can help you pick the best beard glasses for your angles and face shape.
Know Your Face Shape
To know your face shape, you can measure different parts of your face to get a better idea. These areas include:
Use a ruler or tape measurer to get your face shape measurements.
Face Length: Start measuring from the base of your chin to the center of your hairline.
Cheeks: Place the ruler at the outer corner of your cheekbone where it aligns with your outer eye, then measure all the way across to the outer edge of the other cheekbone.
Forehead: Take measurements from one end of the eyebrow to the other.
Jaw: Start measuring from the point just above your Adam's apple up to where your neck becomes your jaw, then up to the corner of your jawbone right where it ends at your ear. Multiply the measurements by 2 to get the full length from ear to ear.
While you don't have to get this granular to see your face shape, you can also just eyeball your measurements and shape, but we wanted to give you the most accurate measurements to determine what beard glasses would be best for your shape.
Best Glasses to Match Your Beard & Face
We've found the best sunglasses and eyeglasses to go with your face and beard. When you choose these glasses, they'll fit your face better and accentuate your angles, so you always look good. 
1. Oval Face Shape
Men's glasses for oval shapes with beards include almost all fashionable styles. This is because of your long, rounded profile. You may not want to try a long beard, as it can make your face appear even narrower.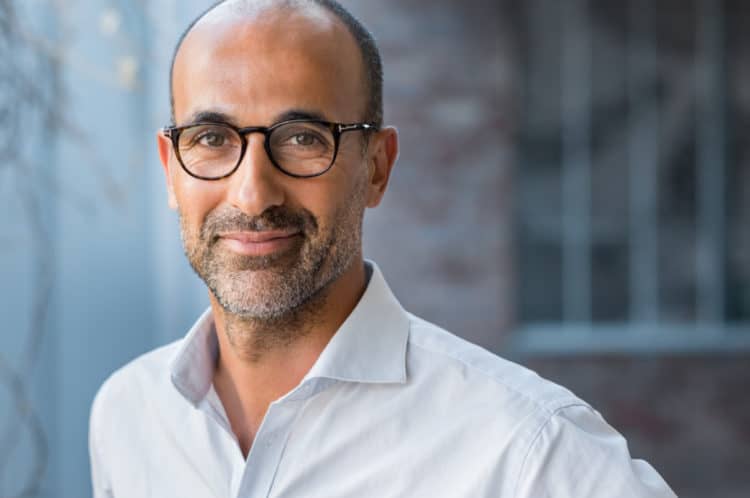 With a narrow chin and wider cheekbones, men's glasses should naturally balance out the shape of your face. Oval and round frames work the best, but larger aviators and square frames can work too.
Try these frames for oval face shapes: 
Round Glass Frames
Aviator Glass Frames
Square Glasses
Top Picks
2. Round Face Shape
With rounded face shapes, the shorter length of the face requires sharper, square frames or even eye-catching frames made from wood or thick frames.
These call attention to the angles of your glasses and elongate a round face shape.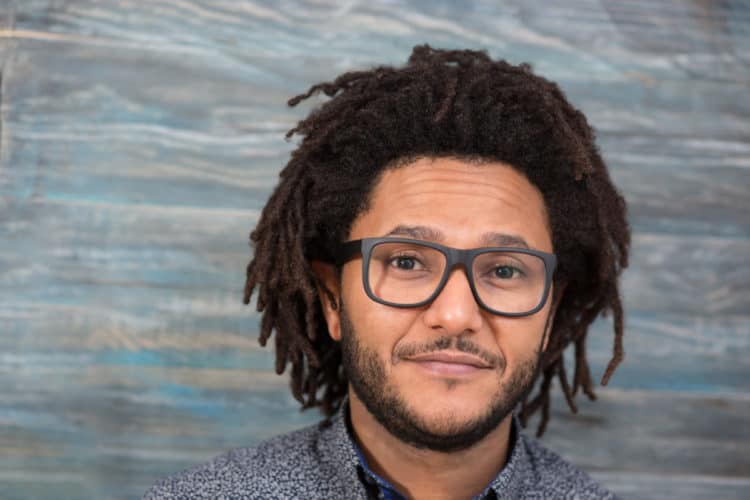 Try these frames for round face shapes: 
Wayfarer Frames
Full-Rimmed Frames
Wooden Frames
Square Frames
Top Picks
3. Square Face Shape
Due to the strong jawlines with square face shapes, men typically have hard cheek angles and a prominent forehead as well. Glasses with round, wider frames work best for these face shapes, as they will contrast and balance out sharp angles. 
Try these frames for square face shapes:
Wider Frames
Transparent Frames
Browline Glasses
Oval or Round Frames
Top Picks
4. Diamond Face Shape
Diamond faces are longer but with full cheeks and slightly narrower chins/foreheads.
With a beard and longer face shape, you should find glasses that focus on your browline or thick rectangular frames that draw attention to the center of your face.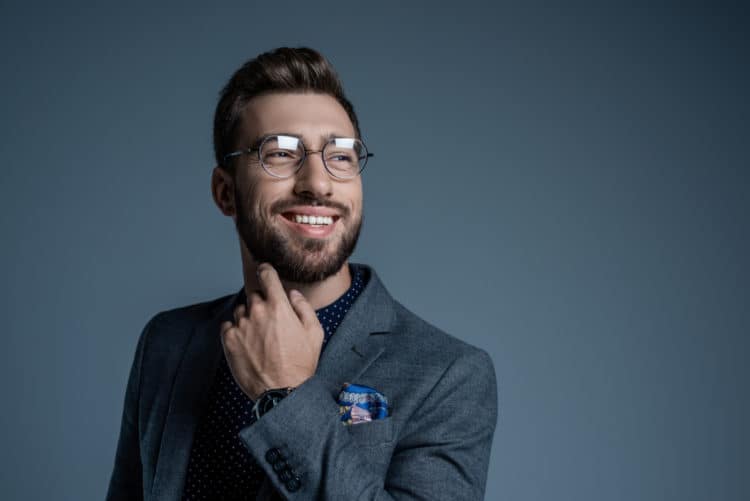 Try these frames for diamond face shapes:
Oval Frames
Horn-Rimmed Frames
Rectangle Frames
Browline Sunglasses
Top Picks
5. Rectangular Face Shape
Long, square, and wide, rectangular face shapes should go with round, colorful frames to draw attention.
Browline glasses also bring the eye to the center of the face, allowing you to show off angles with a full beard style.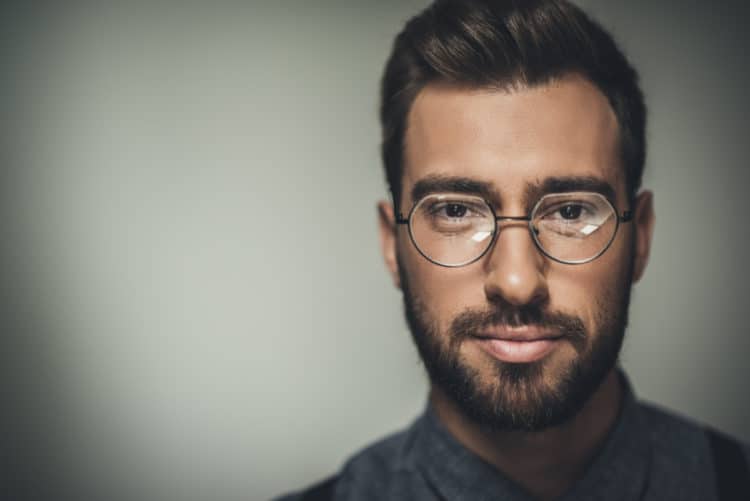 Try theses glasses for rectangular face shapes:
Round or Curved Frames
Colored Lenses
Browline Glasses
Top Picks
6. Heart Face Shape
Heart faces have higher cheekbones, typically with a narrow chin and wide forehead. The most prominent feature is the hairline and wider forehead, which means that you can wear a variety of beard glasses.
However, we suggest avoiding aviators or glasses with larger lenses, as these can diminish your chin and make your forehead look larger.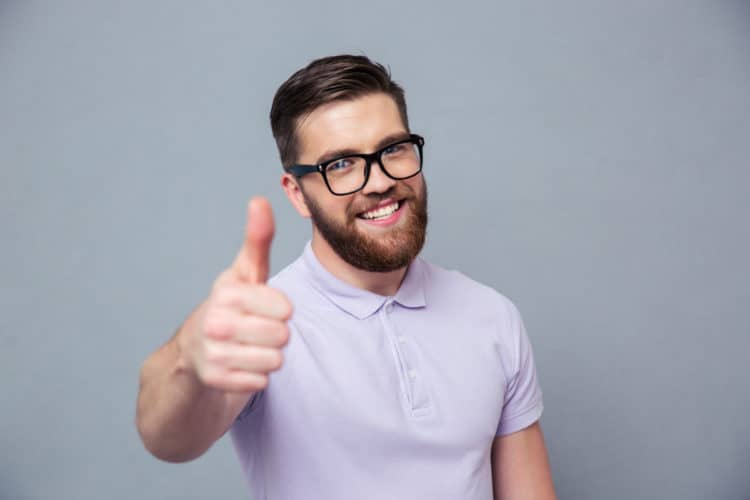 Try these glasses for heart face shapes: 
Oval Glasses
Square Frames
Semi-Rimless or Rimless Glasses
Rectangular Frames
Top Picks
Need options for sunglasses? Check out our sunglasses for bald men guide.