The world of men's grooming is ever-evolving, and one trend that has recently gained traction is the grey hair fade. As men embrace their natural silver strands, they often encounter challenges in finding the right hairstyle to showcase their unique looks and boost their confidence.
The transition to grey hair can be a frustrating experience, as it often comes with uneven color distribution, making it difficult to achieve a seamless and stylish appearance. Additionally, finding the perfect balance between embracing the grey and maintaining a youthful, modern look can be daunting for many men.
Fear not, silver foxes! Our blog post will delve into the world of men's grey hair fade, revealing expert tips and techniques to help you master this stylish trend. You'll discover the secrets to achieving a flawless fade haircut that complements your natural grey while elevating your overall look. Don't wait any longer; dive into our post and let your grey hair shine confidently!
The best men's grey hairstyles and fades
Burst Gray Hair Fade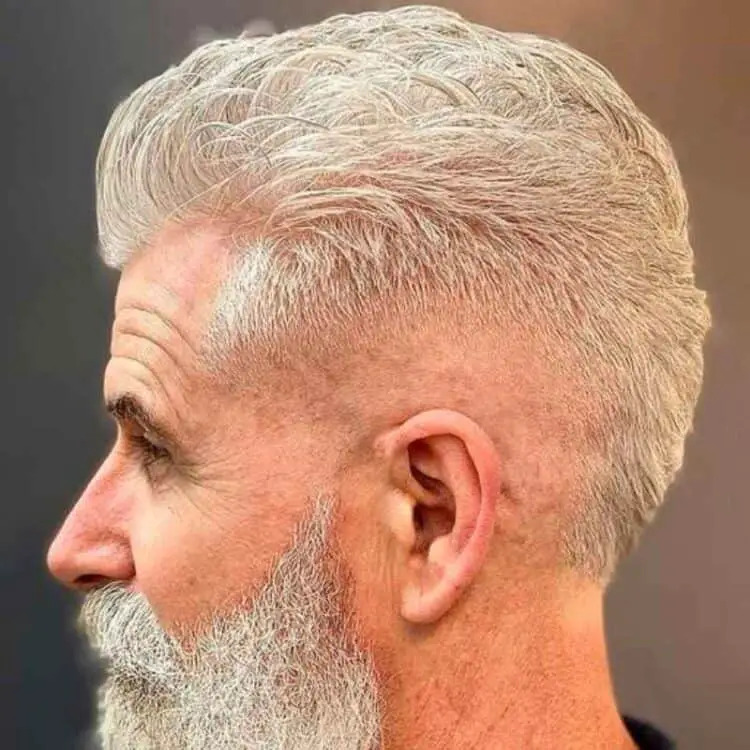 A Burst Gray Hair Fade is an exciting hairstyle that creates an edgy look with a combination of an undercut and textured sides.
I appreciate this look because it is unique and offers an interesting twist to a classic burst fade style. It adds depth and texture to grey hair, making it look sophisticated yet trendy.
Curly Gray Hair Fade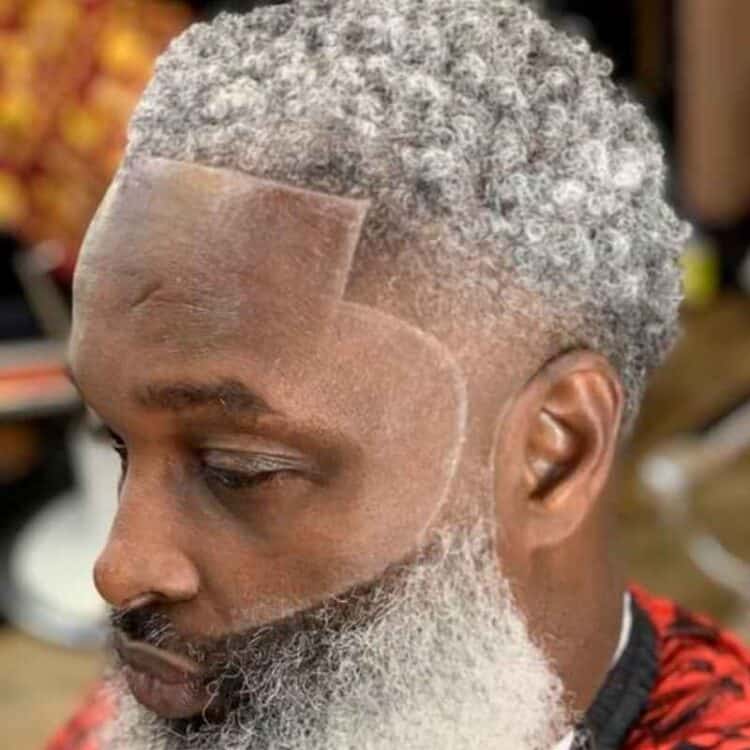 The Curly Gray Hair Fade is a unique & sophisticated look that involves tapering the sides & back of the hair while maintaining its natural line near the ears.
This low-maintenance curly fade hairstyle offers a cool & confident image and can be enhanced with waves, curls, & texturizer for extra volume & youthfulness. Adding facial hair, such as stubble or a short beard, can complete the look for extra style.
Taper Gray Hair Fade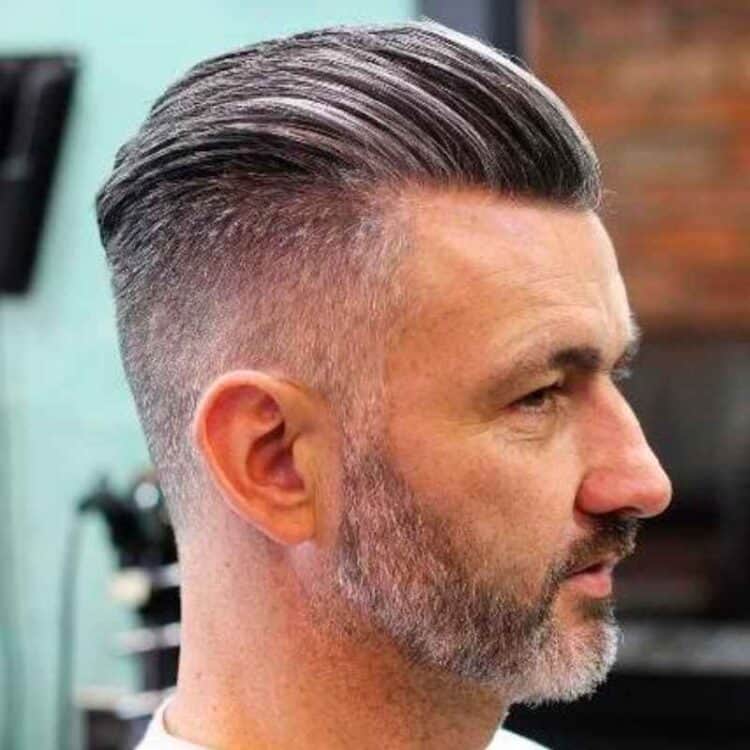 The Taper Gray Hair Fade is a classic utilitarian haircut for grey-haired men, blending hair on the sides and back with scissors to match the texture and weight of the hair on top, creating a clean and refined look.
Styling with gel can help create a firmer presence, and the taper fade look is great for emphasizing the top of the style and the jawline.
Short Gray Hair Fade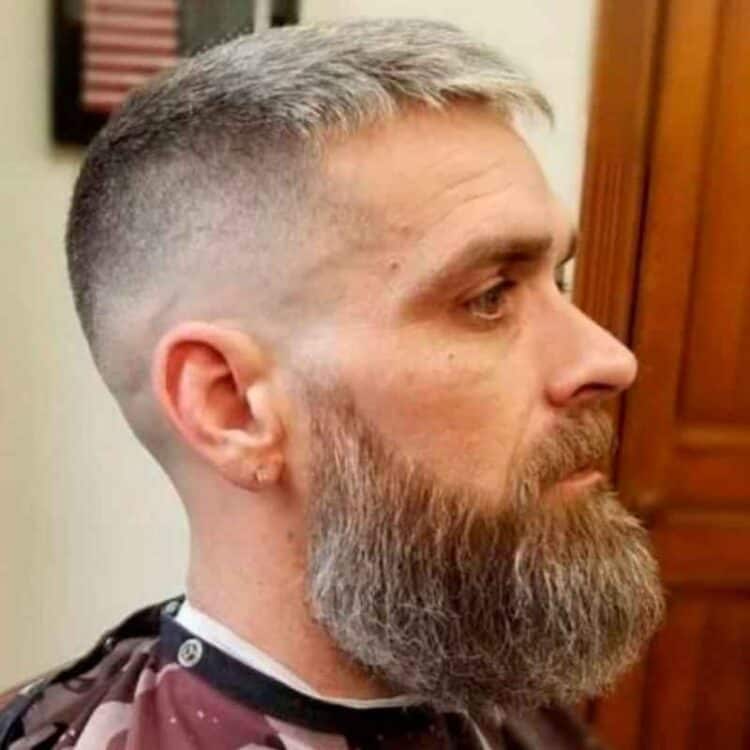 The Short Gray Hair Fade is an effortless, low-maintenance haircut ideal for guys seeking a sensuous look with minimal styling.
It offers a clean, contemporary look while providing a contrast between the dark beard and lighter silver or grey hair color. For the perfect style, use a texturizing product to add volume and texture to the hair and accessorize with a bit of facial hair.
Low Gray Hair Fade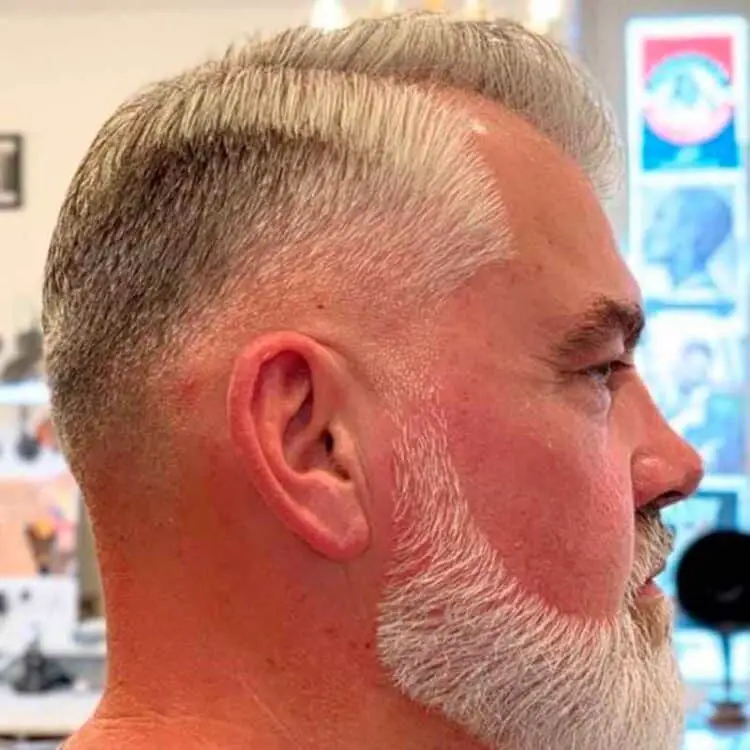 The Low Gray Hair Fade is a timeless look that is achieved by having a short cut on the sides and a longer length on top, creating a gradual transition of color and texture between the two.
This low fade is perfect for adding volume and texture to fine hair and can be enhanced with facial hair.
Mohawk Gray Hair Fade Haircut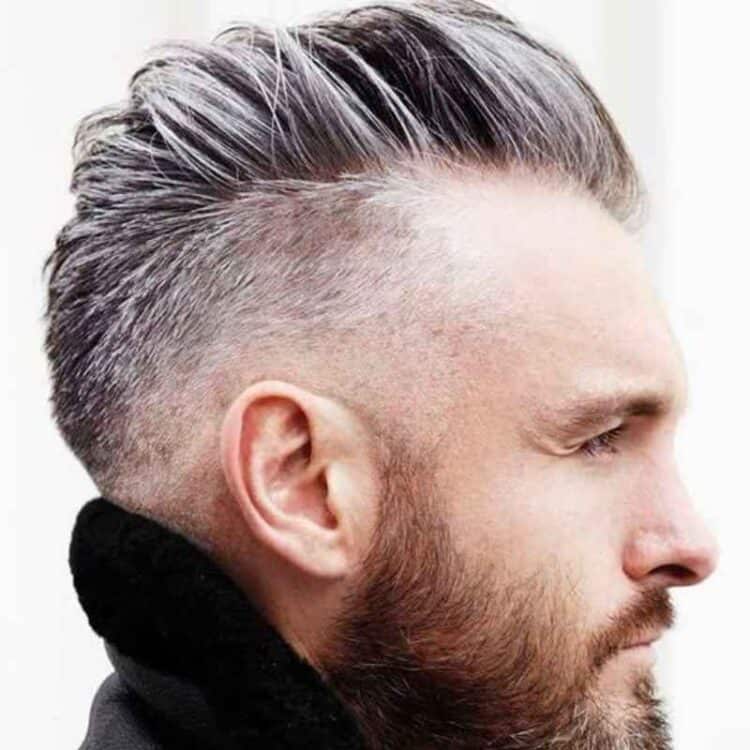 The Mohawk Gray Hair Fade Haircut is a bold, edgy look featuring a short back and sides with longer hair on top. It adds depth and texture to grey hair, allowing men to experiment with creative art styles.
To get the perfect cut, visit a qualified barber and use quality products to achieve the spiky look on top.
Mexican Gray Hair Fade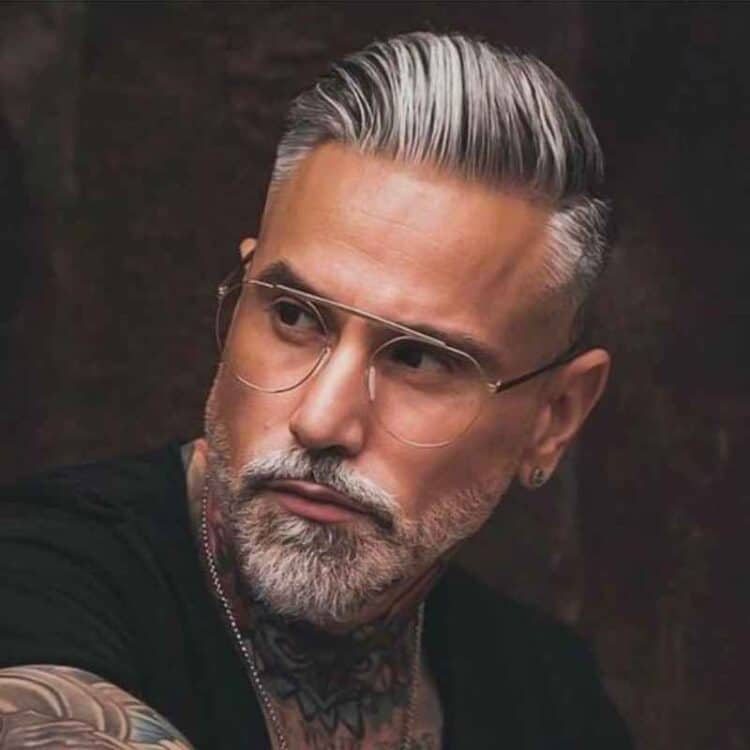 The Mexican Gray Hair Fade haircut has short sides and a short back, with long hair on the top. This cut offers a textured, faded look that minimizes contrast for those with receding hairlines and provides volume to thinner hair, making it a great option for those with grey hair.
For the best look, waves or curls should be added to give texture and facial hair should be considered to complete the style or try the Mexican taper fade.
Mid Gray Hair Fade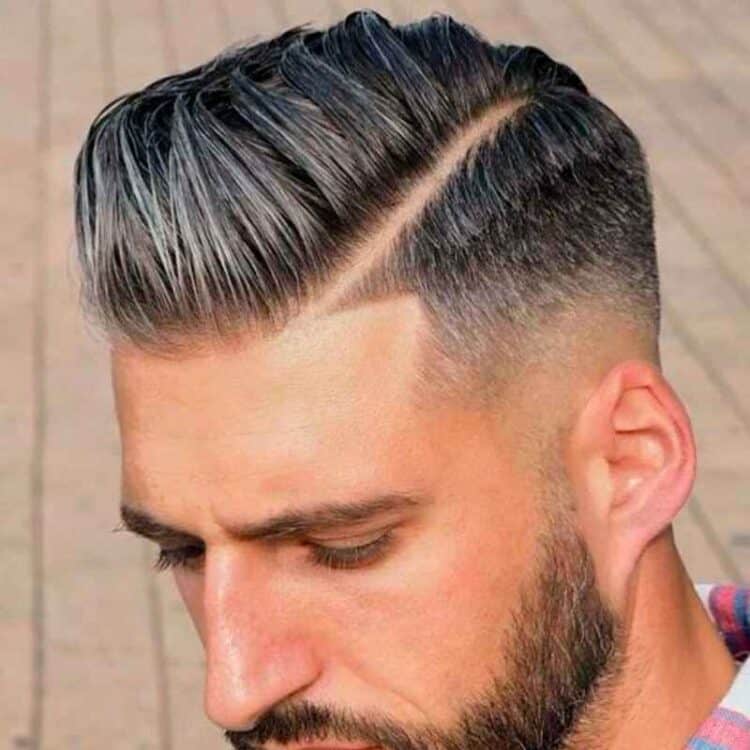 The Mid Gray Hair Fade is a modern look with an angular cut on the sides and back, giving the top more fullness and texture.
This mid fade cut is perfect for any man whose hair is starting to gray, as it adds volume and keeps the style looking fresh and youthful with minimal upkeep.
Finish the look with a stubble or short beard and some textured curls or waves to add even more dimension.
High Gray Hair Fade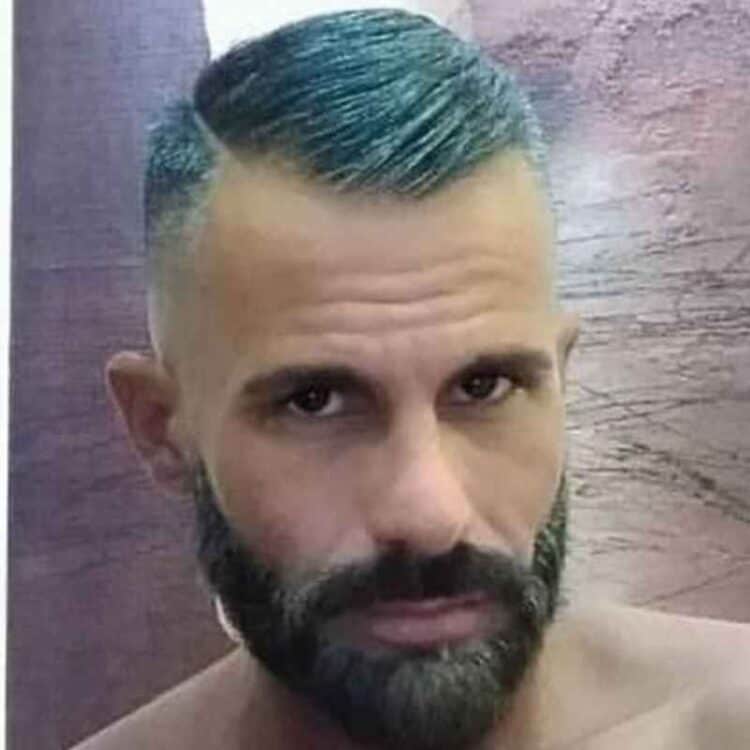 The High Gray Hair Fade is a dramatic look that emphasizes the top of the hair and features tightly clipped sides, perfect for men with transitioning and greying hair.
This high fade look is flattering and easy to maintain with texture and facial hair and will create a youthful and edgy appearance.
Temple Gray Hair Fade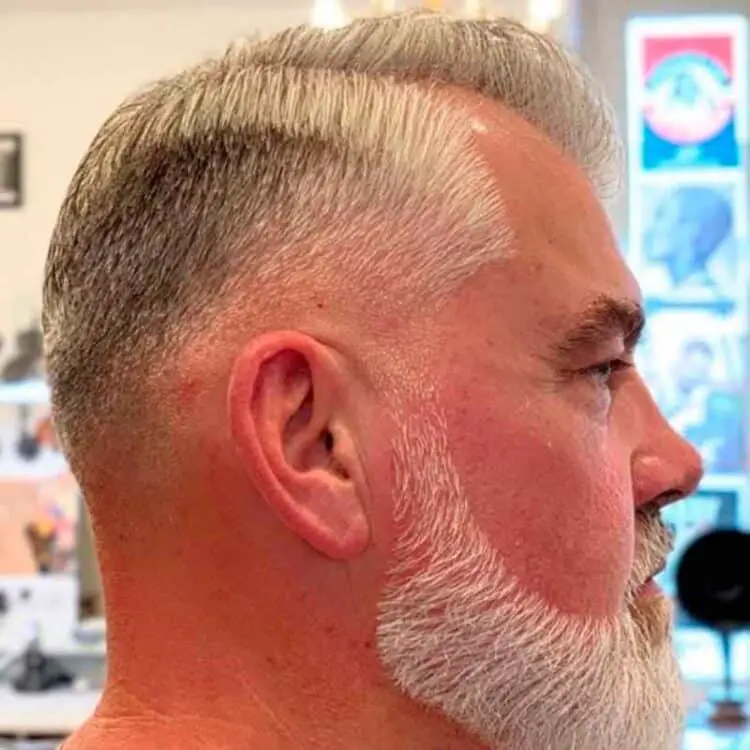 The Temple Gray Hair Fade offers a cool aesthetic by disconnecting Afro hair and a long beard while providing a neat and clean finish.
The temple fade requires minimal maintenance and can be styled with texture, layers, or facial hair to give off a sophisticated or youthful look.
Gray Fade Straight Hair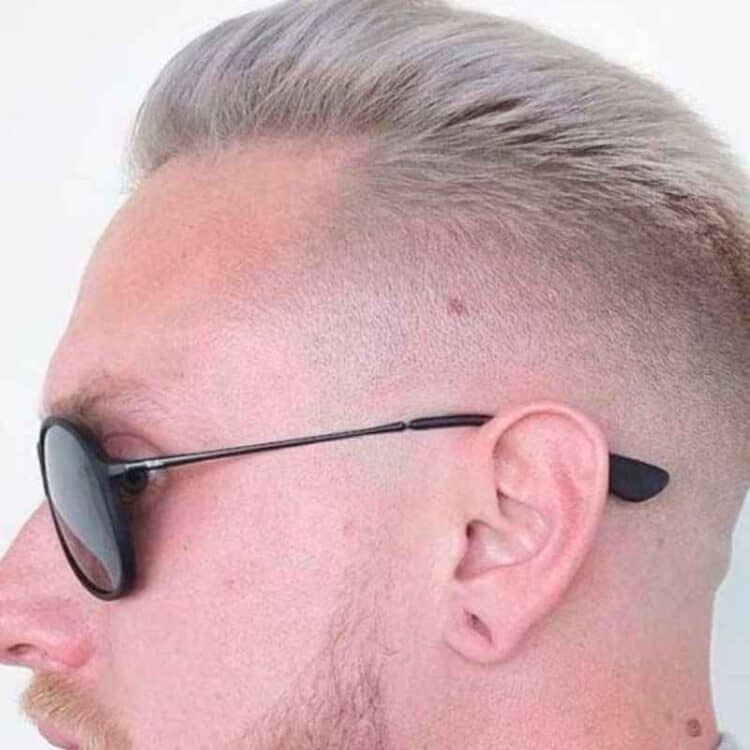 The Gray Fade Straight Hair haircut is a simple and clean look with long hair on top, gradually fading to shorter hair at the sides and back.
This utilitarian look provides easy maintenance and styling without the need for frequent appointments, giving you a cool and confident look.
Creating waves and curls with texturizer is suggested to add texture and volume, and facial hair can add an extra boost of style.
Wavy Gray Hair Fade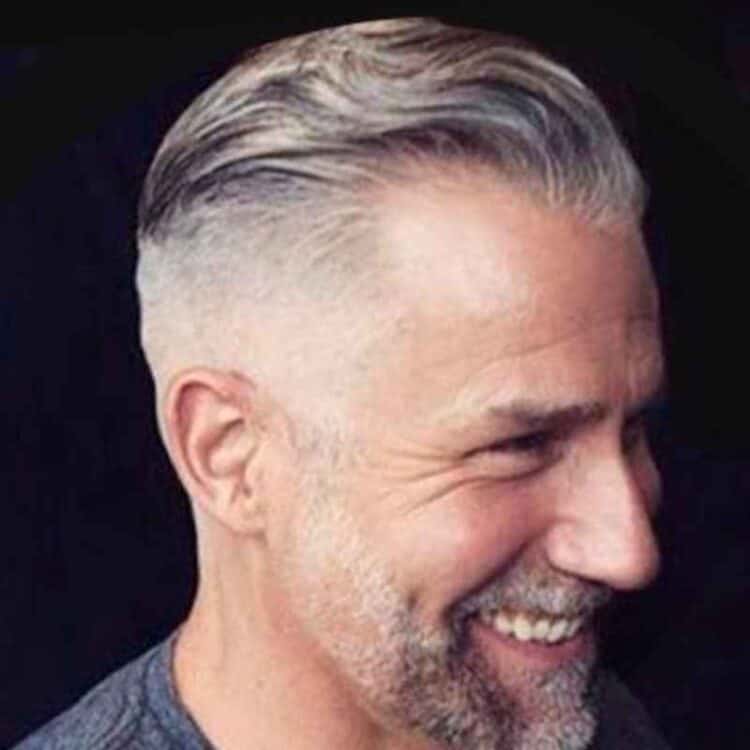 The Wavy Gray Hair Fade is a modern hairstyle that adds texture and volume to grey hair for a neat and polished look.
Its benefits include lending a contemporary aesthetic and allowing for creative stylings, such as spiking or clicking, with ease. Pair it with a hint of stubble or a short beard for a truly dashing look.
Gray Hair Bald Fade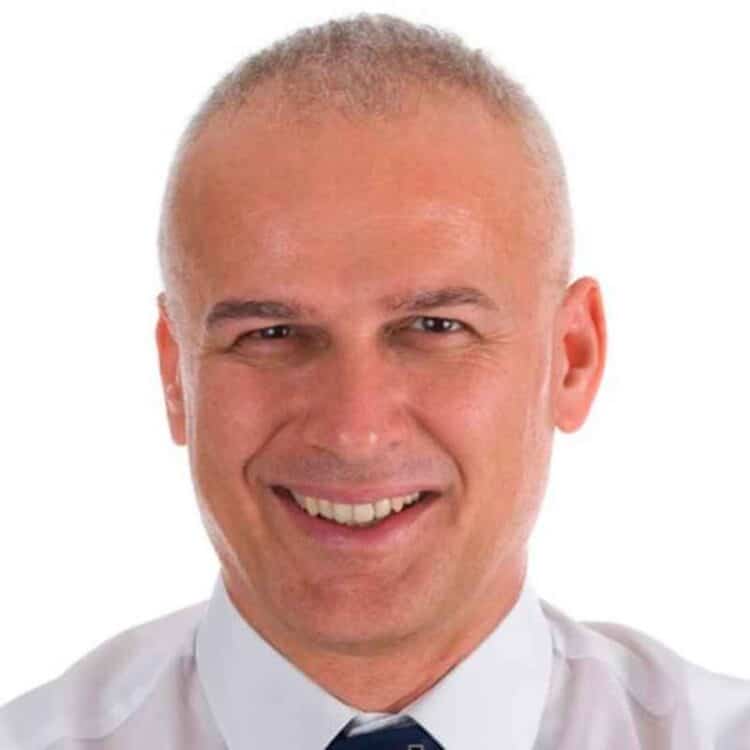 The Gray Hair Bald Fade haircut is a classic, low maintenance look combining a high skin fade with a short, textured top to minimize contrast on a receding hairline.
This look offers a modern twist while still being easy to style, allowing guys to create a natural, voluminous finish with the help of quality hair gel and some facial hair.
Buzz Cut Gray Hair Fade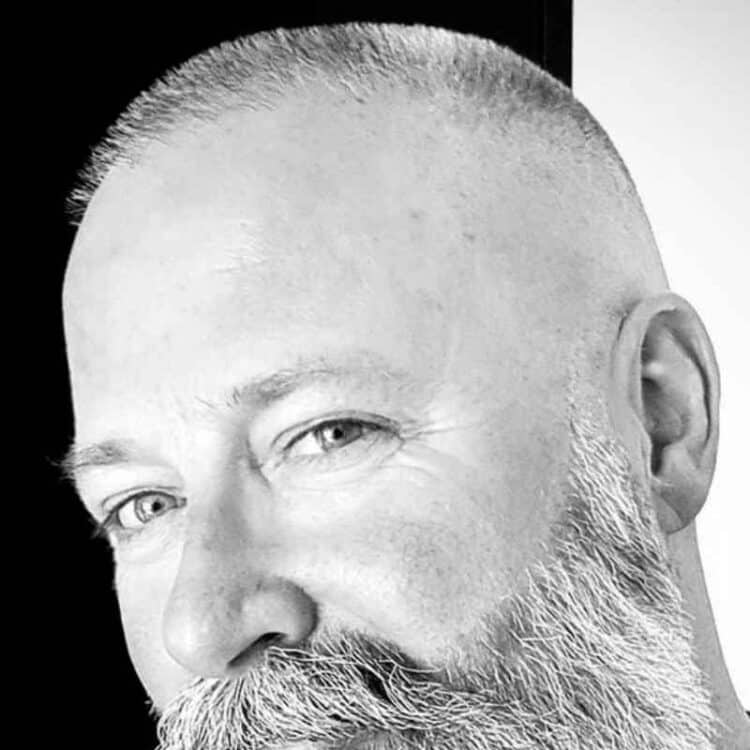 The Buzz Cut Gray Hair Fade is a classic haircut with a uniform length of hair on the sides and back, with a slight taper on the top and a tapered hairline, creating a crisp and clean look.
This timeless look is easy to maintain and provides an effortless, masculine style. It can be styled with gel for a firmer presence or left natural for an edgier look.
Fohawk Gray Hair Fade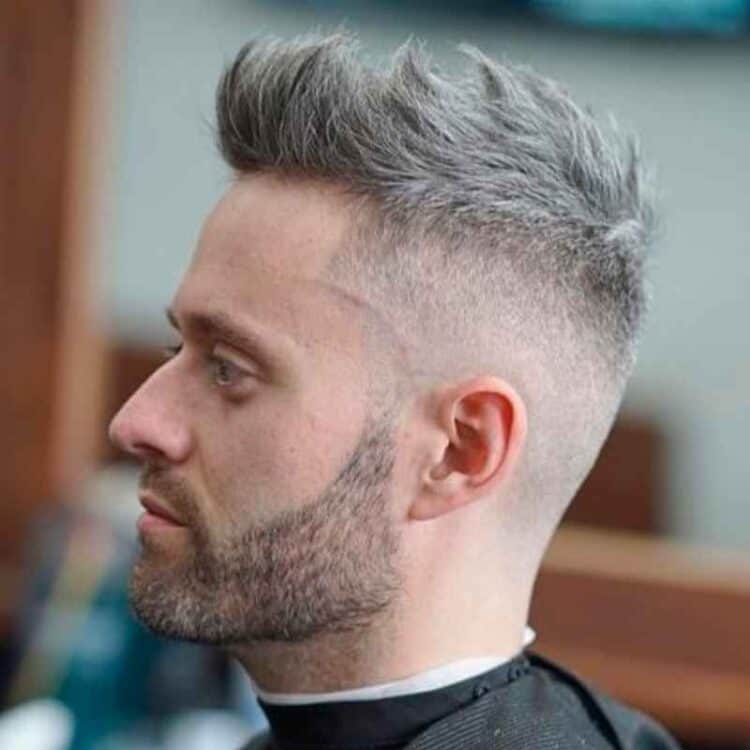 The Fohawk Gray Hair Fade is a dramatic and modern look that features tightly clippered sides and fullness on top, creating an eye-catching style.
This cut is ideal for men with grey hair, as it offers a smoother face with the help of a high fade and longer top. To rock this look successfully, waves or curls can add volume and facial hair can be added for a complete look.
Mullet Gray Hair Fade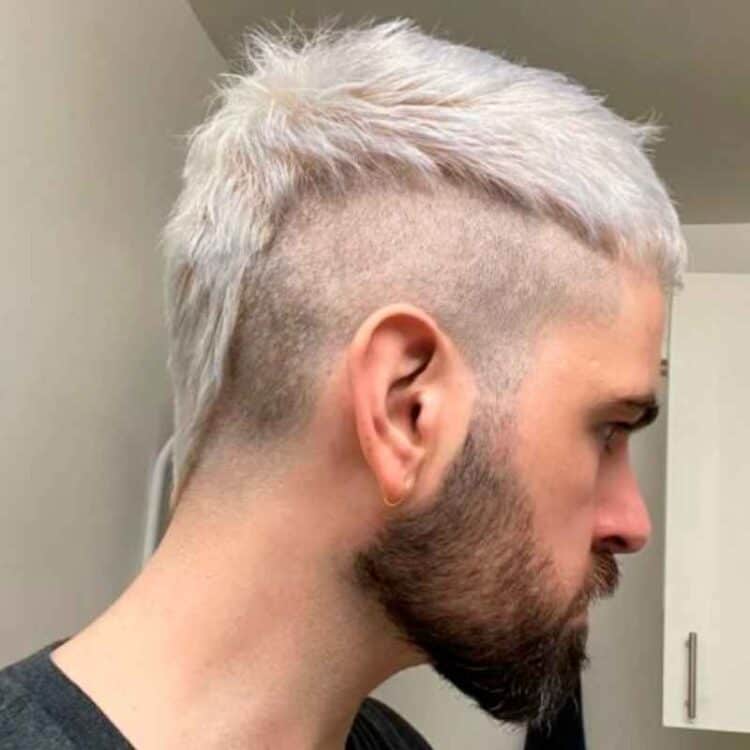 The Mullet Gray Hair Fade is a classic men's haircut with short sides and a short back, with longer hair on top and an iconic look for men of any age.
This cut gives volume to thinning hair and adds texture to create a timeless yet modern look that is perfect for any occasion. A little bit of facial hair will further accentuate the style and make it even more striking.
Asian Gray Hair Fade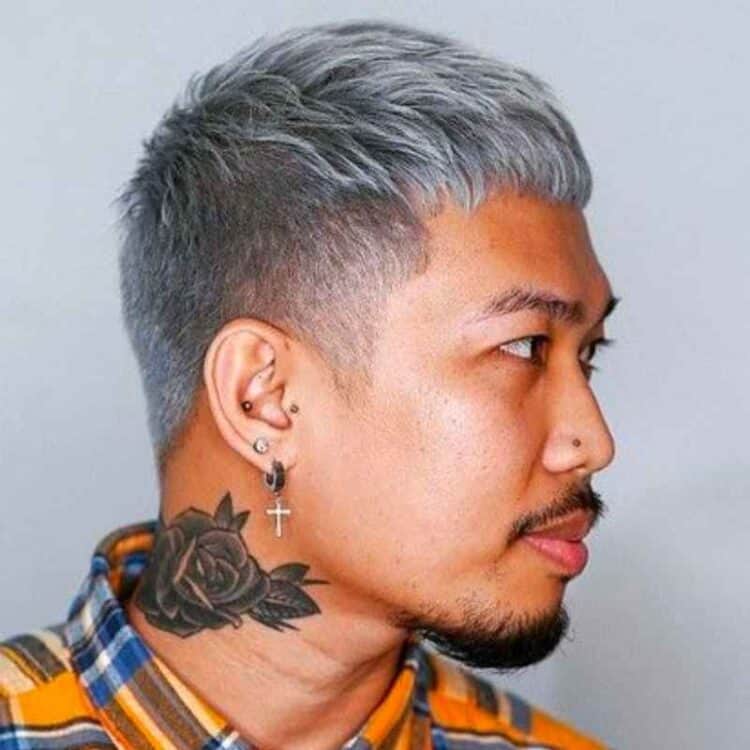 The Asian Gray Hair Fade is a classic barber cut featuring a bald fade on the sides and a high top that is styled upwards.
It adds texture to the hair, creating a youthful look and reducing contrast on a receding hairline while also adding a bit of facial hair to the style.
Slick Back Gray Hair Fade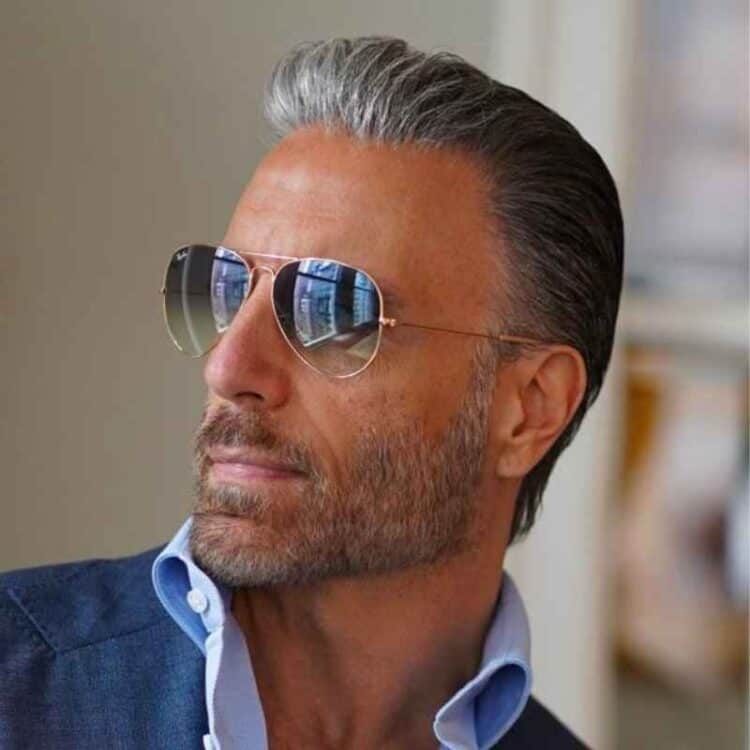 The Slick Back Gray Hair Fade is a timeless and sophisticated look that involves blending short hair on the sides and back with longer locks on top, creating a clean and mature appearance.
By adding a little gel, it can provide a firm yet stylish aesthetic that will surely impress.
Pompadour Gray Hair Fade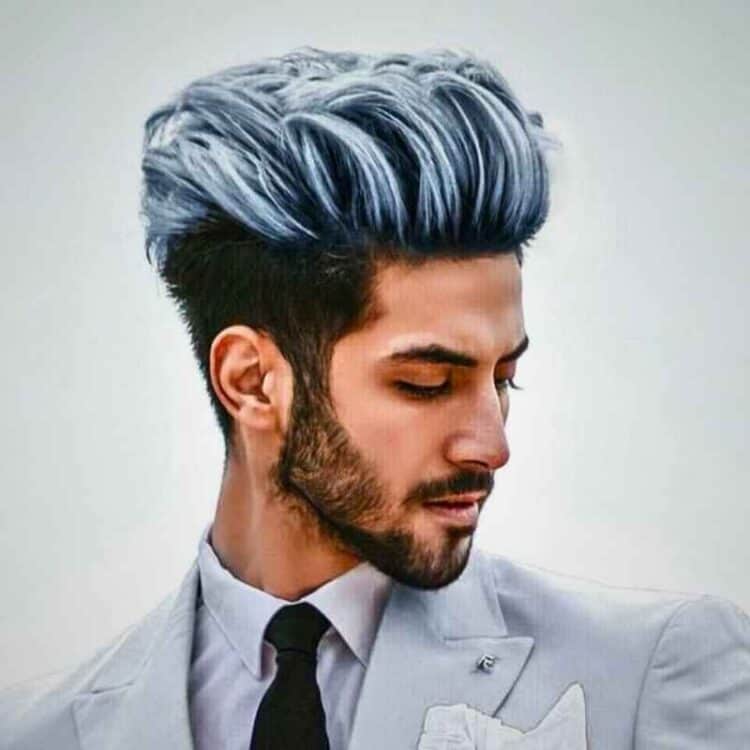 A pompadour gray hair fade is a classic yet modern look that creates a high mound of styled hair on the front of the head and is best suited for those with thick locks.
This look provides a stylish yet low-maintenance option and can be enhanced with added texture and a beard trim for an even bolder statement.
Undercut Gray Hair Fade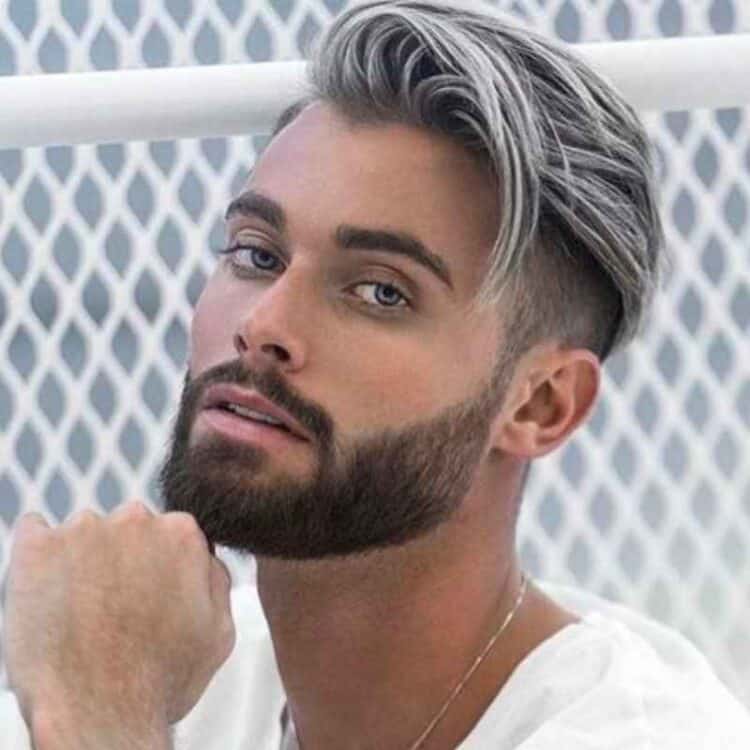 The Undercut Gray Hair Fade is a modern, masculine look featuring short, shaved sides and back with fullness on top and varying shades of grey.
This style offers an effortlessly cool look that can be styled in various ways, whether slicked back, pompadoured, or something in between, to create a unique look that flaunts your grey hair.
What causes grey hair or silver hair?
Grey or silver hair in men is often associated with age and wisdom, but have you ever wondered what causes this hair color change?
Change can be good, but it can also take a toll on our bodies, leading to the appearance of grey or silver hair. As we age, our bodies produce fewer pigments that normally give our hair its color.
This decrease in pigment production is the primary cause of grey or silver hair. Stress, diet, and genetics can also speed up the graying process.
What to consider when choosing a hairstyle for men with silver hair?
For men with silver hair, there are several factors to consider when choosing a hairstyle. Photo galleries can be a great source of inspiration, while articles can provide tips on how to style silver hair. Additionally, it's important to consider how the hairstyle will complement one's face shape, skin tone, and other characteristics.

Other factors to consider include hair texture, lifestyle, and desired length. When searching for the perfect style, it can be helpful to pin images that catch the eye.
Over to You
There's no doubt that grey hair is having a moment. And there are plenty of grey hairstyles for men to choose from, whether you want a classic look or something more modern.
So if you're thinking of going grey, or you're already rocking a silver mane, check out this guide for the best grey hairstyles and fades for men.
FAQ
How can I look younger with grey hair men?
Grey hair can be a great way to look distinguished and sophisticated without making you appear older than you are. Opt for unstructured and messy styles with plenty of texture to maintain a youthful look with grey hair. Quiffs are a great option as they require short hair on the sides and longer hair in the middle, which can give a faded appearance. Use a hairdryer, hair wax, or gel to create a voluminous quiff for a neat and clean look.
Can grey hair look good long?
Yes, grey hair can look great long. To make the most of your silver locks, opt for a medium-length cut for a youthful look. Add texture with waves or curls, and consider facial hair for a stylish finish. With the right haircut and styling, grey hair can be a statement-making, sophisticated look.
How do men deal with grey hair?
Men can deal with grey hair by choosing a hairstyle that complements their new hair color. Options include a pompadour, medium-length hairstyle, quiff, undercut, slicked-back undercut, taper fade, crew cut, and more. Professional barbers can provide advice on the best cut and styling techniques to maximize the look of grey hair.
Is grey hair for men in fashion?
Yes, grey hair for men is very much in fashion. Silver and grey hair is a striking look that exudes sophistication, elegance, and wisdom. Many young men use this new trend and dye their hair grey to create a smart and stylish look. Paired with the right hairstyle, grey hair is incredibly fashionable.
What do you do when you're going bald and gray at the same time?
When going bald and gray simultaneously, opting for a bald fade on the sides and maintaining a high top is a great option. Trimming the back and sides with a scissor or trimmer and using good quality hair care products will help keep the grey hair looking stylish. Unstructured and messy hairstyles with plenty of texture help give a youthful look when going gray prematurely.
How do men cut their hair grey?
To cut grey hair, start by shampooing and conditioning your hair. Then, use clippers and scissors to cut it short and even. If you want to use color, apply a semi-permanent dye evenly to the hair. Use a toner to enhance the natural grey tones for a more natural look. Finally, use a hairdryer and styling products to shape your hair as desired.
How can I tell if silver hair will suit me?
Silver hair can suit anyone, regardless of age or hair length. Consider getting a Caesar cut with platinum silver tones to see if it will suit you. You can add texture and fade the sides for a modern and cool look. Finally, you can add a stylish beard to complete the look.
What is the salt and pepper hair exactly?
Salt and pepper hair is a hairstyle with a combination of white and black hair strands. It is a natural look most commonly seen in men over the age of 50 but is becoming increasingly popular among younger generations. Styling salt and pepper hair properly can make it look attractive and modern. Quality hair products like hair gel are important to maintain the look.
How to manage and maintain silver hair?
Silver hair can be managed and maintained by using a natural finish hair product to slick the hair back, using quality shampoo and conditioner, and regular visits to the hairdresser. Silver hair is suitable for all lengths and ages and can be styled with a Caesar cut and faded sides, as well as textured or messy tops. Adding a stylish beard can help complete the look.