Who doesn't envy Brad Pitt's life? Hollywood's most well-known heartthrob has infinite appeal according to GQ, and one part of that appeal is the hair. Ever since his days in Fight Club and Interview with the Vampire, the actor and long-time art devotee has sported thick, naturally enviable hair.
Brad Pitt's hairstyles change frequently to match his iconic roles. From his long blonde hair in the 1990s to his short, spiky haircut in the early 2000s, Pitt is a chameleon who continuously changes his look.
There's no better person to look up to for celebrity hairstyles. Brad Pitt's not afraid to take his thick hair to any level, whether bleached blonde, long and Fabio-esque, or spiked with highlights. See the many ways to style and grow your hair like the Brad below.
Iconic Brad Pitt Hair
Want to know how Brad Pitt changes up his hair seemingly whenever he gets bored? We look back at Brad Pitt's hair transformations from the 1990s to early 2000s, transitioning to his current looks on the red carpet with a full-on beard.
There doesn't seem to be any look that Brad can't pull off, which is probably why he was named People's Sexiest Man Alive – twice. Some things Brad is famous for:
Thick brown hair with natural blonde highlights
Hair wax and spikes
Sunglasses on the red carpet
Completely changing his look from week to week
The long crew cut style with a slight wax or pomade to spike the front and add shine. You may want to ask your barber for some layers on the side and a taper in the back with a slight quiff in the front.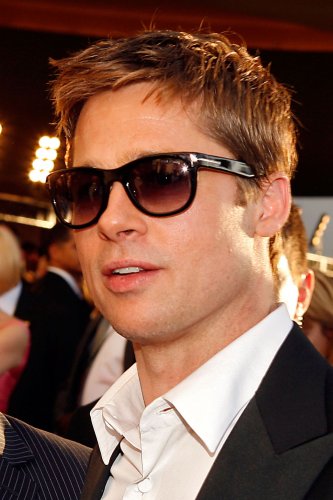 In July 2019, Brad Pitt hit the red carpet to welcome the premiere of his new movie Once Upon a Time in Hollywood. His new style is a medium-length to long hairstyle with blonde highlights and a slightly scruffy beard.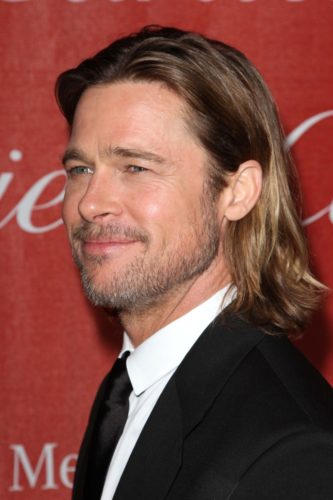 Brad Pitt Long Hairstyles
In the early 1990s, Pitt was just becoming a Hollywood heartthrob. His role in Interview with a Vampire propelled him into the limelight and revealed his love of long, luscious locks.
Look at some of Brad Pitt's earlier 1990s long hairstyles: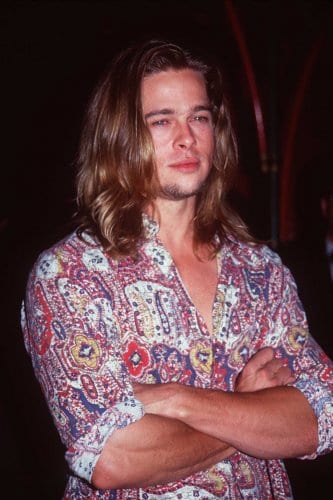 It seems Brad can grow out his locks at any age. Here's his famous long hair look again at the World War Z premiere in 2013.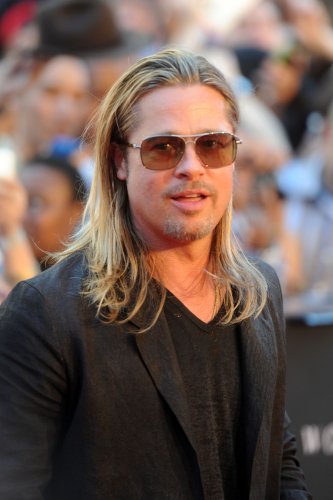 Brad Pitt Short Hair Looks
Throughout his career, Pitt loved changing up his hair length and never kept it short or long before doing something completely different.
Even with short haircuts, he never let his look get boring. Pitt changed his style almost every other week and varied between a buzz cut, long glossy bangs, or spikey crew cut looks, as well as slicked back hair styles.
Brad Pitt Buzz Cut 
Around the time Brad started dating Jen in the early 2000s, the Se7en star decided to buzz his head. This look features a slight taper on the sides and back with a #3 or #4 buzz cut on top.
See our Buzz Cut Style Guide with videos if you want to try this look.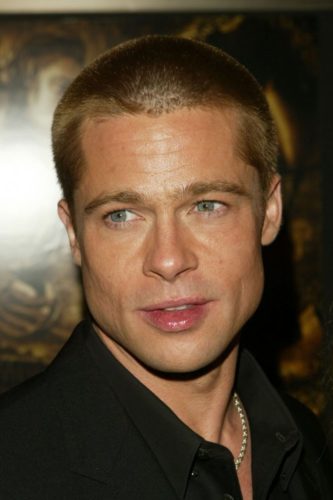 Brad Pitt Highlights 
While Pitt may be a natural dirty blonde, he also has sported some highlights over the years. Foiled tips to full highlights create dimension for this golden boy's look.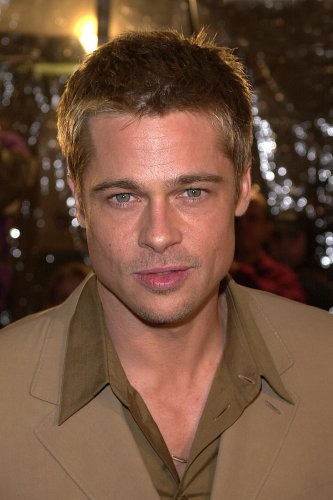 Brad Pitt Fury Haircut
For his movie Fury (2015), Pitt showed off a military undercut look with shaved sides and a longer length on top. The sides have a mid-fade using a #1 to #3 guard. 
Brad Pitt Undercut
Wild undercut hairstyle from Fury.
Brad Pitt Spiked Hair
With wax, all things are possible. Brad likes to keep some length on top for playing with hair wax to spike up his locks.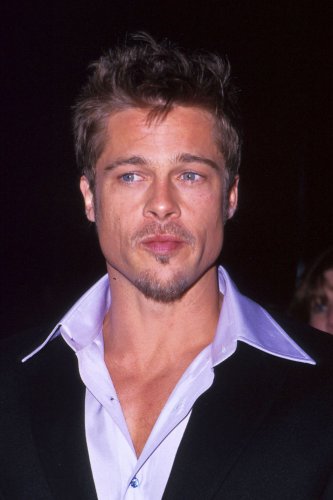 Brad Pitt Slicked Back Hair
For the Inglourious Basterds premiere, Pitt sported a classic slick back haircut, with longer hair on top.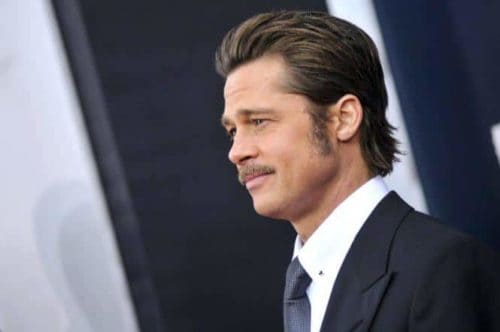 Inglourious Basterds Haircut
For Inglourious Basterds movie, Pitt sported a hard parted comb over with quiff.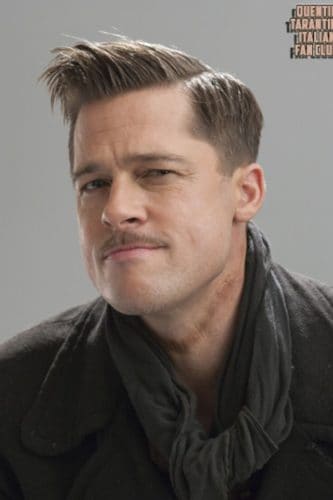 Blonde Hair
Fast forward to the 2000s, Brad Pitt eventually dyed his hair blonde again, opting for a short, spiky look.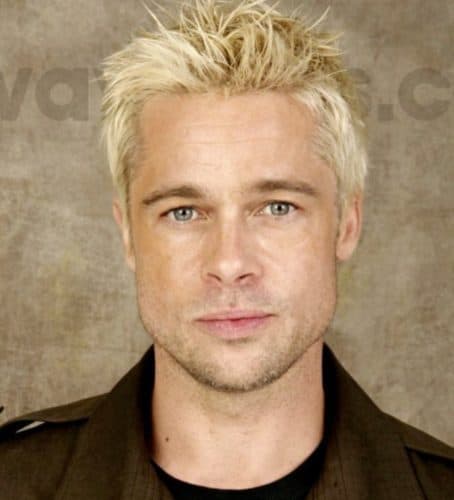 Long Blonde Hair
Most of the time, Pitt doesn't mess around too much with color beyond highlights. However, he occasionally dyed his locks bleached blonde, and honestly,  his Kurt Cobain look would fit right in with today's trends.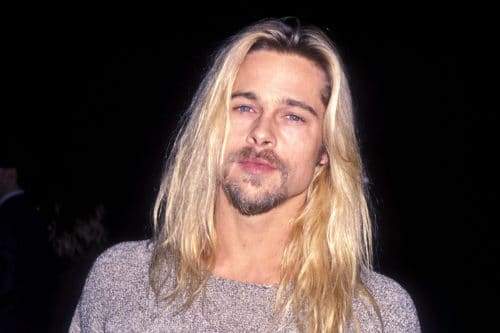 Brad Pitt Fight Club Haircut
Ever wonder how to get Brad Pitt's hair in Fight Club? The messy spiked hair created Tyler Durden's bad boy look – perfectly. 
This look can be created using a #4 or #5 guard on the sides while keeping the length to 2-4 inches on top. Use wax or a little hair gel for the spikey finish and make it messy.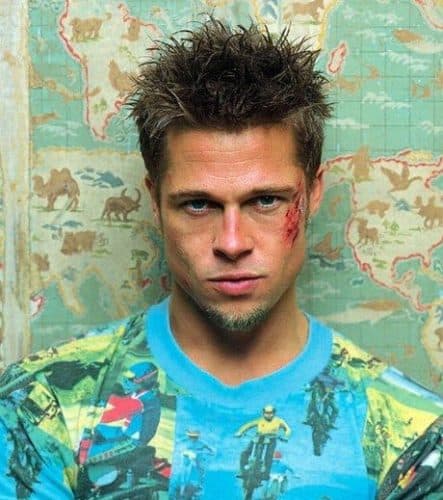 Brad Pitt with a Beard
Looking for some beard inspiration? Over his career, Brad has sported some of the best beards in Hollywood.
We've dedicated an entire page to Brad Pitt beard styles and the evolution of his iconic facial hair. From full goatees, stubble beard and mustache styles.