Did Vikings really braid their hair in elaborate styles like you see on the History channel's "Vikings?" Actually, both women and men wore Viking braids, but they didn't always look as well-manicured as they do in Hollywood.
We're just crazy about the latest haircuts. From Viking beards to braided beards to beard jewelry, we've always been kind of obsessed with these Viking hairstyles. We look at our favorite braided hairstyles from the Norse and offer some tips on how to get these savage looks.
How to Get Viking Braids
Viking braids are a popular style for men, and especially women, these days. They're simple to do, and you can wear them in many ways. We'll show you how to style Viking braids the right way so that they look their best.
Preheat your hair styling tools before beginning. You'll need a flat iron, curling wand, and other irons if you want to create curls or waves in your hair.
Section your hair into small sections using a headband or an elastic band (if desired). Make sure each section is evenly divided by size so that the strands don't appear too thick or thin when wearing the braid later on.
Take one strand of hair from each section and twist it around a barrel-shaped curling wand until it's tightly wrapped. Don't overdo it – just enough to where it won't fall out during use later on.
Once all of the strands are curled up, release them from the wand and place them onto a flat surface (like a mirror). Repeat this process with remaining hair pieces until all of your locks have been styled!
Quick Braiding Tips
Viking hairstyles featured braids to pull the hair back from their faces.
Be prepared to shave or fade your sides and back, as Viking hairstyles often start with an undercut hairstyle paired with a fade.
Single braids are easier, but Vikings used all braiding techniques to create their looks.
Plaited braiding (YouTube) was used to add more strands as you braid your hair back and away from your face.
Rings, leather wraps, and other adornments were often added to hairstyles. See below.
More Viking Style Inspiration
Add extra style to your Viking haircut braid.
Viking Braided Hairstyles
1. Braided Part
This simple Viking hairstyle is best for those with longer hair on top, possibly with an undercut hairstyle.
To get this look, part your hair on one side. Isolate an inch-wide section of hair at the part. Push the rest of your hair to the side.
To braid the part, you'll separate that inch-wide section into three smaller sections. Start by crossing one section over the other, beginning right at the forehead and braiding to the back of your crown using the plaiting style.
Plaiting braids means to add more hair as you braid, so that the hair stays tight to your scalp and looks woven. As you pull one strand over the other, pick up strands underneath and add to your braid.
Need more visuals? This video shows you how the technique works using a Dutch braiding style, which is very similar.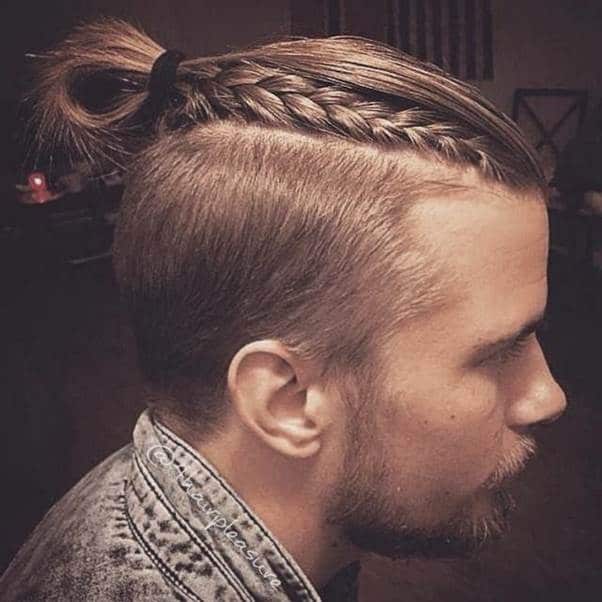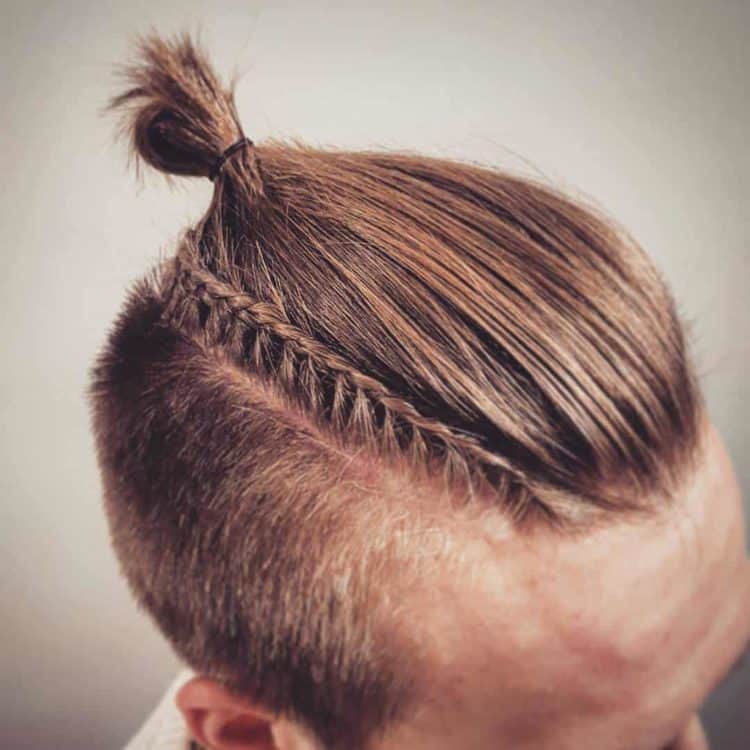 2. Clean Fade with Braided Mohawk
This Norse braid hairstyle doesn't necessarily need a clean fade, but it certainly looks amazing with one and works well for short-haired styles. If you're able to shave your hair, you should do this first before braiding your mohawk.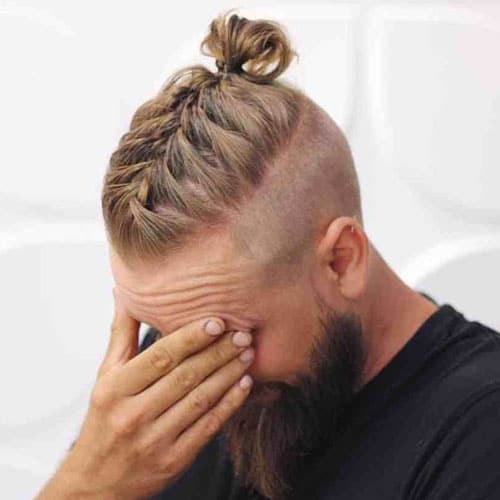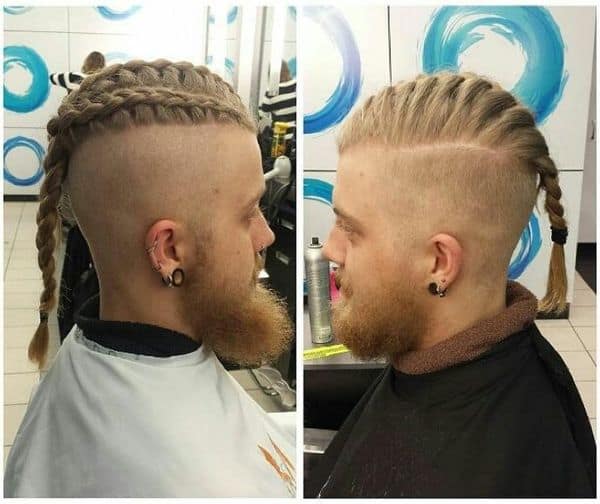 3. Lagertha Viking Hair
We love Lagertha's hairstyles on Vikings played by Katheryn Winnick. The shield maiden uses multiple braiding styles and Viking side braids to achieve her ornate, long-haired look.
We found this style to be the most iconic for the Norse warrior woman. She uses cornrow braiding techniques on the side, and then loosely braids her top section into a fishtail braid.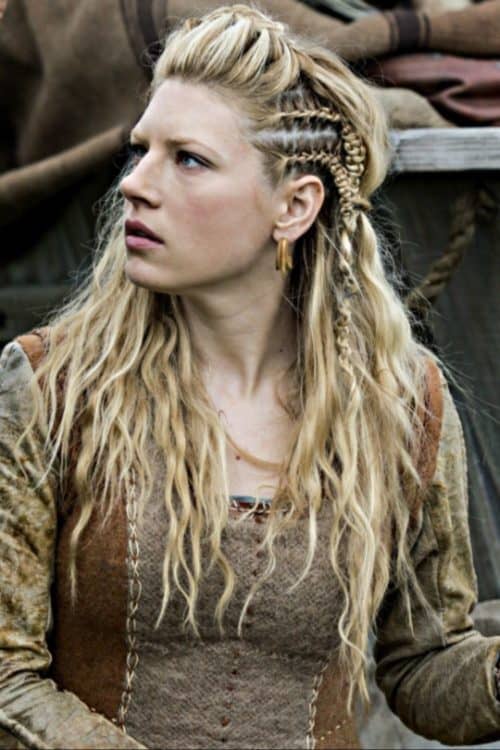 Here's the perfect video showing how to braid this Viking hairstyle: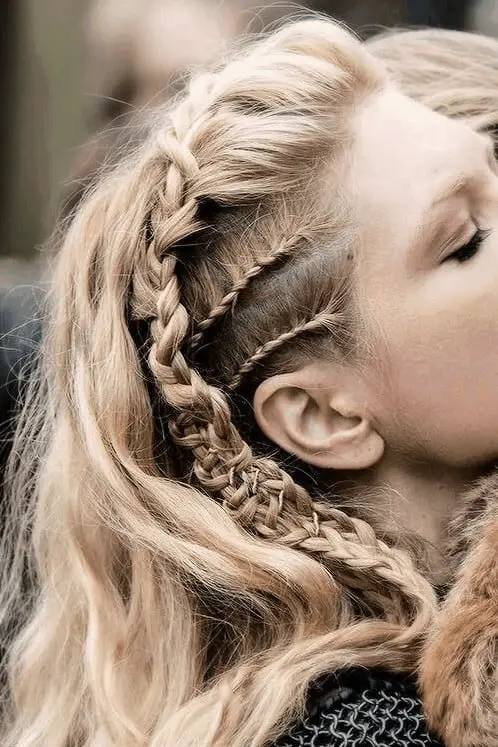 4. Long Braided Undercut
The Viking braided undercut is best for long hair all over that can be sectioned off and braided back away from your face.
The main feature of this undercut is a long section of hair at the top that hangs down, unbraided. Only the side hair is braided, thus giving it that undercut hairstyle.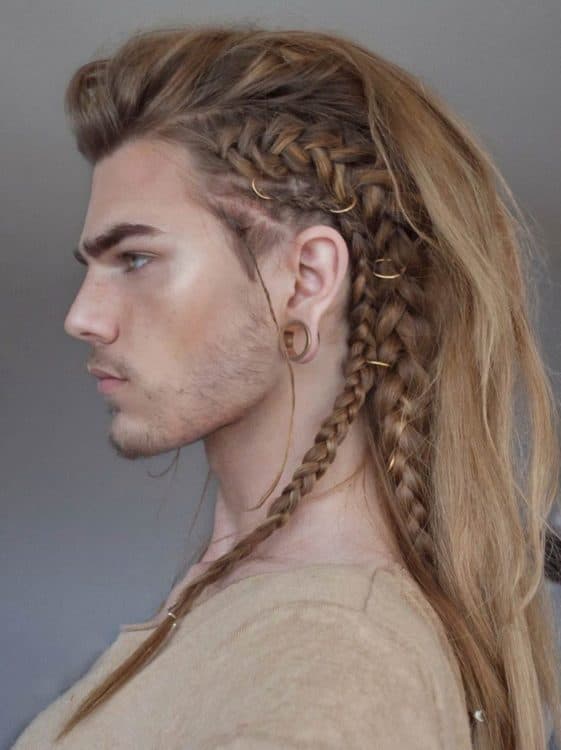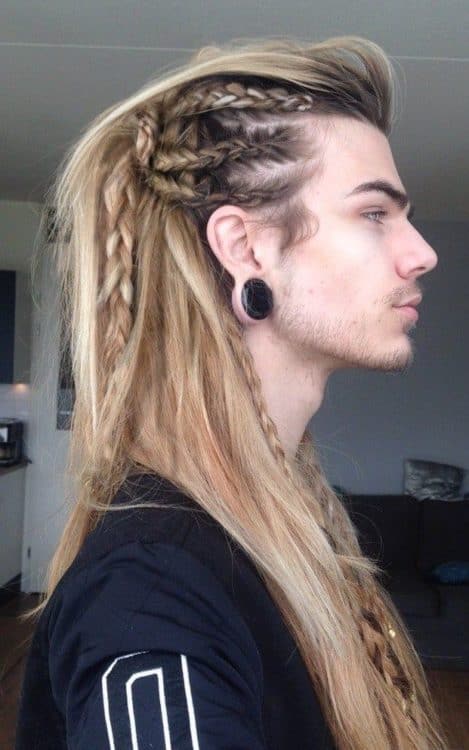 5. Ragnar's Warrior Braids
Ragnar does a bald fade with multiple Dutch braids that are wrapped together with leather ties. You can do the same or try black hair bands to keep your braids together.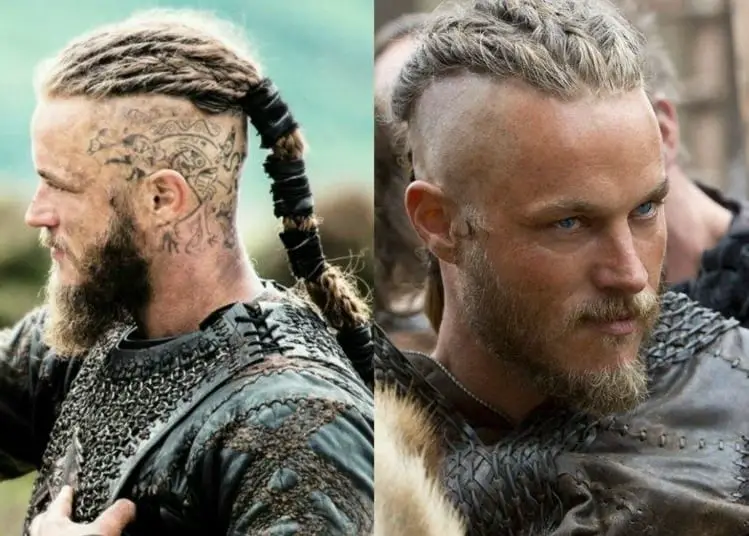 Here's a great video on how to create these Viking braids: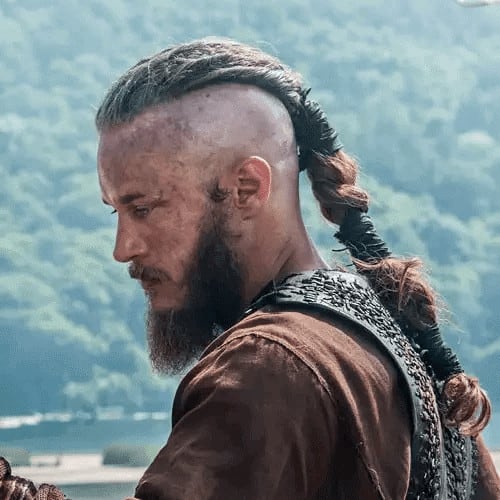 Did Vikings Braid Their Hair?
There aren't any photographs of the old Norse folk, but some writings describing Vikings confirm that it was commonplace for Viking warriors, women, and children to braid their hair in intricate styles.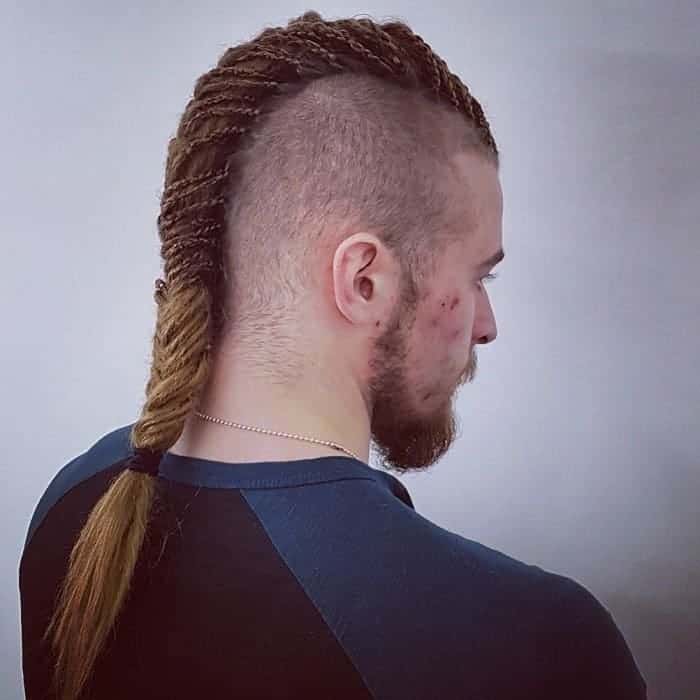 Archaeological studies also have shown beard combs, hair beads, jewelry, and other trinkets that were likely worn in Viking beards and braided hairstyles.
Historians also have found that there were different braid styles depending on the lifestyle of the Viking. For example, warriors may have elaborate, tight braids that would keep the hair out of their faces during battle.
Women's hair was kept long but often included lattice braids and Dutch braids, especially worn for special occasions.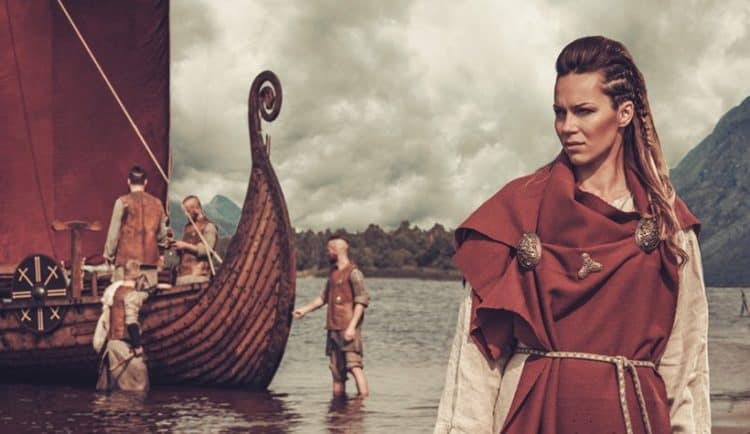 Norse women were mostly laborers, though some were also warriors. Their long Viking braids were likely worn to keep hair out of the way while they worked, but it was also common to dress up these braids with jewelry and ribbons.