If your childhood was anything like mine, you're probably afraid of what does aftershave do after watching Home Alone every Christmas (and visibly wincing as Macaulay Culkin smacked aftershave on his face). The good news is that's not how it works! 
There are so many awesome aftershave products out there, but if you don't know anything about the ingredients and which products to avoid, you could wind up with clogged pores and a not-so-smooth face. Our guide makes it easy to find the best aftershave for your skin.
6 Things Aftershave Does for You
Aftershave is any kind of gel, foam, or other liquid that you put on your face after you shave. These products moisturize and protect your skin from razor bumps and other problems with acne after shaving.
Here's what aftershave can do for you:
Closes pores after shaving to prevent clogging from dirt and facial bacteria
Reduces irritation and itchiness from skin damage
Decreases risk of acne and ingrown hairs
Promotes regrowth of skin tissue
Adds a pleasant scent (unless you choose unscented)
Heals nicks and cuts thanks to antiseptic properties
Not all aftershaves are made the same. Some include more moisturization and healing ingredients, such as shea butter or aloe vera. While others only have a few ingredients, including menthol.
Types of Aftershaves
There are generally three types of aftershaves you'll find on the market, including:
Lotions: These heal and moisturize your skin after shaving.
Balms: These are also known as post-shave balms and provide more moisture than foams or splashes.
Splashes: These contain alcohol and other antibacterial ingredients, but may burn your skin at first.
The ingredients in these aftershaves changes depending on your skin type, essential oils included, or whether you want alcohol-free products.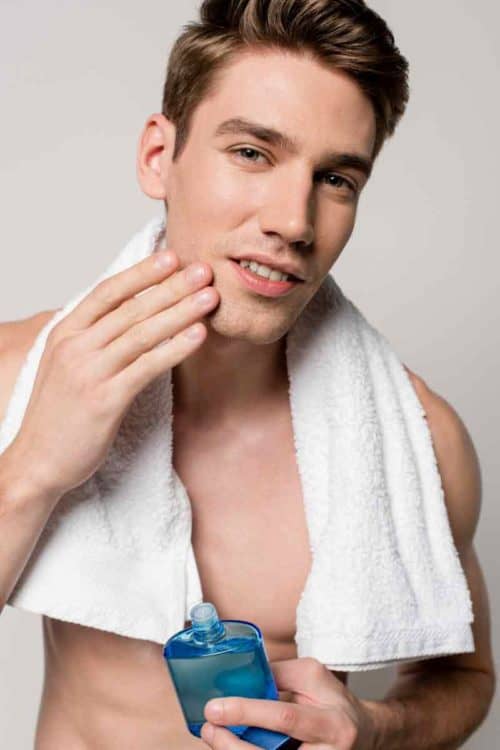 Most men like aftershaves for the cleansing feeling, but it's also because of their fragrances, typically menthol or woodsy aromas like sandalwood and cedar.
Best Aftershave Ingredients
Most aftershaves include alcohol for its antibacterial properties. Others will include natural ingredients to fight against bacteria. You should also avoid any aftershaves that have artificial dyes or fragrances, which can irritate sensitive skin.
What is aftershave typically made of? Some common ingredients include:
Witch hazel: The quintessential alternative to alcohol, known as a plant-based astringent.
Shea butter: Moisturizing, nut-based ingredient.
Ginger Extract: Antibacterial alternative to alcohol.
Tee Tree Oil: Perfect ingredient for sensitive skin prone to acne, also antibacterial.
Vitamin E Oils: These include a variety of different organic oils like coconut oil, which is also an antibacterial.
Chamomile: Calms and soothes your skin.
Aloe Vera: Heals and moisturizes skin, particularly if there are nicks or razor burn areas.
Scents: Most aftershaves go with mint, green tea, cedarwood, sandalwood, or anise.
Do You Have to Use Aftershave?
A common misunderstanding with aftershave is that it hurts and doesn't do anything for your skin or beard. It's actually very beneficial for anyone who suffers from razor bumps, breakouts after shaving, or razor burn.
Using aftershave can protect your skin from folliculitis and ingrown hairs better than simply rinsing your face, too.
For men who like a very close shave, aftershave is essential because of its ability to moisturize the top layer of your skin.
Aftershave FAQs
Can you use Aftershave on a beard?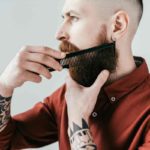 Yes! If you like the smell of aftershaves, there's no reason you can't continue using it once you grow a beard. However, look for moisturizing aftershaves that will be better for your skin.
Why not try beard oil instead? These may include tea tree oil, coconut oil, shea butter, and witch hazel.
What's the best type of aftershave?
Splashes are the most common, but many are alcohol-based aftershaves, which can irritate dry skin but works well for oily skin. Aftershave lotions can feel a bit heavy if you have sensitive skin. While post shave balms produce smooth skin results, you should look for vitamin E oil, aloe vera, and witch hazel for the best results.
Check out the 10 best aftershaves and offer insights into what products work best, including the top aftershave balms.
When Should You Use Aftershave?
Aftershaves should leave the skin feeling fresh. A typical shaving routine with aftershave includes washing your face and beard, then shaving cream, followed by shaving, and then splashing aftershave on your clean skin.
Aftershave is best for men who suffer from razor burn or bumps and acne after shaving, but you don't have to use these products if you want to use a moisturizer instead.
We also answer whether to exfoliate before or after shaving. (TLDR; Exfoliating can irritate your skin after shaving.)
Why does aftershave Burn?
Shaving causes skin irritation because you're actually scraping away the top layer of your skin.
Aftershaves may cause a lingering burning sensation, especially on opened pores and nicks. However, that's the purpose of aftershaves because of their antibacterial ingredients like alcohol and astringents.
This feeling should pass as aftershaves are meant to close pores and protect your skin.