You've probably used aftershave, but what if you're using the wrong products the wrong way? For instance, when you know how to use aftershave, it won't sting. The right product also has smoothing and healing benefits for your skin.
After using aftershave, your skin should feel smooth and protected, and you may even have a light fragrance. If it stings or you spot razor burn, then you may want to switch aftershaves or change up your shaving routine. I'll show you how to avoid both by using the right products.
How Does Aftershave Work?
Aftershave products work because they contain antiseptic ingredients like isopropyl alcohol or ethyl alcohol to kill bacteria and soothe your skin after shaving.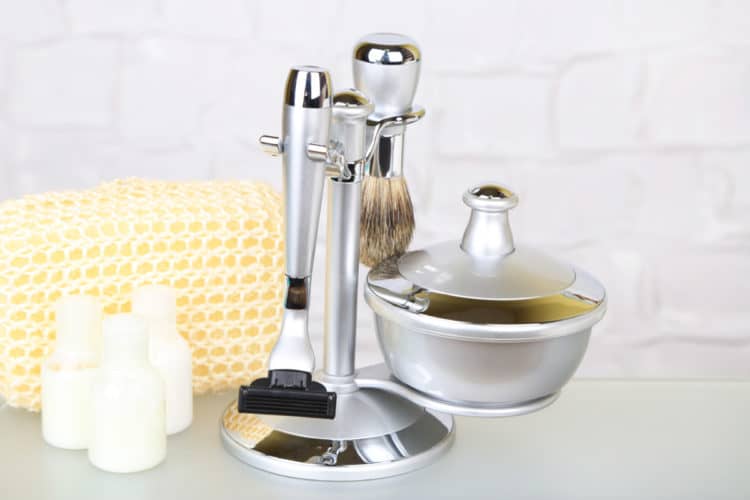 Like its namesake, you apply aftershave after a clean shave. Due to the razor's sharp edge, your skin and pores are laid bare after shaving, which is why it's prudent to use an antibacterial aftershave.
Aftershave Ingredients
The ingredients in aftershave really matter if you want to ensure smooth skin without any flare-ups or irritation. The best ingredients include:
Isopropyl Alcohol or Ethyl Alcohol
Witch Hazel (natural antiseptic/substitute for alcohol)
Glycerin (moisturizes skin)
Aloe Vera
Coconut Oil
Eucalyptus
Shea butter (moisturizing post-shave balms)
Other Essential Oils
Depending on the type of aftershave, you may only have one or two of these ingredients. Post-shave balms typically have shea butter and beeswax, too. Always check labels if you have allergies or sensitivities.
How to Apply Aftershave (Step-By-Step Guide)
There's a simple routine to using aftershave correctly to ensure that your face stays smooth and protected. I prefer aftershave balms for this process, but I'll list the other types of aftershave products below.
Prep your skin by washing with a gentle daily cleanser, then shave your face as normal, (preferably with a top-rated shaving cream).
Once done shaving, rinse off your face completely with cold water and then pat dry with a clean towel.
Apply a dime-sized amount of aftershave balm to the palm of your hand and rub together.
Gently apply aftershave balm to the shaven areas of your face, ensuring you cover any area your razor touched.
Let the aftershave absorb into the layers of your skin, not rinsing off. This layer closes pores and protects against skin irritation.
It's that simple. However, if you notice any kind of stinging, redness, irritation, or razor bumps, then there may be some other issue.
Should you exfoliate before or after shaving? See our guide to cleaning and exfoliating your beard with your shaving routine.
Problems with Aftershave Products
Here are the most common issues that I've seen with aftershave products:
Not rinsing your face after shaving leads to clogged pores due to dead skin cells left behind.
Choosing an aftershave with ingredients that irritate your skin. For example, some aftershaves use coconut oil, which could cause problems for oily skin.
Using a dirty towel to dry your face before aftershave can also lead to clogged pores, ingrown hairs, and infections.
Not using enough aftershave to cover all shaven areas.
See our complete Buyers Guide to the Best Aftershave Products.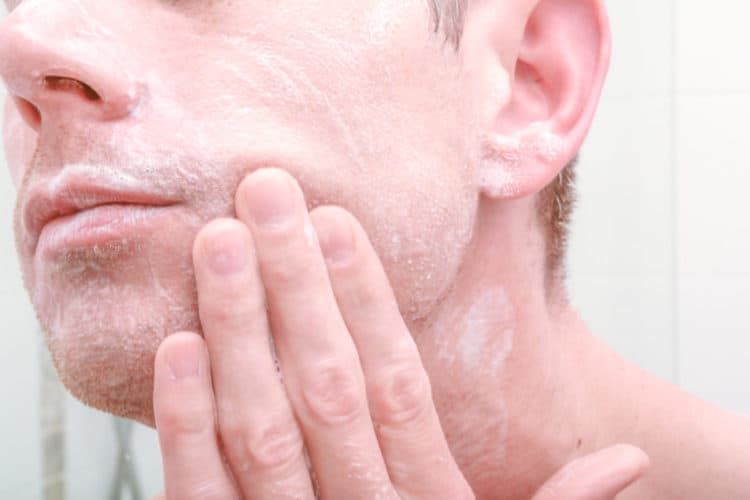 Many people consider aftershave to be their cologne, but some fragrances can also cause irritation.
If you're doing everything right with your routine but frequently notice acne around where you shave, then you may want to try an unscented or sensitive skin aftershave.
Types of Aftershave
There are three types of aftershave. Most products also contain fragrances, dyes, and essential oils, but alcohol is the most common ingredient.
Depending on your skin type and preferred application, you may want to choose one of the following:
Aftershave Lotion
Most aftershave lotions have a high concentration of alcohol. These date back to older aftershave formulas that used alcohol as an antiseptic.
Proraso for Men offers a refreshing, sensitive skin aftershave lotion.
However, lotions can also dry out your skin and cause irritation. The other issue is that most aftershave lotions do sting because of their high alcohol content.
This is why most prefer to use gels and balms, but many lotion products are commonly found in drug stores for low prices.
Aftershave Balm
Aftershave balms are marketed for shaving, but they're actually more akin to skin moisturizers. With both alcohol and alcohol-free formulas, balms are mostly used by men with sensitive or dry skin.
Nivea for Men offers clean, sensitive skin aftershave balm. See our guide to the best aftershaves for more products.
When there's less moisture in the air, aftershave balms can protect your skin from harsh winds, eliminating issues with dry, cracking, flakey skin.
Balms also spread on light and smooth with a pleasant scent, but you can also opt for unscented versions.
Aftershave Gels
Like balms, aftershave gels have little alcohol content. One difference between gels and balms is the lack of moisturizing oils. Gels don't have the same moisturization as balms, but they're still soothing for most skin types.
No products found.
Aftershave gels offer more protection and absorb easily into your skin. Gels are preferred to balms and lotions for oily or combination skin.
If you have oily skin, aftershave gels may be the best product as they offer protection without adding to the oil already on your skin. This is especially true if your face has issues with sebum overproduction.
I decided not to include aftershave splash as we don't recommend anyone use these products, as they do sting and dry out your face no matter what your skin type is.
How Often to Use Aftershave?
The simple rule – if you shave, you should always apply an aftershave when finished. You can use aftershave every day when shaving.
Otherwise, you may want to switch to a beard balm or beard oil if you're taking a break from shaving. You can even use our beard oil recipe for natural, dry skin relief.
Where to Use Aftershave?
Most people only use aftershave on their face when done shaving. However, the sensitive skin on your groin can also benefit from a dab of aftershave balm when finished with shaving. TMYK, right?