Scalp conditions like dandruff, ingrown hair or pimples are annoying and affect everyone at some point. Whether it's dry skin on your scalp, dead cells, or excess oil, one method has proven the best for straightening out these problems – scalp exfoliation.
Exfoliating your scalp removes dead skin cells and excess oil that can cause dandruff, excessive shedding, and acne. Using a quality exfoliant as part of an ongoing care routine will promote healthier skin.
Dermatologists offer some expert advice for those suffering from scalp problems. Here's a look at their recommendations and to use exfoliation to improve your hair and scalp health.
Why Exfoliate Your Scalp?
Dermatologists recommend that you exfoliate your scalp 1 to 2 times per week, depending on your skin type. It also prevents product buildup and flaky scalp due to dry skin and dead cells.
While skin doctors suggest most people have normal skin, dead skin cells often accumulate and cover up a healthy scalp and hair follicles, leading to skin conditions. However, a quick routine of exfoliation with the right products can easily clear this up.
If you do have normal skin with minor issues, dermatologists recommend you don't change your skin care routine too much and only exfoliate if you have dandruff, dull skin appearance, or pimples on your scalp.
There are also gentle exfoliants that include salicylic acid, alpha hydroxy acids and natural enzymes to exfoliate, rather than harsher ingredients such as charcoal, which can strip your skin of natural oils.
Scalp Exfoliation Benefits
Exfoliating leads to a smoother and brighter skin appearance, but there are additional benefits for your scalp. If you experience dry skin, oily hair, or dandruff, then you may want to add a gentle skin exfoliator to your routine.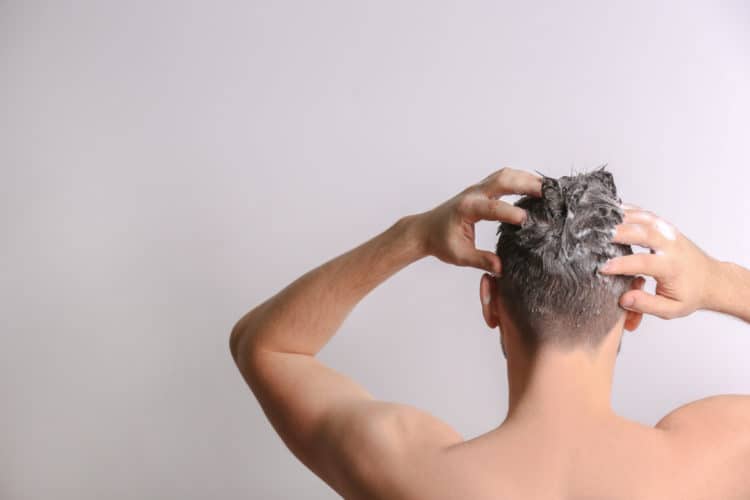 Take a look at why dermatologists recommend exfoliating your scalp:
Removes dead skin cells
Takes away dandruff
Soothes your skin
Fights acne
Improves healthy hair growth
Additionally, if you experience pimples on your scalp, you can keep your pores cleared of excess sebum and dead cells with an excellent exfoliator (see products below).
Best Scalp Exfoliant Products
If you're one of the lucky ones with a normal skin type, you don't have to exfoliate more than once per week or whenever you notice dandruff and acne.
See our Buyers Guide for the Best Exfoliants
However, those with acne-prone, oily, or dry skin, it's best to pick a method that won't irritate the condition even more. Here are the key differences in each exfoliation method.
For Normal Skin
For normal skin, dermatologists recommend that you use a light scalp treatment and skin exfoliant that contains walnut shell or sugar scrubs. Gentle exfoliating scalp scrubs or even a dry shampoo may be best.
Some of the best products include:
IGK Low Key Walnut Scalp Scrub
Soap and Glory Flake Away Scrub
Madam CJ Walker Come True Scalp Exfoliator
For Oily Skin
Oily skin can be made worse by over-exfoliating, so individuals have to be careful with how much they scrub their scalps. The issue is that your skin may produce more sebum if you strip away too much of your natural oils.
Depending on the amount of oil in your scalp, if you notice extra oily days, consider exfoliating when you notice the excess.
If you're exfoliating more than 2 times per week, pay careful attention to acne flare-ups and dandruff.
Here are some recommended scrubs for oily scalps:
L'Oreal EverFresh Micro-Exfoliating Scrub
Christophe Robin Purifying Sea Salt Scrub
Briogeo Scalp Revival Charcoal and Coconut Micro-Exfoliating
R+Co Crown Scrub
Bliss Hot Salt Scrub
For Scalp Acne
When acne invades your scalp or even ingrown hairs, it can be really distressing. If you're shaving your head, acne on your scalp may be caused by your shaver or other irritants, such as moisturizers, that get into your pores.
The key is to clean out your pores and remove buildup from excess sebum with a quick scrub. You want to avoid stripping and drying out your pores by over-exfoliating, which can lead to more oil production and acne.
Dermatologists recommend the following scalp scrubs for scalp acne sufferers:
L'Oreal Everfresh Micro-Exfoliating Scrub
OUAI Scalp and Body Scrub
Alterna Caviar Clinical Exfoliating Scalp Scrub
Kiehls Deep Micro-Exfoliating Scalp Scrub
Dry Scalp
When you experience dry scalp, moisture is just as important as scrubbing away dead skin cells. Dermatologists say that when you experience dry skin, you should exfoliate once and see if your skin improves.
However, it's important to follow up exfoliating dry skin with a moisturizing shampoo or other scalp conditioning products. For that reason, oil-based exfoliators are better for reducing dandruff and dead skin cells.
Elemis Soothing Apricot Scrub
OUAI Scalp and Body Scrub
L'Oreal Paris Ever Fresh Apricot Scrub
Paul Mitchell Tea Tree Hair Scrub
Bald and Shaved Heads
For a bald head or shaved head, exfoliation is important for a normal bald head care routine. Also, if you have thinning hair and have tried other hair products, consider a physical exfoliant to help with dry skin, slow hair shedding and help hair grow.
C3 Head Wash for Bald, Shaved, and Buzzed Heads (scalp care)
If you're dealing with bald dandruff, scalp exfoliation can you get a smooth and shiny head.
How to Exfoliate Your Scalp
Exfoliation for your scalp involves a two-step process.
Shampoo and clean your hair, combing through and separating sections of your hair to get to your scalp
Once clean, apply the scalp scrub directly to your skin, rubbing and gently massaging
For best results with dry scalp or sensitive skin, it's best to follow up with a moisturizer made for your scalp. Products containing coconut oil, aloe vera, and tea tree oil offer the best results.