There's something about an ivy league haircut that sets gentleman apart. These stylish hairstyles work with short to medium length hair and are always neatly trimmed and polished.
If you want a fresh look that always delivers a dapper touch, then the ivy league look is a timeless option that stands out from the crew cut and buzz cut style.
We'll show how to get this dapper men's haircut, including variations you can create at home with barber shears and clippers.
What is an Ivy League Haircut?
An Ivy league haircut typically has shorter sides with longer hair on top that can be styled with a quiff or comb over. Also called the Princeton or Harvard hairstyle, the sides and back are typically tapered, with a slight fade at the bottom.
We looked at the latest trends and hairstyles on Instagram to find the perfect examples of ivy league haircuts. From textured layers to side parts to waves, these traditional yet stylish preppy looks are similar to a crew cut style with slight variances you can add to make it your own.
1. Traditional Ivy League Haircut
Also known as the "classy crew cut," the ivy league haircut comes from college rowing teams.
The classic ivy league haircut grew in popularity with students who attended universities like Yale, Cornell, Harvard, and Brown.
The main feature is a short faded buzz cut on the sides and back with longer hair on top.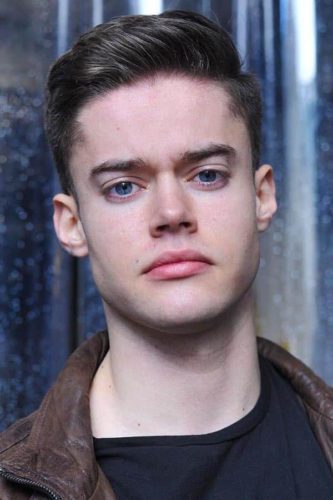 2. Ivy League Fade Haircut
There are many variations of the ivy league hairstyle. These haircuts look particularly good, with a shorter to clean bald fade on the sides. This look has a slight pompadour and taper with a clean fade around the ears.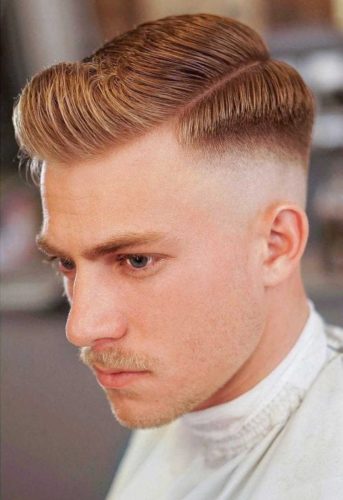 3. Wavy Ivy League Haircut
We're a firm believer in letting your curly hair stay long and wavy, even with an ivy league cut. Hair products like wave spray or styling cream can add texture, even for a short ivy league haircut.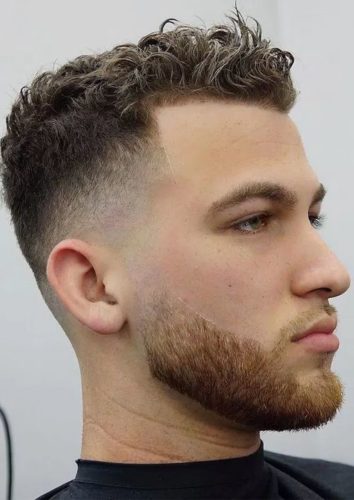 4. Ivy League Undercut
The ivy league style is the perfect for any hair type, whether you like it like long and side swept or short and neat.
The undercut is the perfect hairstyle for men who like it a bit longer. This style features a clean fade with longer hair that can be slicked back for a neater look. Show your barber this style if you want an edgy take on the classic Harvard clip.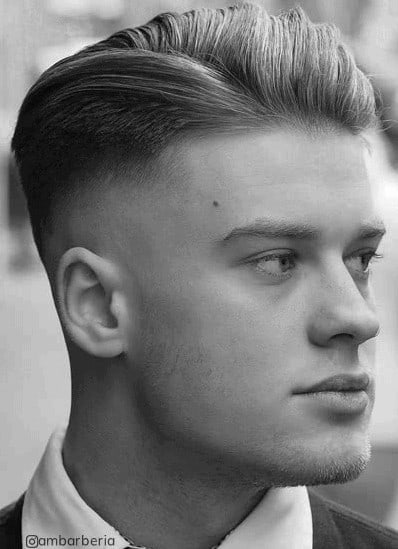 5. Ivy League with Hard Side Part
The hard side part is a classic take on the ivy league hairstyle. These styles typically have longer hair on top that's styled to the left with either a natural or purposefully cut side part. You can use electric hair clippers or a liner attachment to create this hard side part.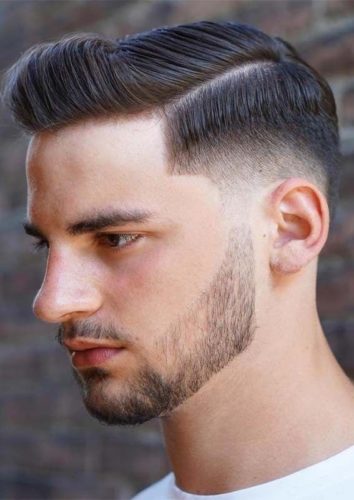 6. Ivy League Cut for Receding Hairline
When losing your hairline, ivy league haircuts can help you with a neat taper fade haircut on the sides and longer length on top that can be pulled to one side or even styled with a quiff in the front. See below on how to style a quiff.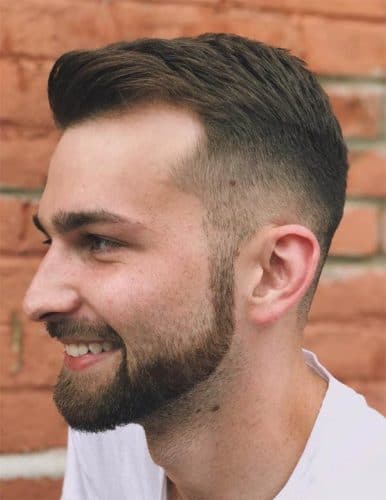 7. Tousled Ivy League Hairstyle
The messy, tousled ivy league hairstyle is quick and easy to accomplish with a bit of pomade, wax, or styling cream depending on the finish you like.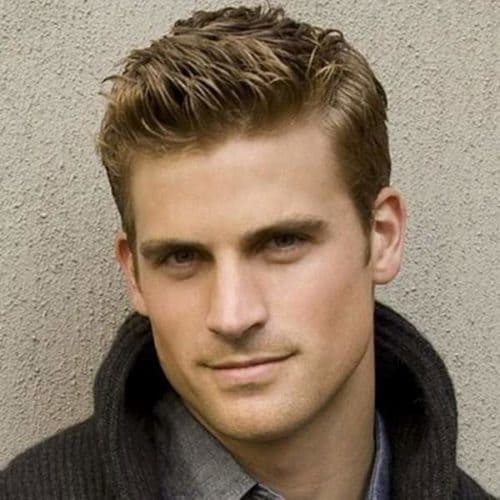 How to Ask for an Ivy League Haircut
Ask to keep the length on top short, with a trim of 2 inches or less that may be styled, leaving approximately 1/2 to 1 inch at the crown. With the front being longer at 1.5 inches, the sides are tapered down to around 1 inch, creating style depth.
How to Cut the Ivy League Haircut
Before starting this look, you want to check that you have at least an inch or longer of hair on top, as this style is very different from the shorter crew cut. Hair on top is kept quite long, while the sides are tapered.
What You Need to Get This Look
Hair clippers
Comb
Barber shears
Pomade or styling cream
Hair wax or gel (if preferred)
Mousse (if going for volume)
1. Start with a Crew Cut
It's helpful to know that the ivy league haircut is just a classier crew cut. Here's a look at how the crew cut is styled:
You'll work from the bottom up, starting at one side of your head, then switching to the other, before finally going to the back. This ensures that both sides are even and match symmetrically before moving to the back.
2. Taper with a Shorter Guard
Ivy league haircuts feature a taper at the sides to blend in with the longer length on top. There's a special technique to do this with barber shears, shown below in this video:
A taper is a longer, gradually blended style of cutting hair on the sides and back. If you want to keep your sides slightly longer, then you can use barber shears to cut your taper or you can use hair clippers with comb guards.
3. Style the Top Layers
It's best to get your hair a little damp and comb to the side, then use a small amount of pomade to sculpt and style your strands.
Pomade works best if you work through with just a small amount, then smooth or comb over to the side you like best.
If you want to create a quiff, you can apply a small amount of gel or wax with your fingertips to add some hold to the front strands of your hair.
Then use a blow dryer to blow the quiff up and over into the desired shape.
BluMaan has the perfect video showing you how to style and cut layers for men's quiff hairstyle.