If you love the look of a full beard but want to trim it down, the short boxed beard style is for you. Chris Hemsworth is one actor known for wearing this beard style. These beards are best for those who want a classic facial hair style but don't necessarily want the bushy volume of a big beard.
What is a Boxed Beard?
The boxed beard is a lighter and more tightly trimmed version of a full beard. The style has gained popularity for those who want a fuller beard look but without the extra volume. The boxed beard is cut close and shaped precisely to outline the face shape – essentially "boxing" the face.
Boxed beards have sculpted facial hair, resulting in a full-looking beard that's often shorter, neatly trimmed and with less bulk. The shape contours the face's shape by outlining your jaw, chin, mouth, and sides of the face.
How to Style a Boxed Beard
There are a few different ways that men wear the popular short boxed beard, but it's mainly created by selectively shaving and sculpting some areas bare including your neck, chin, and cheeks.
In contrast to chin straps and beards with no soul patch, boxed beards carve out the hair underneath the bottom lip to show where the soul patch connects to the chin hair.
Take a look at traditional boxed beard styles:
These beards typically grow hair up to the bottom lip as well with thin, neatly trimmed sides. To define the short boxed look, you'll also want to focus on neck and cheek lines, using comb attachments or a beard shaper tool for perfect symmetry.
To get the boxed beard style, follow these steps:
Start by cutting down longer hair with a good beard trimmer.
Apply shave gel for cheeks and neckline beforehand to avoid ingrown hairs and skin irritation.
Use a beard shaping tool for a straight or curved cheek line.
Using a Gillette Fusion5 razor, shape the cheek lines, goatee, and jawline.
Shave your neckline, starting an inch above your Adam's apple.
Carefully clean shave with light gentle strokes around your soul patch and connecting lines with your razor or trim away with scissors. Be sure to rinse the blades between strokes.
Go over your entire beard with a #3 or #4 blade guard for a uniform finish.
Leave the sideburns wide.
Trim up your mustache and soul patch hair as you like, then rinse off your face.
Follow up with a beard oil or beard balm to add moisture and shine.
Brush your beard thoroughly with a bristle beard brush or comb.
Instead of buying a trimmer and disposable razor, you can get the All Purpose Gillette Styler. It's a slick 3-in-1 combo tool with 1 trimmer, 1 ProGlide blade refill & 3 comb attachments. FYI – Any Fusion5 blade refill fits this styler.
Remember to be careful around the soul patch and chin hair when as you shave completely bare, including the areas just underneath your bottom lip and just above the curve of your chin. You don't want to go too low or too narrow, as you'll wind up with a very thin line of hair from your chin to your soul patch.
5 Boxed Beard Styles to Inspire Your Look
As mentioned, there are a few names in Hollywood who always go to the boxed beard style for the red carpet. This is a distinguished, professional look that can be super sleek with the addition of beard oil.
1. Low Boxed Beard Style
Boxed beards are defined by the shape underneath the mouth, as it forms a "box" when shaved correctly.  Some choose to clean-shave lower on their chins for a neater, trim look, while others let this hair grow naturally around the clean-shaven areas.
2. Long Boxed Beard
As long as you maintain the shape around the mouth, you can grow out your boxed beard to any length. This look chooses longer growth around the chin and mustache, with shorter hair up to the sideburns. 
3. Patchy Boxed Beard
The boxed beard may seem difficult to maintain, but it's actually great for patchy beards because you can highlight your cheeks and chin without having to grow in thick hair around your soul patch. 
4. Sculpted Boxed Beard
If you like neat, trim beards, then the boxed beard is the perfect professional beard style if you still like growing nearly full beards. This look below has defined cheek lines and clean necklines.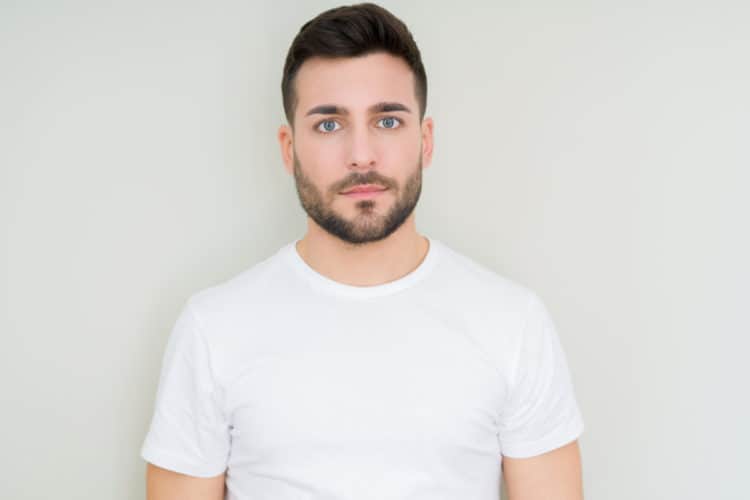 4. Stubble Boxed Beard
If you have naturally dark stubble, you can pull off a neat boxed beard with defined clean-shaven areas. This look below features longer stubble with clean lines around the mouth and cheeks.