Along with changing your beard grooming routine, beard oil for black men also helps to achieve a better-looking beard while protecting against ingrown hairs.
Barbers offer the best advice for black men on what works for their beards. Some of the top black-owned businesses, like Rick Ross, have developed these products and feature the highest quality ingredients to tackle softening your hair and hydrating your skin.
In addition, black dermatology doctors like Dr. Ife Rodney say that certain beard oils offer better conditioning for black facial hair, in addition to moisturizing dry skin underneath your beard.
"This is especially true for black men with curved hair follicles that are likely to cause ingrown hairs and bumps on the face and neck," Dr. Rodney says.
Beard Oil Rating Criteria
Finding the best beard oil for black men has a high learning curve, but after talking to several expert barbers about the special needs of black facial hair, there are some products that simply work better than others because of their proven results for healthier hair.
Quality Ingredients
I wanted to find products that came recommended by barbers who worked with black facial hair. These experts recommended argan oil, jojoba oil, tea tree oil, and castor oil.
These natural beard oil ingredients promote beard growth, but they're also great for soothing itchy beards if you have dry skin.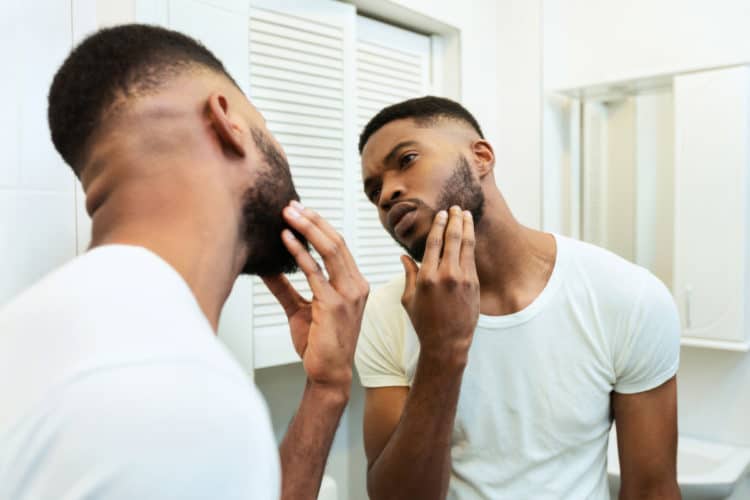 Overall Grooming and Softening
I also wanted to find products that worked for a black man's beard. I found oils that contained the ingredients about, but the beard products I reviewed were also noted for softening and conditioning.
After researching a few beard oils recommended for black men, here are the best products and what they can do for your facial hair:
Top Beard Oils for Black Men
This is currently the top beard oil in the nation, and it's a great value if you just want softer, more manageable hair. It works for all hair textures, but it has some of the best ingredients for black facial hair like moringa oil, avocado oil, and sweet almond oil.
Hand Crafted in the USA
Organic Virgin Argan, Golden Jojoba and 6 More Premium Hydrating Oils
All Natural and Organic Ingredients
Softens Beard and Conditions Skin
The Most Trusted Brand for Beards in the World
Verdict
Honest Amish is one of the most trusted brands in beard care, so it's no wonder that this beard oil truly conditions your beard and keeps your hair healthy. I've personally used this beard oil and know that it's probably the top all natural, organic beard care product for softening your beard and moisturizing your skin.
Check Lowest Price
$12.22
---
Lots of celebrities want to get into skin care and beauty, but Rick Ross became so well known for his amazing full beard that he started his own beard care company called RICH. The beard oil is absolutely top quality with a non-greasy formula that smells incredible thanks to several essential oils.
HYDRATING NON-GREASY FORMULA: RICH by Rick Ross Luxury Beard Oil hydrates your beard and skin under the beard, increasing its shine so your beard not only looks luxurious but feels like it too.
NUTRITIOUS AND GENTLE: The finest Jojoba oil provides essential vitamins and nourishment to the hair and follicle that nourish and protect skin from environmental stressors.
ELIMINATE ITCHING AND BEARDRUFF: Just a few drops of RICH by Rick Ross Luxury Beard Oil will give your beard the hydration and protection it needs to eliminate itching, flaking and the dreaded beardruff.
EXCEPTIONAL SCENT: It does not only make your beard shiny and moisturized but also makes it smell amazing while not being too strong or overwhelming.
ESSENTIAL BEARD GROOMING PRODUCT: This beard oil is essential that every man with facial hair needs to add to their routine - Use it yourself or get it as a gift for your loved one.
Verdict
Rick Ross chose very unique essential oils for his beard oil, including olea europaea fruit oil, ricinus communis seed oil, vitis vinifera seed oil, and jojoba oil. These oils soften and condition even the toughest, coarsest beard hair. Ross definitely created a hit with the unique scent of this oil. You won't find it anywhere else.
Check Lowest Price
Price not available
---
For those who want a softening beard oil without the fragrance, Leven Rose is your best bet. This beard oil moisturizes your skin and hair with a very simple formula that contains argan oil and jojoba oil. There are no other fragrances or fillers, so this beard oil works perfectly for beard itch and those with sensitive skin.
Nourishing Beard Oil for Men - This natural beard oil keeps your beard healthy, moisturized, and well-groomed. It helps to eliminate dry skin and beard-druff, leaving you with a respectable and kissable beard. Use it daily for the best results.
Simple and Natural Ingredients - Our beard oil contains only two ingredients: Jojoba oil and Moroccan Argan Oil. It is free of fillers, fragrances, additives, parabens, and GMOs. This product is also vegan-friendly, and we do not test on animals.
Easy to Use - Apply the beard oil after showering, while the beard is slightly damp. Shampoo only a few times a week for extra nourishing effects.
GQ Featured - Our beard oil has been featured in GQ magazine for its ability to treat dry, coarse, unruly, and wild beard hair. It also helps to calm under-beard skin and reduce dark spots for a groomed and tidy beard look.
Dark Amber Glass Bottle - Our beard oil is packaged in a dark amber glass bottle with a glass stopper to protect the oil from UV light rays and oxidation, extending its shelf life. Pure natural oils not packaged in dark bottles may lose potency and become less effective.
Verdict
This lightweight beard oil will easily absorb into your skin and beard hair. If you're dealing with any kind of dry skin under your beard, then the ingredients in this product get rid of those problems quickly. It's also perfect for men with coarse or wild hair if you need more conditioning to tame your facial hair.
Check Lowest Price
$10.97
---
Mane Tame is a relatively new product that has received a ton of praise for its scent. Apparently, women love the smell of this beard oil, but it's more than that. This is a beard conditioning oil, which is perfect if you have dry, brittle hair that needs a boost in moisture.
ITCHY AND COARSE BEARDS BE GONE: No more suffering! This beard conditioning oil is an all in one treatment that helps reduce dandruff, soften the wiry bits, and act as a beard control balm to tame and groom. Instead of just having any old normal beard, you'll become a premium beardsmen.
A SCENT YOU'LL ALL LOVE: You've just stepped out of a soapy hot shower and splashed on light cologne when you realize your lady is right behind you, breathing in your heavenly smell, ready to eat you up. Well, we've bottled THAT scent into this great beard oil for men. Enjoy!
BEST BEARD GROOMING INGREDIENTS: This unique formula combines Organic Hemp Seed and Argan Oil with selected non-toxic beard conditioners. Paraben, Sulphate and Phalate Free. If 100% oils struggle to penetrate your barren dry hair, a premium beard oil combination can condition deep, while controlling the surface fuzz.
WON'T WEIGH YOUR FACE DOWN: Some heavy facial hair oil can leave a mad oil slick. Our blend of light oils PLUS beard conditioners produces a dense, serum like oil, that naturally absorbs into coarse hair fast. No need to use much, just 1-2 pumps and that's it!
TAME YOUR MANE: Smooth rogue hairs, and style your beard like you mean business. This is not just a basic beard oil or softener, this is a sweet spot between a wiry face of tumbleweed mountainman hair, or a total mouthbreathing oil slick. You want a well groomed beard? You got it. Order Now.
Verdict
With organic hemp seed oil and argan oil, this is another simple formula that really works for dry skin and coarse beard hair. It's also completely free of fillers and chemicals. This beard oil gets rid of fuzzy, wiry hairs quickly, and it's very light on the skin. If you're worried about too much oil, this is the perfect choice for your skin.
Check Lowest Price
$14.95
---
Mountaineer Brand is another highly rated beard care brand that offers exceptional products, like their WV Timber beard oil. It's one of my favorites because of its fir needle and cedarwood scent, and it contains castor oil and eucalyptus oil.
LOOK AND FEEL GOOD: with Mountaineer Brand Beard Oil. Just a dab tames even the wildest beard or mustache. Natural oils condition wiry, scruffy beards while soothing the dry, itchy skin underneath. Leaves coarse hair soft moisturized with a healthy shine.
TAME THE MANE: Start with a few drops of oil in your palm - rub together and massage upward into facial hair, to make contact with your skin. 100% all-natural grapeseed, almond and castor oils absorb quickly prompting hair growth while hydrating dry skin.
BOOST GROWTH: Condition new, short, long or patchy beards with our oil to help prevent ingrown hairs and split ends while stimulating hair follicles. Add to your daily routine for a fuller beard appearance and manageability. Turns 'meh' beards to epic!
HYDRATE & SOOTHE: Our specially formulated unscented oil helps hydrate dry hair and skin while reducing beard dandruff without feeling greasy or sticky. Perfect to use during the itchy phase of new growth. Leaves beard with a well-groomed shine.
AND MADE IN WV, USA: Mountaineer Brand men's grooming line provides premium, high quality all-natural products. Each batch is handcrafted with you in mind. If you're not satisfied, just let us know and we'll refund your money. No questions asked.
Verdict
Jamaican black castor oil offers some hair growth benefits in addition to moisture, but eucalyptus is also an antimicrobial ingredient that heals your skin and makes you feel fresh. The other essential oils in this blend include almond oil, grapeseed oil, cedarwood, and fir needle. It's a winning combination for a subtle shine and softened hair.
Check Lowest Price
$12.00
---
I didn't find any beard oil products with rosemary, but it's one of the best ingredients for black hair according to experts. Maple Holistics Rosemary Oil is a therapeutic grade, pure rosemary oil that you can use on your beard hair and scalp to add shine and reduce dry skin symptoms.
Essential Oils for Hair - Cleansing essential oils like rosemary can help improve your hair care by working as a dry scalp oil exfoliator scalp cleanser and hair shine serum for flawless looking hair
Pure Essential Oils - Rosemary is one of the top essential oils for diffusers for home because aromatherapy essential oils for diffusers and other uses help enhance wellness wherever and whenever
Rosemary Oil for Skin - Rosemary is one of our favorite essential oils for skin use as a natural cleansing oil with antioxidants great for beauty DIYs best paired with a one of our carrier oils
Diffuser Oil - Breathe in the wonderful aroma of natural rosemary aromatherapy oil as the diffuser essential oil fills the air with a clean scent bringing a whole new feel to any room or setting
Maple Holistics Quality- Try our rosemary oil essential oil for yourself and see why so many people choose Maple Holistics for their essential oils aromatherapy products and other natural oils
Verdict
If you constantly find dandruff flakes in your beard, this rosemary oil will get rid of it after just a couple days of use. Not only that, the smell isn't overpowering, and it's all natural. It won't clog your pores or cause too much oil to sit on your skin, making it perfect for treating your beard hair.
Check Lowest Price
$10.95
---
Some black men deal with hair that's tougher to style, and regular beard oils won't work because they don't have any styling hold. Bossman Beard Oil takes on that challenge with a thicker, non-greasy formula that moisturizes your beard but also lasts longer than a regular beard oil.
A First of its Kind Beard "Jelly": More effective than traditional beard oil for men. Our Beard Jelly features an increased viscosity to form stronger, more robust bonds with facial hair follicles and pores for a thicker, faster growing beard
All in One: Beard growth oil acts as a beard softener, thickener, tamer, and moisturizer. The carefully chosen natural oils for beard care moisturize and stimulate hair follicles and pores to improve beard health so you can rock a polished, yet seductive look
Natural Ingredients that Last Longer: Our beard gel for men uses organic ingredients like beeswax, avocado oil, and soybean oil that hydrates at the roots and locks in moisture to keep your beard looking and feeling as legendary as you are
Made In the USA, Double the Quantity: We think big...like a Boss. Our beard moisturizer comes in a 4 ounce bottle, double the amount and lasting twice as long as other beard oil growth products
Magic Scent: It's the original Bossman scent for a reason. Beard lotion features a warm and redolent blend of rich sandalwood and vanilla oils that create a clean base intended to highlight the bergamont, patchouli, and frankincense accents.
Verdict
Bossman's beard oil is best for those who want a stronger conditioner and love the sandalwood scent. There are some beard growth properties in this beard oil as well, but it may just be from treating underlying beard itch. Customers reported this beard oil helps them style their beard due to the beeswax content.
Check Lowest Price
$17.95
---
When Badass Beard Care came out with their line, I was eager to try all of their distinct scents and formulas. However, the Badass Beard Care Royal Knight Beard Oil stood out to me. With lavender oil being one of the known oils that helps black hair grow and shine, it's best for guys who want healthier beard growth.
SCENT: The Royal Knight Beard Oil is made by Earl Grey Tea, Lavender & Vanilla. This is a very unique scent which will make you comfortable while using it.
QUALITY AND SATISFACTION: The Badass Beard Oil is created by 100% natural and organic ingredient and we give you 100% surety that this will satisfy you.
MAKE YOUR HAIRS READY: You can use this oil on any kind of beard or mustache, and this will quickly affect them and will make them ready.
BENEFITS: This oil makes the skin underneath the beard less itchy and flak, promote thicker and faster hair growth, repair split ends, and make your hair softer to the touch.
GET WHAT YOU NEED: If you're a beard lover and want to make your beard soft & attractive, you must buy this product which is going to fulfill all your requirements.
Verdict
The Royal Knight beard oil combines Earl Grey tea, lavender, and vanilla for a masculine yet light scent. It's great for eliminating beard itch and softening beard hair. Badass Beard Care also offers a satisfaction guarantee with all of their products, so it's easy to return if it doesn't work out.
Check Lowest Price
$17.99
---
Beard Oil Tips Black Men
It's important to moisturize your beard and the skin beneath every day. This leads to greater hair density, but the right beard oil also softens your hair for easier styling and shaping. In addition, it just makes your beard shine and look healthier.
Here are some key tips to use beard oil for your beard:
1. Use Beard Oil Morning and Night
Your new routine should incorporate a drop or two of beard oil in the morning after you shower, as well as after you wash your beard at night. Beard oil aids in hydrating and healing your skin, especially if you tend to get dry skin under your beard or pimples around your beard.
2. Pick Natural Ingredients Over Chemicals
The skin and hair on your face is very sensitive to chemicals. I always look for natural ingredients like jojoba oil and sandalwood in my beard oils because I want my skin to feel refreshed and healthy, as well as my beard hair.
Tip: If wondering what's best for your beard, I also define what's better between beard balms and beard oils.
Natural oils also sooth your skin and make your hair easier to comb or brush through as well.
3. Trim Back Coarse, Wiry Hairs
The key to a professional beard is to use electric razors with liner or precision trimmer attachments to define your beard shape. As your beard grows and takes on a natural shape around your jawline, regularly trim your neckline to avoid a neck beard.
Trimming your beard also prevents split ends and the look of "dried out" facial hair that can damage your hair down to the follicle if not taken care of properly.
4. Get a Good Beard Comb or Brush
Growing a beard is half the struggle. Once you have longer facial hair, you'll need to maintain it for a great beard using beard oil and a beard comb.
After applying beard oil, you can use a beard comb or brush to spread it throughout your hair, even if you only use a small amount.
Final Thoughts: Maintaining the Perfect Beard
Beard oil is just the first step to healthier facial hair. If you have issues with beard growth or want to thicken your facial hair, you may also want to look into beard balms. There are also beard softeners that can straighten and detangle the toughest facial hair as well.
Didn't find the right beard oil? Check out our complete Beard Oil Recipe Guide.