Do you have all the best beard products for black men? There are some new black men's grooming tools and beard care necessities for a magnificent beard like James Harden.
If you haven't found the right beard care products for black men, you're not alone. The industry has been under-served for years, but now there are some brands out there taking note of the different hair texture and needs of black beards.
These products are made with the best natural ingredients to hydrate and soften black men's facial hair, but I also want to provide the best tools for you to get the best beard at home, just as if you had gone to the barbershop.
Top Beard Products and Grooming Tools for Black Men
These products offer the best range of high-quality beard care for black men while also supporting mostly black-owned brands.
I found the products that customers liked the most and led to the best results, whether it was for softening and conditioning beard hair to brushing and trimming your beard like a professional.
Best Grooming Kit for Black Mens' Beards
Grooming kits contain everything you need to take care of your beard. From softening products to beard combs, these kits also work best for black facial hair because they include natural oils and hair growth products.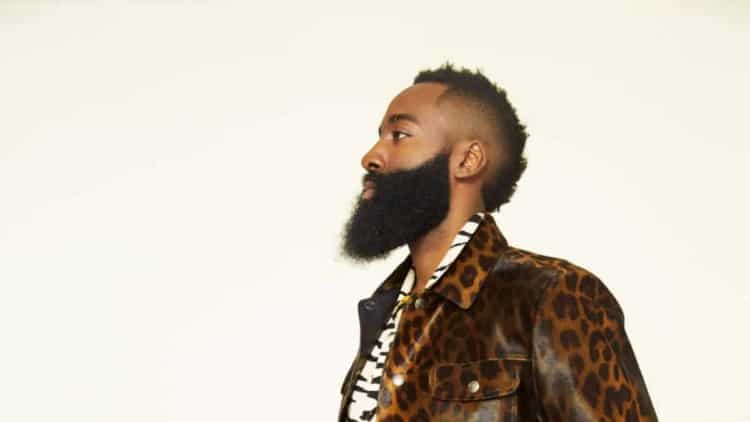 Beard Grooming Kit by Prophet and Tools
If you're looking for a premium beard oil and a sturdy beard comb, the Prophet and Tools Beard Kit only includes two items, but it's incredible for beard softening, moisture, and treating split ends. It's also quite affordable for the high quality of the beard oil and comb.
Discover the game-changing beard oil loved by 98% of users on their first try. Our top-rated product delivers exceptional grooming results, backed by countless positive feedback. Join global beard enthusiasts and experience its transformative power today!
Experience the unrivaled power of our Prophet and Tools Beard Oil and Comb Set. With three times the effectiveness of cheaper alternatives, our premium oil nourishes and transforms your beard. Elevate your grooming routine for a well-groomed, healthy beard like never before.
Experience the convenience of our fast-absorbing, non-greasy beard oil. Loved by customers for its effectiveness and ease of use, it nourishes without oily residue. Achieve a well-groomed, refined beard effortlessly.
Trust our beard oil's compatibility with sensitive skin, backed by positive customers. Our gentle formula prioritizes non-irritation and nourishment. Style your beard confidently, free from breakouts or discomfort.
See why our highly recommended beard oil delivers outstanding results. Perfect for beginners and enthusiasts, our premium oil is a must-have in your grooming routine. With a top-rated status and positive reputation, it represents the pinnacle of quality and effectiveness in beard care.
Verdict
This simple two-piece kit is great for those just starting to grow out their beards and want to improve hair texture and smoothness. Prophet and Tools make a variety of beard grooming products, including a larger 6-piece beard kit for beard grooming if you want scissors, beard balm, and other beard grooming products.
Check Lowest Price
$9.99
---
Beard Grooming and Trimming Kit by Rapid Beard
There are many tools that are specific to men's grooming routines. Everyone has their own favorite items. With Rapid Beard's Beard Grooming and Trimming Kit, you get a beard oil, beard balm, beard brush, beard comb, and trimming scissors.
NATURAL PURE & ORGANIC INGREDIENTS – Argan oil, Jojoba oil and Vitamin E oil are main ingredients. 100% natural and organic, you'll enjoy the best beard growth without any unwanted scents or additives.
MAKE STYLING EASY – Grooming, trimming, shaping and taming your beard & mustache was never easier with the combination of Rapid Beard's extra sharp stainless steel barber beard scissors, 100% boar bristle brush, and the superior hold, softener properties and shaping power of the heavy duty beard balm leave in wax ("beard butter").
CONDITIONER, SOFTENER & MOISTURIZER – These unscented leave-in conditioner beard oil (1.7 fl.oz / 50ml) and beard balm (2.12 oz / 60ml) wax, both have the perfect formula for keeping your facial hair and skin hydrated, moisturized, silky soft, healthy and groomed during a long day. Softening and eliminates itching & dandruff (beard druff).
100% BOAR BRISTLE BEARD BRUSH – natural boar bristles help distribute oil, improve hard hair texture, styling, shaping, smoothing and conditioning. Great used with beard oils, balms, waxes & conditioners. Ideal for firm beard and stache grooming, softening and styling. HANDMADE, ANTI STATIC & SNAG FREE - each wooden comb is crafted with the tender care that will leave your hair feeling smooth at any given time. Thick fine tooth finish that can get through any hair or beard.
PERFECT GIFT - This kit comes packed in a luxury premium gift box. Can easily make up a great gift for a bearded friend, Colleague, family member or husband that could use some beard care products to tame up his beard and mustache! ---------- Beard oil for men, Beard balm for men, Beard wax, Beard conditioner, Beard oil and balm kit, beard butter, beard brush for men, beard comb for men, beard brush and comb kit, beard care kit, barber beard scissors, fragrance free, bread accessories and tools.
Verdict
The beard oil is quite nice for an unscented product with essential essentials, and it contains the perfect trifecta of organic ingredients like argan oil, jojoba oil, and vitamin E oil. It soaks into the beard and ensures that your hair follicles are strong. You'll like styling your beard with the balm and beard brush.
Check Lowest Price
$19.97
---
Beard Shampoo for Black Men
If you're just looking for a single product to improve your beard hair, you may want to check what you wash your beard hair with. Here's a review of our favorite product and why it's so good for a black man's beard.
Professor Fuzzworthy's Beard Shampoo Bar
I've tested the Professor Fuzzworthy Beard Shampoo Bar myself, and it's one of the most cleansing, moisturizing beard shampoos available for the price. It's an all natural softening shampoo bar made from coconut oil and lavender, so it's perfect if you need to tame your beard hair for a full beard like James Harden.
Voted #1 best beard shampoo | Highest rated, best price and highest quality!
Beard shampoo soap bar equal ~ 27 fl oz - 3 liquid bottles! Long lasting - Eco friendly & Travel friendly!
MASCULINE woody scent | Organic premium ingredients for anti-itch, beard softener and to promote faster thicker beard growth - found only on Australia's wild Island, Tasmania
A no - fuss solution for the best beard care grooming routine | 100% natural beard wash for beard hair & body | Cleans softens & conditions beard, soothes dry skin, beardruff and dandruff, moisturizes skin & helps healthy beard growth!
Stop washing your face & beard with harsh synthetic chemicals sulfates & parabens that stunt beard growth!
Verdict
Professor Fuzzworthy's beard shampoo bar is a magnificent, all-natural, woody-scented conditioning product that works for black facial hair, but it's also just a high-quality product made from ingredients that won't dry out your skin and hair. I highly recommend this if you just want to smooth and soften your beard hair, but it works best with a beard comb.
Check Lowest Price
$14.95
---
Best Beard Oil for Black Men
I covered all the most highly rated beard oils in my Best Beard Oil for Black Men Guide. From my experience, this beard oil includes natural products, essential oils, and a great scent.
RICH By Rick ross
The beard man himself got so many compliments and media about his beard that he created his own line of men's grooming products. The RICH By Rick Ross beard oil has some unique ingredients, creating a magnificent masculine scent while also making your beard shine.
If you have a long beard style, RICH is definitely the beard oil for you. The jojoba oil in this product definitely helps with dry skin under your beard, and it immediately gets rid of any dandruff as well.
Gives great shine
Great for beard and hair
Quantity: 1.69 fluid Ounce
Detangles hair
Light weight formula
Verdict
I think Rick Ross knew exactly what he wanted to do when he created this product. The ingredients are simple but exceptional, and it's not a heavy oil that gets stuck in your beard. You'll see an improvement in the smoothness and softness of your beard immediately, making it easy to shape and style.
Check Lowest Price
Price not available
---
What Beard Brush is Best for Black Men?
The best beard brushes have boar bristles to lift and untangle facial hair gently. In addition, two-sided beard combs also work to pick and fluff out beard hair for more density and thickness.
ZEUS 100% Boar Bristle Beard Brush
Many products on this list help with conditioning, softening, and smoothing your beard so you can maintain fuller, healthier facial hair. The ZEUS 100% Boar Bristle Pocket Beard Brush is a great purchase because of its sturdy bristles and handheld design.
ZEUS BOAR BRISTLE BRUSH: This 3.5-inch Beard and Mustache Brush was created with Austrian Pear Tree Wood and 100% First-Cut, Firm Boar Bristles, which are stiffer and more ideal for Thick beards . The Boar Bristles on this brush are unevenly cut to allow the bristles to effectively reach into the beard and distribute the natural oils from your face into your beard. This process helps repair dry hair and remove impurities, resulting in more volume and less frizz with regular use.
100% BOAR BRISTLE: This Beard & Mustache Brush features 100% Firm Boar Bristle. Unlike cheaper alternatives, Zeus Boar Bristle Brushes are cut in a way that helps the brush penetrate through the beard in order to tame wild hairs and distribute natural oils throughout your beard. This brush will also clean your beard of food and debris that makes its way onto your face from daily activities. NOTE: This brush may be too small for your Head Hair and is intended for the Beard and mustache.
EUROPEAN PEAR WOOD: Zeus Boar Bristle Beard Brush is made in Germany using Natural Austrian Pear Wood. Pear Wood is is a Strong and Durable wood that is Splinter and Warp Resistant, making it a perfect vessel for the high-quality Boar Bristles on our brushes. Unlike cheaper alternatives, Pear Wood is often used for expensive wood working due to its attractive finish and and durability. Zeus Boar Bristle Brushes will exemplify this attractive and durable look and feel for many years to come.
SPECIFICATIONS: Firm Boar Bristle | Austrian Pear Tree Wood | Length: 3.5" x Width: 1.2" | Bristle Height: 0.7" | Weight: 0.6 Oz | Made in Germany
Verdict
It's a firm brush that really helps brush out and tame very wiry, coarse beards. Even if you have tangled wavy beard hair, this beard brush fits right in your palm. After a few brushes with some high-quality beard oil, you should see a major difference in the smoothness and shine of your beard.
Check Lowest Price
$16.95
---
Take a look at the top beard brushes and beard combs if looking more options.
What Beard Trimmer is Best for Black Men?
The right beard trimmer has multiple attachments and comb guards so you can get the exact length and precision edges you want. When it comes to fading your beard and creating perfect lines, there's really only one complete set that's worth the money.
WAHL Chrome Pro Complete Haircutting Kit for Men
The WAHL Chrome Pro Complete Haircutting Kit for Men is a full 24-piece set that includes an electric trimmer with a Powerdrive heavy duty motor. With 13 different attachments including comb guards and precision trimmers, this Wahl electric trimmer also comes with an adjustable taper lever for blending and fading.
Heavy Duty Motor – Our ultra-power heavy duty hair trimming system easily cuts the thickest hair with 35 percent more power than standard Wahl electromagnetic motor clippers, This results in a very strong audible hum, but is completely normal to its operation. Don't settle for a weak clipper!
Self-Sharpening Blades – Wahl's precision self-sharpening precision blades stay sharp longer and continuously sharpen over time; oil between every few haircuts to increase the longevity of your electric clipper motor & blades
Adjustable Taper Lever – Easily change the closeness of your cut between guide comb lengths, move the lever up for the closest cut & move it down for a longer cut; allows for easy transitioning of blending & fading
Matching Trimmer – The Chrome Pro comes with a full-size hair clipper for men with a variety of cutting lengths with a precision t blade and a matching chrome trimmer that helps clean up around the neckline, sideburns, and the ears
25 Piece Men's Grooming Kit – Includes the clipper, battery mini trimmer (AA required, not included), 14 attachment combs from 1/16" to 1", blade oil, soft storage case, trimmer blade guard, cleaning brush, barber and styling comb, scissors, cape, eyebrow trim guide, ear trim guide, and English & Spanish instructions/styling guide
Verdict
The real beauty of this WAHL haircutting kit is that it's powerful and precise, easily creating the exact lines and fades that you want without having to make multiple passes of the same area. The blades are also self-sharpening, and I've always found these clippers to be extremely easy to keep clean and working properly.
Check Lowest Price
$44.99
---
Best Beard Conditioner Kits for Black Men
If you have trouble with dry skin or ingrown hairs, this conditioning kit works best.
Shea Moisture Complete Beard Kit
If you're looking for a major change in the condition and texture of your beard, barbers swear by this brand. The Shea Moisture Complete Beard Kit comes with four products, including a beard conditioning oil, full beard detangler, beard balm, and Maracuja (passionfruit) oil and shea butter conditioner.
SOFTENS AND CONDITIONS BEARDS. Infused with shea butter, this 4-piece set is incredibly nourishing and moisturizing for the skin and hair. This superb moisturizer is naturally rich in vitamins A, E and F, remedying dry skin and protecting the skin's natural oils.
COMPLETE FACIAL HAIR SET. Absorbing quickly to soften and condition facial hair, these products clean, nourish and detangle full beards to leave them well-groomed and scruff-free.
MARACUJA OIL. Maracuja oil delivers maximum hydration to furnish firmer, smoother skin. Abundant in essential fatty acids and brightening vitamin C, this oil also helps repair and rejuvenate skin to provide a healthy radiant complexion.
RESTORES SHINE. Known as liquid gold for its amazing restorative properties, argan oil acts as a moisturizer for the skin and contains antioxidants which help boost cells. It's also an excellent agent for promoting shine and producing softer hair.
NO HARMFUL INGREDIENTS. Certified natural ingredients like organic shea butter and a blend of essential oils ensure safe use for all hair types and skin sensitivities. These products are sulfate, paraben and cruelty free to naturally soften, clean and style your facial hair.
Verdict
This kit is designed to nourish and moisturize your skin and facial hair with vitamins A, C, E, and F. If you're having trouble getting a full, thick beard or your facial hair looks wiry with split ends, these products will definitely create a healthy, shiny, soft beard after the first day.
The secret ingredient Maracuja oil includes fatty acids and repairs follicles, making these products insanely potent.
Check Lowest Price
$45.99
---
Here are some other standalone products that help with styling and softening if you don't want to invest in a kit:
Beard Balms for Black Men
I dedicated a full post to all kinds of beard balms but here's one that comes highly recommended for men with rough, wiry facial hair that needs more shaping and styling power:
Best Softener for Black Beards
If you're only looking for a high-quality softener, this one is the best for your beard: