Beard grooming is in. Just one scroll through Instagram proves that facial hair has grown on people, but it's also about the types of beards. Most celebrities with beards are rocking longer, bushier beards these days. When rocking a bigger beard, knowing how to use beard balm can save your look. 
Beard balm is a men's facial hair styling and moisturizing product made from beeswax, carrier oils, and essential oils. It's typically used to shape longer, thicker beards and moisturize coarse beard hair. 
Applying beard balm isn't necessarily difficult, and we're not trying to complicate the process. However, if you want to ensure that your beard looks magnificent after using beard balm, then you'll need to know how often you should these products and the best way to massage into your beard.
Beard balm promotes a superior-looking beard with little effort. If you want a softer and healthier facial hair, checkout the Best Best Beard Balm now.
What Does Beard Balm Do?
Made from nutrient-rich essential oils like tea tree oil, jojoba oil, and more. Beard balm formulas are similar to beard butter, but combine wax and oils to create a super light but tacky moisturizer for your facial hair.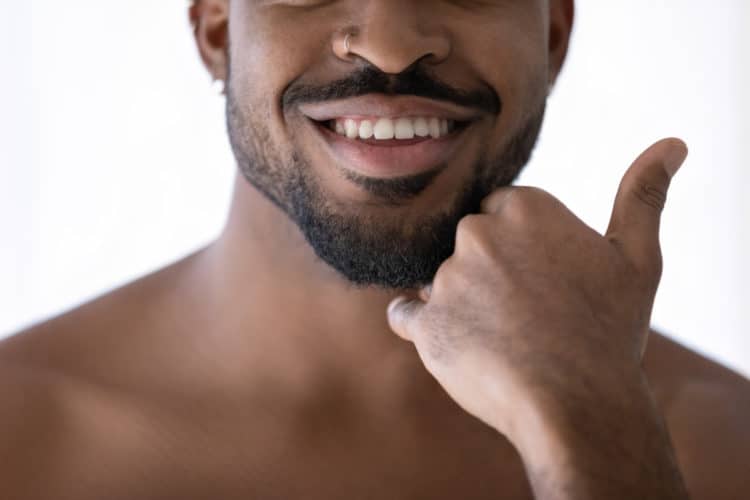 For guys with medium to long beards or yeard beards, beard balms offer some great benefits. The waxy, tacky nature of balms make them an appealing styling product, but lightweight beard balms and maximum hold balms are vastly different.
Beard Balms Benefits
Moisturizes skin underneath your beard
Seals in moisture at the hair follicle
Adds shine to your beard
Sculpts your beard to the perfect shape
Softens your hair and tames flyaways
Common beard balm Ingredients
Beeswax
Jojoba oil
Castor oil
Argan oil
Coconut oil
Shea butter
Tea tree oil
Apricot oil
Sandalwood or cedar (scent)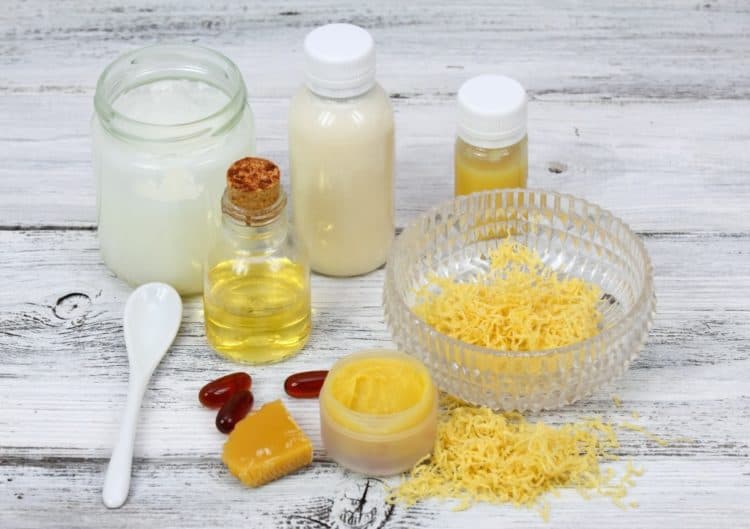 Types of Beard Balms
There are multiple "strengths" available for hair balms, ranging from light to medium hold to medium to maximum strength hold for shaping your beard. Stronger hold balms may also be called "utility balms."
Lightweight balms
Lightweight balms generally have less wax and more oil in their foundation, which makes these products perfect for moisturizing your skin and hair follicles. These balms typically help with dry skin and brittle beard hair, too.
Utility balms
Utility balms typically have a stronger hold with a higher percentage of beeswax so you can style and shape your facial hair. You can use utility balms to tame flyaways or even create a ducktail beard or other shape.
In general, a thicker, waxier balm will have a stronger hold. You won't need to use as much product to get results, as over-using these balms leads to flakes and other issues.
How to Apply Beard Balm
We'll review how to use beard balm plus other considerations you should know before using.
1. Clean Your Beard First
So when should you apply beard balm? Beard balm works best when applied to clean skin and hair, so you should shower or clean your hair with a good beard wash before you apply. It's okay if your skin is slightly damp when applying beard balm.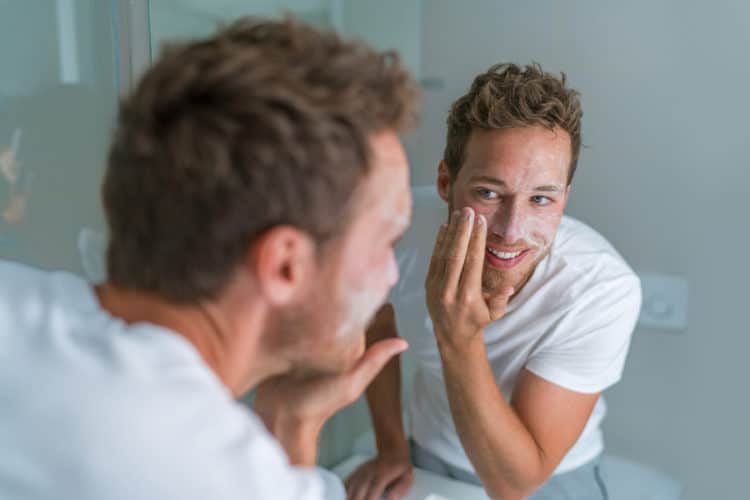 You don't want to stack products on top of product so washing strips other products clean. Once you've cleaned your face and beard, use a towel to dry off. Your beard is now prepped for beard balm application!
2. Apply a Dab of Beard Balm
The most important thing to know about beard balm application is that less is more. You don't need to coat it on for this product to work its magic on your beard.
Longer beards will likely need a dollop more, so just work it in slowly into your beard hair for the first time. If you have dry flakes and beard itch, massage a lightweight balm with ingredients like argan oil and tea tree oil into your skin.
3. Brush Through with Beard Comb
A double-sided beard comb works well to untangle and comb more product through from root to tip. You want to make sure to comb in the balm so it coats and distributes through the length of your beard evenly.
4. Sculpt Your Beard
The first application of beard balm should smooth and tame your facial hair. After combing, you may already see your beard taking shape along your chin and jaw. You can further shape your hair into your unique beard style or even brushing it out.
5. Using Beard Oil and Beard Balm Together
I know I warned about stacking products, but this combination works well together. Beard balms perform best for longer, thick beards, so you don't necessarily need a beard oil.
However, if you want more of a moisturizer for your skin, apply beard oil, and then massage into your ski and around the roots of your hair.
Take a look at the differences between beard oil and beard balm if you're not sure which to use.
Then, you can follow up and apply the balm to your beard and mustache. Both products work by softening your beard hair, but maximum strength utility balms will hold down stray hairs.
Does Beard Balm Help Beard Growth?
Most beard balms are made from all natural, organic ingredients like tea tree oil and coconut oil. These ingredients moisturize your skin and beard, which can help with growing a beard. However, male hormones and genetics play a role too.
Beard Growth Balm
However, there are beard growth balms specially formulated to promote longer length and thickness. Although they may work differently for others, many men have reported thicker, fuller facial hair when balms contain these ingredients:
By infusing these ingredients together, balms have a higher chance of helping your hair follicles grow new hair, particularly if you're trying to fill in a patchy beard.
A few studies have found that biotin is an important element for healthy hair growth, and it can help with hair loss according to this study. Some beard balms contain biotin for just this purpose, but we like beard growth oils better.
For best results, we suggest trying a beard derma roller or using a boar bristle beard brush if faster hair growth is desired.