Want to make women swoon like Ryan Gosling? His short, somewhat scruffy beard has become a part of his signature style. While he hasn't grown a thick as other celebrity beards, he often lets his five o'clock shadow grow out and then trims it up neatly for the red carpet.
Ryan Gosling's beard is typically kept short, with a longer mustache that connects to his beard and a soul patch beneath his bottom lip. He typically keeps his cheeks clean-shaven but allows his neckline to grow longer.
If you want a short beard look, that's easy to maintain with some stubble growth around the neckline, Ryan Gosling's bearded looks may be worth bringing to your barber. We'll show you how to get his more iconic look below.
Iconic Ryan Gosling Beard Styles
For the past 20 years, Ryan Gosling has dazzled on screen with his talented work in The Notebook, Drive, and La La Land. He's also one of Hollywood's favorite leads, and he's naturally beloved by women for his amazing personality and charm. His beard is one of the charming features of his style, and he frequently changes up his look depending on the occasion.
How to Get Ryan Gosling's Beard
To get this Hollywood favorite's beard, you'll want to invest in a good beard trimmer with multiple guard lengths.
Here's a list of everything you'll need for this look:
Electric beard trimmer or razor
Multiple guard lengths
Handheld mirror
Beard balm or beard oil
Beard comb or beard brush
Now that you've got the tools of the trade you can re-create Gosling's beard style.
1. Get the Shabby Chic Look
You'll need to grow out your beard a little before trimming. Ryan Gosling's beard is a combination of a short beard with some stubble growth around his neckline and jaw that makes it more casual than a professionally cut beard.
This means that when you cut this beard, you'll likely use a longer guard such as a 3mm or 4mm with your beard trimmer to shorten the overall length but leave your stubble along your neckline in place. 
The goal is to create a beard that is easy to maintain and not clean cut. You won't have to trim this beard every day when you can allow for some stubble.
2. Clean Fade Your Cheeks
If you have hair that naturally grows into the hollows of your cheeks, trim this down as most of Ryan's cheeks are clean-shaven. His beard starts along the sideburns and jawline, thickening on his check and below the neck.
Because Ryan has a bit of a patchy beard, you'll notice that he doesn't let it grow too far up his cheeks. He lets the growth just slightly grow long into the hollows. However, the thickest parts of his beard are along the jawline and underneath.
3. Embrace a Bit of Neck beard
Some men can't stand a neck beard, but letting your beard grow is a part of Ryan's style. While his neck may show stubble, his cheeks are typically clean. At his most trim, he's faded his neckline and cheek hair into his longer stubble or short beard. 
Additionally, you may want to fade up your neckline and sideburns, as Ryan still tries to keep things trim along his jawline. He also styles his hair with pomade and comb. This really balances out a sometimes scruffy look.
4. Maintain Your Short Beard
One thing to note about Ryan's signature beard is that his facial hair never grows beyond an inch or two. Rarely do you see The Notebook actor with a long beard style.
Even at his thickest, fullest beard, Ryan still groomed and trimmed his neckline, jaw, and sideburns, keeping his cheeks clean-shaven and trimming up his mustache so it didn't grow past his upper lip.
Trimming scissors are the best way to keep up with this short beard look. You want to trim away longer, stray hairs while still aiding in the overall growth of the beard.
The key to making this look work is that you keep your cheeks clean of facial hair while growing hair underneath your jaw and chin to be longer.
Once finished with trimming your beard, always apply beard oil to keep their hair strong and moisturized. 
Does Your Beard Compare?
While you don't have to look exactly like Ryan Gosling to get his bearded look. This simple short beard style is perfect for any guy who doesn't want to spend too much time taming and trimming back facial hair.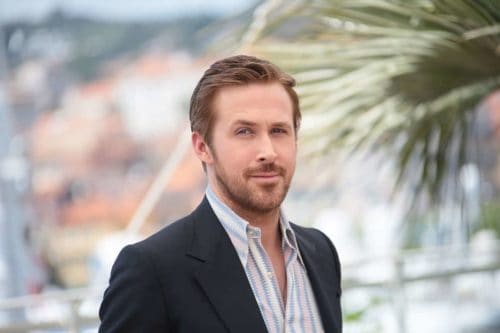 While Gosling probably didn't realize that he had such a unique facial hair style, it's actually very different from his peers. For instance, his cheeks barely have any facial hair while the hair underneath his jaw and chin is much longer, which shapes and angles his face to a particular look.
One final key point is that Ryan Gosling's hairstyle has a lot to do with his beard. He balances out the scruffy look of his facial hair with a suave haircut, such as the comb over hairstyle. You can recreate this using pomade and a hair dryer after showering.