What's the best styling combination for your beard? Do you want to moisturize and tame or sculpt and define? With some beard balms, you can do both, but in other cases, wax offers a stronger hold. For beard balm vs wax comparisons, we compared the benefits and differences of these popular facial hair styling products of the pros.
Salon stylists and barbers both use beard balms and waxes to style men's hair. What makes one better for your beard? Here's an in-depth look with pros and cons for any skin and hair combination.
Best for Beard Styling: Beard Balm or Wax
Beard balms and waxes have different concentrations of beeswax, but both contain carrier oils, essential oils, and other ingredients like shea butter or aloe vera. The difference in these styling products is the amount of hold and control each provides to your beard.
Got a wiry, wavy beard? Try a styling product like balms or waxes. Depending on the level of sculpting you want, choose a utility balm or beard wax. If only wanting to tame and soften coarse beard hair, beard balm is the better lightweight option.
We break down the differences even further between beard balms and waxes.
What is Beard Balm?
Beard balm is typically made from essential oils, beeswax, and shea butter. It's a slightly thick styling product that comes in a tin.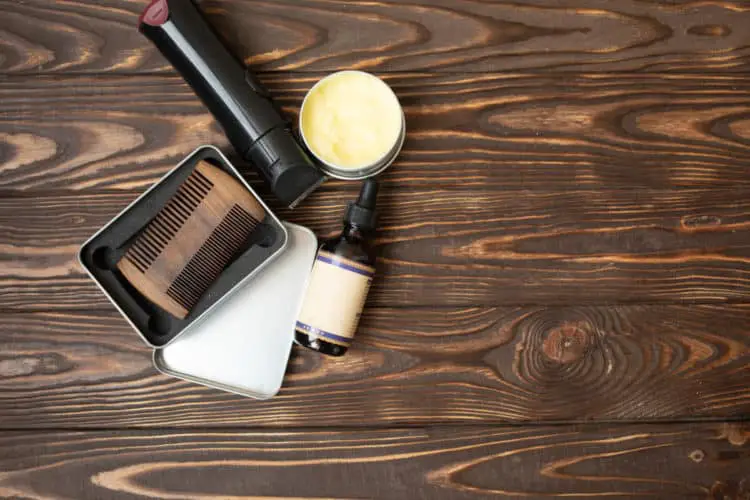 There are different types of beard balms. Lightweight balm has the consistency of a vaseline due to shea butter and wax. However, it's not as sticky or tacky as beard or mustache wax.
Like beard oil and conditioners, some beard balms have moisturizing ingredients and may even contain hair growth ingredients such as biotin or saw palmetto oil.
Additionally, balms also contain ingredients for sensitive skin, such as argan oil, jojoba oil, tea tree oil, and others. If weary of skin irritation, always avoid products with alcohol or super oily ingredients like olive oil.
How Beard Balm Works
You only need a small amount of beard balm to get the job done for short to medium beards. Medium to long, thick beards may require more beard balm.
Wash with a good beard shampoo and dry hair off first, then start with the balm that provides the right strength.
Use lightweight balms for moisture and shine, and utility or maximum hold balms for more distinctive shaping.
Simply scoop a small amount on your finger, rub in palms, then apply beard balm directly to your hair
Use a beard comb to spread through beard hair.
Use a medium to maximum hold utility balm if you want to sculpt your beard and add more shine
Pros of Beard Balm
Softens hair with beeswax and shea butter
Beard oil beard balms provide more moisture
Tames flyaways
Moisturizes skin and hair
May contain hair growth and skin healing properties
Cons of Beard Balm
Not all beard balms add moisture
Utility balms may cause dry skin if applied too heavily
If you haven't washed your face, balms may clog pores.
Beard Balm Ingredients
Some typical ingredients in balms include:
Jojoba oil
Argan oil
Beeswax
Shea butter
Coconut oil
Eucalyptus
Peppermint oil
Tea tree oil
Cedarwood
Sandalwood
Grape seed oil
Saw palmetto oil
Check out our DIY Beard Balm Recipe Guide.
Who is Beard Balm Best For?
If you have a thick, medium to long beard, then beard balm can soften and strengthen hair while adding an intoxicatingly earthy scent.
While balms may have more conditioning ingredients, there are also utility balms for stronger hold. For example, beard championship participants typically use wax to sculpt their beards into the perfect shape.
Recommended Beard Balm Products
We've done the research and found the best beard balm products for your facial hair. Take a look to see our recommendations and get guidance on the best ingredients in balms for your beard. 
What is Beard Wax
Beard wax is made from higher concentrations of beeswax and a few ingredients similar to those in beard oils and balms. However, the additional wax offers a higher hold for styling and sculpting long beard hair.
Beard wax and beard shaping go hand-in-hand. Be prepared to only use beard care products like wax if you want more hold on longer beards with unruly hair.
If you have wiry, stray beard hairs, then you can use a thick beard wax to create a pointed beard or ducktail beard style, among other beard shapes.
Many performers in beard competitions use beard wax because of its ability to keep hair in place for hours at a time, offering the exact shape you want. These are more water-resistant, maximum hold variations of a typical beard balm or beard oil.
How Beard Wax Works
We recommend that you use beard oil and beard wax together to achieve the greatest-looking beard if you like sculpting. You can use beard balm if you like a milder version of wax to style and shine up your beard hair.
Wash your beard and dry off completely before applying wax
Massage a small amount of beard oil into your skin and hair beforehand
Apply wax to root of your hair then pull through, sculpting and twisting hair in place
Comb through to sculpt and distribute wax evenly through beard hair
Pros of Beard Wax
Sculpts your beard
Holds hair in place
Natural, woodsy, earthy scents 
Condition your bead hair
Cons of Beard Wax
May cause dry skin and flakes if not washed out
Leads to clogged pores when applied to skin 
Beard Wax Ingredients
Most beard wax products are made from beeswax, though some of them may contain petroleum jelly, cocoa butter, or shea butter. Additionally, they may contain carrier oils and essential oils for additional conditioning and scent.
Beeswax
Coconut oil
Shea butter
Cedarwood
Sweet almond oil
Sandalwood
Jojoba oil (carrier oil)
Other essential oils (such as rosehip or saw palmetto)
Recommended Beard Wax Products
Our best beard wax buyer' guide provides more in-depth reviews of the top products currently, but here are two of our favorites.
Flash Sale
Can You Use Beard Balm and Wax Together?
Beard balm and beard wax can be pretty similar. For example, a heavy duty utility balm will have a higher beeswax concentration than a regular, lightweight balm.
Ideally, you wouldn't use beard balm and wax together. However, you can use beard oil to stack with either product. Beard oil will provide more moisture and healing for your skin, then the wax or balm can help you hold your hair in a specific shape.