Men carrying axes with expertise in logging and wood crafts come to mind just at the mere mention of the lumberjack beard. However, anyone can grow this thick, full beard, whether or not you enjoy wearing flannel. There's even a term for hipsters who sport this facial hair, known as "lumbersexual."
The lumberjack beard is a burly facial hair style that's characterized by a bushy, thick mustache, long sideburns, and a full beard.
Have you been trying to grow out your beard and mustache? The lumberjack beard is a statement of pure manliness that cannot be ignored. We'll show you how to get this iconic beard style.
7 Lumberjack Beard Styles to Inspire You
When it comes to the lumberjack beards mustache style, you really want to let your hair grow out first. Everything great about this look involves thick, natural facial hair that you can brush, trim, and maintain to achieve a shiny, healthy beard.
We take a look at some of the most well-maintained lumberjack beards to inspire your next look:
1. Bushy Lumberjack Beard
When your beard grows in bushy, it's likely because you don't use a boar bristle brush or beard comb every day. The good news is lumberjack beards look best when they're bushier.
2. Long Lumberjack Beard
As your beard grows in, you can shape it with a beard shaper guide to get the right cheek angles and symmetrical lines. However, lumberjack styles also look better when they're less trim and more rugged.
3. Short Lumberjack Beard
Not as long or bushy, the short lumberjack beard is a trimmed back, tamer version of the rougher look.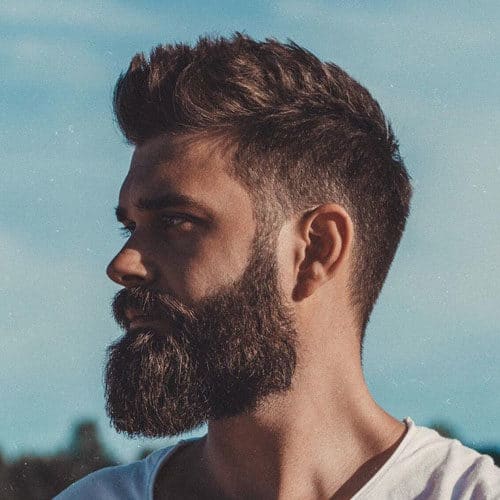 4. Lumberjack Yeard Beard
The ultimate lumberjack beard is a super long yeard beard. These may take years to grow in fully, depending on your age.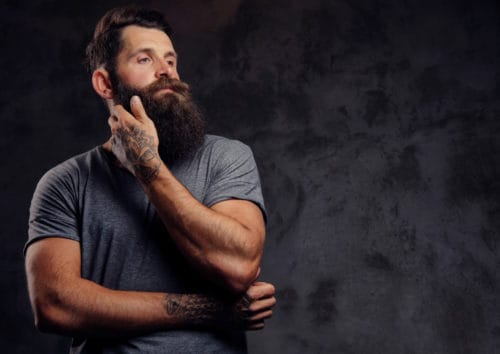 5. Salt and Pepper Lumberjack Beard
Here are two guys sporting lumberjack beard styles, the definition of salt and pepper.
6. Grizzly Adams Beard
The lumberjack beard has been immortalized by the always friendly mountain man – Grizzly Adams.
7. Lumberjack Man Bun
The man bun has been sensationalized for hot men's fashion everywhere. The style get's yet another lift when paired with the modern lumberjack look for an exceptional combo.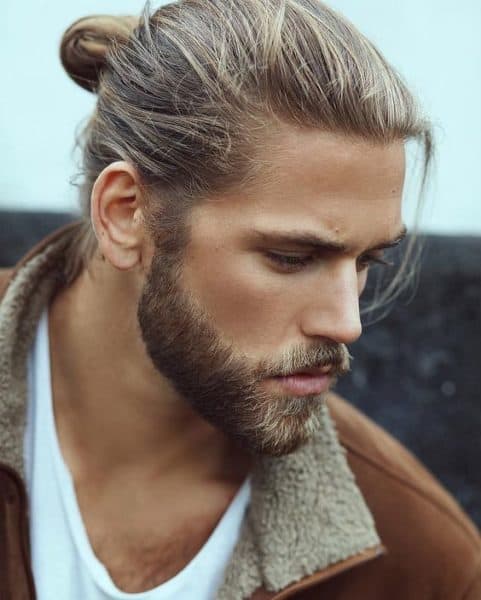 How Shape the Modern Lumberjack Beard
If you've been thinking about a thicker, longer mustache and beard, then you're ready for the modern lumberjack look.
Not all men have naturally thick beards, so if you have tried to grow out your beard in the past, you may want to use some additional products and treatments to increase your beard growth.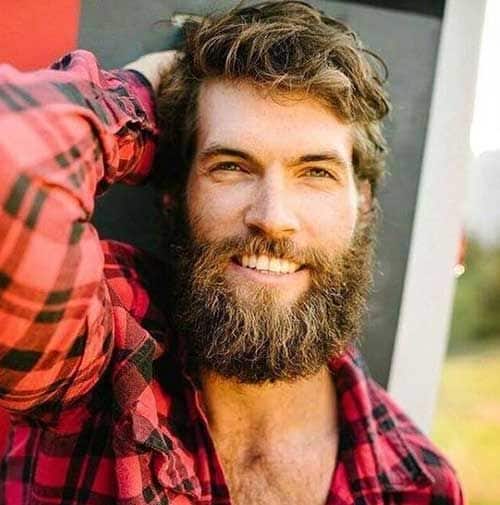 Lumberjack Beard Tools
1. Grow Your Beard Out
The lumberjack beard has thicker sideburns, a mustache, and beard hair. While not typically patchy, you may want to brush over your patches to direct hair to grow in the bald spots.
Lumberjack beards typically have thick hair along the jawline, chin, and upper lip with connecting hair from the mouth to chin hair.
While it may seem that lumberjack facial hairstyles are quite bushy, you can trim them up and shape to achieve better symmetry with a beard shaper tool.
2. Trim Back Stray Hairs
Barber shears or scissors are best for trimming back hair carefully and maintaining the perfect symmetry. Mustache scissors work perfectly to trim away wild hairs around your upper lip and connector lines.
3. Style Your Beard
Some men like faded beard styles that use multiple guards on an electric trimmer to shave and blend your facial hair, particularly when cleaning up the beard neckline or cutting sideburns.
How to Thicken Your Lumberjack Beard
Here are some tips to thicken and shape your beard.
Start with a Healthy Diet
Did you know that hair growth is tied to your health? Studies have proven that people who eat foods rich in biotin, vitamin D, and iron have healthier hair growth overall. Some of the best foods to grow a long beard include:
Eggs
Red protein
Oranges
Raises
Pumpkin seeds
Sorghum
For a full guide, see our article on what to eat for Stellar Beard Growth.
Apply Beard Oil
What can beard oil do for your hair growth? While it's not always helpful for increasing hair growth, it can help moisturize your skin and hair, improving hair growth if you suffer from dry skin.
Check out the Best Beard Oils for a healthy natural beard
Some beard growth serums act like a beard oil and deliver nutrients right to the root of your hair.
If you're suffering from beard dandruff, that will inhibit your overall growth, so get rid of dry, flakey skin first with a good beard oil.
Avoid Harsh Chemicals
Some beard washes and shampoos have harmful chemicals and toxins, such as sodium laureth sulfate, parabens, formaldehyde, and polyethylene glycols. You'll need to avoid these ingredients if you're struggling with beard acne or dry skin.