The goatee style is one of the most fashionable beards for men. It's easy to sculpt and trim, and even if you don't have a lot of facial hair, chin hair seems to grow in faster for most men.
Goatee beards include facial hair on the chin and around the mouth, including hair on the upper lip that may or may not connect to chin hair. Some goatees may also be longer on the sides, but a classic goatee rarely has any long hair along the jaw, cheeks, or sideburns.
Celebrities often wear goatees, and there are a few who consistently show off variations to bring attention to their unique personality, style, and face shape. Here's a look at the top celebrities with goatees plus a brief guide below on how to style and trim like a celeb.
Best Celebrity Goatee Beard styles
Celebrities rock the full goatee look, while others opt for minimal facial hair around their mouth and chin.
Celebrities sporting various styles for the red carpet like the classic goatee (no mustache), Van Dyke, landing strips, clean-shaven cheeks, and more.
1. Johnny Depp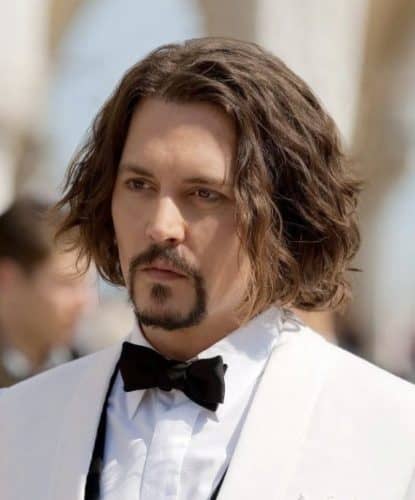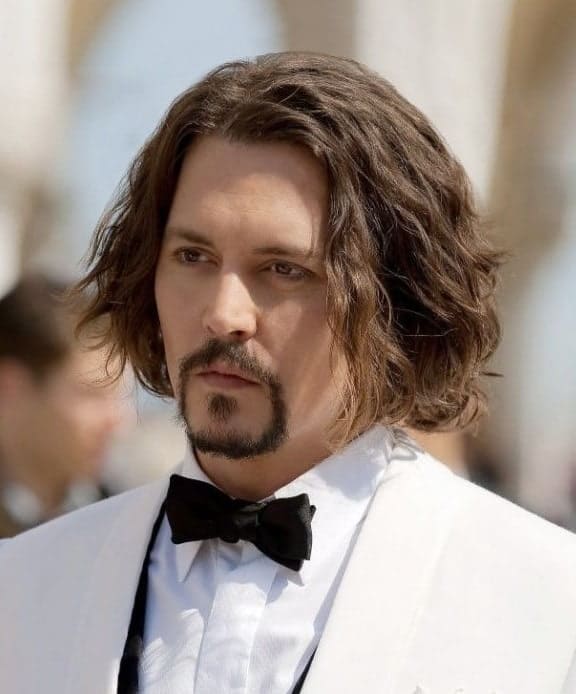 2. Kanye West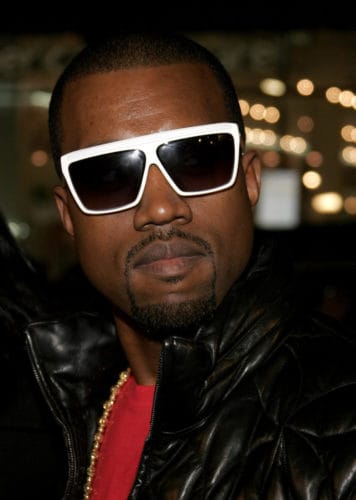 3. Diego Luna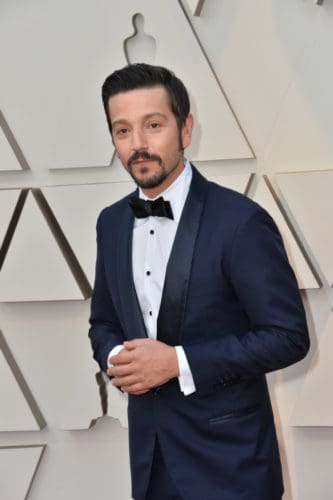 4. Leonardo DiCaprio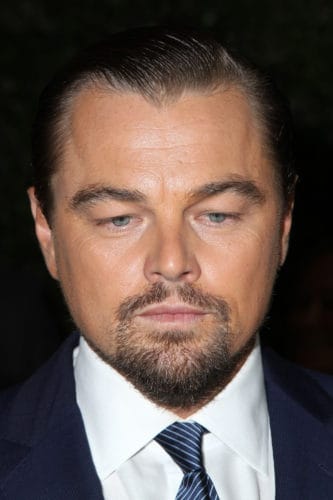 5. Idris Elba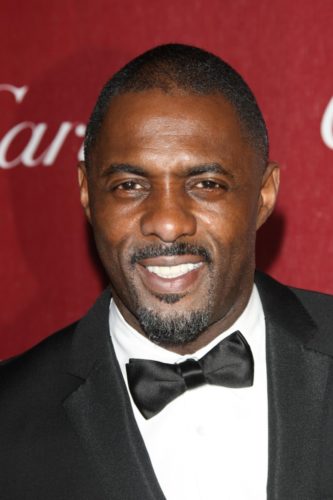 6. Brad Pitt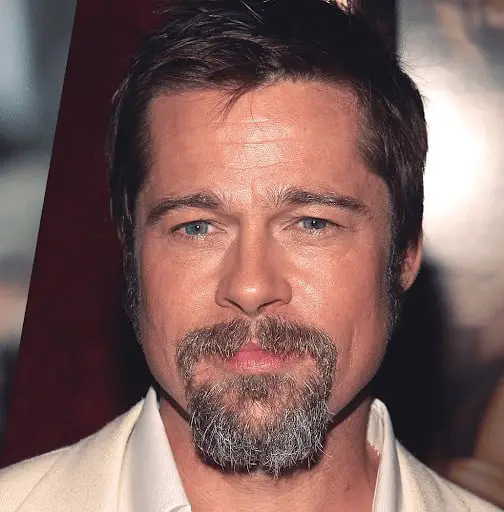 7. Robert Downey Jr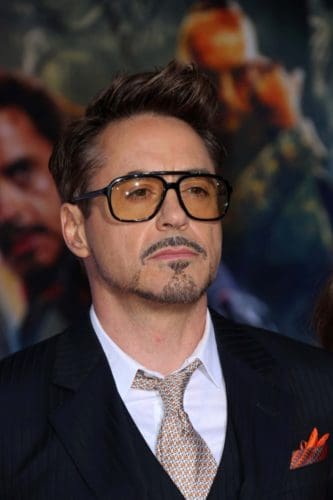 8. Tom Hardy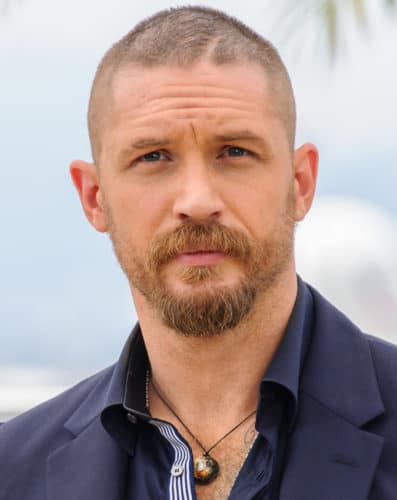 9. Steven Yeun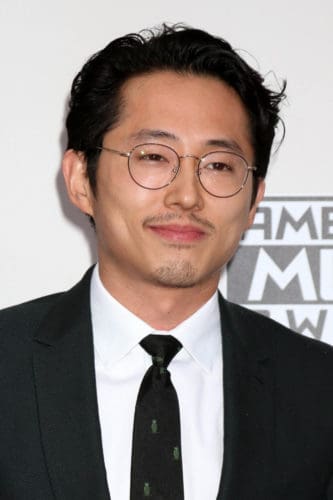 10. Michael Cudlitz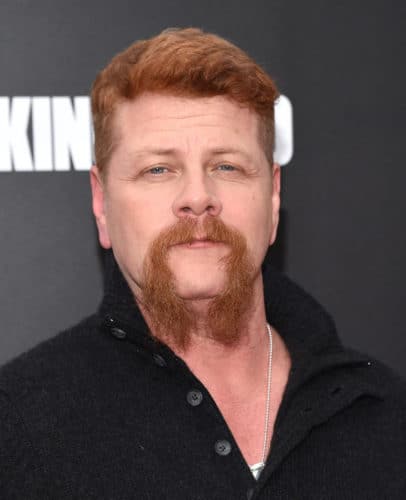 11. Christian Bale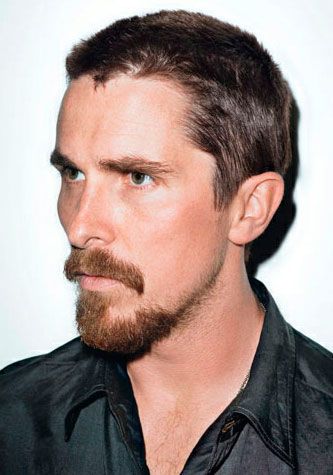 12. Chris Pine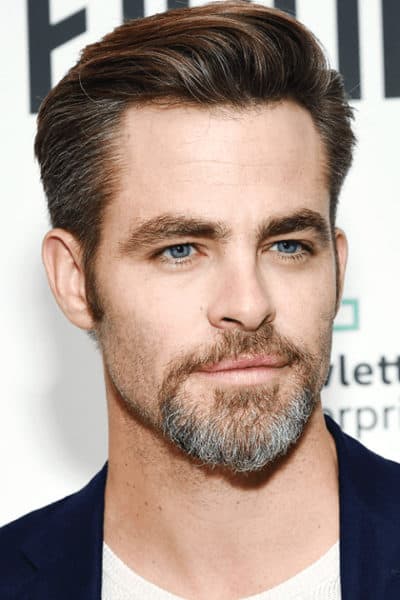 13. Scott Steiner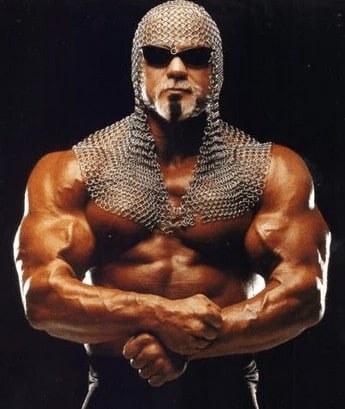 14. Frank Zappa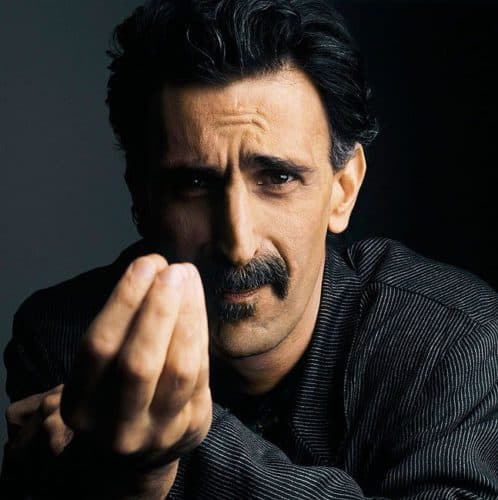 15. Jimi Hendrix
16. Sean Connery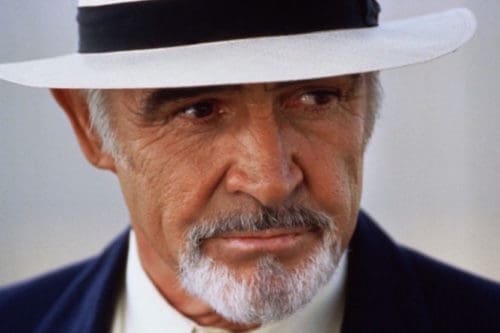 17. Common Rapper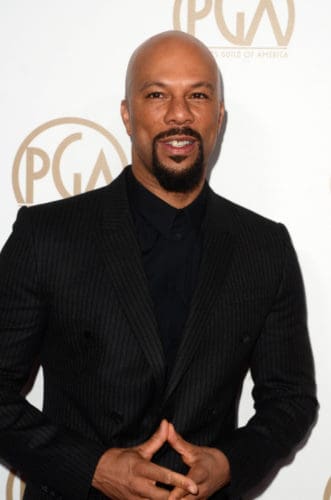 18. David Beckham
19. Hugh Jackman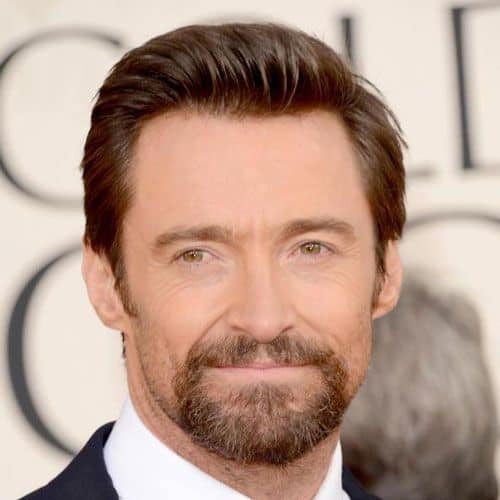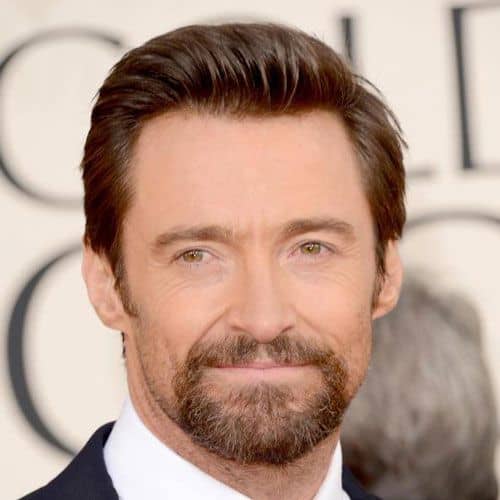 20. Ryan Gosling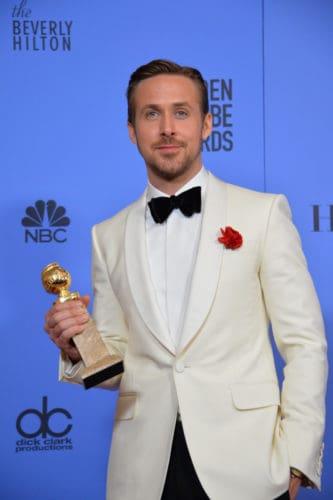 21. Andre 3000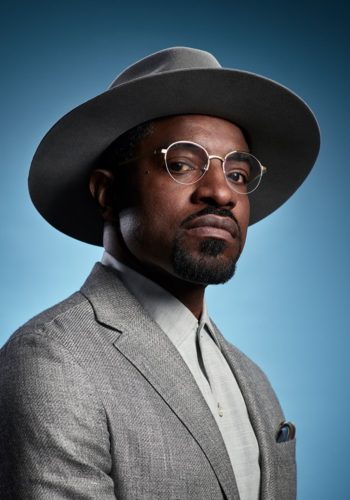 22. Alexi Lalas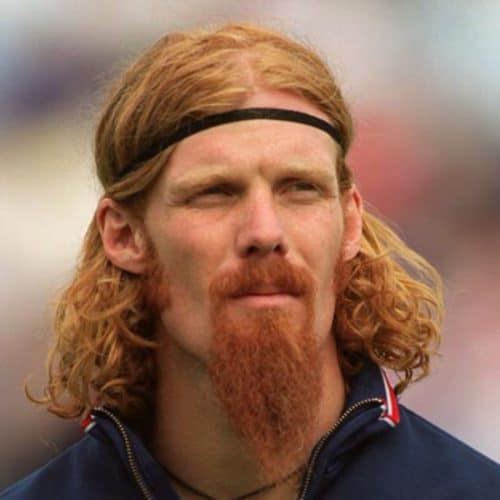 23. George Clooney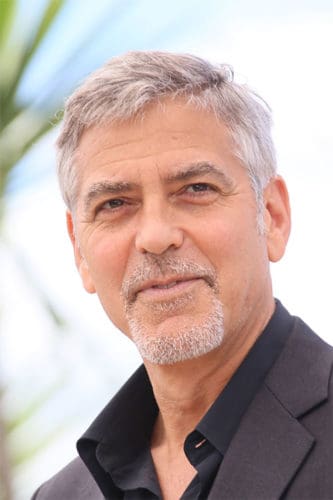 Celebrity Goatee Styling Tips and Tricks
From celebrity barbers like Travis Myers to Philadelphia Beard Festival winner Michael Lubuski, we looked at some of the best tips for styling your goatee to get the perfect look.
1. Pick a Goatee Style
Most of the time, we don't really choose how our chin hair grows in. Growing a goatee or a full beard takes a few months to see thicker hair growth.
Facial hair on our chins and upper lip starts to sprout after puberty, and it's not until your 20s that you think about its actual style and growth. Most of all, you want a thick patch of chin hair that you can style.
Typical Goatees are defined by hair that grows thick on the chin, upper lip and a slick soul patch.
You don't have to connect the mustache and chin hair to get the goatee look either. However, some men like to style their goatees this way because it allows them to shape and accentuate your face and different angles.
2. Trimming and Sculpting Tools Needed
Before you get started, you'll need the following items for the perfect goatee:
Beard trimmer or electric razor
Guards or comb attachments set to 1-10mm
If fading your goatee, you may want .5mm guards
Beard comb
Optional: Beard wash
Optional: Razor (sharpening and defining lines)
Optional: Barber shears (trim up and fading edges)
Some goatee styles require a bit more work, like the Van Dyke beard, anchor goatee, chin strap, or even a ducktail goatee. If shaping your facial hair in any way, you may want to look into hair wax or mustache wax.
3. Prep Your Beard for Goatee
First things first, make sure that you wash and comb your beard before trimming. Michael Lubuski, the two-time beard award winner of Philadelphia's Beard Festival, says he always starts his routine with a proper beard wash.
Lubuski recommends Woody's beard wash, but there are several beard shampoo brands and conditioners to choose from. See our list of best beard washes.
A typical pre-trim routine for goatees looks like this:
Fully wash your beard, and use a product with vitamin E or tea tree oil if afraid of razor bumps
Dry your beard (never cut beard hair when wet)
Use a beard comb to soften and straighten your hair
For specific goatee beard shapes, pick a goatee shaving template you like (if it's your first time)
Washing your beard with a moisturizing product makes it soft and moisturizes the skin underneath, especially if you have sensitive skin prone to razor bumps. Since you'll be shaving the sides and jaw clean to get the goatee look, you want to ensure your beard hair and skin are ready.
4. Cut Your Goatee and Style
Start by clean shaving the sides and jawline, but leave the hair on your chin and around your mouth alone.
Electric trimmers work best to shave down both sides, defining your goatee shape as you remove the hair from your jaw and sideburns.
Be careful when trimming your neckline. You typically want to shave any hair beneath the Adam's apple.
The right length
When growing a beard and keeping the length of your facial hair all the same, pick the right guard or comb size. For instance, a 2 to 4 mm guards are for longer stubble looks.
Want to go with a longer goatee beard? Using barber shears to trim away and shape your final goatee look is best. Here's where a goatee template can help you get the perfect symmetry.
When finished, apply a dab of beard oil and comb through your facial hair for that professional finish.
5. Watch Videos on Goatee Styling
Many videos will show you exactly how to get the perfect goatee shape with symmetrical lines and tapered edges. Here's one we like:
FAQs
What is the most popular goatee?
The "Full Goatee," also known as the "Circle Beard," is the most popular goatee style. It includes hair on the chin and mustache, connected in a circular pattern around the mouth. Its versatility and sophistication contribute to its widespread adoption.
Who popularized the goatee?
The goatee was popularized in the 90s by influential figures like Kurt Cobain, lead singer of Nirvana, and actors like Johnny Depp and Brad Pitt. Their adoption of the style made it a cultural trend, solidifying the goatee's prominence in modern grooming.
What actors have a goatee?
Numerous actors have sported a goatee, including Robert Downey Jr. in his role as Tony Stark in Marvel's "Iron Man" series, Brad Pitt in "Fight Club," and Johnny Depp in "Pirates of the Caribbean". Each actor's distinctive style has enhanced their characters' identities.
Are goatees from the 90s?
Goatees rose to prominence during the 90s, becoming a popular facial hair style among men. However, their history spans centuries, tracing back to Ancient Greece and Rome. Despite varying trends, goatees remain a versatile style option.